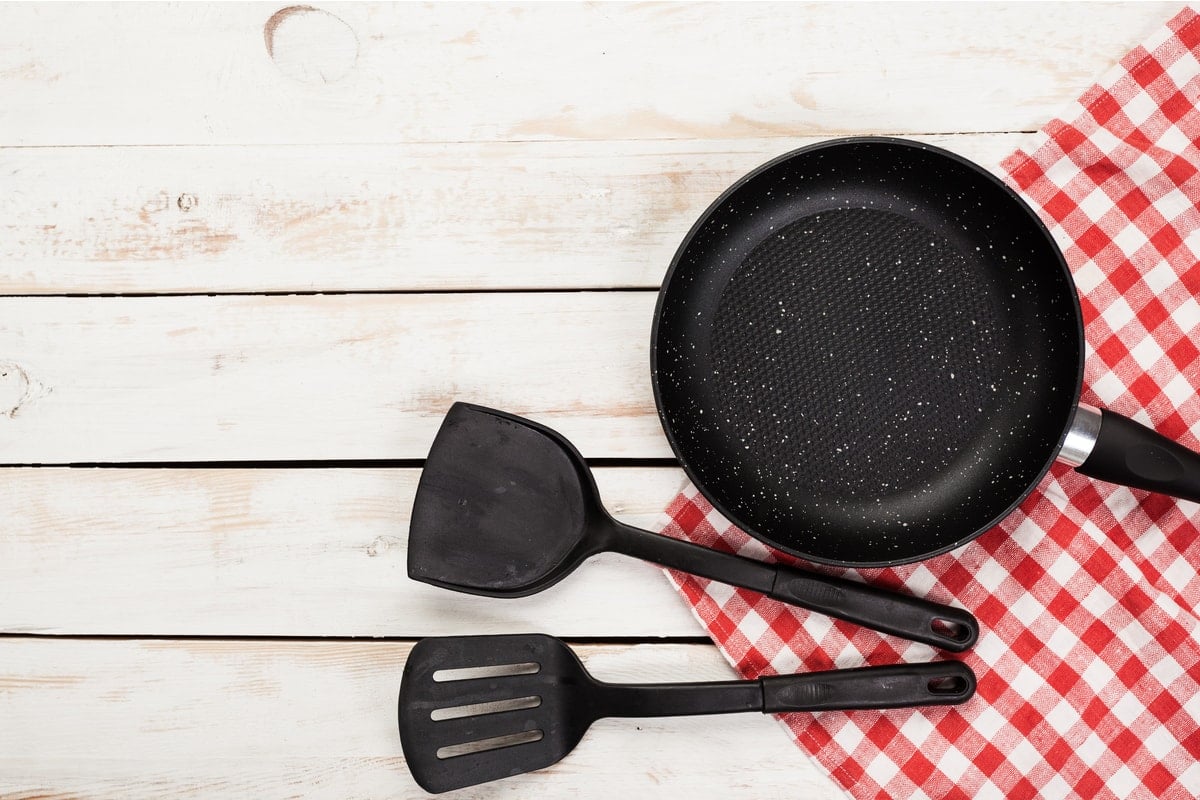 Using the wrong type of spatula on certain cookware may cause problems such as scratches on the cookware or melting of the spatula. In some cases, the spatula may not be sturdy enough to use in particular types of cookware.
For cast iron cookware, it is best to use spatulas made of stainless steel or silicone. However, this depends on the age and condition of your cast iron cookware. For instance, you can use a soft silicone spatula on a brand new cast iron skillet.
As for cast iron seasoned and used over time, you can use metal spatulas without worrying about any damage. Using the correct type of spatula helps preserve the natural texture of the cast iron and maintains the smooth cooking surface, which means a longer lifespan for your cookware.
With a vast selection of spatulas for cast iron, how do you choose the best one? We did the work and narrowed down the best spatula for cast iron. In addition, we added essential tips to let you know what to look for when buying a spatula.
Table of Contents
Best Overall: MANNKITCHEN MK21680 Stainless Steel Nonstick Spatula
Pros: Hardwood handle, slip-free grip, hard stainless steel blade, beveled edges for easier food handling
Cons: A bit costly, not dishwasher safe
Item Description:
Length: 11.5 inches
Width: 2.85 inches
Item Weight: 1.12 ounces
The best overall spatula for cast iron is the MANNKITCHEN MK21680 Stainless Steel Spatula. The MANNKITCHEN Spatula is a beveled spatula designed for use with cast iron skillets and flat top griddles. In addition, it is best for use in medium to large-sized cast iron skillets.
Its heavy-duty construction can withstand daily cooking for professional and home use. For instance, its heavy-gauge stainless blade eliminates flex, is resistant to rust and corrosion, and smoothens the rough texture of cast iron cookware. The handle is made of hardwood; that's why it's easy to grip, resistant to heat, and does not easily slip.
Furthermore, its beveled edges help to smoothen out the cooking surface of cast iron cookware over time. And the best part is that its beveled edge can cut or chop foods while cooking. Additionally, you can effortlessly slide the MANNKITCHEN MK21680 under any food. Smashing burgers and sliding the spatula underneath eggs won't be a problem.
Budget-Friendly: Chef Craft Heavy Duty Stainless Steel Turner
Pros: Ergonomic and long handle, lightweight, easy to clean
Cons: Without welding points
Item Description:
Length: 12.75 inches
Width: 3 inches
Weight: 3.2 ounces
If you're on a budget, the Chef Craft Heavy Duty Stainless Steel Turner is a must-try. Made from stainless steel, this spatula is sturdy and durable for cooking in a cast iron. Plus, its blade is thin enough to slide underneath delicate foods like fish fillets and pancakes.
Moreover, since its head is thin and angle-edged, you don't have to worry about scratching the cast iron's cooking surface. Additionally, its plastic-molded handle is comfortable to grip, making stirring and flipping an easy task.
Lastly, one of its major advantages is that it's easy to clean. You can wash it by hand or place it in the dishwasher. No matter how many times you wash it, the Chef Craft will look good as new even after many uses. You can also use the Chef Craft Spatula when cooking in stainless steel cookware.
The Best Multi-Purpose Spatula: Sabatier Stainless Steel Wide Turner 5154549
Pros: Perfect for grilling, scraping, flipping, and serving foods
Cons: Short length
Item Description:
Width: 2.76 inches
Weight: 3.98 ounces
Another spatula with a beveled edge, the Sabatier Stainless Steel Wide Turner 5154549 is best for cooking in cast irons. It's not just excellent for cooking in cast iron pans, but it's also perfect for grilling, scraping, flipping, and serving food as well. The spatula head is made of durable stainless steel that easily scrapes and flips food in the pan without damaging the cooking surface.
Because the handle is made of durable POM (Polyoxymethylene) material, it is thermoplastic and has superior strength. Unlike its wooden handle counterparts, it's also dishwasher-safe. In addition, the Sabatier 5154549 is secure and comfortable to grip.
Best Commercial-Grade: Anmarko Metal Spatula 8541960051
Pros: Long spatula, dishwasher-safe, beveled-edges, wooden handle
Cons: Heavy, not dishwasher safe
Item Description:
Length: 14.76 inches
Width: 4.13 inches
Weight: 7.7 ounces
The Anmarko Metal Spatula 8541960051 is a commercial-grade quality spatula best used for cooking in cast iron cookware. You can use it for grilling, smashing burger patties, and scraping. Additionally, it's useful for flipping pancakes, fish, and burger patties, as well.
Its stainless steel blade is 1.25 inches thick, making it a heavy-duty tool for restaurant and home use. Its wooden handle is ergonomic, comfortable to grip, and has a hole for easy hanging. Furthermore, since it's a beveled-edge spatula, it's excellent for cutting foods.
The Anmarko Spatula 8541960051 is a perfect addition to your kitchen and for BBQ parties. However, a downside to this spatula is that it's heavy and not dishwasher safe. But overall, this is a must-have spatula when cooking in cast iron cookware.
Best Silicone-Head Spatula: Tovolo Silicone Slotted Spatula Turner 81-9875
Pros: BPA-free silicone head, heat resistant up to 600 degrees Fahrenheit
Cons: Not sturdy enough for scraping food
Item Description:
Length: 14 inches
Width: 5 inches
Weight: 3.2 ounces
If you have a brand new skillet, it's best to use a silicone-head spatula. In this case, the Tovolo Silicone Slotted Spatula Turner 81-9875 is an excellent choice. Its head is made of durable silicone and nylon.
The soft-touch silicone head is reinforced with a durable nylon core that can withstand high heat up to 600 degrees Fahrenheit. Apart from this, the Tovolo 81-9875 is scratch-resistant and safe for cast iron cookware.
Its ergonomic handle is made of stainless steel, which is undeniably durable and visually striking. Additionally, the handle is easy to grip. So you can easily use this spatula when mixing, spreading, serving, or flipping food in your cast iron cookware.
Its slotted glides make it easier to drain grease or broth to leave the drippings on the pan before serving your food. In addition to this, its wide head can easily flip pancakes, eggs, and sandwiches. Overall, this is a highly recommended silicone spatula for cast iron cookware.
Buying Guide
Now that you know the best spatulas you can choose from, it's time to learn certain factors to consider when making your choice.
Material
The material of the spatula matters, and it's the first thing you should consider, especially when cooking in your cast iron skillet or even a nonstick pan. Needless to say, the material of the spatula is the key to level out the surface of your cast iron cookware. Here are different types of materials of spatulas:
Hardened Stainless Steel Spatula: If you're looking for a sturdy spatula for scraping and leveling out the surface of your cast iron cookware, your best bet is a spatula made of hardened stainless steel. Cooking experts often recommend this spatula material for cooking in cast iron skillets or pans.
Unhardened Stainless Steel Spatula: On the other hand, using a spatula with unhardened steel material is not a good idea. Since unhardened steel is softer than cast iron, the spatula itself may get damaged, not the cookware.
Plastic Spatula: Spatulas made of plastic are a big no for cast iron skillets. The plastic spatula cannot withstand high temperatures and will most likely melt.
Wooden Spatula or Bamboo Spatula: Sturdy wooden spatulas are suitable in cast irons, and are generally intended to cook delicate foods like fish and egg. However, if you're expecting to level out the surface of your cast iron pan, a wooden spatula may not do the trick. In addition, wooden spatulas are prone to mold growth when not handled properly.
Silicone Spatula: Yes, you can use a silicone-head spatula for cast iron kitchenware. Just make sure to read its label, and ensure that it can withstand heat up to at least 600 degrees Fahrenheit.
Metal Spatula: If you have an enameled cast iron, using a metal spatula is not the best choice. A metal spatula may leave streaks of metallic residue on the enameled cast iron. These marks will come off, but that may take a lot of work.
Other Types of Spatulas:
Wok Spatula: If you love to stir fry foods on your cast iron wok, it is best to use the wok spatula. Its shovel-like shape and long handles make it ideal for cooking stir fry foods and even for cooking large amounts of food. Have you noticed when you dine in Chinese restaurants that they use a long spatula? That's most likely a wok spatula.
Fish Spatula: This type of spatula is a thinner and elongated version of the common metal spatula. The fish spatula is particularly designed for cooking delicate fillets. When using it in cast iron, it won't do any damage.
Shape
Second to the material type, the shape of the spatula matters. If you want to improve the cooking surface of your cast iron cookware, choose a square-shaped spatula with sharp angles. A round-edged spatula touches the pan minimally, which cannot level out the pan's surface.
Cleaning
All cooking comes with a dreaded task after — cleaning. If you hate washing dirty dishes, make sure to check out the cleaning instructions of the spatula. Some spatulas are not dishwasher-safe and need manual scrubbing to get rid of all the food crumbs.
Spatulas with wooden handles like MANNKITCHEN and Anmarko are not dishwasher safe. Nonetheless, if you don't mind the extra cleaning effort, those two spatulas are great options. On the contrary, if cleaning by hand is too much of a hassle for you, you can choose dishwasher-safe spatulas like Chef Craft, Sabatier, and Tovolo.
Edges
For cast iron cookware, it is better to choose beveled-edge spatulas. By using one, you can easily scrape off foods left on the pan, effortlessly slide the spatula underneath the food, and flip it like a master chef.
Also, since beveled-edge spatulas are sharp, you can use them to chop foods. If scraping, flipping, and chopping aren't a big issue, you can do away with non-beveled edge spatulas.
Design
There are many shapes, sizes, and designs of spatulas available. Designs are not just for visual purposes; the design comes with functionality. For instance, spatulas with wide designs can flip heavy foods like a burger patty or fish.
Furthermore, spatulas with a serrated design can help you cut through certain meats like chicken. It's useful when grilling chicken breasts, as you can check if it's cooked all the way. Spatulas with a serrated design can carve streaks straight out the pan without using a knife.
On the other hand, spatulas with a thin design are limited to flipping cooking delicate foods like eggs or pancakes. Thus, when you're choosing a spatula design, don't just look for visually striking ones, but the functionality that comes with it as well. It also helps if you select a spatula with a hole in the handle so you can hang it.
Flexibility
Do you choose a flexible spatula or not? Well, this really depends on how you intend to use it and the food you typically cook. For delicate foods like eggs, fish fillets, or pancakes, choose flexible spatulas because they are easier to maneuver.
On the other hand, if you think you'll need a sturdy spatula to smash burgers or steaks, go with the inflexible ones. However, you have to consider that some flexible spatulas are not suitable for scraping as opposed to inflexible spatulas that are handy when scraping foods.
Handle
When choosing a spatula, make sure to consider the material of its handle as this affects many factors: gripping, washing, and heat resistance. So far, ergonomically designed handles made of plastic offer the most comfortable grip and won't absorb grease or fat when cooking.
Also, you have to consider the length of the handle. Longer handles mean a lower risk of getting burned and getting splashed by any oil that flies out of the frying pan. As you may notice from the five options above, there are spatulas with wooden handles. They are also comfortable to grip and do not easily slip.
FAQs
What Kind of Spatula Do You Use for Cast Iron?
Stainless steel is the most common type of spatula used in cast iron cookware. It is strong, durable, and lightweight. Silicone spatulas are also a good option when cooking in cast iron skillets or pans. Even though silicone is a soft material, it won't melt on high heat or cause any damage to the cooking surface.
Can You Use Metal Spatula on Cast Iron?
Yes, you can use a metal spatula on cast iron. A metal spatula can help you cook with ease and help smoothen out the surface. However, if you have an enameled cast iron, a metal spatula may leave metallic scratches on the surface. But don't worry, it comes off with thorough cleaning.
What Is a Beveled Edge on a Spatula Used For?
The beveled edge on a spatula has many uses. Firstly, it helps you easily slide the spatula underneath foods like burgers, steak, or chicken breast to flip it. Secondly, since most beveled-edge spatulas have a wide blade, you can quickly flip foods in one smooth move.
Thirdly, you can use its beveled edge for chopping foods while cooking. That feature can help when cooking scrambled eggs and fried rice. Lastly, it's better to use beveled-edge spatulas to scrape leftover food in cast iron cookware because it helps smoothen the surface.
Have You Decided Yet?
Remember, avoid plastic spatulas and go for stainless steel as much as possible. Furthermore, if you love to cook burgers and steak, you should purchase beveled-edge spatulas like MANNKITCHEN, Sabatier, or Anmarko.
If you have new cast iron cookware, use silicone-spatulas like Tovolo. And, if you're on a budget, the budget-friendly Chef Craft is worth it. If you're considering a wooden spatula, make sure to familiarize yourself with the proper cleaning and handling to avoid mold growth. Or, you can also buy a spatula set that includes a spatula made of different materials.