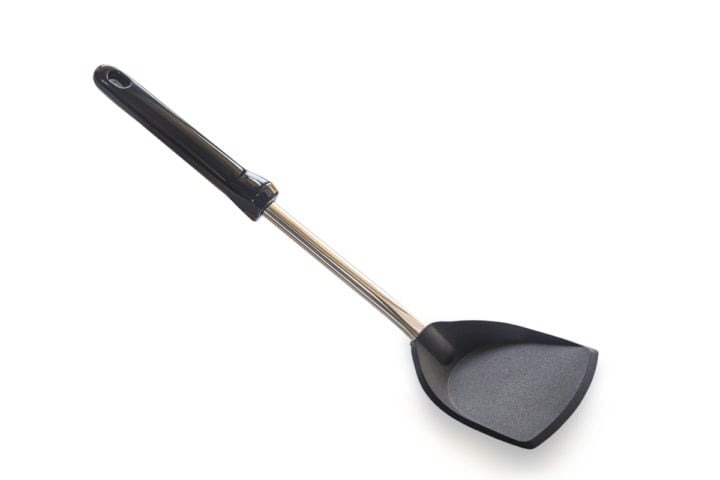 There's no better friend in the kitchen than a trusty spatula. It's easy to use, inexpensive, and useful for just about anything that goes into your frying pan. However, when cooking with a wok, a traditional spatula just won't do.
Wok spatulas are specially designed for the wok's unique domed shape and are essential for making stir-fry. With long handles, wide blades, and a curved shape, they are as distinctive as they are useful.
However, choosing the right wok spatula isn't always easy, and to make the right choice, you need to know what you're looking for. Material, handle design, size, and shape are all key factors that should be considered.
In this article, we rounded up the 11 best wok spatulas available today. Each was tested for quality, according to our list of essential criteria. Take a look for yourself, and see which is the perfect match for your home wok.
Table of Contents
Best Overall: ZhenSanHuan Hand-Hammered Wok Spatula
ZhenSanHuan Hand-Hammered Wok Spatula
Forged from a single piece of iron, this wok spatula can take the heat and last longer in the kitchen.
Pros: Hand-made, extremely durable, no chemical coating
Cons: Maintenance required to prevent rusting, not dishwasher safe
There are plenty of factors to consider when choosing the right wok spatula. However, only one product on this list offers the right balance between durability, ease of use, and versatility. The ZhenSanHuan Hand-Hammered Wok Spatula provides everything you need to create truly authentic stir-fry.
The hand-hammered surface of the blade is one feature that helps this wok spatula stand out. It attests to quality craftsmanship while also offering a practical benefit. The unique texture helps grip food, making it easier to toss and flip while cooking.
Since this wok spatula is forged from a single piece of iron, you can count on its durability. In fact, this is the reason why it is used by professional chefs around the world. Whether you use it on a home wok or for outdoor cooking, it can take the heat.
At 15.7 inches in length, it is the ideal size for handling food without the risk of burning yourself. The handle provides the perfect comfortable grip while staying lightweight.
Keep in mind that this spatula's iron construction does make it prone to rusting. However, it only requires minimal maintenance. Simply make sure it is well-dried after each use, and it will last a lifetime.
Best Stainless Steel: Newness 304 Stainless Steel Wok Spatula
304 Stainless Steel Wok Spatula
This spatula has a nice, comfortable grip as we flip, toss, and turn the food while cooking. The wide blade with round corners seems like a perfect fit for woks!
Pros: Comfortable wooden handle, dishwasher safe, contoured for wok cooking
Cons: A bit heavy, wide design is not suitable for all applications
This 304 Stainless Steel Wok Spatula stands out with an elegant design that makes wok cooking easy. It's made of food-grade 304 stainless steel, which is known for its durability.
One notable feature is the attractive wood handle, which helps keep fingers cool while cooking. It is designed to be easy on the hands, letting you flip, toss, and turn without cramps. On the top of the handle is a convenient hanging hole that will allow you to easily store your spatula, whether that's on a hook or in a drawer.
It's easy to see that the wide blade of the spatula is designed with wok cooking in mind. The large size helps manage large quantities of food but is still nimble enough for easy use. This also makes it versatile and ideally suited to everything from stir fry to pancakes.
Those worried about scratching their wok will love the rounded corners and countered edges. This shape is made to match the natural curve of your wok, letting you easily scoop food without worry.
When it comes to cleaning up, this stainless steel wok spatula is as easy as it gets. It's dishwasher safe but can be hand cleaned in seconds due to its stainless steel body.
Best Wood: Linwnil Wooden Wok Spatula
Linwil Wooden Wok Spatula
Sporting a rich grain finish, this spatula is durable and lightweight, and it naturally protects you from minor burns and your cookware from dents and scratches.
Pros: Naturally heat-resistant, doesn't scratch, contoured handle, lightweight
Cons: Straight handle makes for clumsier cooking, narrower blade
For those seeking a trustworthy wok spatula made of natural materials, it's hard to do better than this Linwil Wooden Wok Spatula. Its simple design is well suited to a variety of tasks and is made to last for years.
The first thing you'll notice about this spatula is that it is 100% wood from end to end. This helps insulate your hand from the high heat of wok cooking much better than metal options. Plus, the lacquered surface helps food slide across it easily.
Wood is also the perfect choice for preserving your cookware. Even round-cornered spatulas run the risk of denting or scratching your cooking surface. With this wood wok spatula, you can cook without fear of shortening your pan's lifespan.
Some chefs stay away from wood spatulas because they see them as clunky. However, this spatula is anything but, featuring an interior curve on the blade that scoops food effortlessly. The elongated 15-inch neck also has a slight curve to it for easier handling.
It's the perfect way to get a modern design with a natural look, making it the perfect addition to your kitchen.
Best Silicone: Heat-Resistant Silicone Wok Spatula
Bundlepro Heat-Resistant Silicone Wok Spatula
This silicone spatula is the only choice for cooking with non-stick cookware. It's quite flexible, plus it's dishwasher-safe!
Pros: BPA-free and non-toxic, comes in a variety of colors, non-scratch
Cons: May melt with high heat, slightly thicker blade is harder to handle
A silicone wok spatula is a great choice for anyone who needs a fast, friendly, and cost-effective option. This Bundlepro Heat-Resistant Silicone Wok Spatula delivers all of that and more with a functional and attractive design.
Since silicone is heat-resistant, this wok spatula is an excellent choice for those worried about burning their hands. Even when cooking on high heat, you won't have to worry about using cumbersome towels or oven mitts. Plus, the elongated handle will keep you out of range of splatter.
Another advantage of silicone is that it is much more flexible than wood, bamboo, or steel. This can be a great asset when wok cooking, allowing you to bend your cooking utensil to the shape of your pan.
Finally, a silicone spatula is the only option when working with non-stick cookware like Teflon. The rounded corners and relatively soft material will protect your cooking surface from dents or scratches.
When it comes to cleanup, feel free to throw this wok spatula right into the dishwasher. Or, if you prefer hand-washing, the slick surface will make your job easy.
Best Non-Scratch: Kufung Non-Stick Wok Spatula
Kufing Non-Stick Wok Spatula
This spatula has the best of both worlds: a soft, flexible blade made of silicone and a hard, sturdy handle made of stainless steel.
Pros: Designed to protect cookware, sturdy stainless steel handle, flexible blade
Cons: Not as durable as other options, narrower blade
Sometimes, the best cooking utensils are those that combine the advantages of a variety of materials. The Kufing Non-Stick Wok Spatula is one such example, using silicone rubber and stainless steel to maximize versatility in the kitchen.
The silicone blade is the ideal non-scratch material, staying soft and flexible for gentle cooking. The top of the handle is also coated in silicone, providing a comfortable grip and plenty of insulation. The connecting shaft is stainless steel, which was chosen for its durability and rigidity.
The overall shape of this wok spatula includes a slight curve. This makes it ideal for the wok's characteristic dome shape, letting it scoop and toss food with ease. However, its use isn't limited to wok cooking, and it can be an ideal choice for brownies, grilled cheese, and other everyday dishes.
The narrow blade may be a pro or con, depending on your perspective. On the plus side, it's easier to maneuver and can be useful when making eggs or other small foods. However, it may not be the ideal option when stir-frying large quantities of meat and vegetables.
Best Budget: Honglida Premium Silicone Wok Turner
Honglida Premium Silicone Wok Turner
While it's budget-friendly, this spatula doesn't compromise on quality. Built for comfort and designed to protect you and your wok.
Pros: Low cost, ergonomic grip, non-scratch blade
Cons: Water can collect in crevices, less durable
If you're just learning the art of wok cooking, or need a quick replacement for your trusty spatula, going with a less expensive option may be the answer. The Honglida Premium Silicone Wok Turner is a quality wok spatula that's only a fraction of the cost of others. See for yourself whether it meets your quality standards.
The overall shape of this wok spatula was designed with easy cleaning in mind. Smooth contours and slick surfaces make hand-washing take only a matter of seconds. You can also throw it in the dishwasher without worry.
The silicone blade was chosen to protect your wok from scratching. However, it is also a good choice when it comes to heat resistance, staying safe up to 600 degrees Fahrenheit. While it may not be as heat resistant as a full-silicone or wood spatula, it is safe to use with your bare hands while stir-frying.
The spatula's full length is 14 inches, which makes for a good balance between control and reach. The blade is 4 inches wide, making it especially handy for working with large amounts of food.
Best Versatility: Petelai Heat-Resistant Turner
ORIGRACE Heat Resistant Silicone Spatulas Set
The combined qualities of a silicone blade and a wooden handle make this wok spatula a versatile and very valuable kitchen tool.
Pros: Can be used for a variety of cooking purposes, heat-resistant
Cons: Narrower blade, shorter length
If wok cooking is only a part-time hobby, choosing a more versatile wok spatula can be a smart strategy. The ORIGRACE Heat Resistant Silicone Spatulas Set is not only a good tool set for stir-frying but also a valuable standby for many kitchen applications.
In addition to wok cooking, the manufacturer adds steaks, cakes, cookies, and fish to its repertoire. It's the unique shape of the spatula that makes it so versatile. Not too long or short, with a medium-width blade, it's a perfect compromise.
The wood handle and silicone blade combination are another reason for its success. Since it's non-scratch, it can be used safely with any cookware, even non-stick wok pans. The blade also includes a small bevel to help to pry food off the cooking surface.
While shorter than most wok spatulas, it's actually the perfect length for stir-fry. The 13-inch handle is made of solid wood and designed to be comfortably gripped.
Best Extra-Wide: GXOne Stainless Steel Wok Spatula
SAVE 14%
GXOne Stainless Steel Wok Spatula
Scoop, toss, and flip with ease! This spatula was designed with stir-frying in mind.
Pros: Durable construction, rust-proof, wide blade, dishwasher-friendly
Cons: On the heavy side, the blade is slightly sharp
An extra-wide blade is a real asset on a wok spatula, and the GXOne Stainless Steel Wok Spatula is proof. At four by 4 inches, it is one of the largest spatula blades available today.
A large spatula blade is best put to use when making stir-fry. The wide shape allows you to scoop, toss, and flip the food more easily, which is essential when striving for even cooking.
In addition to its size, the shape of this spatula was also designed with stir-fry in mind. The blade has a slight curve to it, making it even easier to handle chopped meat and vegetables. The corners also have a gentle curve as well, which will help protect carbon steel wok pans.
However, keep in mind that blade width is all a matter of preference. If you are planning on making large amounts of stir-fry in an oversized wok, it can be a great option. Though if not, a smaller wok spatula may be a more manageable option.
In any case, the stainless steel body will save any cook time in the kitchen. It's dishwasher-friendly, durable, and the perfect length to simplify the cooking process.
Best Long Handle: KYTD Stainless Steel Wok Spatula
KYTD Stainless Steel Wok Spatula
A long handle makes a difference between cooking your stir-fried dish safely and sending a splatter of sizzling oil your way.
Pros: Wood handle protects against burning, extra-long shape protects against splatter
Cons: Maybe a bit unwieldy for some cooks, the handle may loosen over time
If you're worried about grease burns while wok cooking, it may be a good idea to find a spatula with extra reach. The KYTD Stainless Steel Wok Spatula is just that and more, with a 16.5-inch handle to let your cooking go the extra distance.
The handle itself is made of 304 stainless steel, which is food-safe, durable, and easy to clean. It's also immune to rust, so you won't have to worry about seasoning or specialized cleaning methods.
The end of the handle is capped with natural flower pear wood, which is as beautiful as it is functional. It protects your hand from the heat of your wok and is a perfect complement to stainless steel. On the tip, a hanging hole is drilled for easy storage.
However, don't forget that the extra length of this wok spatula comes with its drawbacks. Some may find it a little more difficult to use, and the added material also adds a bit more weight. Luckily, this manufacturer also offers a 14.5-inch wok spatula for those worried about these problems.
Best Bamboo: ZZQ Natural Bamboo Wok Spatula
ZZQ Natural Bamboo Wok Spatula
This lovely bamboo spatula has a straight-edged spill-free blade that lets you toss and turn the ingredients without worrying about scattering a few on the floor.
Pros: Will not scratch pans, all-natural materials
Cons: Narrower blade, straight and rigid handle
Bamboo wok spatulas are some of the most traditional options available and come with several natural benefits. Of the several available today, the ZZQ Natural Bamboo Wok Spatula stands at the top of the pack.
What makes this bamboo wok spatula different from others is its specially designed blade. Unlike flat designs, it includes a raised ridge around the edges. This makes it even easier to handle food while stir-frying.
While the blade is a bit narrower than others, some may consider this an advantage. It allows you to flip and toss food more easily, especially when working with small quantities.
As a cooking utensil material, bamboo offers all the same advantages as wood, plus some extra. It's heat resistant, lightweight, and durable. In fact, when compared to wood, it offers even greater durability.
Best of all, this bamboo wok spatula will never harm your pans. The corners of the blade are rigid enough to easily handle food while soft enough to protect your cooking surface.
Best Ladle Combo: Patelai 3-Piece Wok Spatula Set
SAVE 14%
Patelai 3-Piece Wok Spatula Set
So, a wok ladle, spatula, and slotted spoon walked into a kitchen... and made everything easy and convenient for you!
Pros: Allows for versatile wok cooking, durable, rust-proof
Cons: More expensive, slightly heavy
That fact is that expert wok cooking usually takes more than a simple spatula. If you want to outfit your kitchen with one purchase, this Patelai 3-Piece Wok Spatula Set is the answer. Complete with a wok ladle, spatula, and slotted spoon, it has everything you need.
All three pieces of this collection are made of food-grade stainless steel. This makes them durable, easy to clean, and attractive to look at. The handles are wide and easy to grip, with a hanging hole on each tip.
At 14 inches, they are all slightly shorter than other wok cooking utensils. This is especially handy when using the wok ladle, where grease splatter isn't as much of a danger. At the same time, the slotted spoon and spatula are long enough for making stir-fry.
All of them are dishwasher safe or easy to clean by hand.
Wok Spatula Buying Guide
Finding the best wok spatula isn't always easy, and finding the right one is about knowing what to look for. Be sure to keep all of these criteria in mind when selecting yours.
Material
The most common wok spatula materials are wood, stainless steel, and bamboo. Each option has its advantages and disadvantages, which are important to understand before use. Stainless steel is the most durable, while wood is an ideal insulator.
Silicone wok spatulas are also available, though they are designed with a special purpose in mind. Their soft material makes them a perfect choice for non-stick woks, which are susceptible to scratching.
Handle
Many of the best wok spatula options are made of more than one material. One common combination is a stainless steel body with a wood handle, which offers durability and insulation from your wok's high heat.
Aside from material considerations, wok spatula handles should also be comfortable. Look for an option that conforms to the shape of your hand with gentle curves.
Size and Shape
The size of your wok spatula is largely up to personal preference. Long handles with a wide blade can give plenty of leverage when working with greater quantities of food. On the other hand, smaller designs are more maneuverable.
Frequently Asked Questions
If you're still searching for the best wok spatula, take a moment to review these frequently asked questions.
What makes a wok spatula different from a regular spatula?
Since frying pans have a totally different design than woks, it's no wonder their spatulas are different too.

For one thing, wok spatulas are much longer than traditional spatulas. At an average of 15 inches in length, wok spatulas are much better at keeping distance between the food and the chef. This helps protect against high heat and grease splatter.

Wok spatulas also have wider blades, which are often curved. The width helps handle large amounts of food while cooking, which is a major advantage for stir-fry. The curved shape is designed to conform to the domed design of the wok's bowl.
Are metal utensils safe for a wok?
The truth is that the wok spatulas most commonly used by professionals are metal. This is because carbon steel woks are designed to stand up to plenty of punishment without getting scratched.

However, using metal utensils takes skill and practice. If you're worried about scratching your wok, it may be better to start with a wood or bamboo option.
What's the right length for a wok spatula?
The right wok spatula length is largely a matter of personal preference.

Shorter spatulas, around 14 inches, feel right for cooks who want to get up close and personal with their stir-fry. They are easier to maneuver and can easily scoop and flip with just a turn of the wrist.

Longer wok spatulas are closer to 16 inches in length. While this might not seem like a big difference, it can go a long way toward protecting you from heat and grease splatter. They are a bit heavier, though, and a bit more awkward to handle.
Can silicone spatulas be used in a wok?
Silicone is an excellent material choice for many kinds of cooking utensils and is often used for wok spatulas. They don't scratch, are lightweight, and can withstand heat up to 600 degrees Fahrenheit.

However, some wok recipes require temperatures in excess of 600 degrees. While it may not be common, it's the reason why many chefs shy away from silicone.
What other utensils do I need for wok cooking?
Wok spatulas are surprisingly versatile and can be used for most cooking applications. However, there is one piece of cookware that is used more commonly by the pros.

A wok ladle has many of the same advantages as a spatula but can also be used to handle soups and stews. The round shape is a more natural fit for the wok, and because of this, it is often used for stir-frying.

In addition, a slotted spoon is another good tool to have on hand. It lets you scoop solid foods out of a liquid and can be useful for separating the two.