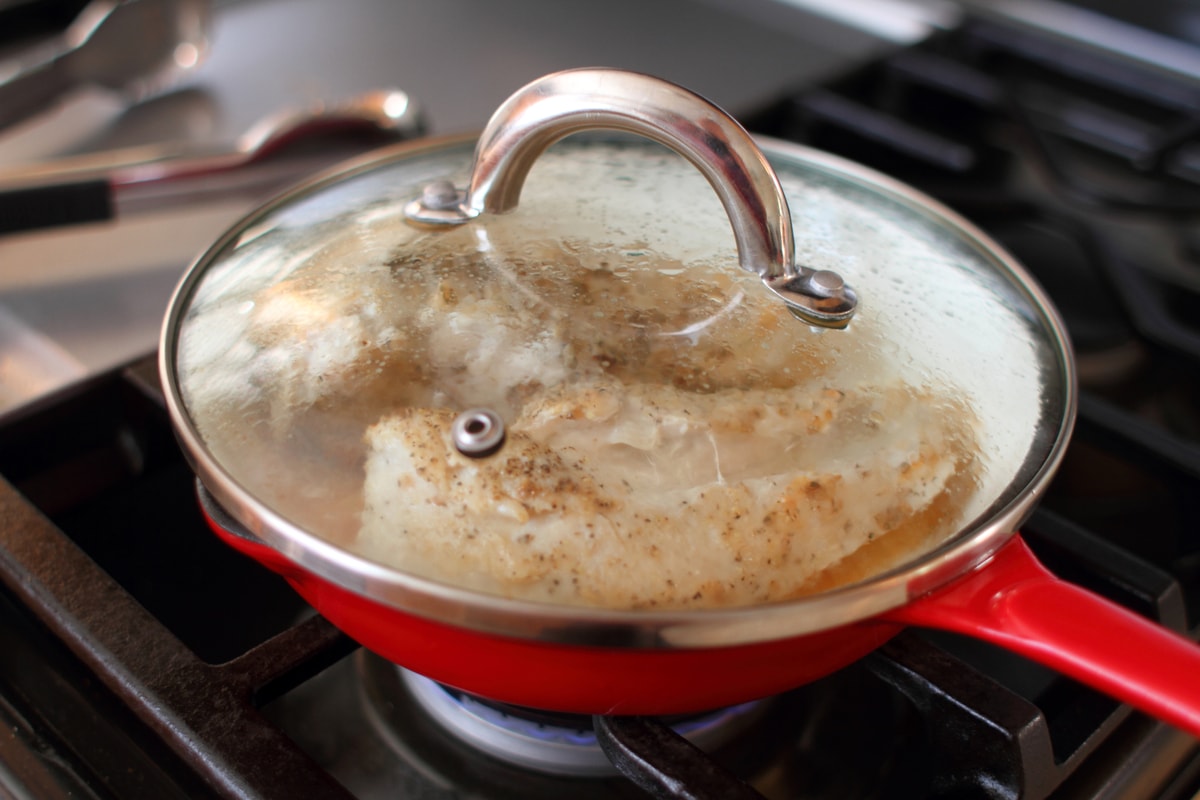 Cooking with cast iron and its hot cooking surface continues to be a rising trend, going beyond the usual steak and fried chicken. The rise in a wide variety of dishes also means variation in cast iron cooking techniques such as steaming and basting. For dishes that require steaming, uniform heat distribution, and locking in moisture, a sturdy and reliable lid comes in handy.
A cast iron skillet typically doesn't come with a lid, unlike its cousin the enameled cast iron skillet or Dutch oven. Fortunately, brands have been releasing separate lids to complement old and new cast iron skillets. In recent years, more and more brands have begun offering cast iron skillets with lids, making it more convenient for consumers.
Choosing the right cast iron lid will boil down to the size and the type of material you need for your cooking. Cast iron skillets with glass lids have also grown in popularity because of how you can see through them. There are also cast iron skillets with lids that double up as cast iron pans. There are many choices, but we have narrowed them down for you.
Jump to:
Best Overall (Separate Cast Iron Lid): Lodge Tempered Glass Lid
Pros: Oven-proof up to 400 degrees Fahrenheit, dishwasher safe, comes in different sizes
Cons: Loose rubber handle, no steam vent
Leading cast iron skillet manufacturer Lodge makes separate cast iron lids. The Lodge Tempered Glass Lid is available in 4 sizes, making it perfect for your new and vintage cast iron pans.
Additionally, the Lodge Tempered Glass lids will fit your Dutch ovens. Dutch ovens are heavy cooking pots with tight-fitting lids, and the Lodge Tempered Glass Lid will make for a good substitute in case you need one. The cast iron pan covers are also oven safe, making the switch from stovetop to oven easier.
These cast iron glass lids are made from tempered glass. This assures us that it can also withstand heat and will not break easily. Clean-up is also a breeze with tempered glass as these cast iron lids can be thrown in the dishwasher. Keep in mind that cast iron lids cannot be thrown in a dishwasher.
Best Value: Cuisinel Cast Iron Skillet with Lid
Pros: Price, complete set, pre-seasoned pan, dishwasher safe, good fit, good heat distribution
Cons: No steam vent
The Cuisinel Cast Iron Skillet with lid is perfect for cast iron pan beginners who want to try their hands at cooking with heavy-duty cookware. Not only does the cast iron pan come with a lid, but it also comes with a silicone handle cover.
Similar to the Lodge, it also doesn't have a vent for steam. The Cuisinel is oven safe up to 400 degrees Fahrenheit, but as a budget option, removing the lid for higher temperatures is recommended.
Best Multi-purpose Lid: Lodge Combo Cooker Cast Iron
Pros: 2-for-1 set, lid doubles up as skillet, superior heat retention, lightweight
Cons: Needs to be seasoned, prone to rusting
The Lodge Combo Cooker Cast Iron, as a combination of both a Dutch oven and a skillet, is a great cooking companion. The 3-quart Dutch oven is perfect for stew and bread baking, while the cast iron lid can also serve as a 10.25-inch Lodge skillet made for frying and cornbread making. And because it's sold as a set, the cast iron lid fits perfectly on the Dutch oven. The snug fit secures your dishes' flavor and moisture.
Now, even though the cast iron pans are labeled as pre-seasoned, we still recommend seasoning them with a coat of your preferred vegetable oil in the oven before using them to cook.
However, the downside of having a cast iron lid is that it is more prone to rusting. Lids are used during cooking for locking in steam and heat. This leads to condensation, and the moisture accelerates the rusting process of your cast iron lid. Because of this, we recommend coating the lids with vegetable oil immediately after use.
Buying Guide
We've narrowed down the buying decision into two main considerations: Fit and Material
Fit: The lid must fit well with your cast iron skillets. Measuring the cast iron pan helps, but you must also consider the gaps between the edges where the cast iron lid and skillet meet. If measuring makes you anxious, then consider getting a cast iron skillet that comes with a lid, instead.
Also, vintage cast iron pans and skillets are built with pour spouts for coursing out the liquid. Recently, more brands have released pans that do not have this pour spout. Since covering will require a good fit on the lip of the pan, choose and measure pans that do not have one.
Material: Choosing between a glass lid and a cast iron lid boils down to preference. There's no superior material, as both types will have their advantages and disadvantages. So, first decide which factors matter to you and you will have an easier time deciding which one to buy.
A cast iron glass lid is perfect for those who prefer to see their food while cooking. It is, after all, the main purpose of having a glass one. The limit would then pare down to its heat tolerance, particularly inside the oven. And although they can withstand up to 400 degrees Fahrenheit of heat, keep in mind that not all of the glass lid's materials are tempered. The knob, for instance, is a weak point.
Also, make sure to treat your cast iron lids the way you treat a normal cast iron skillet. You must do the same cleaning and maintenance to avoid rusting.
FAQ
Is a cast iron skillet lid necessary?
The need for a cast iron skillet lid depends on what you're cooking. Cast iron skillets are usually used for frying and searing, and those do not require the use of a lid. But certain dishes, like some stovetop frittatas, need the ability to lock the heat and moisture in. For specialty dishes that require superior heat retention and moisture preservation, a lid can be very useful.
Should I get a cast iron skillet with a lid?
A cast iron skillet with a lid is a great investment, whether you initially intend to use the lid or not. Most cast iron cookware come in standard sizes, and most will likely fit with your cast iron lid. If you see yourself not using the lid with the cast iron skillet, there are always alternative uses for other pots and pans.
In other words, you will most likely find a use for it. The advantage of having one is that it is oven safe, so you will have the option to use it for dishes you may not have originally thought of.
Can I cover a cast iron skillet with foil?
Foil may be used as a cheap alternative to proper lids. If you need to cover your food while cooking and do not have a lid, then foil is the next best thing. But if you do decide to use foil, make sure to stay a safe distance away when it's time to remove the cover — the steam will be extreme. Alternatively, you can puncture holes to release the heat before removing the foil.
Can you use any random lid on a cast iron skillet?
Unfortunately, lids must be specifically designed for the purpose. Some lids will not be oven safe nor made of tempered glass. Also, keep in mind that you will need the lids to be tolerant of high temperatures. Make sure to look out for a tempered glass lid if you need to use other lids in your kitchen.
What are the bumps or spikes on a cast iron lid for?
Bumps or spikes on a cast iron lid mean it is a self-basting Dutch oven or pan. These bumps or spikes are steam vents. When cooking, steam is created inside the cast iron Dutch oven. If there is no steam vent on your lid, the moisture condensates and drips over the edges of your lid, and eventually your pot.
With a self-basting lid, the condensation is directed towards the spikes and bumps of the cast iron lid, allowing it to go back into the food. The juices are then collected and continue to cook the food, locking in all the flavors.
How do I keep my cast iron lid from rusting?
To avoid rust, always clean the cast iron skillet and lid immediately after use. While running a little water can be harmless, the best practice is to avoid submerging them in water for prolonged periods.
Cleaning your cast iron lid requires a cast iron brush or scouring pad. If you think you need to use soap, use only a little. By no means should you ever put your cast iron cookware in the dishwasher. And, when the cast iron lid is completely dry, don't forget to put a coat of vegetable oil all around it.
Do I need to season a cast iron lid?
Some cast iron lids have been labeled as "pre-seasoned" but there's no harm in seasoning again. Cast iron cookware should be cured and seasoned prior to any use for it to be a nonstick pan. Also, seasoning properly prevents rusting on your cast iron pans, lids, and skillets.
What can I use if I don't have a lid for my cast iron skillet?
Aluminum foil is an all-around kitchen product that you can use to cover your cast iron skillet. It is recommended mainly for oven and baking. You can puncture holes for steam or tightly seal the sides for basting.
For stovetop cooking, use a baking sheet or a similar size lid from your existing cookware. This will be enough to seal in the heat and flavors for your cast iron skillet or Dutch oven.