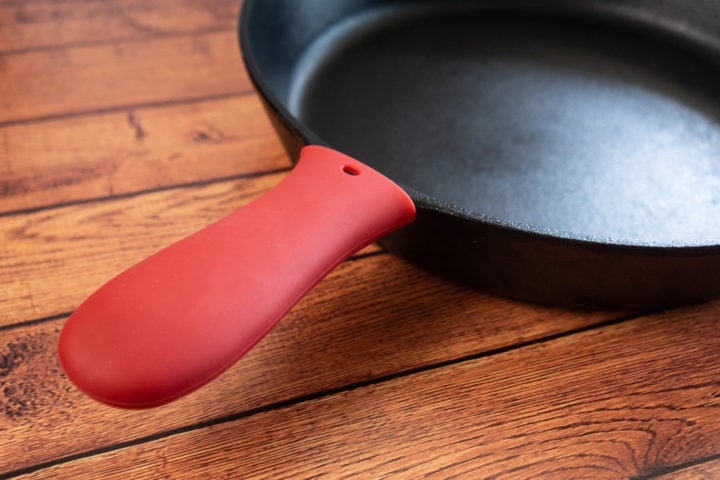 Cast iron pans are a kitchen staple for their high heat retention capacities and durability. With proper seasoning and maintenance, they also feature a non-stick surface that's great for everyday cooking. But while heat retention is an advantage, handling them when they're hot — whether on the stovetop, oven, or an open-flame grill — is a challenge. Fortunately, cast iron handle covers protect your hands from burns.
Cast iron handle covers, also called handle holders, slide in and out of the cast iron pan 's handles for ease of transfer and control. Their utility makes them a compelling add-on to our kitchen staple.
Different types of materials provide different levels of insulation and protection from heat. And, cast iron handle covers come in a wide range of materials that include silicone, leather, and cloth.
So with a variety of choices, how do you select the right one? We have narrowed down the choices based on budget, preferred material, and our thoughts on the overall best cast iron handle cover for you!
Table of Contents
Best Overall: Lodge Nokona Leather Hot Handle Holder
SAVE 17%
Lodge Nokona Leather Hot Handle Holder
We chose this as our best overall handle cover because of its durable leather material, which provides good heat protection.
Pros: Good heat protection, fits snugly, good quality leather
Cons: Pricey, not water-resistant, requires both hands for release, bulky
The Lodge Nokona Leather Hot Handle Holder is manufactured by the renowned maker, Lodge.
The brand has been known for its cast iron skillets and pans, so it's fitting to pair a Lodge cast iron skillet and pan with its covers. These handle holders are a snug fit for the 10-inch cast iron pans, but they do fit the 12-inch and 9-inch variations, too.
The Lodge Nokona is made with good quality leather that's actually similar to the hide used for baseball gloves. But like all leather, they are both flammable and permeable (i.e., not water-resistant).
For optimal use, keep them away from direct heat and water. Excess heat may potentially burn these holders, and water exposure can dry out the leather.
Best Value: AmazonBasics Silicone Hot Skillet Handle Cover
Amazon Basics Silicone Hot Skillet Handle Cover Holder
We like this handle cover because it fits most pan handles, easily slides on and off, and is quite affordable.
Pros: Affordable, easily slides on and off, universal sizing, dishwasher safe
Cons: Tends to loosen in time, highly sensitive to direct heat
Made from versatile silicone material, the AmazonBasics Silicone Hot Skillet Handle Cover Holder is easy to use and fits most handles. This option currently has the best value for cast iron handle covers as it takes advantage of Amazon's large economies of scale and low prices.
Availability and price are two main reasons for the rise in popularity of silicone pot holders and covers. And although they might be a little loose for smaller pans, the enhanced grip from a material like silicone compensates for the sizing gaps.
Of course, silicone covers aren't perfect either. For one, a silicone holder will heat up quickly if left on the handle. Silicone is also prone to discolorations. But, while discoloration is common for silicone materials, the color change has no effect on functionality.
Best Leather: Hardmill Leather Pan Handle Cover
Hardmill Leather Cast Iron Skillet Pan Handle Cover
This leather handle cover provides excellent protection from heat, but isn't bulky. It has two sizes to fit most pan handles.
Pros: Good heat absorption, slimmer than most leather covers, offers 2 sizes
Cons: Strong leather smell, dries and cracks easily
If leather is your preferred material but the Lodge Nokona's size is an issue, then consider the Hardmill Leather Cast Iron Skillet Pan Handle Cover as it comes in 2 sizes. Hardmill offers the standard 4.5-inch (11.43 cm) and the long 5.75-inch (14.61 cm) covers. It also looks thinner than most holders but, as a leather cover, still ensures heat resistance.
Unlike a silicone cover, a leather cover can withstand temperatures when the pan is on the stove. That said, you should still avoid prolonged exposures, particularly from direct heat, as it tends to smoke up when absorbing excess heat.
Additionally, this Hardmill cover is finished with a Kevlar thread fine stitch on the edges, providing a more seamless grip on the handle. Unfortunately, leather tends to crack and break over time when exposed to excess moisture and water. Thus, the general maintenance tips for leather apply.
Best Silicone: Le Creuset Silicone Handle Sleeve
Le Creuset Silicone Handle Sleeve
This handle sleeve provides a good grip and better heat protection than most pan handle covers.
Pros: Dishwasher safe, better grip, thicker silicone, comes in different colors
Cons: Loose, difficult to clean the insides
The Le Creuset Silicone Handle Sleeve is a silicone handle cover that fits almost all standard cast iron pans and skillets, featuring a looser fit. The purposeful ridges found both inside and outside provide the grip needed to offset its loose fit.
Furthermore, the silicone material of the Le Creuset handle cover is thicker than most silicone covers, so it provides better heat protection. Like other silicone kitchen materials, it is dishwasher safe and lasts longer with proper use and maintenance.
Best Cloth: Evoio Hot Handle Holder
Evoio Non-Slip Machine Washable Pan Handle Sleeves
This handle cover made of cloth fits most cookware handles and provides good heat protection with its eco-friendly insulation material.
Pros: Machine washable, affordable, universal size, slides on and off easily, multiple designs and colors available, can stay on while cooking
Cons: Limited heat protection, not fire-resistant
Before silicone and leather, cloth potholders were the way to go. The Evoio Hot Handle Holder carries on the tradition, with advantages in price, usability, and universality.
Taking after the reliable kitchen towel that's been in every household and kitchen, the design is tweaked for this purpose. But, the Evoio takes this up a notch with extra insulation for heat absorption.
These holders can be left on cast iron handles while cooking, a feature that's especially helpful when you need to baste steak or move the pan around for even and balanced cooking. These holders are loose in fitting and don't get too hot when left on.
The best part of these cast iron holders is the clean-up. Simply throw them in a washer and you're set. But as with cloth materials, heat protection will be limited, especially when compared to the previous options.
Cast Iron Handle Holder Buying Guide
Now that you're ready to buy, here are some important considerations to keep in mind when choosing the best cast iron hand cover.
Things To Consider
Maximum heat capacity: According to manufacturers, cast iron pans can hold heat well over recommended cooking temperatures. While cooking is mostly done between 350 to 450 degrees Fahrenheit, cast iron pans can hold temperatures of over 600 degrees Fahrenheit. To avoid burning your hands, cast iron handle covers should have heat resistance buffers over the recommended cooking temperatures.
Snug fit: Another thing to consider is fit. Better fit means better grip and handling of the cast iron pan. The variety of handle covers means some handle covers will fit better than others. So, try to look for one that fits snugly.
Ease of installation: And third, the best cast iron handle covers are easy to put on. Cooking with heat requires quick motions as leaving them on too long will lead to burnt food. Handle covers should then be mechanically easy to install, and as out-of-the-way as possible.
Size Selection
Going for the snug fit allows greater control. If this is important to you, then consider measuring the handles of your cast iron pans first.
But should you go for an option that has a bit of leeway in size, then the advantage here is versatility as it should fit most other pans. A standard stainless steel and copper pan will typically have a longer handle, but a cast iron pan handle holder should be usable anyway.
Maintenance
Unsurprisingly, the extent of how these covers will last will depend on usage. Leaving them on a hot pan to overheat will accelerate the deterioration process. Install them only when necessary.
Maintaining hygiene is also crucial, and the ease of washing will depend on your handle holder's material.
FAQs
What material is best for cast iron handle covers?
What's best will depend on what's important to you. For maximum heat protection, leather handle covers are the way to go. If your budget is tight, silicone handle covers do the trick.
Can I leave the cast iron handle holder on while cooking on the stovetop?
Handle holders and covers are not fire-resistant, and it is not advisable to leave them on cast iron handles. To be clear, leaving them on for a bit is fine, especially when you need to move the food around. But keep in mind that the holders, too, get hot if they stay installed. Their purpose is to absorb heat from the handle for easy transfers and control.
Are cast iron handle covers one-size-fits-all?
No. To get a snug fit for your handles, it's always best to measure your handle first. Most brands and manufacturers provide just one size, so the recommendation is to make sure what you're buying at least approximately fits your current pans correctly for optimal use.
What is the highest temperature that cast iron handle covers absorb?
Cast iron pans can reach up to 600 degrees Fahrenheit, but normal cooking surfaces are usually between 350 to 450 degrees Fahrenheit. It is advisable not to leave them on the handle too long. Prolonged exposure may make the covers themselves useless as they, too, gather excess heat.
Are cast iron handle holders oven-proof?
No. Leather and cloth are flammable materials. It is dangerous to leave them inside the oven. Silicone will also burn to some extent.
Will cast iron handle holders work with copper and stainless steel pans?
Yes, cast iron handle holders should work fine with copper and stainless pans. Copper and stainless pans are usually made with longer handles though, so your cast iron handle holders may only cover part of the handle. The covered part is typically sufficient in most cases.