If you want durability and resilience in your cookware, you can't go wrong with cast iron. However, while this material is rugged and long-lasting, the manufacturing process can differ between companies.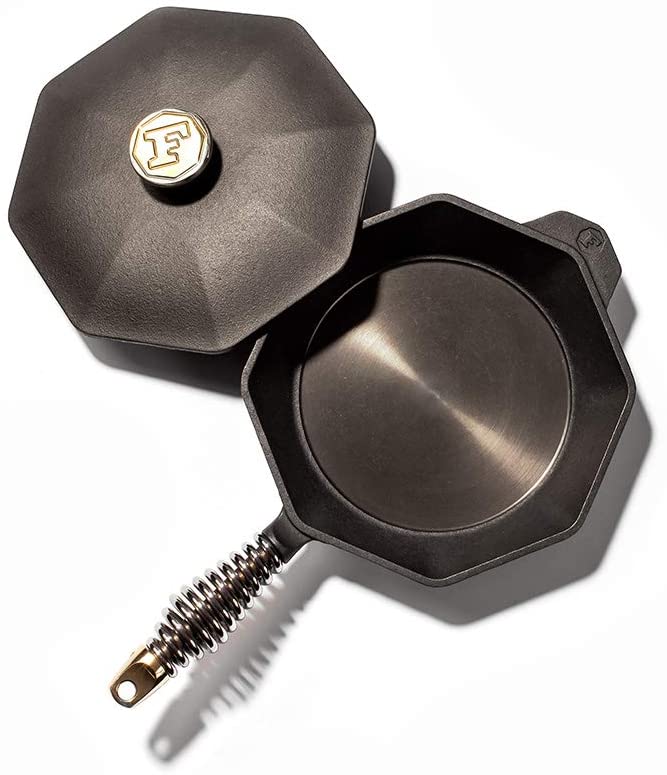 Most cast iron cookware is made in China, but a few brands are based in the US. Many of these manufacturers are artisanal, producing relatively small batches at a time. So, we decided to take a look at the best cast iron made in USA. We've compiled a list of the top six companies, including:
Finex - High-quality but pricey
The Field Company - Small-batch cast iron and well-crafted kitchen utensils
Lodge - The largest cast iron brand in America
Lancaster - Artisan-style cast iron with only one product
Smithey Ironworks - Engraveable cast iron and carbon steel cookware
Stargazer - Cast iron with an old-fashioned flair
Table of Contents
A Quick Comparison Between Cast Iron and Other Cookware Materials
Before we dive into our list of cast iron made in USA, let's take a moment to see how it stacks up against other types of cookware.
Copper Cookware - Copper pots and pans conduct heat very well, so you don't have to worry about hot and cold spots. The metal also cools down quickly, which can be both a benefit or a disadvantage, depending on how you cook.
Stainless Steel Cookware - When cared for properly, stainless steel can last a lifetime. However, it can accumulate scratches and imperfections over time. This metal is another excellent heat conductor, and lighter than cast iron.
Aluminum Cookware - If you want something light and easy to use, aluminum pots and pans work well. However, they can be tricky to cook with because they heat up so quickly.
Carbon Steel - Most chefs swear by either cast iron or carbon steel, thanks to their resilience and versatility. Carbon steel pans are not naturally non-stick, however, so cast iron has a bit of an advantage.
Overall, cast iron is reliable and easy to cook with, even though it requires a bit of extra maintenance.
Finex Cast Iron
As of 2019, Finex is now part of Lodge, but it still exists as its own brand within the larger Lodge umbrella. Finex started in 2012 after its founders launched two successful Kickstarter campaigns. According to the owners, the inspiration behind Finex was a desire to use traditional crafting techniques with American made cast iron.
There is some truth behind Finex's goal. For many decades, cast iron skillets and pans were polished after molding, which removed much of the porousness of the surface. This process ensured that the seasoning wouldn't seep out as quickly since the holes were much smaller. Longer-lasting seasoning means that your non-stick cast iron pan would be a workhorse in the kitchen.
One hallmark of Finex cast iron pans is their octagonal design. While this shape doesn't offer much practicality, it does help differentiate Finex from the rest of the pack. Another unique element is the spring-style handles on each pan or skillet. The shape and material of the handle help dissipate heat so that you don't have to burn your hands whenever you're cooking.
Products
American-made cast iron skillets are highly versatile in the kitchen, even if they're heavy and somewhat cumbersome. The high walls of the skillet pan mean that you can cook meats, stews, vegetables, and plenty of other dishes without making a mess. Finex offers their skillet in three sizes: eight inches, 10 inches, and 12 inches.
You can also include a lid for simmering and stewing. The lid matches the octagonal design of the skillet itself and comes with a natural wood handle on top.
A Dutch oven is perfect for making one-pot dishes and desserts. If you've never had a Dutch oven cobbler before, you're missing out on a real treat. As we mentioned, Finex makes its cast iron with spring-like handles. Since you'll be cooking your dish for several hours, these handles make it easier to pull the food out of the oven or off the fire. This cast iron Dutch oven made in the USA holds up to five quarts.
If you're a breakfast lover, you'll want to add this griddle to your shopping list. Since it's a double-wide model, you can cook more food at the same time. One side can be for pancakes while using the other side for eggs and bacon. This griddle is perfect for family meals since you can make enough food to feed an army. This non stick cookware measures 22 inches long and 12.25 inches wide.
For the uninitiated, grill pans are different than griddles. The main difference is the addition of grill ribs. These ribs help drain fat from your meat and allow you to get nice, uniform grill lines, even though you're not using a barbecue. Finex offers three versions of the grill pan, including 10 inches, 12 inches, and a 15-inch lean pan that looks more like a griddle.
Additional Products
Finex not only makes high-quality cast iron made in USA, but the company also produces two peripheral pieces for a complete culinary experience. First, you can get a cast iron cleaning kit, complete with additional seasoning oil, a chain-mail scrubber, and an oak scraper to remove stuck-on food. Second, you can purchase a cherry wood trivet with the Finex logo on it.
Pros and Cons of Finex Cast Iron
As we mentioned, the traditional method of producing cast iron yields longer-lasting non-stick properties. Because Finex takes time to create each cast iron skillet and pan with care, you know that you're getting high-quality cookware.
On the flip side, Finex products are on the higher end of the price spectrum. You can expect to pay at least $125 to $250 for one piece. However, the company does sell sets on its website. These sets offer a slight discount if you're trying to buy everything at once.
The Field Company
This brand was founded by two brothers who had a deep affinity for vintage cast iron cookware. They inherited some pans and skillets from their grandmother (after whom the company is named), which dated back to the 1930s. Back then, cast iron was sanded for a smoother surface that would hold its seasoning longer.
The road to creating an American made cast iron cookware company was long and arduous. According to the brothers, they did a lot of research to determine how these vintage pans were produced. Their passion brought them to a lab in Europe to discover the secrets of old manufacturing techniques.
Eventually, the Field Company was born, and it produces cookware the old-fashioned way, much like Finex. However, these pieces are more traditional in their style and design as well.
Products
This manufacturer only produces two types of cast iron cookware - the skillet and the Dutch oven. If you're looking for any other kind of pan, you'll need to go elsewhere. This skillet looks vintage, complete with an old-fashioned design and smoother cooking surface. You can buy it in a wide array of sizes, from six inches to 13 inches.
The company also sells lids separately, so keep that in mind. Each size has a corresponding number to make it easier to match the cover with the skillet.
This Dutch oven holds up to 4.5 quarts, making it an ideal size for most one-pot dishes. You don't need to purchase the lid separately, although you can get a replacement if the original one gets damaged. Remember that the handles on this cast iron Dutch oven are made of the same material, so you'll need oven mitts or towels to handle the cookware.
Additional Products
Although The Field Company specializes in high-quality cast iron cookware, it also sells a wide range of utensils and maintenance products. Some examples include:
Spatulas
Chain Mail Scrubber
Fiber Brush
Leather Handle Covers
Pitchers
Plates and Bowls
Theoretically, you could buy a complete kitchen setup from The Field Company if you want.
Pros and Cons of The Field Company
As with Finex, you can feel good about purchasing cast iron cookware from The Field Company. Since the brand specializes in old-school manufacturing, each pan is smoother and more non-stick than modern pieces.
That said, you don't have many options when choosing American made cast iron cookware. Since you can only buy a skillet or Dutch oven, you'll have to look elsewhere for other types of pans.
Another benefit of The Field Company is that you can buy leather handle covers. These pieces come in handy so that you don't have to use an oven mitt whenever you want to move the pan from a hot surface. Finally, these pieces are relatively affordable, although they'll still set you back at least $100 each.
Lodge
Lodge is the oldest and most well-known cast iron made in USA. The company was founded in 1896 by Joseph Lodge, who named the brand after himself. Lodge began in South Pittsburgh, Tennessee, and the company still has foundries there. Over the years, Lodge has become synonymous with affordable cast iron cookware.
As mentioned above, Lodge purchased Finex in 2019, but that's the only brand that Lodge has absorbed since its inception. Otherwise, the company stands in a class all its own.
Products
There are far too many products and variations to list here, so we'll focus on some of Lodge's greatest hits. The company also expanded into a "luxury" cast iron brand called Blacklock. Although they're not listed here, you can find smaller models and saute pans as well.
Technically, this product is a three-in-one piece, complete with a Dutch oven, frying pan, and a skillet. The way it works is that the frying pan fits over the skillet to create a lid. There is a small ridge along the edge of the frying pan so that it doesn't slip off too easily.
As you'll notice, a Lodge skillet is not as expensive as brands like Finex or The Field Company. The reason for the affordability of these pans is that they use modern cast iron practices, which are more porous. Also, Lodge adds black coloring to their fry pan and skillet models so that they look even sleeker.
This cast iron skillet is a mainstay of the brand, and you can get it in multiple sizes. All of Lodge's cookware comes pre-seasoned, although the non-stick surface won't last as long as it will with a Finex or Field Company pan.
Sometimes, you want to make pancakes and eggs on a griddle. Other times, you want to cook steaks or other meats on a grill pan. Fortunately, you don't have to purchase two products. Instead, you can get the best of both worlds with a single item. All you have to do is flip the cast iron over and use the other side. Keep in mind that you should not do this while cooking, as it can get messy and be dangerous.
Also, this grill/griddle combo is double-wide so that it will fit over two burners.
If you haven't tried enameled cast iron yet, now might be the best time to try it. While regular cast iron has a non-stick surface, the seasoning can wear off over time. Enameled cookware, however, stays non-stick for longer since it has a ceramic surface. Another benefit of this type of cookware is that it won't be as scalding when you try to pick it up.
This Dutch oven holds up to six quarts and comes in a wide range of colors. Lodge also sells standard cast iron Dutch ovens as well.
Have you ever wanted a flame-grilled experience without having to fire up the charcoal barbecue out back? Maybe you're tailgating, or perhaps you don't have the space to bring a full-size grill. In those situations, you can use the Lodge Round Kickoff Grill instead.
This piece allows you to place hot coals on the bottom and grill meats and veggies on top. It looks like an upside-down Dutch oven, except the top has an open grill design to let the heat and flames through. That said, you will need to be careful about fat and juices dripping onto the coals and lowering the temperature.
A cast iron wok is pretty rare to find, but it's highly versatile and easy to use. Much like a regular Lodge pan, you can use a wok to make virtually any dish. This piece measures 14 inches wide and comes with loop handles on the side. Unfortunately, you don't get a lid with this wok, so you'll have to buy it separately.
Another point to consider is that this wok has a flat bottom so that you can place it on a stovetop directly for added convenience.
Pros and Cons of Lodge
Since Lodge is the largest cast iron producer in the US, its products are much more affordable. For example, you can buy pots and pans for less than $40 in most cases, although Lodge does offer high-end pieces as well.
The downside of Lodge cookware is that they don't hold onto their non-stick surface as long. Also, Lodge pre-seasons each pan with vegetable oil, which can seep out much faster than other types of oil.
Although Lodge does paint its cookware black, you shouldn't have to worry about colors or chemicals leaching into your food. However, some users may not want to take the risk, however minimal.
Lancaster
While Lodge has the largest number of products, Lancaster is at the opposite end of the spectrum. This company only makes one cast iron skillet, although it offers many other kitchen items and utensils.
Lancaster was founded in 2018 by two friends who developed an appreciation for the traditional way of doing things while on a trip to Alaska. It was that slowed-down life mentality that inspired them to build a better cast iron pan, using old-fashioned manufacturing techniques.
Products
Lancaster only makes the cast iron pan number eight. According to the company, the number eight refers to traditional sizing conventions started by American manufacturers in the 1800s. Apparently, the number reflects the size of the stovetop since they were often made in tandem. A number eight measures around 10.5 inches in diameter.
In addition to the pan, Lancaster sells a wide array of wooden utensils and leather accessories. You can buy a leather pot holder, handle cover, or placemat to go with your spoons, forks, and ladles.
The company also makes spurtles, which are traditional Scottish utensils used to stir porridge, soups, and stews. You can buy several versions of the spurtle, depending on your needs. They also sell slotted spurtles for extra convenience while stirring.
Pros and Cons of Lancaster
As with other traditional cast iron manufacturers, you can appreciate your Lancaster pan for years to come. You can also enjoy the non-stick surface for longer since the metal isn't as porous as other models.
The primary downside of Lancaster is that you can only buy the one pan. So, if you want a different size (or a Dutch oven or griddle), you're out of luck.
Smithey Ironware
Like most cast iron made in USA, Smithey Ironware is a company devoted to making cast iron pots and pans the old-fashioned way. The company's story began in a backyard, where the founder would restore old cast iron cookware to give to friends and family. He was fascinated by the quality of older pieces, so he decided to try his hand at making his own.
Starting in 2018, Smithey also started making carbon steel cookware as well.
Products
One thing that sets Smithey Ironware apart from other cast iron companies in America is that you can engrave some of the pots and pans. You can engrave each skillet, as well as the griddle and the small Dutch oven. This option makes Smithey Ironware excellent for gift-giving, as you can personalize each piece with someone's name or a short quote.
Smithey Ironware Cast Iron Skillet
You can get Smithey skillets in multiple sizes, including numbers six, eight, 10, and 12. Each non stick pan also comes with a front handle with three holes in the front. These holes are there for hanging the skillet on a hook.
As we've seen, you can use cast iron grill pans to make high-quality meats and steaks with grill marks as if they're on the barbecue. This pan is a number 12, so it measures 12 inches across. It also has a depth of 2.5 inches, giving you more versatility while cooking.
As we mentioned, you can engrave the smaller of the two Dutch oven sizes. You can buy a 3.5-quart model or a 5.5-quart version.
Pros and Cons of Smithey Ironware
Brands like Finex are high-end cast iron, meaning that each piece can cost almost $200. Lodge is on the other side, with affordable cast iron cookware made in the US. Smithey is kind of in the middle, as you can buy the pan for less than $100, but larger sizes are more expensive.
Another benefit of Smithey cast iron is its smoother surface, so it retains its non-stick capabilities for longer. Since you can purchase a full range of cookware, you can have a fully stocked kitchen if you want. Each pan comes pre-seasoned for your convenience.
Finally, if you prefer carbon steel cookware, you can buy those pieces from Smithey as well.
Stargazer
Stargazer is another American made cast iron company forged from the idea of higher quality materials and manufacturing processes. The founder sought to make a better cast iron skillet after seeing the relatively low-quality options in the department store. In 2015, Stargazer had its first order of 250 skillets, which the founder made and sanded by hand.
Shortly after that, he started producing them in a small-batch factory, following the design he created from a lengthy trial and error process. After six years, the company has sold thousands of skillets.
Products
There is only one product that Stargazer makes, and it comes in two sizes. You can choose from the 10.5-inch or 12-inch skillet. The cast iron is machine-smoothed for a better non-stick surface, and the weight balance is designed to make it easier to carry and move around. Both skillets are backed by a lifetime guarantee.
Pros and Cons of Stargazer
Price-wise, Stargazer is in the middle of the pack with a $100 skillet. The downside is that you can't buy other cast iron cookware, so you're limited by a lack of options. When compared to other brands, Stargazer is not quite high-end, but it's pretty close.
Honorable Mention: Griswold Cast Iron
Although the Griswold Manufacturing Company closed in 1957, you can still find a Griswold skillet or pan if you look hard enough. This American made cookware has lasted for generations thanks to its superior craftsmanship. You can tell if you have a Griswold because it has the brand name on the bottom, along with a marking showing that it was made in the Erie, PN cast iron foundry. Some people call it an Erie skillet because of the marking.
Other similar vintage USA pan brands include Birmingham Stove and Range Company, Wagner Cast Iron, and Vollrath. You can usually find these pieces online, although cast iron pot enthusiasts usually buy them pretty quickly. Usually, you can tell if a pan is vintage if it has a raised heat ring on the bottom and a pour spout on the side.