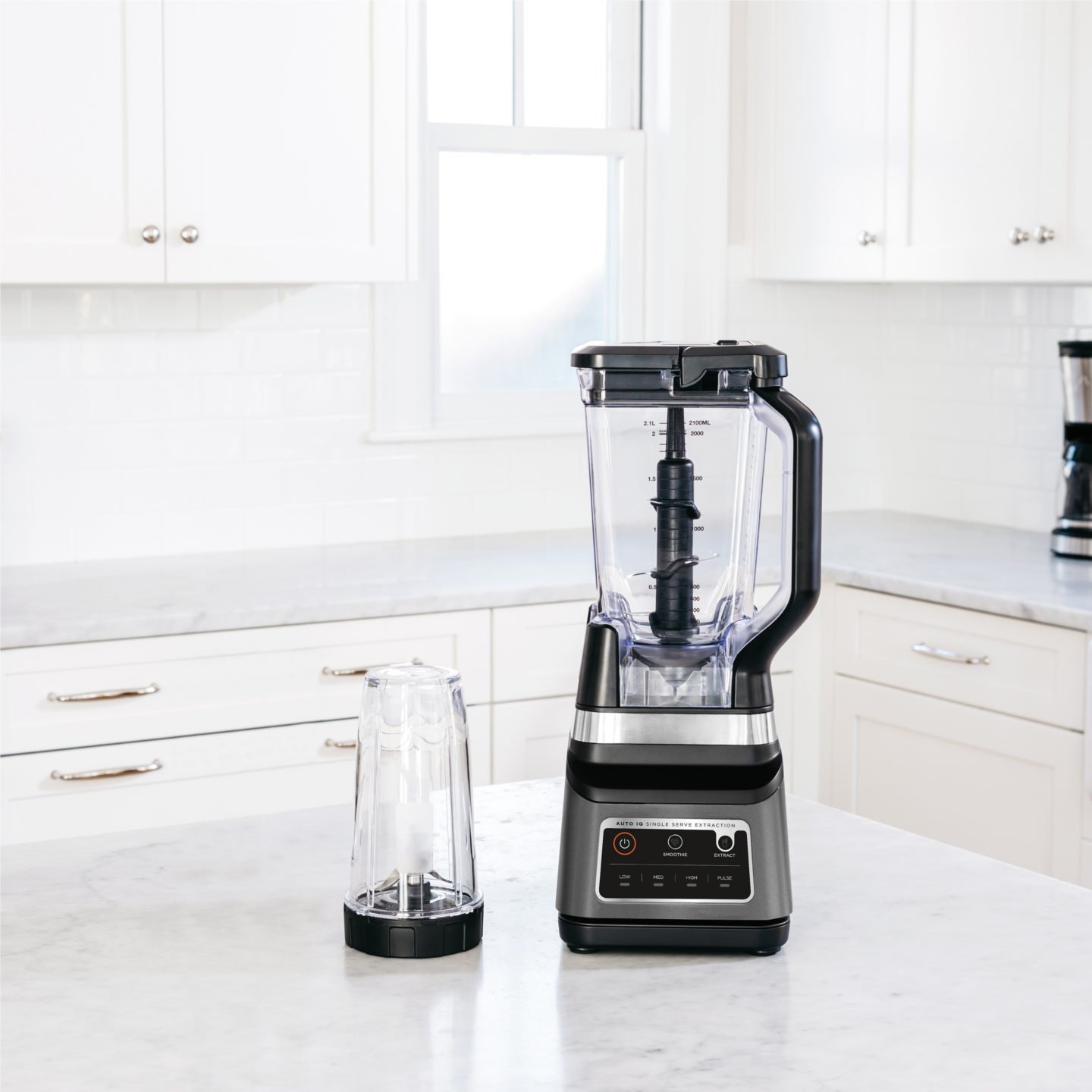 While we all want a quality blender, some of the most famous brands can cost up to $700. Of course, high-end blenders come with great attachments and offer an excellent blending experience. However, we always welcome more affordable options, especially for beginners.
Finding an affordable option with thousands of blenders in the market isn't easy. Of course, inexpensive doesn't necessarily mean cheap quality. When choosing an affordable blender, the motor power, materials used, overall performance, and durability are the key points you should consider. A good blender will provide you with a hassle-free experience while giving excellent results every time.
Although looking for an affordable, quality blender might be pretty challenging, we are here to help you out. This article contains the nine best blenders under $100, their specs, a quick buying guide, and answers to frequently asked questions.
Table of Contents
Overall Best: Ninja BL610 Professional Countertop Blender
SAVE 35%
Ninja BL610 Professional Countertop Blender
Powered by a 1000-watt motor base, this blender with a 72oz pitcher is perfect for daily family use.
Pros: Powerful motor, large, BPA-free, dishwasher-safe pitcher
Cons: Limited 1-year warranty, plastic parts
The Ninja BL610 Professional Countertop Blender, powered by a 1000-watt motor base, has a three-speed setting and a pulse option to cater to your blending desires. It has blades that promise easy crushing, pureeing, blending, and controlled processing. Moreover, this Nutri Ninja blender is an ideal model if you're a fan of smoothies, as it crushes ice in seconds.
Although made of plastic, the 72-oz pitcher is BPA-free and dishwasher-safe, so you won't have to worry about cleanup. However, you must handle the plastic pitcher with extra care. It's not advisable to use hot water in cleaning it, as it can deform and cause leakage.
Another thing to be concerned about is its limited 1-year warranty. While undisclosed on the company's website, user reviews revealed that the warranty does not cover the pitcher. Spare parts are available on their Amazon page, but that will be another cost.
Despite its cons, you won't have to worry as long as you maintain the blender's condition. So, the Ninja Professional Blender remains our overall best blender under $100.
Best Portable Blender: Ninja (BN401) Nutri Pro with Auto-iQ
SAVE 10%
Ninja (BN401) Nutri Pro with Auto-iQ
With a 1100-watt motor and two ready-to-go single-serve cups, this personal juicer is perfect for maintaining health and work balance.
Pros: Powerful motor, easy cleanup, portable pitchers
Cons: Loud motor, small pitchers
If you're interested in a blender with a to-go pitcher, the Ninja (BN401) Nutri Pro is the one for you. This countertop blender has a 1100-watt motor base that quickly blends everything. It has four blending buttons—a start/stop button and options for crushing ice, making smoothies, and pulsing. With blades designed for maximum blending, daily to-go smoothies are easily achievable.
This model also comes with Auto-iQ technology that operates independently and produces a regulated pausing or pulsing pattern, depending on the setting you place in it. This allows the user to have complete control of their time while ensuring a good quality smoothie after the process.
What we like best about this model are its portable to-go pitchers. The 24-oz pitchers come with a sealed lid to prevent leakage. If you're into fruit or vegetable cleansing, you can easily blend a whole day's worth of juice into this handy pitcher and bring it along to work.
However, this model has a powerful motor, so expect loud noise. And, as this is a portable juicer, the pitchers are small. This may not be for you if you prefer to make large batches of smoothies or blended drinks.
Aside from those two drawbacks, this is an overall great blender at an affordable price.
Best Budget Pick: Hamilton Beach Wave Crusher Blender
Hamilton Beach Wave Crusher Blender
This versatile machine comes with a 700-watt motor and 14 blending functions, perfect for different daily purposes.
Pros: Versatile, heat resistant glass pitcher, 3-year warranty
Cons: Long blending time required
The Hamilton Beach Wave Crusher Blender is our best budget blender for this category. Aside from its affordable price, this blender has a 700-watt motor and comes with 14 blending functions. It can cater to all of your blending needs—from milkshakes to crushed ice.
One great feature of this model is its 40-oz glass pitcher that's heat resistant and is perfect for making ice-cold beverages. It's also designed with an easy-pour spout that provides messless serving.
Moreover, the blade, lid, and glass pitcher are all dishwasher-friendly, so you don't have to struggle with aftercare. It's also backed with a 3-year warranty.
We recommend this for beginners experimenting with different smoothie ingredients, but do note that this is not a heavy-duty blender. The motor tends to overheat and might damage the plastic parts in it. While there's a warranty for broken parts, it does not cover damages caused by overuse.
Best Blender With Chopper Attachment: Hamilton Beach Power Elite Blender
Hamilton Beach Power Elite Blender
This versatile 700-watt-powered blender with four blending buttons comes with a 3-cup food chopper.
Pros: Affordable, easy operation, 12 blending functions, safety and instructional manual included, 3-year warranty
Cons: Glass easily chips, not heavy duty, loud noise
We always love an affordable and versatile blender. The Hamilton Beach Power Elite Blender has a 700-watt motor base and has 12 blending functions that cater to different needs. Moreover, it comes with a chopper attachment that you can use for easy cutting.
This multi-function countertop blender has a no-mess pour spout and a hinged cover for simple pouring. The jar and blade are both dishwasher-safe, and the cable effortlessly slips into the blender's bottom for neat storage. The machine is also backed by a 3-year company warranty, which is excellent.
However, there are some drawbacks to this model that we noticed. It's not a commercial blender, which means it's not meant for heavy-duty blending. The motor also produces a lot of noise when in use, and lastly, even when backed by a company warranty, some materials are weak, especially the glass pitcher, which easily chips off.
Best Personal Blender: Ninja BL480D Juices, Shakes & Smoothies Personal Blender
Ninja BL480D Juices, Shakes & Smoothies Personal Blender
Integrated with the Auto-iQ Technology, this blender with a 1000-watt motor is a compact yet powerful personal juicer for everyday use.
Pros: Powerful motor, Tritan material, Auto-iQ technology
Cons: Limited one-year warranty, loud motor noise
The Ninja BL480D Juices, Shakes & Smoothies Personal Blender is our best personal blender. This machine is powered by a 1000-watt motor that can crush anything within seconds. Integrated with the famous Ninja Auto-iQ technology, the device can run itself with the setting you place it in.
It also features a digital timer display where you can monitor the remaining blending time. Moreover, it comes with four operating buttons—start/stop, Auto-iQ blend, Auto-iQ ultra blend, and pulse.
We also like that it comes with a 24-oz and an 18-oz pitcher. Both are made of Tritan plastic and designed with a no-mess spout to prevent spillage. Furthermore, the blades are designed with the Nutri Ninja Professional Assembly to ensure no chunks are left uncrushed.
Unfortunately, this machine comes with a limited 1-year warranty, which is short for a daily machine. And, you should also expect a loud noise since it has a powerful motor.
Lastly, the pitchers are made of plastic, and dishwashers might not be the best way to clean them. However, the blade is not attached to the pitcher, so cleaning them manually requires less time.
Best For Batch Blending: Oster BLSTTS-CB2-000 Pro Blender
Oster BLSTTS-CB2-000 Pro Blender
This 1200-watt-powered machine comes with a 64-oz blending pitcher and two 24-oz Blend-N-Go cups, perfect for batch blending.
Pros: Powerful motor, large pitchers with two extra cups, 3-inch 6-point blades, 3-year warranty
Cons: Issues with the pitcher leaking
Batch blending requires a strong motor with extra pitchers, and the Oster BLSTTS-CB2-000 Pro Blender offers that. This Oster blender has a 1200-watt motor and a two-way 3-inch 6-point blade. Plus, it has an innovative technology that provides three automatic meal modes (Smoothie, Shake, and Food Chop) and three automatic texture settings (Thin, Medium, and Thick).
The Oster Pro Blender is a winner when it comes to its accessories. You get a 64-oz primary blending pitcher that's perfect for family gatherings or commercial production. And, you also get two 24-oz Blend-N-Go cups. You can use these as extra containers when batch blending or simply bring them on the go.
The main concern of users is that it leaks. Some reviews revealed trouble fitting the main pitcher with the motor base, causing the leakage. However, the company assures that the pitcher fits perfectly and just needs to be attached properly. Luckily, this blender also comes with a 3-year warranty that covers this issue.
Best For Easy Operation And Cleaning: Oster Blender Pro 1200
Oster Blender Pro 1200
A powerful machine with a 7-speed setting and 3 pre-programmed settings, this blender comes with a 24-ounce smoothie cup.
Pros: Larger blade system, 10-year warranty, strong motor power
Cons: Plastic material, loud noise
Built with a 1200-watt motor and 900-watt ice crushing power, the Oster Blender Pro is surprisingly easy to use with built-in smart technology. Aside from its 7-speed settings, it also has three pre-programmed common speed settings—frozen smoothies, salsa or food chop, and milkshakes.
We also appreciate this model's 48-oz glass blending jar and additional 24-oz smoothie to-go cup. Cleanup is straightforward as its blade isn't attached to the main blending pitcher. Luckily, its plastic parts are dishwasher-safe and BPA-free.
The package includes a food processor. It can fit 5 cups of food to process, with a shredding and cutting blade and a 3.5-inch feeding chute, so you can add more ingredients easily when needed. The attachment fits easily to the motor, and you just have to push the food chop/salsa button to start.
Unlike other models, this one comes with a 10-year company warranty, allowing you to have access to their services when motor failure or damage to parts arises. However, note that they only cater to factory malfunction and damage, and broken glass jars cannot be replaced using the warranty.
Best Ice Crusher: Hamilton Beach 58148A Blender
Hamilton Beach 58148A Blender
Powered by a 700-watt motor and a pitcher made of glass, this machine is best for your smoothies.
Pros: Strong motor, glass pitcher, simple operation, 3-year warranty
Cons: Motor heats up quickly
The Hamilton Beach Blender is an excellent addition to your kitchen if you enjoy exquisite smoothies, creamy milkshakes, or beverages with ice. This blender is a multi-function blender that can combine frozen fruits and dice veggies for salsa or soup. Plus, its 700-watt peak power allows you to enjoy fantastic frozen beverages whenever you want.
Above all, this is the best for crushing ice, but you can also make sauces, purees, dressings, and other dishes. The Hamilton Beach Blender comes with a complete kit that includes the motor housing, a blending jar with lid, stainless steel ice saber blades with wave-action technology, a BPA-free 40-ounce glass jar, a user handbook, a recipe book, and a 3-year warranty.
Clean-up is a breeze with the container's innovative no-mess pouring spout and dishwasher-safe pieces. The blender housing also has a cable storage compartment that slips neatly into the bottom.
However, this machine is not a professional blender. The motor heats up pretty quickly, making it prone to damaged plastic parts. Note that the warranty doesn't cover motor damages due to overheating or even glass breakage, which is one common user complaint.
Best Compact Blender: Ninja Personal Blender
Ninja Personal Blender
This 4-inch compact blender has a 700-watt motor and two 16-ounce cups, perfect for smoothies and protein shakes.
Pros: Fast blending, convenient, extra pitcher included
Cons: Limited 1-year warranty, plastic containers
If you're looking for a space-saving blender with a powerful motor, the Ninja Personal Blender might be the right one for you. Built with a powerful 700-watt motor that can crush even fibrous produce, this model is designed with slim 16-oz pitchers that you can blend and bring on the go.
Although mainly made of plastic, the BPA-free parts are built to last long. It also comes with sip and seal lids that are dishwasher-safe for easier clean-up. Moreover, the blade is not attached to the blending cup or to the motor body, making storage an easy task.
The main concern with this blender is that the small containers can only hold 16 oz. Most user reviews stated they love the blender but wish for a larger blending pitcher or just an extra cup for batch blending. Moreover, this model comes with a limited 1-year warranty that beginners might not appreciate.
Best Blender Under $100 Buying Guide
Motor Power
The most significant difference between affordable and pricey blenders is their ability to operate. The more expensive the blender, the more powerful it is. But, that doesn't mean that a low-cost blender will always fail in performance.
A blender with at least 700 watts of power, around $100, is a good deal. Making smoothies and purees will be difficult if the motor isn't strong enough. Our best selection has 1200 Watts of power, which means it can easily handle any home kitchen duty. Anything stronger than that is usually reserved for commercial kitchens.
Blade
The importance of a blade in a blender cannot be overstated since it is responsible for actively crushing and grinding the food. If the blender's blades are dull or blunt, it won't produce a nice result.
The blade determines the smoothness of your mixes, so search for blades made of superior material, such as stainless steel. It should also have at least four sharp edges capable of cutting through materials. Finally, check to see if the blade component is accessible if you wish to replace it after some time.
Pitcher
Blender pitchers come in a variety of forms and styles. They may be made of plastic or glass. Both are nice, but each has a flaw: a glass pitcher may appear cool and elegant, but it might be heavy. Glass blenders are considered to be pricey and can break if not handled carefully.
Many people like the plastic pitcher because of its cost, durability, and lightweight. But, it also has a disadvantage—it can break and cloud with time. Of course, some pitchers are made from shatterproof materials that can withstand pressure. For the protection of your health, make sure the pitcher is BPA-free.
Speed Settings
It's critical to have a blender that can operate at various speeds. You won't get the exact consistency you want without them. Personal blenders, meant to prepare smoothies for a single person, are maybe the only exception. They don't require numerous speeds because they're only used for a limited number of recipes.
In this article, the blenders with extra attachments have various speed settings.
Ease of Cleanup
Every kitchen equipment purchase has a hidden cost: cleanup. Even the nicest blenders won't be used much if cleaning them is a hassle.
For easier cleanup, you can try looking for models with detachable blades. Also, rather than having physical switches, check for touchpad buttons as they're a lot easier to clean and don't collect food waste.
When it comes to the pitchers, we recommend the glass ones. Although they require extra care in handling, they don't stain or scratch, so they appear cleaner over time. However, if you're after easy handling, plastic pitchers are better.
Warranty
It's always best to choose a product that comes with a warranty—the longer, the better. Always look for each model's warranty policies because each brand's warranty differs. In this review, we included the warranty of each model we reviewed, as we believe it's a key point.
Frequently Asked Questions
Is it true that glass blenders are superior to plastic blenders?
Both have their own set of benefits and drawbacks. Regardless of the rate at which ice is crushed, glass jars retain their original state for longer without scratching or altering color. On the other hand, the plastic jar appears to be more sturdy; it won't break even if it falls to the ground, and most plastic jars are BPA-free.
Are blenders under $100 reliable?
The price of a blender does not define its reliability. For a machine to be reliable, it has to have a strong motor that doesn't cause too much heat, a strong external build, and glass or Tritan plastic for the pitchers.
Another good qualification is a machine's warranty. While most brands offer spare parts on their websites, a longer warranty will guarantee the company's assistance in case of malfunction or damage.