No blender is quiet, but some blenders are much quieter than others. As much as 30 decibels quieter, in our tests (if that means anything to you?). The difference is felt in the number of times your neighbor will have to knock on your door; The number of times you'll wake a sleeping baby, or the mild headache you'll feel, albeit temporarily, during the creation of every morning smoothie.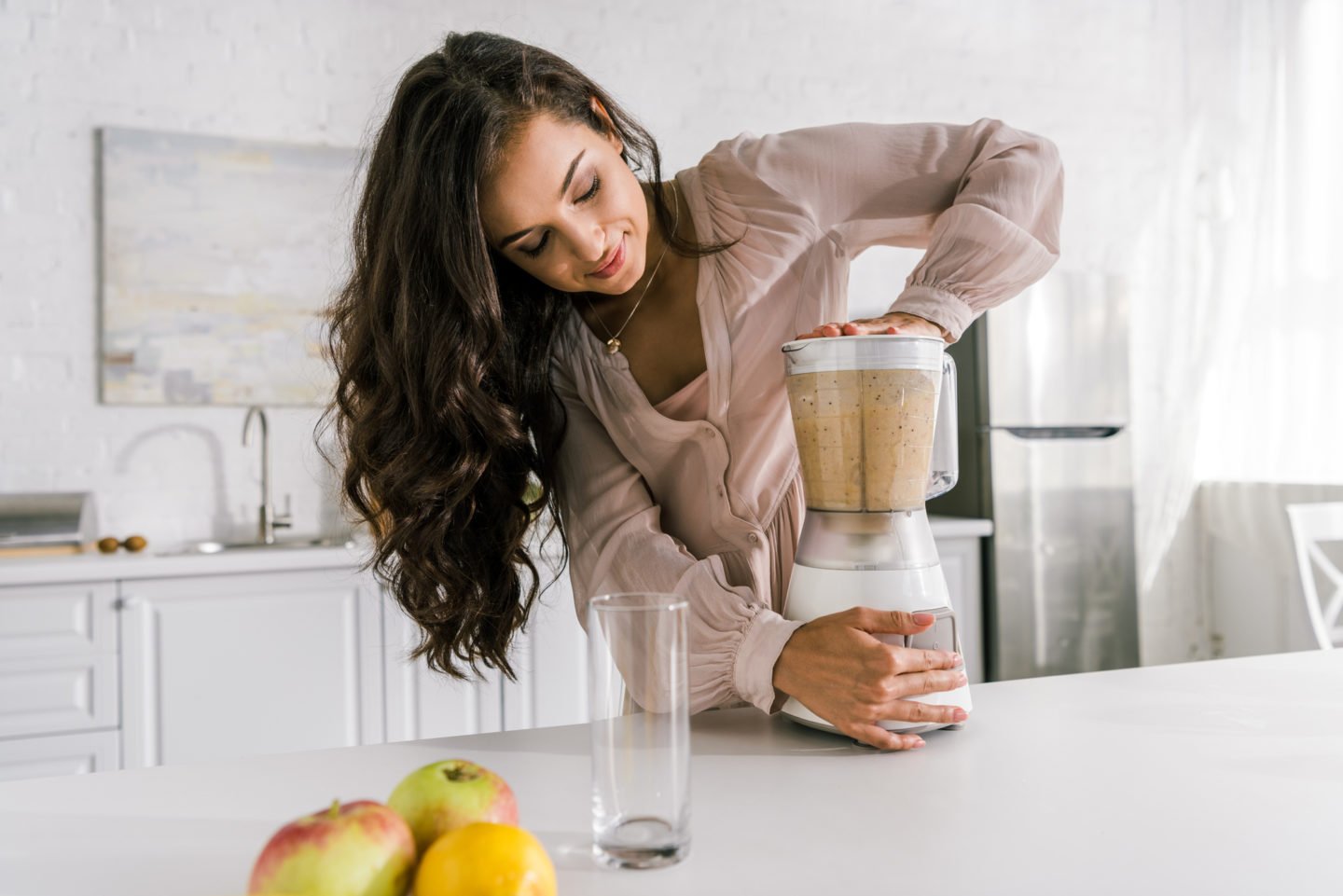 The only quiet blender that ticked all our boxes was called the CRANDDI Quiet Blender. You haven't heard of this brand, but it's the only blender with a full sound enclosure, a capacity over 64oz, and more than 2000 watts of blending power, that doesn't cost a fortune. There are other blenders with sound enclosures but they're all either smaller, less powerful, or way more expensive.
BEST VALUE: CRANDDI Quiet Blender with Sound Enclosure
With a full sound enclosure, and enough power to cover the full range of blending tasks (from smoothies to crushed ice, purees and frozen foods) the CRANDDI is both the largest and most affordable quiet blender of its kind.
Want something cheaper? Our testing points to the Hamilton Beach Pro Blender With Quiet Shield. Yes, you'll give up a little container size (32oz compared to 64oz containers) but you get 4 preset, automatic blending programs that the CRANNDI doesn't have, and a variable speed control dial that you normally only find on higher end blenders.
SAVE 20%
Want to see our full list and the breakdown of how each model got where? Here goes...
If you really want to wake sleeping housemates early in the morning, blending a smoothie is a surefire way to do it. So many great blenders are extremely loud and warrant a warning before you press "go."
Fortunately, many top appliance brands have cottoned on to this issue and have made blenders, especially for the sound-sensitive. Some have protective shields to smother the sound, while others have quietness built into the motors themselves.
We've dug deep to find the best quiet blender on the market for different budgets and different needs. Here are the results.
Table of Contents
Strangely enough, every other quiet blender on this list has a drawback. Some are quiet... but too small. Some are quiet... but really expensive. Some are cheap, but not as quiet.
The weirdly named CRANDDI blender is quiet, and there's no drawback.
First, it has a capacity of 80oz and comes in at 2200 watts of blending power. These are the specs of a premium blender like a Vitamix or Blendtec. Like the kind you'd see at a cafe. You can make smoothies for a family of 4 in this thing, with ease.
But the price of the CRANDDI blender is not premium. Not even close.
While it doesn't have pre-set programs like some of the options further down our list, it still has 15 speeds (so you can carefully blend a variety of concoctions) and an all-important pulse function.
The power of the 2200 watt motor (higher than anything else on this list besides the Blendtec which is another universe price-wise) will let you make ice cream, nut butter, and work dough: Luxuries that aren't possible with smaller, less powerful blenders on the list, no matter how quiet they are.
And while the warranty's only average, at 1 year, we think the tradeoff is more than worth it for the exceptionally low price on Amazon here. This is a new company, trying to make a name for itself with a product whose value far exceeds its price.
I'll save you some searching here. No blender with a quiet shield is cheaper than this one from Hamilton Beach. The crazy thing is? It's not a bad blender either.
Compared to the CRANDII at #1, and the more expensive Hamilton Beach blender at #3, this is a basic blender. You've got 3 speeds and a pulse button and that's it. But for a morning smoothie? For greens and frozen things? For crushing ice for a cocktail? For protein shakes? Heck even for a salsa here or there? The 950 watts of this blender totally does the job!
The other thing that's great is the 52oz blending jug. Even the more expensive Hamilton Beach blender in position #3 only has a 32oz jar. 52oz is enough for your smoothie and your partners', and a spare leftover.
It's also the most compact machine on our list. If bench space is an issue for you, the Hamilton Beach 3 Speed, being the shortest, and shallowest quiet blender on the list (9.06 x 16.14 x 10.24 inches) is a great choice.
What else is there to love? Well, the blending jug is dishwasher safe. Now a lot of blenders say they have dishwasher-safe jugs... but the jugs are too big to actually fit in a dishwasher. The jug on the Hamilton Beach 3 speed is small enough that it will actually fit into your dishwasher. Over the lifetime of this blender, that's a lot of scrubbing and rinsing you won't have to do.
Truly, if blending basic stuff without annoying sleeping kids, neighbors, or housemates is what you need? The Hamilton Beach 3 speed is a hard one to pass up.
If you need a quiet blender to handle everything from smoothies to purees and a simple 3 speeds (like above) isnt going to cut it... but you also don't want to spend the price of a CRANDDI? The Hamilton Beach Professional with Sound Shield is your choice. This is the best value blender that comes with a sound enclosure. Period.
And it's a great blender.
It has 1500 watts of power. Another blender might be quieter, but only because it has a lower wattage motor. If you want full functionality and 1000+ watts but quiet, this is the choice.
It comes with a 32oz container which is the only drawback of this blender. It's half the size of the Ninja Blender container and it means your maximum output on a single blend is less than half. This blender makes more sense for singles and couples and less sense for families of 3 or more.
Nonetheless, it has 5 speeds, 4 modes (for crushing ice and making smoothies) and it even comes with a bonus travel container.
In the video below - a demonstration of an after-market blender sound shield - you can see the noise on two different blenders (which are not on this list) reduce by 15-20 decibels as a shield gets applied. You can also get a sense of how much quieter 15-20db actually is.
Again, the Hamilton Beach SoundShield is outstanding value for what you get. If you're trying to protect your ears at the lowest possible investment, trust me, stop the search now and grab this.
(P.S. How does the Hamilton Beach Soundshield actually... sound?) This video - while biased due to being a commercial for the product - does give some indication:
If you want basic professional features at an excellent price and with very little sound, get a Hamilton Beach SoundShield Blender.
If you skipped options #1 and #2 on this list, I assume it's because you want more from a blender. More power and more features to blend more things.
So now I'm going to give you the complete opposite end of this spectrum. The end where you get everything you could ever want in a blender, and it still stays quiet. That's the Blendtec Professional 800.
Again, I'll put the worst bit first: This thing retails for something like the cost of an iPhone.
But for that, you get 1800 watts of power. You get 11 speeds. You get a touchscreen display. You get 6 pre-programmed blend settings so you can drop things in, walk away, come back and see your blend finished to perfection without your interference.
And most importantly you get a noise-dampening casing that reduces the sound of this incredibly powerful blender to the level of "regular conversation". Research tells us that's around 60 decibels, but I would predict this blender is closer to 70db at full power with the shield down.
How loud is it? In this amazing video, a guy makes a smoothie with his Blendtec 800 and keeps chatting as it's blending. You can kind of tell he raises his voice slightly while it's blending, but not a lot.
If you want the best blender available... that's also really quiet: You get the Blendtec Professional 800.
Comparison Table for the Top 4 Quiet Blenders
If you're one for feature comparisons, we'll start with a quick comparison of how the top 4 quiet blenders on our list stack up.
If you're only looking for a personal smoothie maker, you're in luck. These blenders are (almost) never as noisy as regular countertop models because they don't need large motors or big echoey containers.
There are plenty of quiet single-serve blenders to choose from but the top of the pile is the Hamilton Beach Personal Blender. As you saw above, the company has done plenty of thinking on the problem of noise reduction, so it stands to reason that they'd diversify their quietness into other models.
Why's this model quiet? It's only got 175 watts. It can't make that much noise even if it wants to. Fortunately, with this design, that's still enough power to crush ice, as well as all your smoothie ingredients, fruit or vegetable, all into a grab and go (yes, bpa free) container.
It's compact, it's convenient, and it does a heck of a lot more blending than it should for the insanely low price. I'm confident it belongs on any list of the best quiet blenders at the moment.
If the other people in your household don't want smoothies and they don't want to be woken up by yours, get the Hamilton Beach Personal Blender.
Top features
Super affordable
Bpa free blender cup doubles as a portable drinking cup
Quieter than other personal blenders
Small and compact (you could travel with it, for sure)
Great for smoothies and shakes
Ok so what if you want something small, for single servings only, but you need a little more than the Hamilton Beach Personal. More container options, more power, more features, and you're willing to up the budget just a little?
Then you get the Tribest Personal Blender
It comes with two blades for both regular blending and grinding (for spices, coffee etc).
It comes with two bpa free containers: 8oz and 16oz: That means, depending on the ingredients, you might even get two 8oz smoothies from one blend (I'm thinking of calorie-dense smoothies with lots of fats. Keto anyone??)
It also comes with 200 watts, so you'll make your way through ice and leafy greens about 30% faster and easier than in the Hamilton beach.
How noisy is it? Not very. One reviewer even described how she would blend a smoothie at her work desk, without disturbing the people working nearby!
This little blender comes with a great set of accessories and is comparably quiet when setting it against other more powerful personal blenders. It's not silent by any means, but it's quiet enough to be tolerable for most people. It's especially quiet if you are making softer smoothies and shakes without too much ice or frozen goods.
The motor and blades are powerful enough to blitz and chop dry ingredients like nuts and grains too. For the size, price (pretty good for what you get) and noise-level, it's a great little blender.
What is the Best Quiet Smoothie Blender?
Now we have the blenders which perform the best when making smoothies of all kinds. Whether they're loaded with frozen fruits or packed with gristly greens, these blenders are efficient and most importantly, quiet.
This blender doesn't mess around with sound or functionality. It has a built-in quiet shield for muffling sounds so the 2200-watt motor can get to work. Because of the powerful motor, strong blades, and various speeds, you can make almost anything with this machine, including velvety smoothies.
You can also make shakes, sauces, purees, nut butters, etc., anything you want. It's slightly more of a strain on the wallet than other blenders, but because of the functionality and noise control, you do get your money's worth.
Top features
Quiet shield for muffling sound
Highly rated for noise-level reduction
Durable, shatterproof 80 oz jar
Strong stainless-steel blades
2200 watt motor for easily blending hard and tough ingredients for the smoothest smoothies
Knob with different speed settings and a pulse setting
Great for making both wet and dry foods (i.e. both smoothies and nut, grain or seed-based concoctions like nut butters)
The Tradeoff Between Power and Noise
It's the first thing you need to understand before picking a quiet blender. While there are exceptions, in general, increasing power will increase noise. The most powerful blenders you can buy (think Vitamix and Blendtec) are the loudest because they do the most blending in the shortest time.
If you want quiet, you sacrifice a little time and a little capability. That is, unless you're willing to spend (again, think Vitamix or Blendtec but with sound shields) I'm hoping you've considered that already and you're ok with it.
Last thing before we get to the actual blenders...
Noise Level Isn't Just About the Machine
How loud a blender is, will be affected by the surface you have it on, the height of your ceilings, its proximity to a wall, and more. Not to mention what you're actually blending (blending ice sounds a lot different from blending bananas). What I'm saying is, even the quietest blenders are going to sound bad loaded with ice, sitting in a corner with two nearby walls, in a room with low ceilings.
Make sure you understand before buying that, if your blender turns out louder than expected, it could be an "it's not you, it's me" situation.
Ok, with those two notes out of the way, let's talk options. I'm going to break this down into quiet blenders with different criteria.
Stepping Back: How Loud Is Loud?
If you're worried about noise and you're about to buy a blender, it's worth understanding just what kind of noise you're getting yourself into. Learning the decibel reading of a blender is one thing, but few of us have a reliable internal sense of what decibel level corresponds to what kind of sound.
The US Center for Disease Control put out this infographic to outline the decibel levels of common sounds:
How different is a 90 decibel sound from an 80 decibel sound? In this article on noise from the National Institute of Health, they explain that the decibel scale is logarithmic, as opposed to a linear scale. It means that a sound of 110 decibels isn't just 10% louder than a sound at 100 decibels.
"Using the logarithmic decibel scale, if a sound is 80 decibels, and we add another 10 decibels, the sound will be ten times more intense, and will seem about twice as loud to our ears." - NIH.gov
For our purposes, it means that if you can reduce your blender's noise by even 10 decibels (let alone 15 or 20) you'll experience a significantly quieter sound, and reduce your exposure to noise by a meaningful amount.
The Features That Make Blenders Noisy
If you were considering a different model to the options on this list and you're wondering whether it's noisy, the next two sections of this article are designed to help you find out.
First, there are certain design features that make a blender noisy. While there are exceptions (usually in higher-end models), you'll usually find blenders with these characteristics noisier than their counterparts without them.
High Wattage for Size
Usually, a powerful motor is marketed as a good thing in a blender, and for the sake of blending consistency and speed, it is a good thing. For the sake of noise however, it is not. In particular, high wattage motors in small-sized blenders can make a disproportionate amount of noise. With a motor housing that's reduced in size and thickness, it might take up less space, but less casing to dampen motor sound.
Upside Down
"Bullet" style blenders have been the rage this past 5 years but there's a good reason you didn't see one on this list. With a blender like the Ninja 72oz on this list, the only part of the machine that sticks out of the top of the motor casing is the gear to which the blender jar connects. Except for this, the motor casing - and hence the noise it creates - is "sealed in" by a combination of plastic, rubber, and steel parts.
On a "bullet" blender, the top of the motor casing is so much more "open" because the entire lid of the blender container (the part that has the blades) has to sit down into it. There are open slots on the motor base for the container lid to attach and this necessarily "opens" the motor casing to allow more noise out.
This isn't to say bullet blenders are bad, only that they are typically noisier watt for watt than other blenders.
Plastic Motor Housings
Every blender has a motor inside of a casing. What that casing material is made of, is a primary contributor to the noise of the blender. Most blenders, particularly on the lower end, use some combination of plastic and rubber for their motor casing. The reason is simple, plastic is cheaper than the higher quality, more durable stainless steel.
The tradeoff between the cost of a blender and it's noise was well illustrated by Vitamix's recent release of the Explorian series of blenders. These blenders were cheaper than Vitamix's core range, despite having a similarly sized and powered motor. People wondered why. How had they managed to make the blender cheaper, if the performance was the same?
At least part of the answer lay in the motor casing material. They replaced some of the stainless steel casing parts typical of their core blenders, with plastic parts. The result? The blender really did blend as well, but with the addition of 10-20 decibels of noise.
Avoid These Noisy Models
Some blenders are disproportionately loud relative to their features and price. We've listed some of them below so you can avoid them if you're specifically looking to reduce noise in your home.
We recently bought this blender as a gift for a family member and had the chance to try it again while visiting.
As a blender, we still love it. It's got the biggest container of any "bullet" style blender, so you can make smoothies for you and the partner at the same time. It might be the cheapest blender to offer anything that could be called a "preset program" thanks to the Auto IQ function. And it's one of the few bullet-style blenders you don't have to stand and push down to make it go.
But as a creator of noise? It was shocking. It was at least as noisy as our Vitamix 5200 - a professional, full-sized blender with many times the power and capability. As for why, it ticks almost all the boxes we listed above for "features that create noise".
Again, there's nothing wrong with Nutribullet blenders, but for the functions, they can perform, they make more than the average blender's worth of noise. One source cites the Nutribullet as creating between 91 and 97 decibels of noise to get its work done. That's louder than the Ninja Auto IQ (which you saw in the video at the top of this page hitting 88 decibels without a sound enclosure) and as loud as a full-featured Vitamix.
It's the same story. You've got a low cost, upside-down model, with good wattage and a plastic motor casing. It's going to make more noise than you expect. For a small blender that's light on functions anyway, the Nutribullet must be avoided if sound reduction is your priority.
In case you think we're picking on bullet blenders, I leave you with the final noisy blender on our list: The Vitamix E320. In some tests, this blender gets over 100 decibels (measured from right in front of the blender), making it the loudest of any listed on this page.
Of course, for many people, this tradeoff is fine. Not only is the E320 a high-end blender capable of everything from frozen desserts to hot soups, but it's priced lower than any other blender (Vitamix or other) with professional capabilities. It's not a bad blender, it's just louder than others of it's kind, due to the higher amount of plastic in it's motor casing materials. For the sound-sensitive, it's exactly the kind of blender we're trying to avoid.
The Best Ways To Reduce Blender Noise (Any Blender)
There's not a lot you can do to change the mechanics of the blender, but there are ways to dampen the sound from one that are simple and cost-effective. Our favorite ones are:
#1: Use a Rubber/Silicone Mat
By placing a thin rubber or silicone mat underneath your blender you dampen that part of the noise that's coming from the motor's sound bouncing off your hard countertop. You can pick these up for under $10, at any size you like. They store easily and when only being used for a blender, they last a long time.
The best part? As well as reducing sound, they protect your benchtop. As well as protecting your benchtop, they add stability to your blender so you—even if you've got a cheap model—you don't have to hold it in place while blending.
#2: Use a Towel
If you don't want to spring for a mat, you can also use a bath towel in the same way. Fold it over as many times as you need to so the size is right, and place it underneath your blender. The layers of thick fabric will perform the same function as your rubber mat, reducing that one kind of noise coming from the underside of the blender motor.
A word of warning here though: Having your blender sit on a towel won't secure it to the bench in the same way as a rubber mat will. If the blender is powerful, it can slide around on the counter, even if it has rubber feet. Also consider that the folded towel can bunch up, and crowd the area underneath your blender. This area is needed for air flow, so having it blocked can cause a blender to overheat.
Bottom Line: Just get the rubber mat.
#3: Change The Blender's Position
When we first set up our Vitamix we had it sitting on our benchtop in a corner with the splashback behind it and a cupboard next to it. Having two walls surrounding the blender made it sound considerably more loud, even though the decibels produced by the machine were always the same. Having the sound bounce off of walls can create an echo-effect where you're hearing the blender noise and the echo simultaneously.
To achieve noise reduction, the best place you can put your blender is on a kitchen island or an open counter, as far from a wall as possible. If you're really committed to the project, you can have a power outlet inserted into a cupboard or pantry and run the blender from there.
4. Buy a Sound Enclosure
There are companies that make sound enclosures you can put over blenders to dampen the noise. Companies like "Dome of Silence" make a "one size fits many" shield, while others, like Whisperblend do enclosures specific to certain blender models, such as Vitamix and Ninja.
These covers aren't cheap, so blender noise has to be a pretty big problem to justify the added spend, but you get what you pay for. In the case of Whisperblend, enclosures have the ability to reduce noise from your blender by up to 40%!
5. Adjust How You Blend
If you haven't used a high powered blender before this final step won't be obvious, but check the logic. The loudest sound comes when the hardest ingredients hit the blades moving at their highest speed. If you put your frozen ingredients into a blender first, and immediately turn the speed to full, you're going to get the aural equivalent of a punch in the face, no matter what blender you own.
The two keys to minimizing noise from your blender with technique, are to load frozen ingredients last (unless you have a bullet blender, which is upside down, so you'll load the hardest ingredients first) and to start the blend slow and gradually increase speed.
If frozen ingredients go in last, they don't hit the blades until there's some liquid puree below them to soften the contact a little bit. And by starting the blend slow, the hard ingredients make their first contact with the blades when they're not moving too quickly. By the time you reach max speed, the hard ingredients have been considerably softened and reduced in size, reducing the sound of them hitting the blades and ricocheting around the container.
Can you believe we've put this much thought into blender noise? Neither can I.
Conclusion
There you have the best quiet blenders currently available, whatever you want them for, and however much you want to spend. These things won't wake the neighbors or put you off making smoothies for good.
Here's the article in a few sentences:
If you want a guaranteed winner that maximizes functionality for the price, get the Hamilton Beach 53600 SoundShield Blender
If you want an absolute kitchen workhorse that will do nearly any food prep task, and pretty much change your life, get a Blendtec Professional 800
If you just want it for smoothies and you want to spend next to nothing, get a Hamilton Beach Personal Blender
If you want it just for smoothies but you want a liiiitle extra (like a grinder and multiple container options) get the Tribest Personal Blender
That's it. Still struggling to decide?
First, figure out what you need your blender to do. Do you need a simple blender for shakes and soft smoothies? Or do you need something with major force that can blend anything, no matter how tough? Decide on your budget then narrow down the options to find the best one for you.
Hopefully, this list has cleared the fog from the path toward your new quiet blender.