Eggs are one of the most commonly consumed foods worldwide, and each country has a unique way of serving them. Boiled eggs are one of the most common ways of cooking eggs, as it is very convenient and does not require any other ingredient.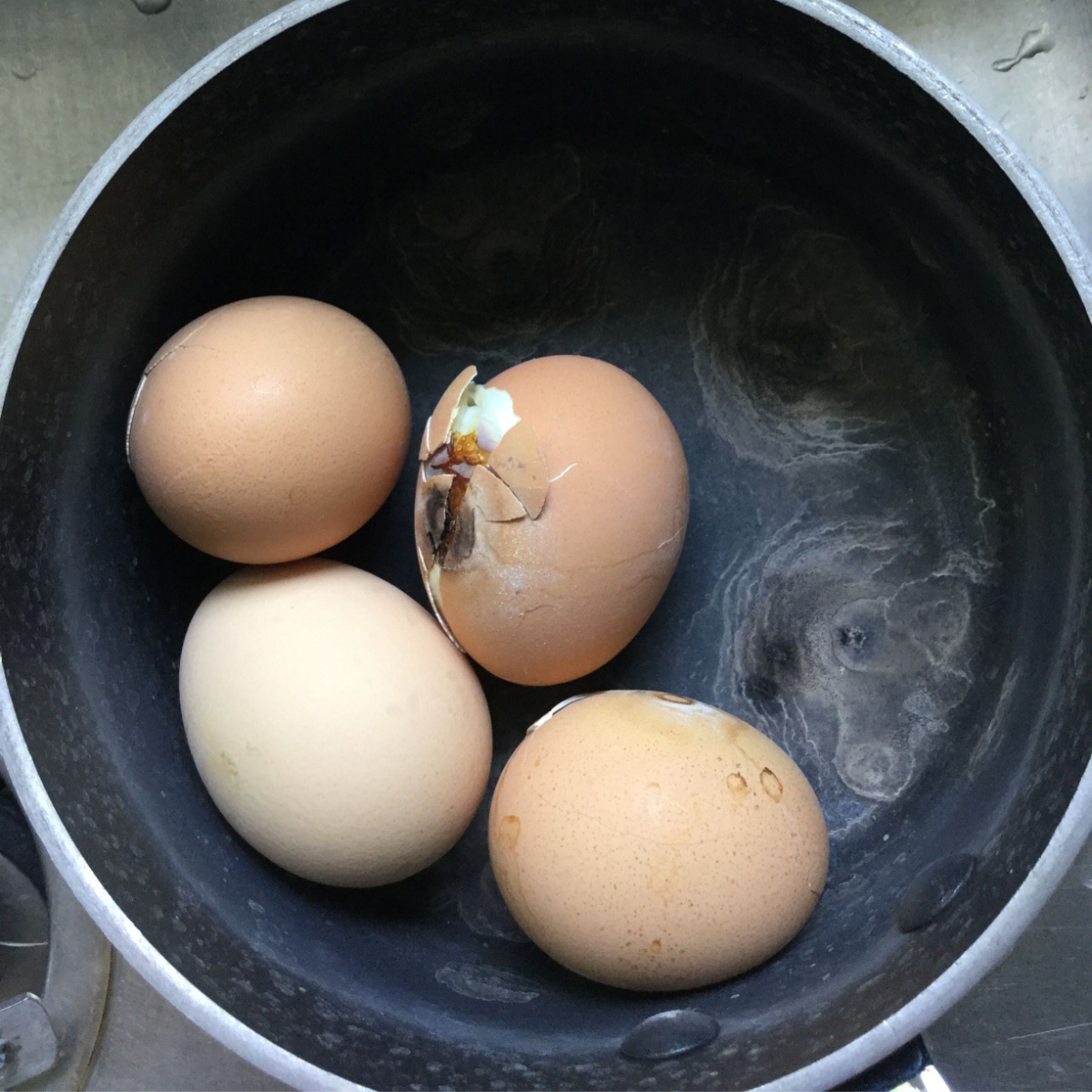 While boiled eggs are nutrient-dense, there are better ideas than overcooking them. When you overcook hard-boiled eggs, the protein and vitamins get denatured, and potential toxic byproducts may form, such as iron sulfide.
Read on as I discuss everything you need to know about this topic.
Table of Contents
Will Overcooked Hard-Boiled Eggs Hurt You?
While overcooked hard-boiled eggs won't cause immediate health problems, they are not the best way to cook eggs. Overcooked eggs will have fewer nutrients and tend to create toxic elements, making them unsafe for daily consumption.
Why Shouldn't You Overcook Eggs?
Protein Gets Denatured With Too Much Heat
When you apply too much heat to a protein, it can denature. Denaturation happens when a protein loses its original shape, structure, and biological activity due to the disruption of hydrogen bonds between the amino acids in the protein.
While a few other factors can cause this, like extreme pH or concentrations of salt or other chemicals, excessive heat is the most common.
When a protein gets denatured, it may clump together, unfold, or even break apart into individual amino acids. As a result, the protein can no longer perform its original biochemical functions.
Denatured proteins can also cause digestive problems, food allergies, and autoimmune diseases, among other health problems.
Vitamins Lose Effectiveness With Too Much Heat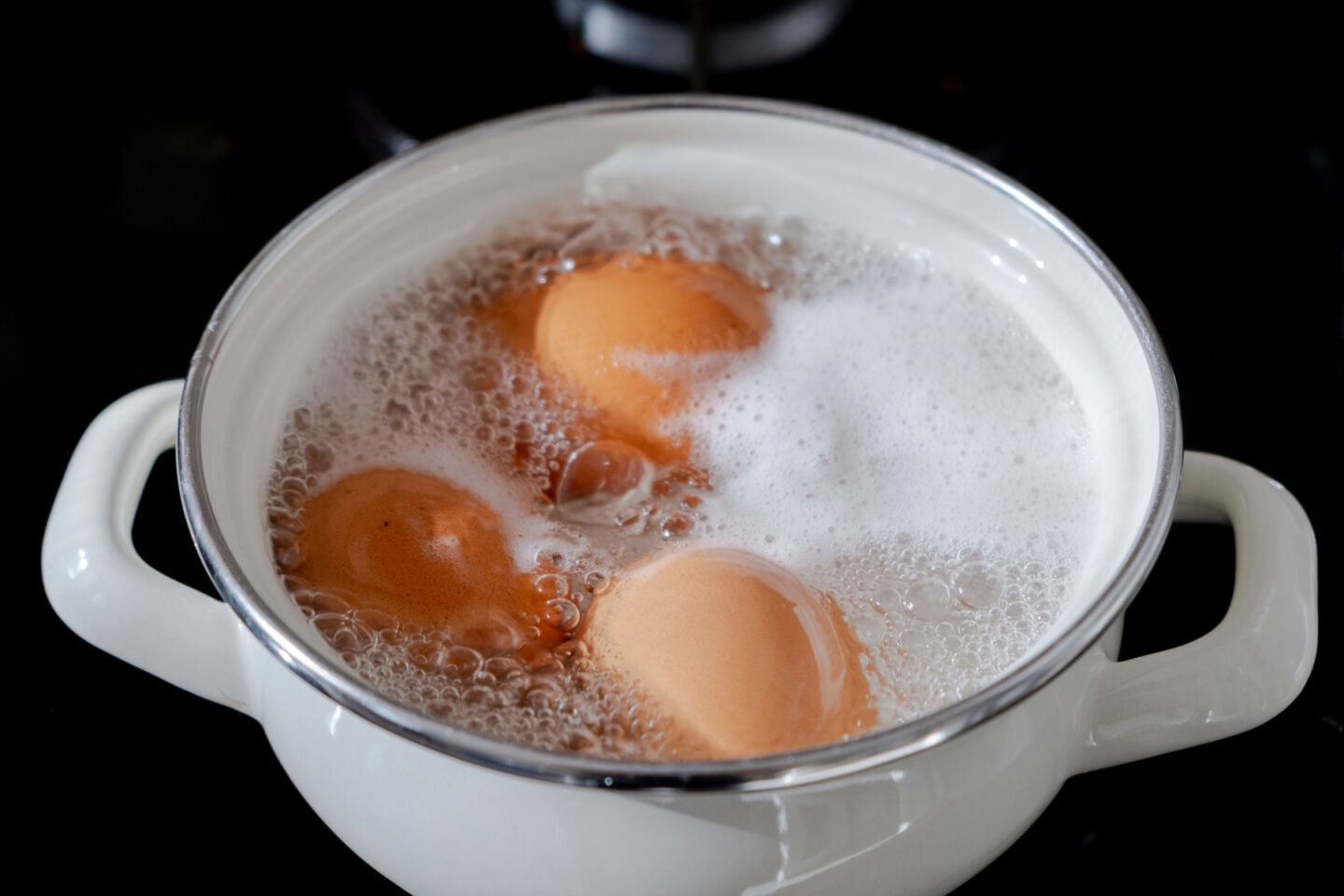 Heat can cause the molecules to break down, which can make them less effective or even totally inactive.
Heat can also cause vitamins to become unstable and less potent, which affects their effectiveness. For example, vitamin C is prone to oxidation, making it inactive. Vitamin A can also be destroyed by heat, as can many of the B vitamins.
For this reason, health enthusiasts encourage consumers not to overcook food, especially vegetables and other nutrient-rich foods such as eggs.
Potential Toxins May Form With Too Much Heat
Overcooking boiled eggs will cause them to release iron sulfide, which is a slightly toxic substance that may cause a toxic gas called hydrogen sulfide gas. Read the next section for more details.
Overcooked Eggs and Iron Sulfide: Fact or Myth?
Do Overcooked Hard-boiled Eggs Have Iron Sulfide?
Yes, overcooking your eggs will cause the production of iron sulfide. If you notice the greenish-black film between the egg white and egg yolk in your hard-boiled eggs, that's because of the interaction between the iron in the egg yolk and the hydrogen sulfide in the egg white.
Iron sulfide is also the compound responsible for that "eggy" smell that you notice in hard-boiled eggs, mainly when you boil them for extended periods.
What is Iron Sulfide?
Iron sulfide is a chemical compound composed of iron and sulfur atoms. It is a yellow-brown solid that you can find in nature as the mineral pyrite or in igneous rocks. It is insoluble in water and not found in food, but may form in eggs.
You might wonder how iron sulfide ends up in eggs, and here's how. Eggs contain two proteins, globulin and keratin, which are high in sulfur. As globulin breaks down, it gives off hydrogen sulfide, a toxic chemical with a strong sulfur smell.
The hydrogen sulfide created from globulin then interacts with the iron in the egg yolk to form iron sulfide, which produces a greenish-gray film in hard-boiled eggs.
Is Ferrous Sulfide Dangerous to Health?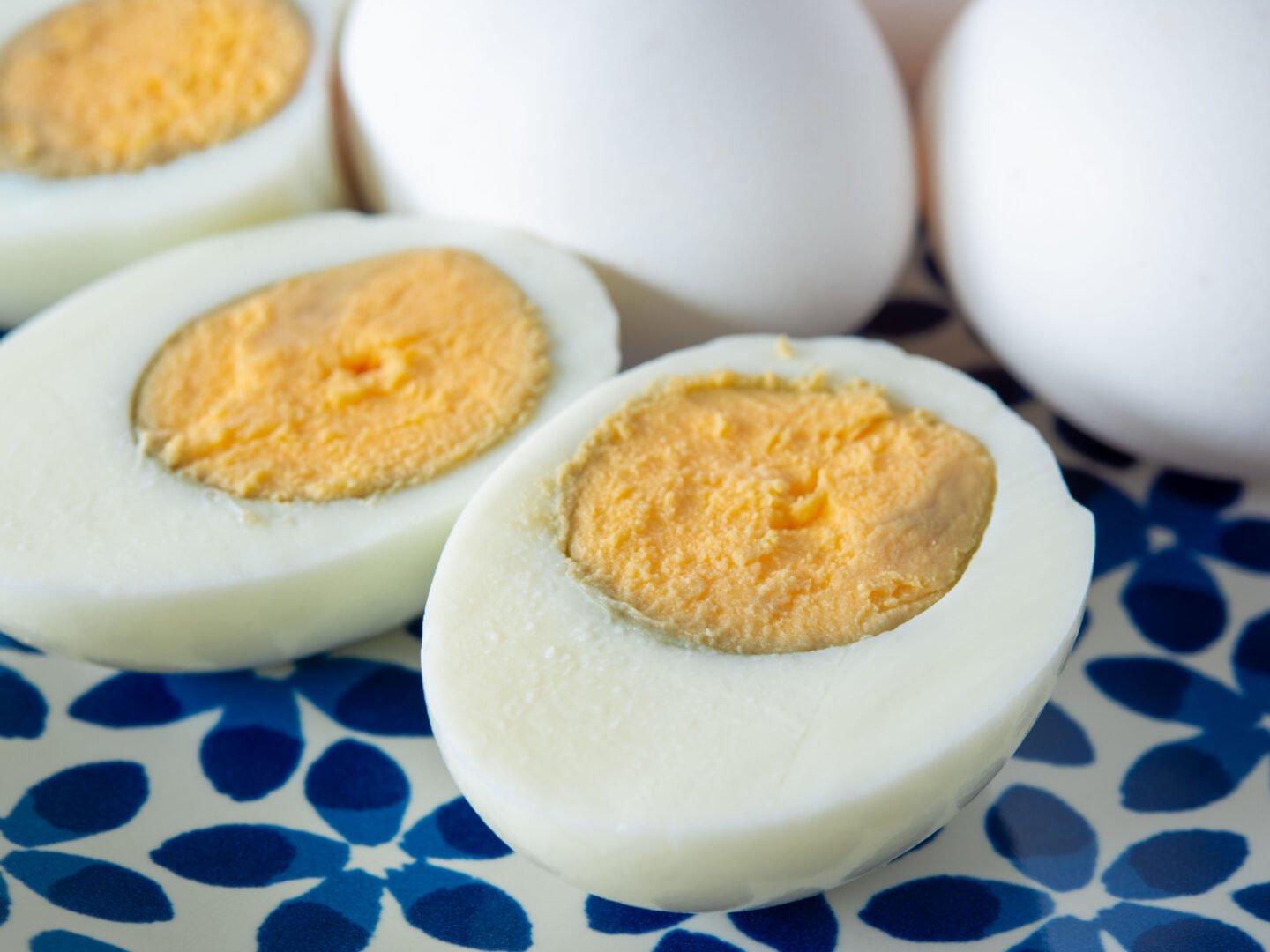 Ingesting iron sulfide can be toxic, causing nausea, vomiting, diarrhea, abdominal pain, and other gastrointestinal symptoms. It can also irritate and burn the skin, eyes, nose, throat, and respiratory system.
Long-term exposure to iron sulfide can also lead to liver, kidney, and neurological damage.
How To Know If Your Hard-Boiled Eggs Are Overcooked
If you've boiled your eggs for too long, you'll know right away. The whites of your eggs will start to look rubbery, and the yolks will be dark yellow or greenish.
Another sign that your eggs are overcooked is when the whites of the eggs become tough and dry.
Use an egg boiler or egg cooker with a timer. This way, your eggs will not overcook even if you forget about them or run some errands while they cook. You can also use an instant pot with boiling water, but make sure to set your timer.
Are Overcooked Hard-Boiled Eggs Still Nutritious?
Despite being overcooked, a hard-boiled egg is still a nutrient-dense food. While cooking decreases the number of nutrients you get, the kinds of vitamins and minerals that remain are still significant.
Hard-boiled eggs are high in vitamins A, B12, D, E, and K and minerals such as calcium, iron, phosphorus, and zinc.
How To Properly Boil Eggs (How Long To Boil Eggs)
You can cook the eggs until they are done to your liking. Here's a simple guide on how long you should boil the eggs:
5 minutes - Very soft yolk and semi-soft egg white.
8 minutes - Mushy yolk and firmer egg white.
10 minutes - Fully cooked yet soft yolk, firm white.
12 minutes - Your traditional hard-boiled egg with a firm yolk and white.
A trick to not overcook your eggs is to place them in a cold bath after cooking.
Related Questions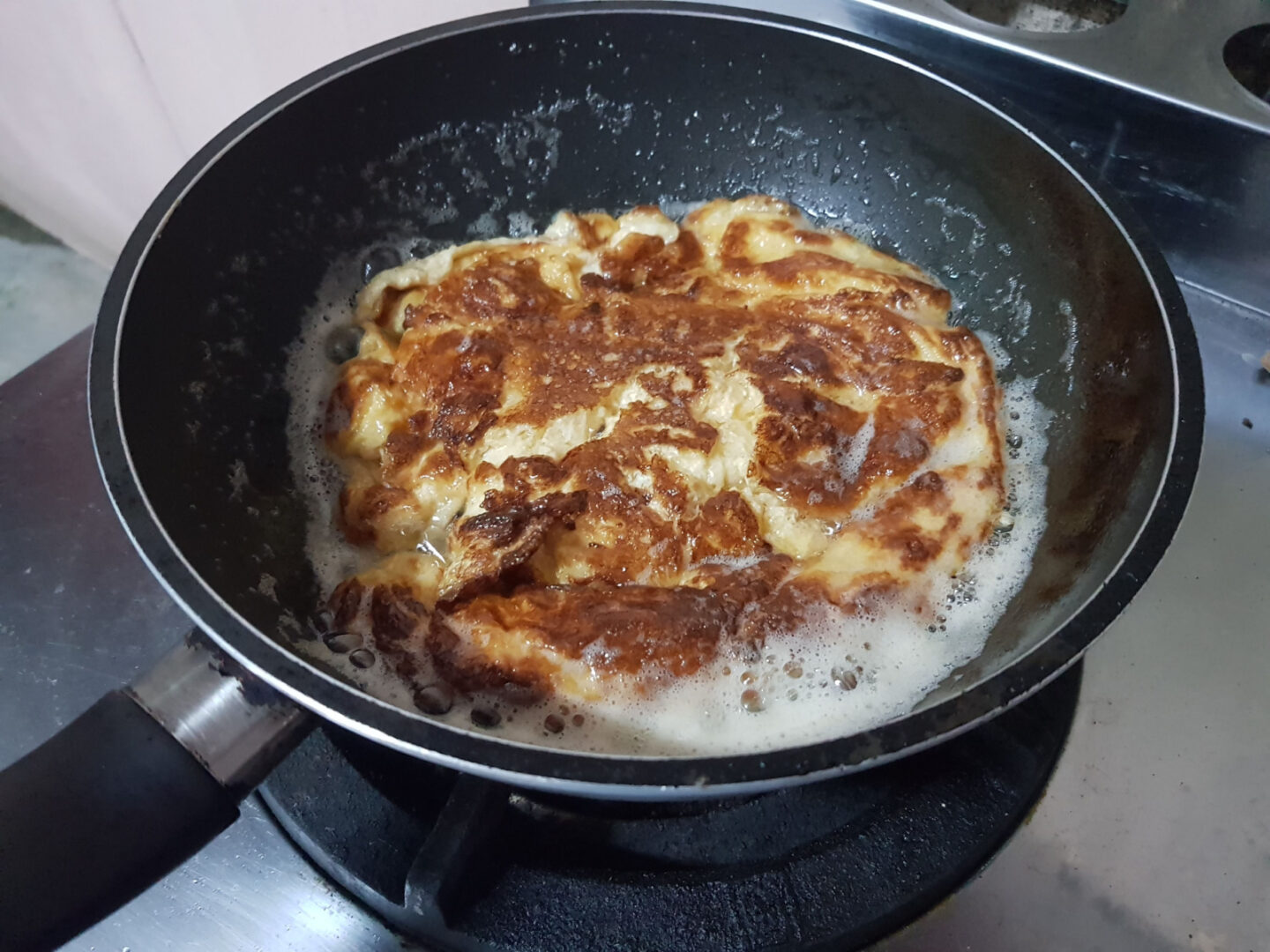 Can you eat overcooked scrambled eggs?
While you can still eat overcooked scrambled eggs, you can't expect to get the same amount of nutrients.
Are soft boiled eggs healthier?
No, soft-boiled eggs and hard-boiled eggs have the same amount of nutrients.
Is poached egg healthy?
According to experts, poaching an egg is one of the healthiest ways to cook an egg, as it does not use any added fat or additives.
Can you eat raw eggs?
Even though it's usually safe to eat raw eggs, keep in mind that eggs can also carry salmonella and other bacteria. Regarding safety, it's better to consume cooked eggs than raw eggs.