A Dutch oven is the ideal piece of cookware to invest in as it's durable, functional, and attractive. If you're looking for the best Dutch oven, there are two brand names that come immediately to mind. Both Staub and Le Creuset are known for their high-quality cookware that is made to stand the test of time.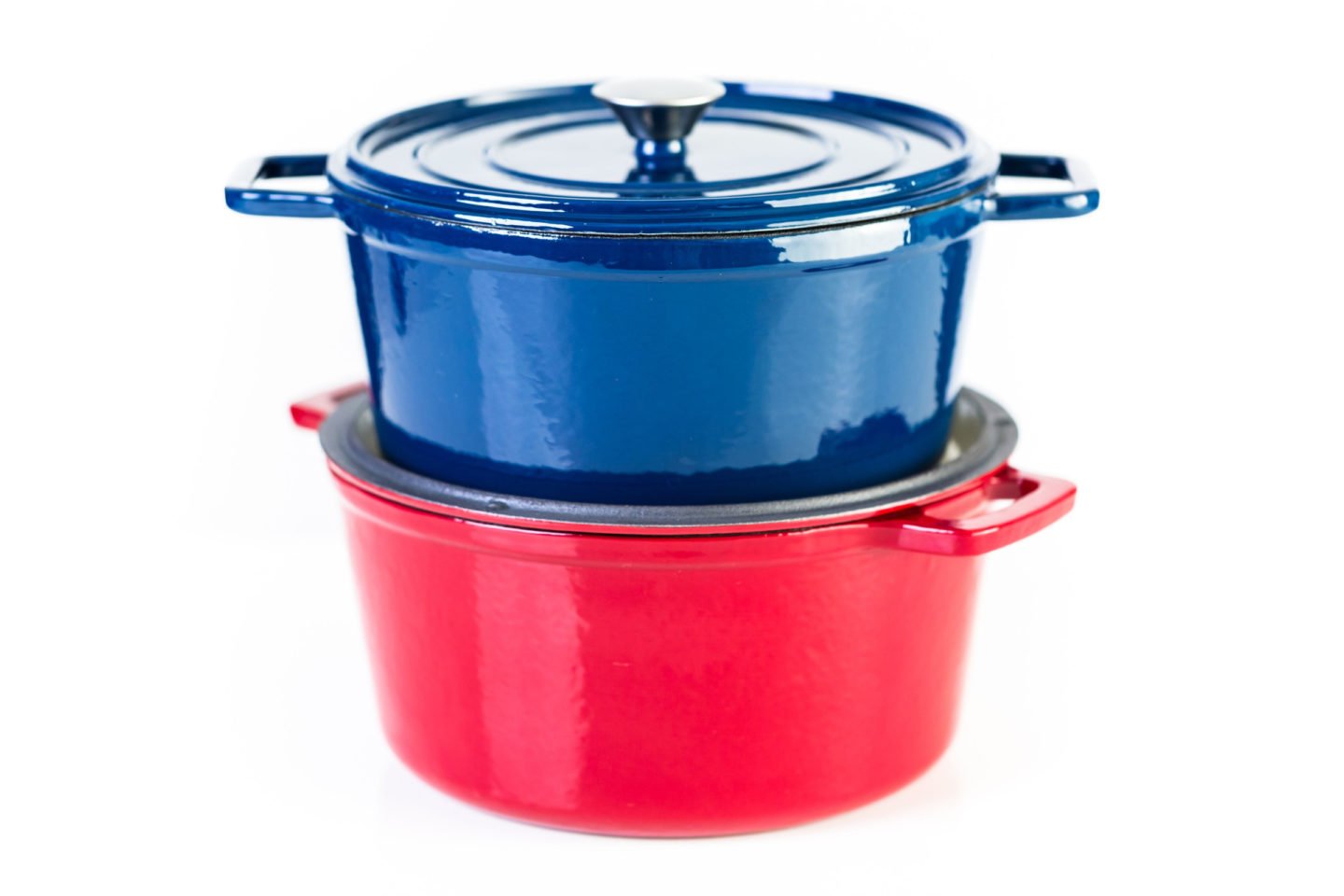 The main difference between Staub and Le Creuset comes down to price. While each Dutch oven design has its own pros and cons, in the end, they are at similar levels of quality. However, the Le Creuset brand carries a bit more name recognition and, along with it, a heftier price tag.
However, there's much more to these two products than just a name. Learn about them inside and out in our in-depth comparison.
Table of Contents
Unpacking Two Products
The best way to understand the differences between these two popular brands is to take a close look at each of their most popular products. While they may look similar at first glance, they also have a few differences worth considering.
Staub Cast Iron 7-qt Round Dutch Oven
This Staub cast iron 7-quart round Dutch oven is a good mid-sized cooking vessel that's large enough to feed a family while staying compact enough to store easily. It features the classic Staub design with more rounded handles and a base, and a black enamel interior. Since it's available in a wide spectrum of colors, it's easy to customize the look to fit your tastes.
One of the most loved features of this Staub Dutch oven is its tight-fitting lid, which helps trap steam and contain heat. The lid is also lined with small spikes, which retain moisture by recirculating it into the food.
While slightly less expensive than its competitor, it doesn't skimp on quality. This heavy-duty Dutch oven offers all the performance and durability you expect from a top brand.
Le Creuset Signature Enameled Cast Iron Round Dutch Oven
Le Creuset's signature enameled cast iron round Dutch oven has an overall more round appearance than the Staub Dutch oven. Its flatter lid blends more fluidly into the sides of the pan, and its rounded bottom gives a fuller look. Luckily, you can still find it in a dozen different colors, from light blue to orange and everything in between.
One design element to notice is its wider, more rounded handles. These fit in well with the rest of the pot's design and also make it easier to lift with oven mitts. It does mean the pot takes up a bit more space in your cabinet, but only by a small amount.
Just like Staub, this Dutch oven is of the highest quality and is designed to last a lifetime. There's a reason why its name is synonymous with luxury cookware.
A Side-by-Side Comparison
Now that we know a bit about our two products, let's take a deeper dive into their design and features. Depending on which of these factors is most important to you, one product may stand ahead of the other.
Lid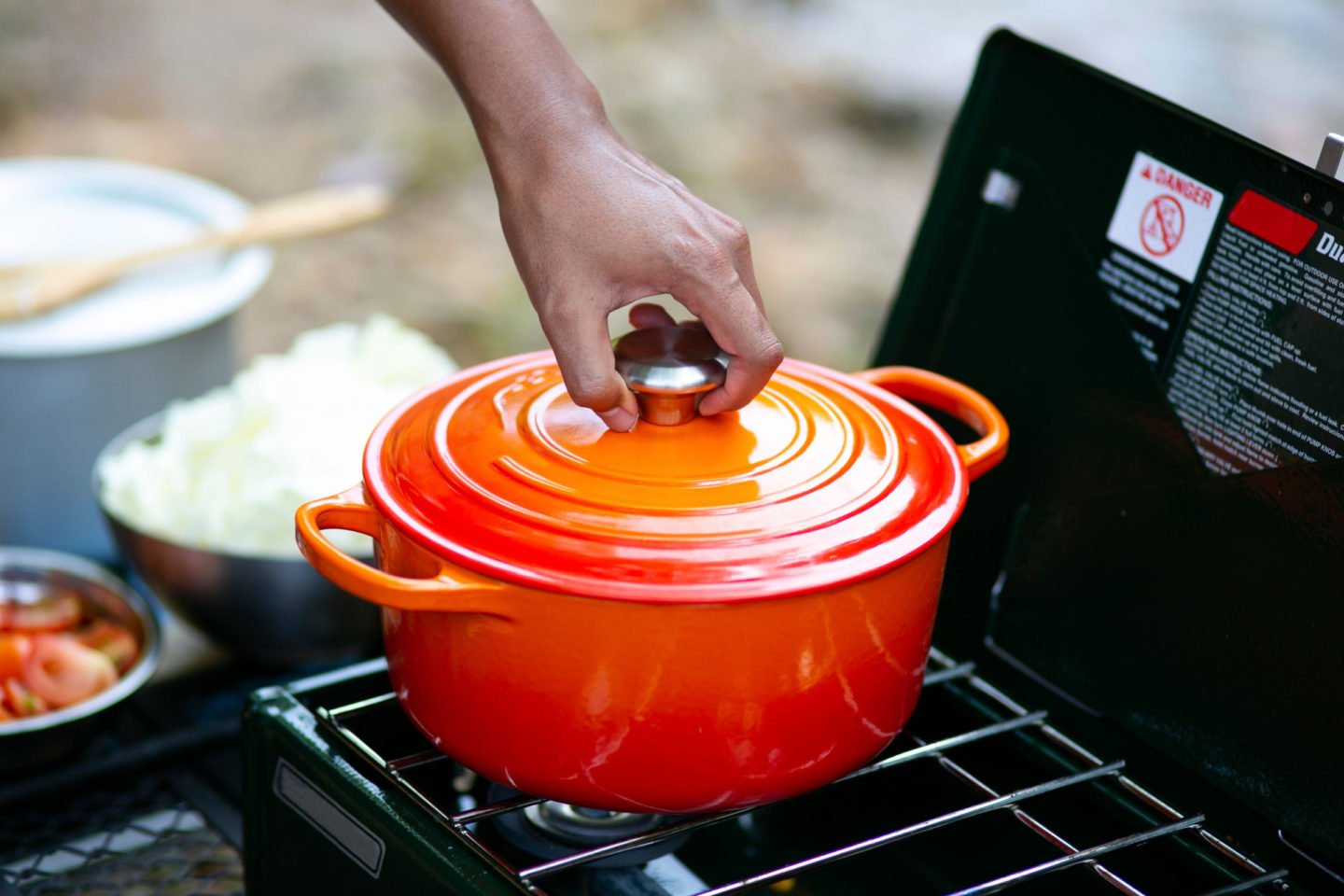 At first glance, you can tell the difference between these two lids right away. Le Creuset has a rounder lid that contours more closely to the overall shape, while Staub's is more squared off. Neither of these designs impacts the functionality much, though everyone has their own preference.
It's what you don't see that impacts how these lids function. Staub's has a tighter fit, which has a drastic impact on cooking. It means that the pot keeps more water in it, keeping steam in like a pressure cooker.
Whether you consider this an advantage or disadvantage depends entirely on what you're cooking. Soups and stews that need to keep most of their moisture do better with a tighter lid. Conversely, braised dishes do benefit from a loss of moisture to deepen their flavor.
The other extra perk found in the Staub lid is the self-basting spikes. These are made to help collect moisture and put it back into your food. This makes sure that the moisture in your food moves around evenly.
Lid Knob
Each of these Dutch ovens features a stainless steel knob on the top, which is durable and rust-proof. While they're not made of the same piece of cast iron as the rest of the lid, they are securely attached and contour perfectly to your grip. Both can resist heat for up to 500 degrees Fahrenheit.
While Le Creuset's are made entirely of stainless steel, Staub's have a nickel coating for a slightly different finish.
Another key difference between these two knobs is the size. Le Creuset's is slightly larger, which may make it easier to lift while wearing an oven mitt. Overall, it's our preference, though some cooks prefer the more compact look of the Staub knob more.
Handles
Just like the lid knobs, Le Creuset's two side handles are a bit larger and rounder than the Staub design. It's an important factor to consider, especially keeping in mind that you'll most often be handling it with oven mitts on. The Le Creuset Dutch oven is definitely easier to handle.
The Staub Dutch oven's handles are more square, in keeping with this original design. While they may not give as easy a hold as the larger Le Creuset ones, their compactness may make storage easier in tight kitchen cabinets.
Weight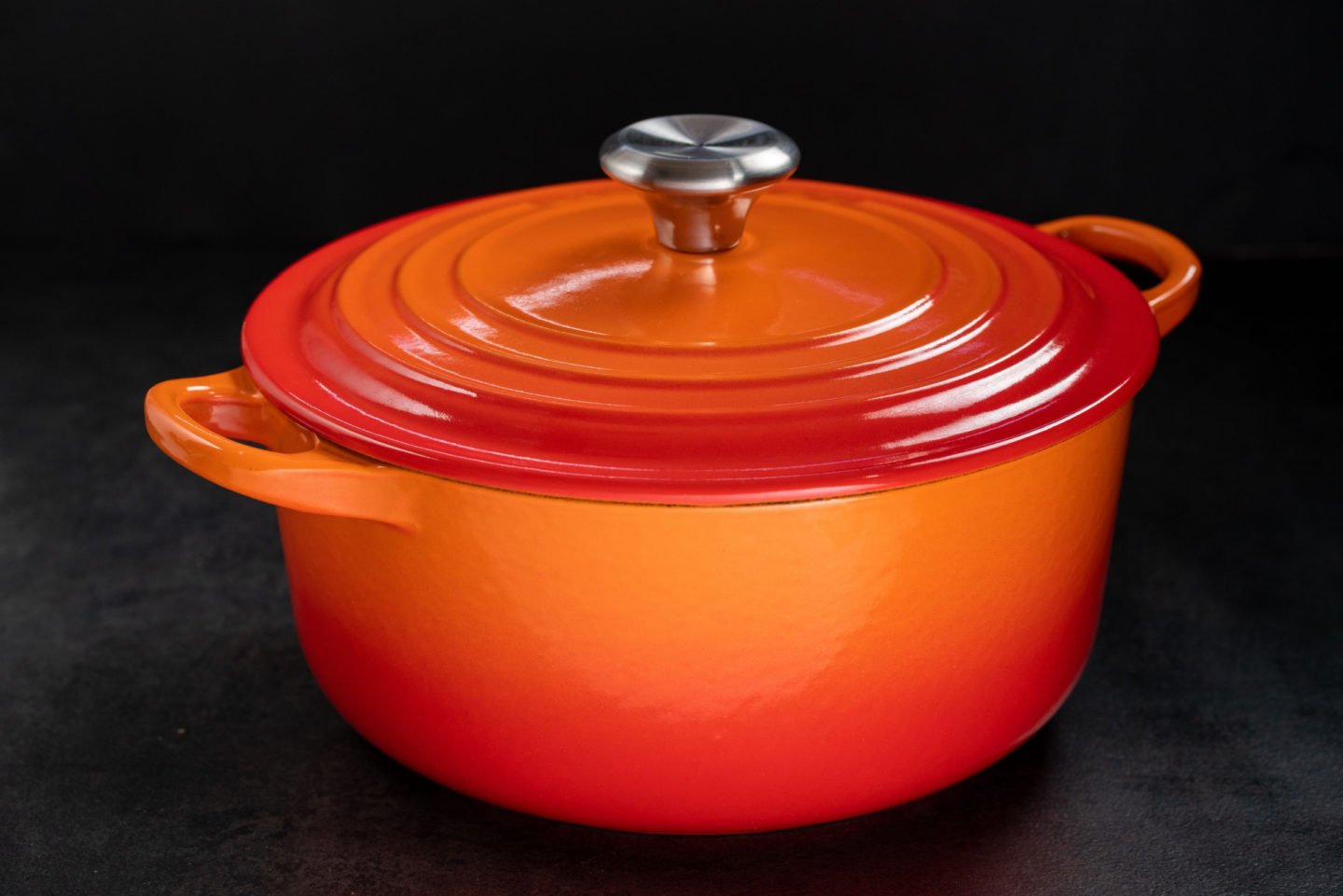 Since these Dutch ovens are made almost entirely of cast iron, you can expect them to be heavy. Both of them are around 16 lbs, though you can expect Staub's to be slightly heavier due to its thicker steel and sturdier construction.
While it might seem like the weight of your Dutch oven is best kept small, the reality is a little more complicated. It's true that a lighter pot is easier to handle, though a heavier one tends to hold heat better. But this also means it takes a bit longer to heat up.
Overall, there's no clear winner in this category. If you want a lighter pot that heats more quickly but has less heat retention, go with Le Creuset. Otherwise, Staub is your pick.
Color
Since both of these luxury cookware pieces are so popular, both companies make an effort to offer them in a wide range of colors. This allows you to customize your pot to your personal taste or the decor of your kitchen.
They are both available in 11 different colors, ranging from warm reds to calmer blues.
Inner Coating
Both Le Creuset and Staub have a nonstick inner coating, which is perfect for everything from searing meat to heating stew. It also means these pots are completely protected from rust, even without seasoning.
But when you look at them, you'll find a world of difference. The Le Creuset Dutch oven has a white coating, while the Staub design has a black one. This is standard for each of these brands and has a small effect on cooking.
In our opinion, the white cooking surface is better to work with than the dark one. It allows you to see browning more easily, while it also makes it easier to spot leftover char or grease while cleaning.
Size Options
Both of these cookware brands offer Dutch ovens in a range of sizes spanning 2 qt. to 13.5 qt. For this comparison, we chose mid-size pots of around 7 quart as these are often the most practical for families of 2 to 5 people. But, depending on what you need, you might want to think about a big or small option.
Large sizes are especially useful for braising large cuts of meat or making big batches of soup. You can even use them to roast whole chickens, giving them an extra crispy skin from the radiant heat. Conversely, smaller Dutch ovens are a great choice if you're cooking alone.
While Staub and Le Creuset have similar ranges, they do offer slightly different options. Le Creuset has more mid-range options, including 3.5, 4.5, and 5.5 qt pots. This offers greater flexibility for those who are looking to save on storage space or who have a particular dish in mind.
Performance
Aesthetic differences aside, the real value of these Dutch ovens comes from how well they cook. While both of them are prized by professional chefs, you may find one more useful in your kitchen than the other.
One key factor is heating speed and heat retention. Le Creuset pots have thinner walls, which means they tend to heat up and cool down faster. This can be convenient when cutting down on cooking time.
On the other hand, Stab's greater heat retention also tends to equate with more even cooking. Its thicker sides help heat spread evenly across the cooking surface so that there are no hot or cold spots. This makes it especially useful when searing meat and vegetables.
Also, as mentioned above, these two brands have different philosophies when it comes to moisture retention. Staub's self-basting spikes help retain moisture, making it better for certain types of dishes.
While each has its pros and cons, we would say that Staub's moisture-retaining design and greater heat retention give you more control.
Cleaning and Maintenance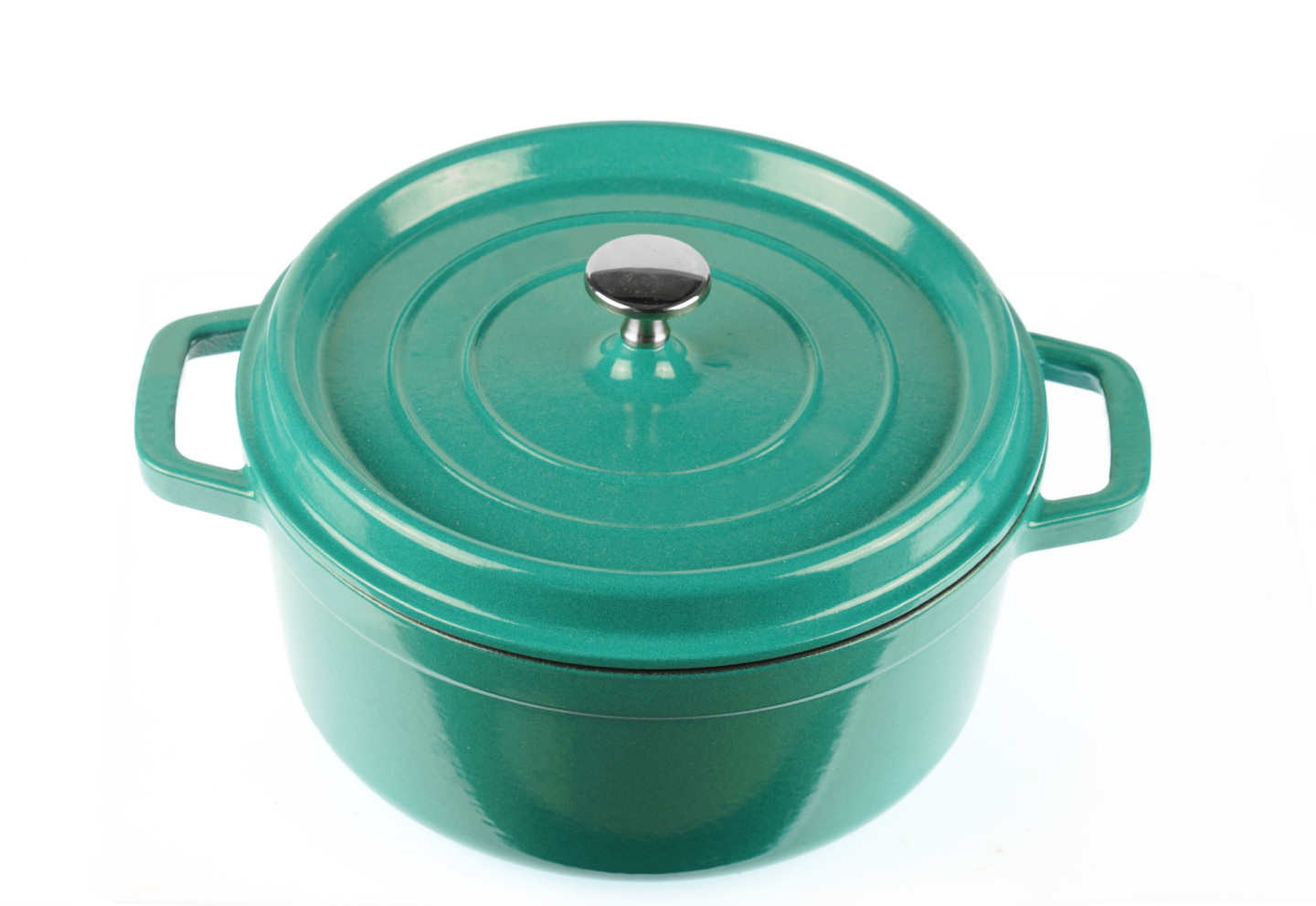 Overall, maintenance is not a huge concern when it comes to enameled cast iron pots. They're resistant to chipping, easy to clean, and don't have many moving parts to come loose or break off. The main danger you need to be aware of is dropping them. They're so heavy that they are likely to split in half if dropped from a height high enough.
Cleaning is one area where Staub's spiked lid is a disadvantage. Where you can wipe down a Le Creuset lid in a matter of seconds, each of the self-basting spikes needs to be cleaned individually. Also, Staub Dutch ovens tend to have more corners, which takes a bit of extra care to clean.
It's also a good idea to keep the interior color in mind when cleaning, too. Le Creuset's white interior makes it easier to spot stains and remove them.
Warranty
While not all cookware comes with a warranty, you should definitely expect it when investing several hundred dollars in a Dutch oven. Luckily, both of these brands back up their confidence in their products with strong warranty policies.
Staub offers a 30-year guarantee on its products. Take a look at their website for more information on what this covers.
On the other hand, Le Creuset offers a limited lifetime warranty on its Dutch oven, the details of which you can find on their website.
Price
While each of these products has its own strengths and weaknesses, they're both at similar levels of quality in our estimation. So when it comes down to the bottom line, which one offers the best value?
Le Creuset's Dutch oven is the more expensive of the two, which is the result of several factors. First, its thinner walls are a bit more difficult to manufacture. They offer a few unique advantages, including lighter weight, though they show up in the price tag. Second, the Le Creuset brand has a bit more name recognition than Staub, which inflates the price tag.
Overall, if you want to save a hundred dollars or so on a Staub Dutch oven, you won't notice any major difference in quality. Either way, both of these pots are great investments as they produce quality results and last for years.
Frequently Asked Questions
What brands do professional chefs use?
Professional chefs use both of these Dutch ovens because they are the best quality cookware available. In fact, some commercial kitchens may even stock both Le Creuset for braising and Staub for soups and stews.
Why are these brands so expensive?
While most cookware available today is mass-produced, there are still pots and pans that are made by hand. Le Creuset and Staub are two such brands because each one is finished by hand to make sure it is of high quality.

Another factor that contributes to their high cost is labor. Both Le Creuset and Staub are produced in Europe, which demands higher labor costs.
What size Dutch oven should I buy?
The size of your ideal Dutch oven depends on two factors: your family size and the type of meal you want to cook.

Generally, stick with Dutch ovens between 5 quart and 7 quart for families of around four people. These will allow you to make large portions while cutting down on cost and storage space. A 7-quart Dutch oven also offers a good level of versatility, allowing you to roast small pieces of meat.

If you plan on doing a lot of roasting, you may want to consider a larger Dutch oven. A 13-quart oven will let you roast a chicken or small turkey, as well as make big pots of soup or stock. Just don't forget that they're likely to take some real effort to lift!