The low-FODMAP diet was developed to allow irritable bowel syndrome (IBS) sufferers to manage their symptoms. It can be a difficult diet to stick to, especially in the early stages, but it can bring relief from this unpleasant condition.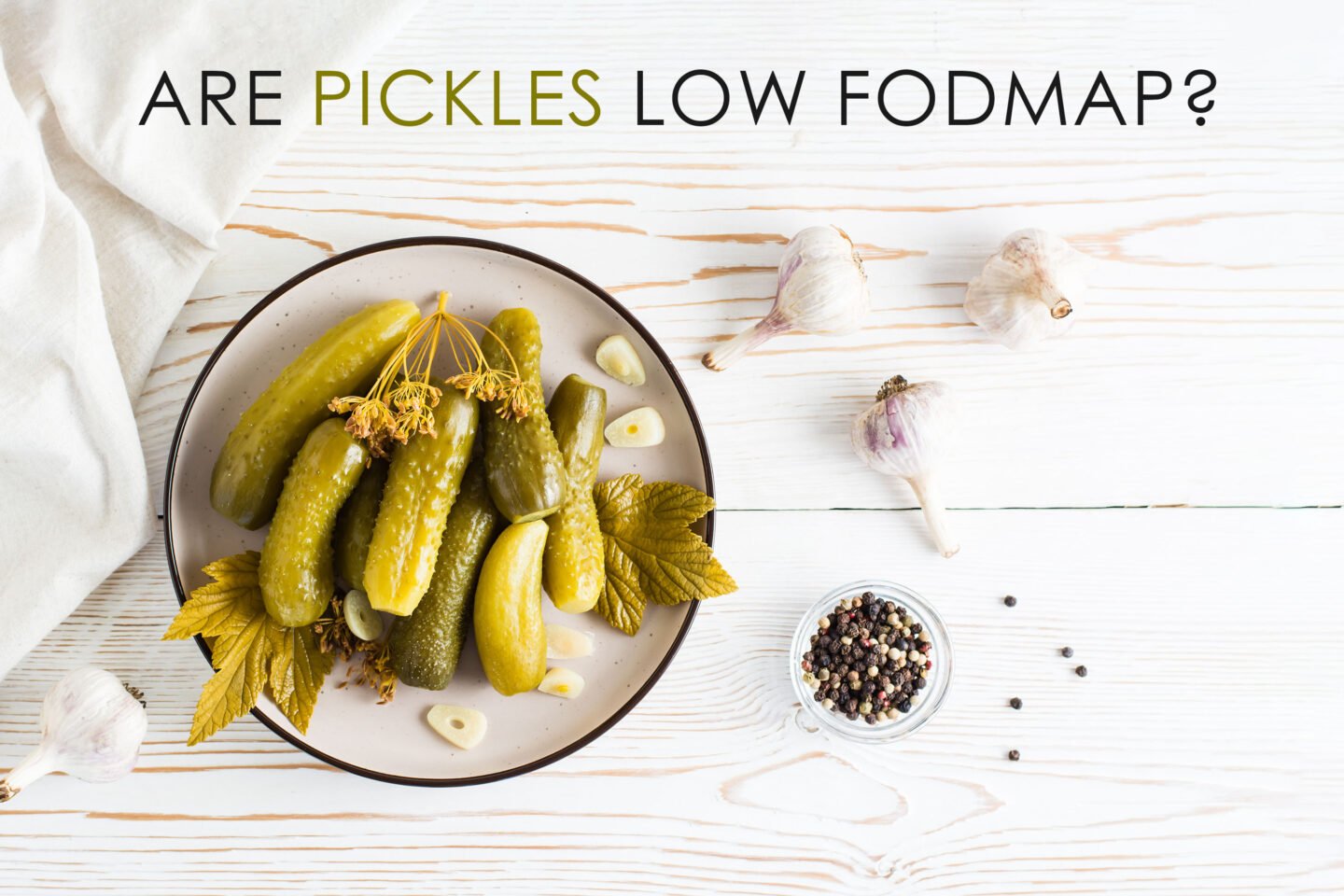 Followers of the diet must first remove high-FODMAP foods from their diets, then slowly reintroduce some and assess if they trigger their symptoms. As many foods contain FODMAPs and people react differently to each, this requires much planning and dedication.
Many vegetables contain at least some FODMAPs, so those on a low-FODMAP diet must strictly limit their intake or exclude them from their diet completely.
How well do pickles fit into this diet?
Table of Contents
Are Pickles High or Low FODMAP?
Pickles are low FODMAP, so a small serving should be tolerated by most on a low-FODMAP diet.
Pickles are also nutritious, containing vitamin K, calcium, and sodium.
How Low in FODMAPs Are Pickles?
FODMAPs are a group of carbohydrates that are difficult to digest. Pickles made with just salt, water, and vinegar contain very few, so they are safe to include in a low-FODMAP diet.
Can You Eat Pickles on a Low-FODMAP Diet?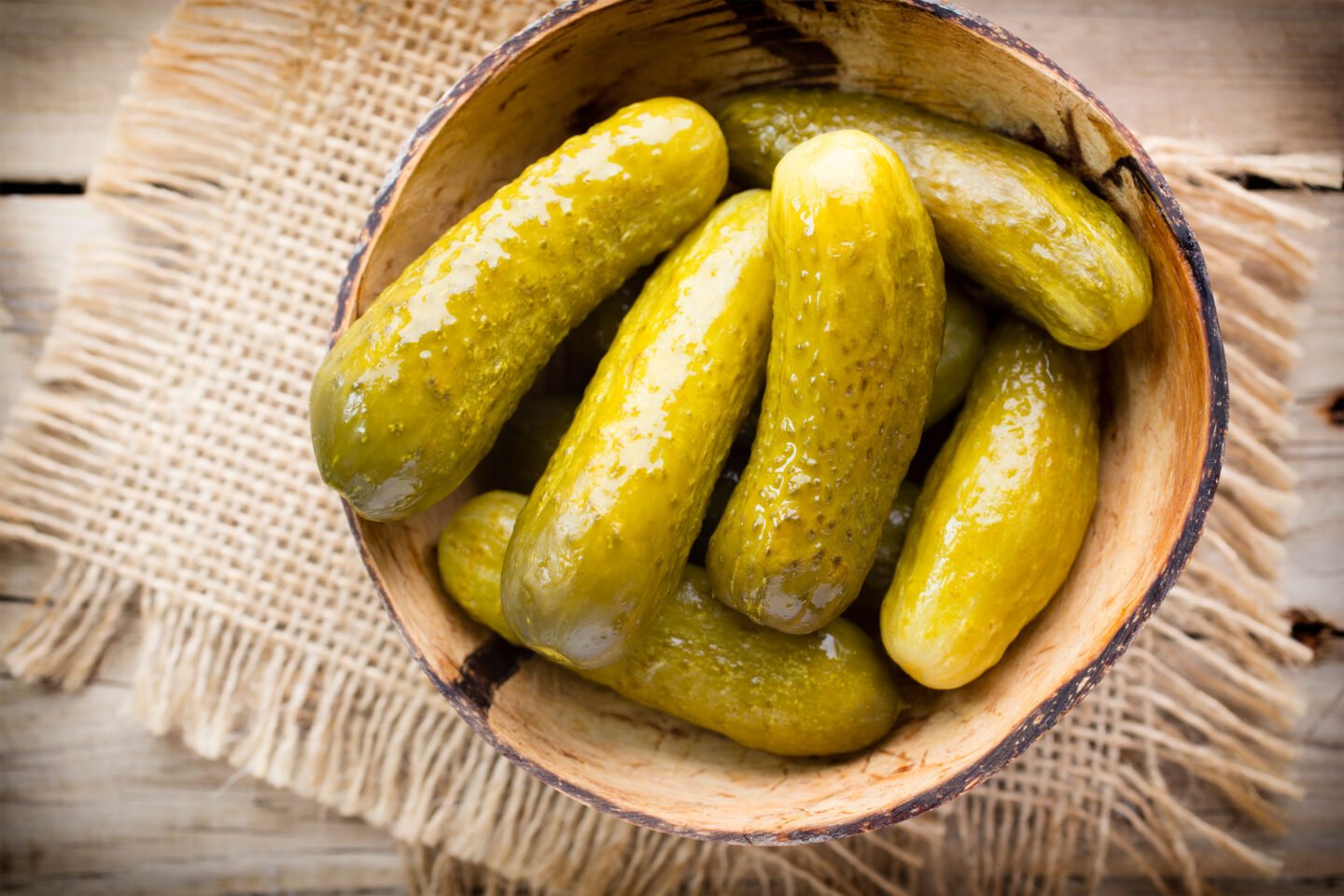 A few thin slices of pickles are safe for most followers of this diet.
Dill pickles are great for those on a low-FODMAP diet; however, they're high in sodium, too much of which can raise your blood pressure, increasing your risk of heart attack and stroke.
Are Sour Pickles Low FODMAP?
Due to their garlic content, sour pickles are higher in FODMAPs than dill pickles, so they should be avoided by those on a low-FODMAP diet.
If you love sour pickles, some IBS sufferers may be able to tolerate a small serving. However, introduce them slowly into your diet and gauge your reactions.
Are Sweet Pickles Low FODMAP?
Generally, sweet pickles are low FODMAP, but this can be influenced by what goes into the brine. Garlic and onion are high FODMAP, so pickles containing these should be avoided on a low-FODMAP diet.
Are Pickles Good for You?
Pickles are low in calories, with a medium-sized pickle containing about 7 calories.
The same serving contains 32% of the recommended daily vitamin K intake. Vitamin K supports blood clotting and bone metabolism, and getting enough in your diet may lower your risk of osteoporosis.
Vitamin K is fat-soluble, so eat pickles with red meat or oily fish to increase the amount you absorb.
Pickles also contain calcium, which helps maintain your bones, teeth, and immune system.
Some studies suggest that calcium may help protect you from developing cancer, diabetes, and high blood pressure.
Pickles contain potent compounds and antioxidants, which help flush out free radicals, preventing oxidative stress and cellular damage and potentially reducing the risk of diabetes and cancer.
Eating fermented pickles feeds good stomach bacteria, improving digestion and reducing inflammation.
Fermented pickle juice is rich in electrolytes and is a great rehydration drink after an intense workout.
Conclusion
Pickles should be safe for most people following a low-FODMAP diet; however, ingredients added to the brine may increase the amount of FODMAPs they contain.
Sources: Nutrition Data and PMC