To achieve weight loss, you have to burn more calories than you consume or eat fewer calories than your body requires. Unfortunately, since not everyone has the luxury of time to burn more calories, most people prefer a calorie-deficit diet to reach their ideal weight. Here's when pickles come in.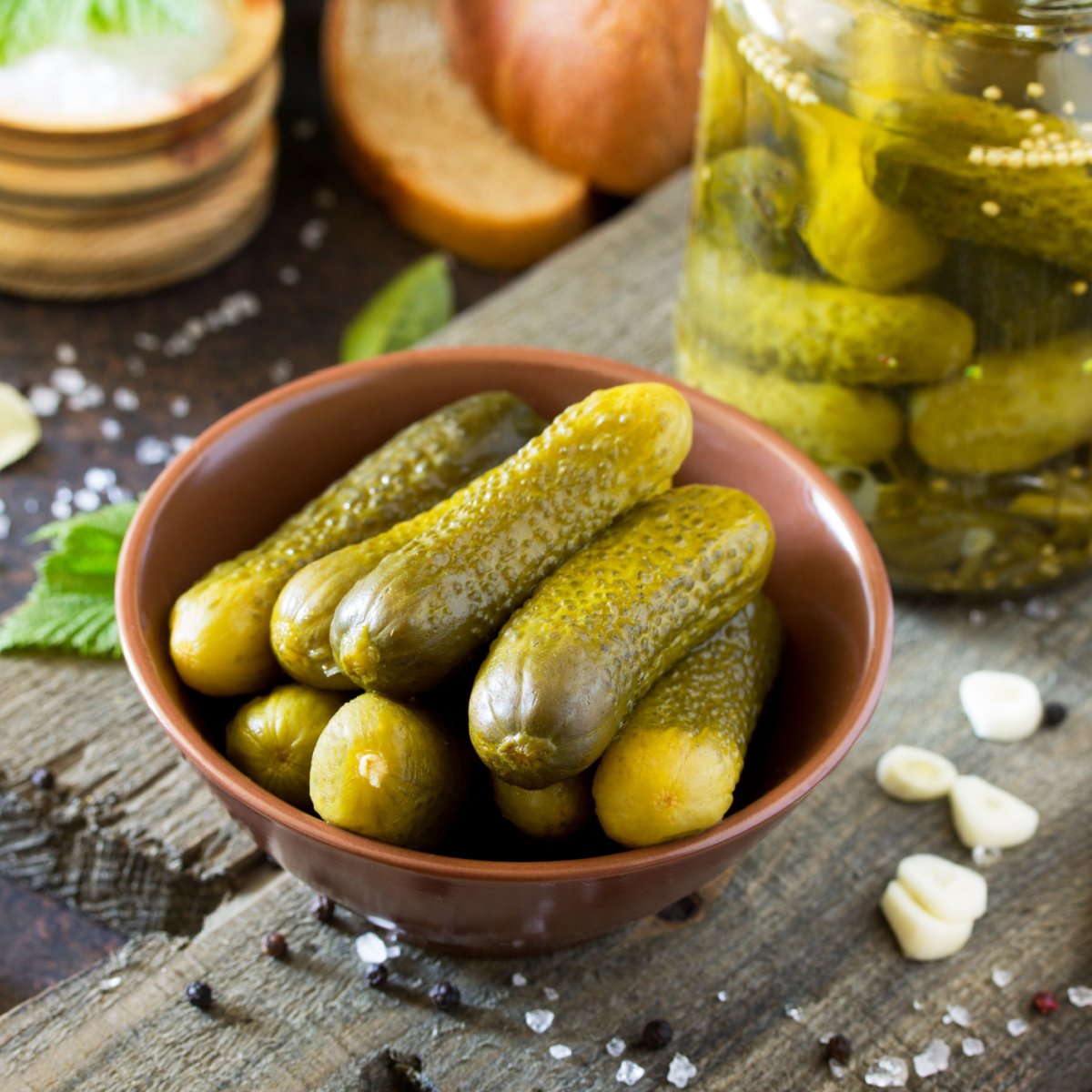 Pickles are very low in calories, contain probiotics, antioxidants, and other necessary vitamins, and help you feel full for a longer time, preventing you from overeating. The vinegar used in the pickling process is also known to have health benefits that help people lose weight. However, there are a few essential risks you have to know before you dig into the pickle diet.
This article will explain everything you need to know about pickles and weight loss. Is it a hoax? Or are there scientific studies that support this theory?
Table of Contents
How Does Pickle Help You Lose Weight?
Pickles Contain Low Calories
According to the Dietary Guidelines for Americans, women require between 1,600 and 2,400 calories daily, while males need between 2,000 and 3,000. That, however, is contingent on their age, height, size, overall health, lifestyle, and degree of exercise.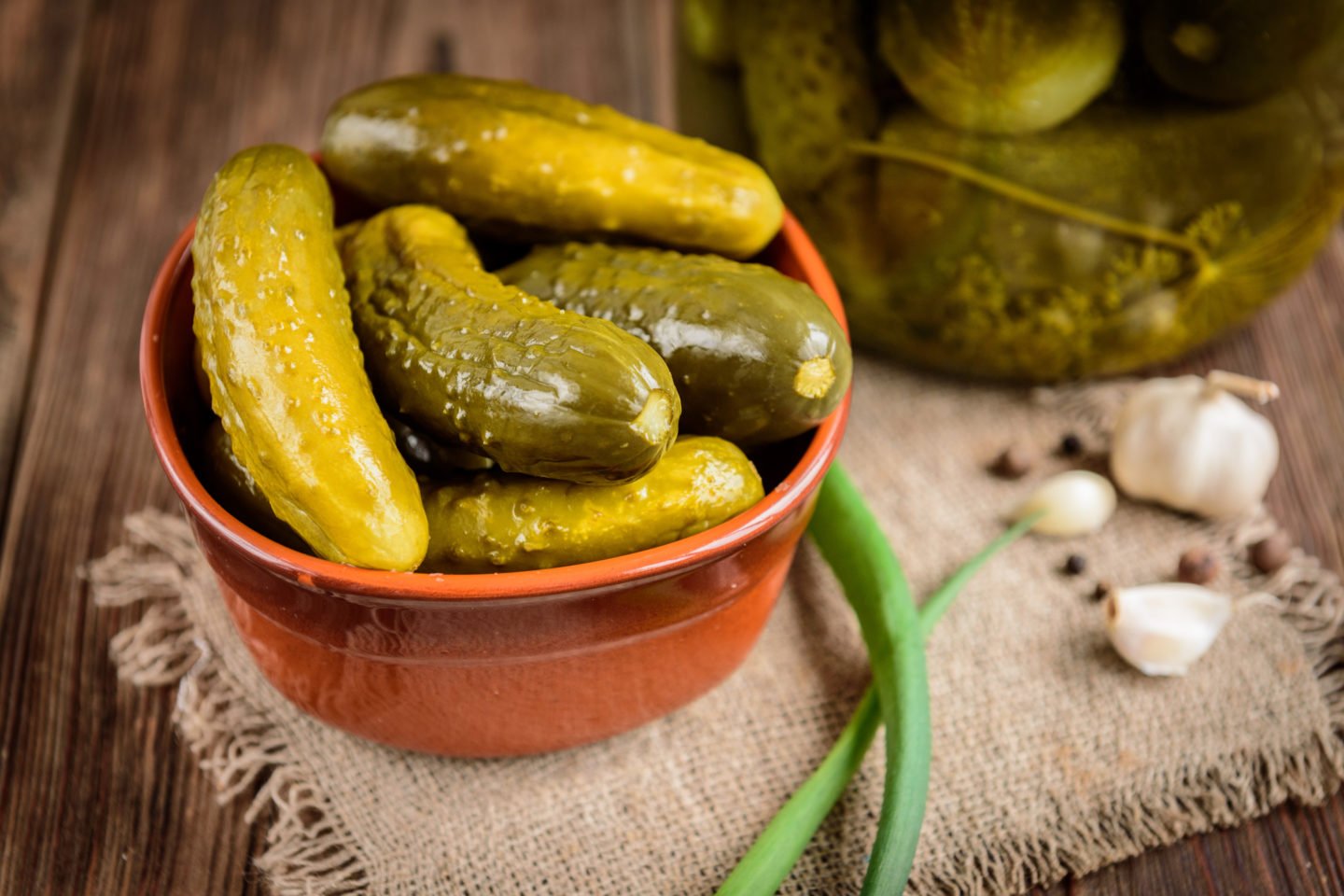 Pickles are known to contain very few calories. For example, a cup of pickles has only 16 calories, equivalent to a quarter of one slice of white bread, or around 8% of the calories you get from cooked rice. So pickled cucumbers are your best snack if you're on a calorie-deficit diet.
Compared to the daily calorie intake, a cup of pickles only makes up 1% of the suggested calories per day for females and even a lesser percentage for males.
Vinegar in Pickles Helps With Weight Loss
The vinegar combination that composes the pickle brine gives pickles their sour flavor. Acetic acid, included in this vinegar, may aid weight loss. According to one animal research published in Critical Reviews in Food Science and Nutrition in July 2016, rats fed acetic acid were more resistant to obesity than rats who didn't.
According to another published paper in the journal Nutrition Reviews in October 2014, vinegar may also hold food in your stomach for longer after a meal, thus "filling" you up and increasing pleasure. In addition, according to the study, vinegar may increase calorie burn throughout the day, making it simpler to burn more calories than you consume and lose weight.
If you wish for a healthier alternative, you can make homemade pickles by pickling cucumbers using apple cider vinegar.
Pickles Help You Feel Full
Even with its very low-calorie content, cucumber pickles help you feel full as they contain high amounts of water. In addition, as mentioned, pickled also control your blood sugar level, which helps reduce hunger and control your appetite.
Pickles Contain Probiotic
Probiotics are good bacteria that help with digestion and may also help with sadness and anxiety. Live probiotics, typically found in yogurt and fermented foods like kimchi, kombucha, and fermented pickles, also provide a small percentage of living probiotics. Weight loss, one of many benefits of probiotics, results from the release of certain hormones that regulate appetite.
The probiotics naturally contained in cucumbers are not harmed by the conventional process of fermenting dill pickles with salt and water. This procedure, however, takes longer than vinegar brining and weakens the probiotics. As a result, vinegar-brine pickles, often known as fast pickles, are more common in supermarkets.
Pickles Are A Rich Source of Antioxidants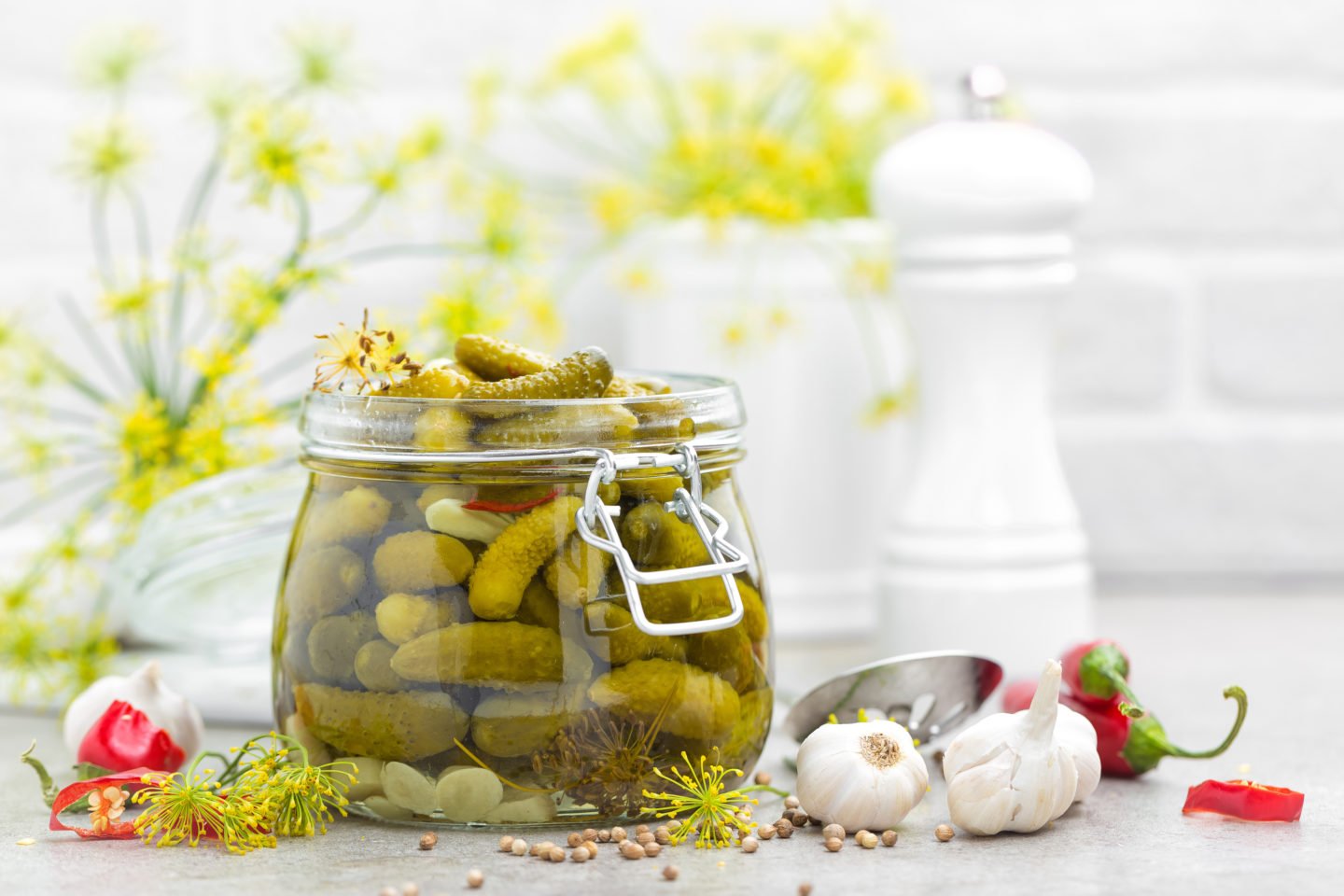 Antioxidants assist and improve overall health by reducing cell damage. For example, beta-carotene remains the show-stopper in preventing cognitive deterioration in the elderly. Reduced free radicals are also beneficial, which are reactive atoms related to cancer and other health problems.
Antioxidants may not stimulate weight loss directly, but they may help you lose weight indirectly by lowering inflammation. It's difficult to separate the advantages of eating antioxidants from a diet rich in vegetables, fruits, and leafy greens since many items containing antioxidants complement a healthy, low-calorie diet. Pickles also contain high amounts of vitamin C and E, two powerful antioxidants that provide many health benefits.
Pickles Are A Great Post-Workout Snack
Since weight loss is all about burning calories, you might begin to work out and need a powerful post-workout snack. Since sweating requires a lot of electrolytes, pickled cucumber can help you replenish the lost ones with their sodium, potassium, and magnesium contents.
But don't drink too much — three ounces of pickle juice may contain up to 900mg of salt, so it's not always the healthiest option, and excessive amounts can be harmful. Without the salt, sports drinks or a glass of electrolyte-packed water works just as well. Although pickle juice cannot replace water, its electrolytes may help curb post-workout hunger.
What Are The Potential Risks of Eating Pickles?
Increased Water Weight Due to High Sodium Content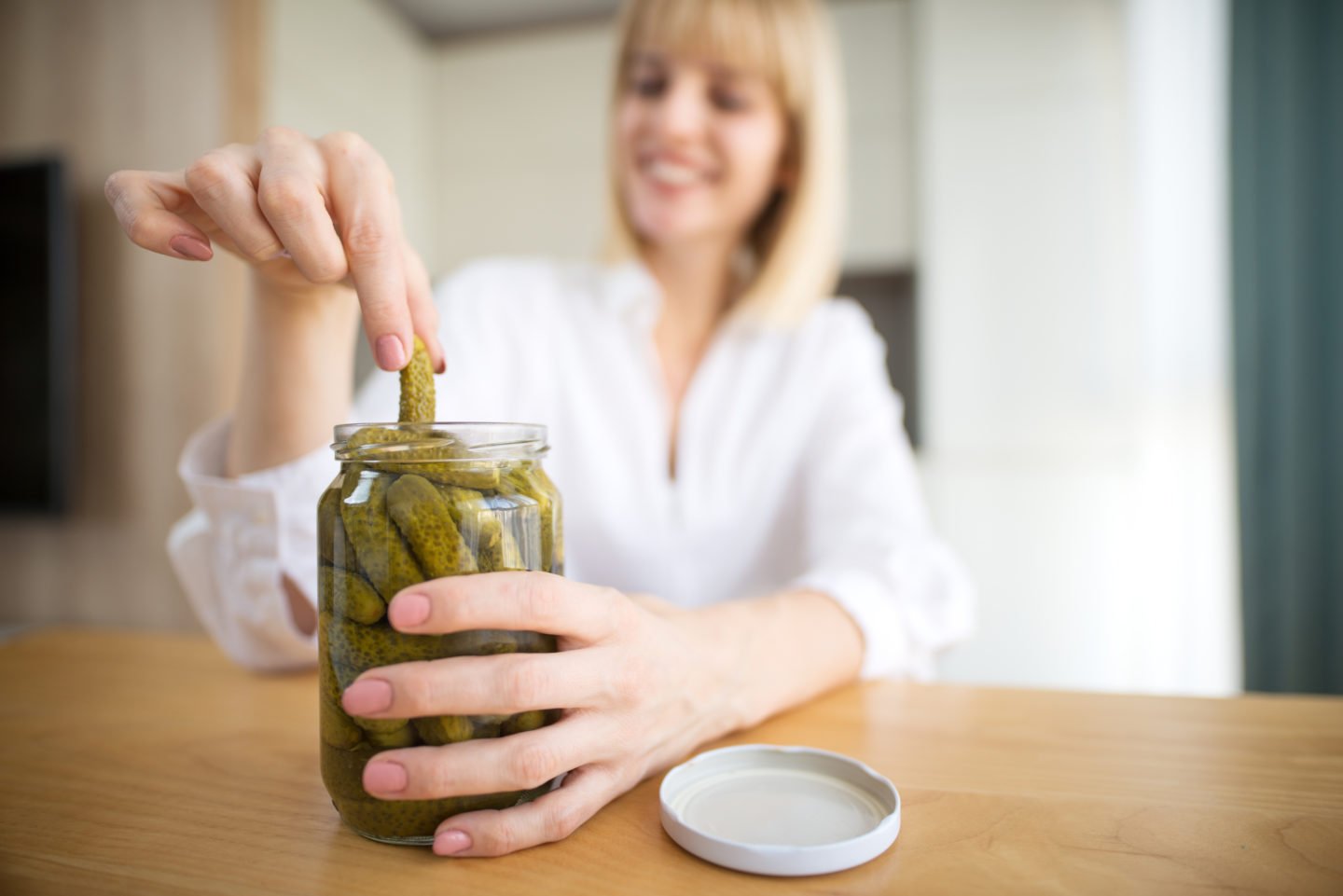 Pickles have one significant disadvantage: they are high in salt. Although sodium does not prohibit you from losing weight, it might make it more difficult to notice weight reduction at frequent weigh-ins. In addition, because salt causes your body to retain water, you may gain a few pounds due to the extra water weight.
Regular dill pickles contain 1,157 milligrams of sodium per cup, which is 48 percent of the daily dose. Still, sweet pickles contain 731 milligrams of sodium per cup, which is 30 percent of the daily value. Low-sodium pickles are a healthy alternative that won't cause you to gain water weight. Per cup, this kind has just 26 milligrams of salt.
Blood Pressure Concerns
Although a high-salt meal is tasty, it can cause high blood pressure or hypertension if the kidneys do not eliminate enough sodium from the blood. Symptoms of high blood pressure do not appear until it is severe.
If hypertension reaches life-threatening levels, it causes headaches, nosebleeds, and strokes. So before you injure yourself by eating a lot of pickles, make sure you have your health checked out by a doctor.
Increased Risk of Osteoporosis
When you consume too much salt, your body loses calcium, which is necessary for bone health. Chronic calcium deficiency lowers bone density and increases the risk of osteoporosis. It's a condition that comes with becoming older, and it's one of the reasons why older people's hips shatter more frequently than normal bones. Unfortunately, pickles' calcium content is unlikely to counteract the salt load.
Increased Risk of Gastric Cancer
Salt isn't ordinarily bad for your stomach, but too much of it can promote the growth of Helicobacter pylori, a bacterium that causes stomach ulcers. Too many ulcers in the stomach destroy your stomach lining. Gastric cancer is more likely if the stomach is damaged repeatedly or for a long time.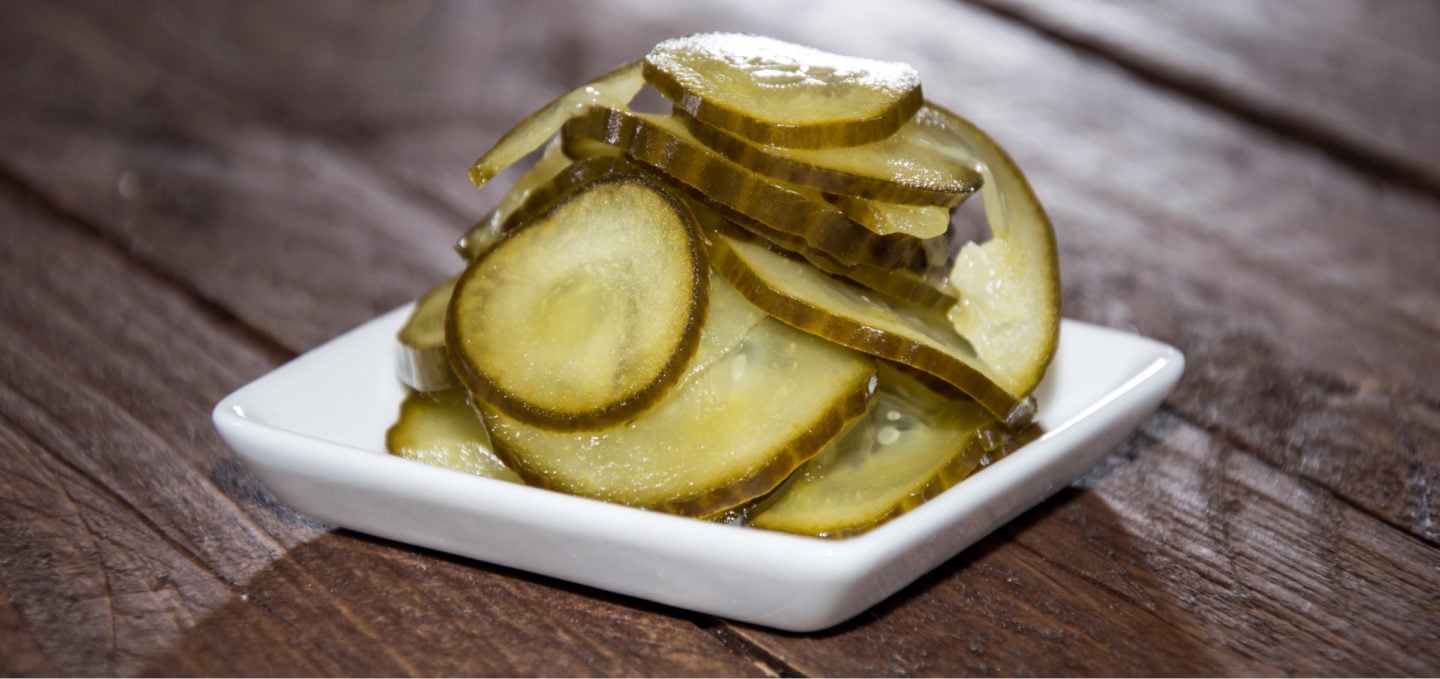 Related Questions
What happens if you eat pickles every day?
Regular pickles contain high levels of salt, and high sodium intake can destroy the balance of your blood pressure and cause hypertension.
Are pickles fattening?
Due to their low calories, pickles are a great snack to help one manage weight. However, note that variants with high salt content cause you to retain water and extra pounds in your body, also known as "water weight."
Do pickles and pickle juice help you lose weight?
Pickles can aid your weight loss journey, but pickle juice poses more harm than good. However, drinking pickle juice that's low in sodium after a workout helps you replenish the lost electrolytes and help you recover efficiently.