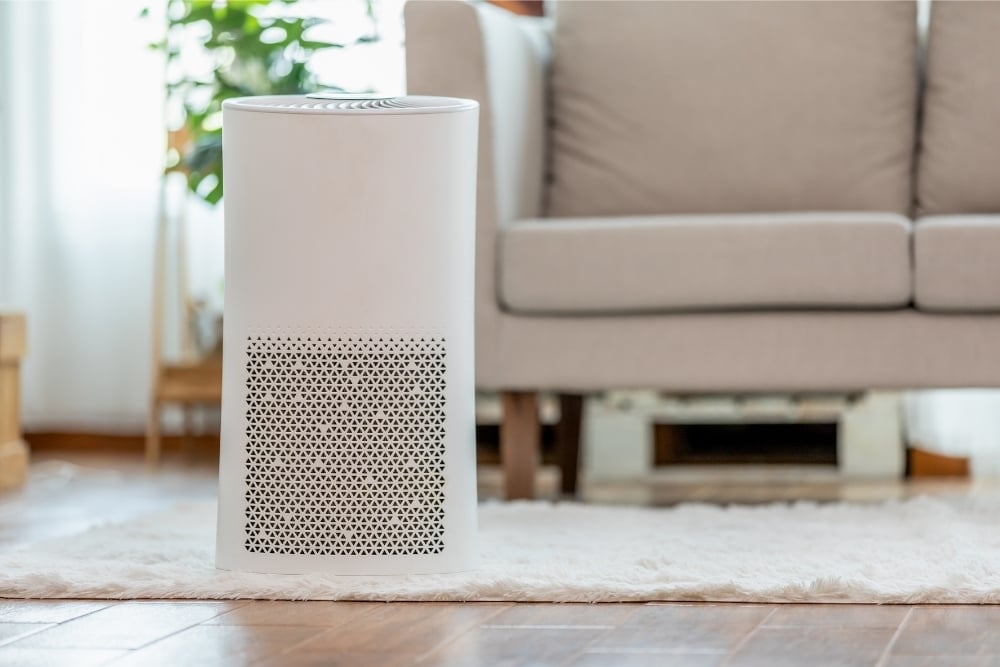 We've all become increasingly aware of the amount of air pollution created by modern life over recent years. This doesn't only mean huge plumes of smoke billowing out of factories or the pollution caused by vehicle exhausts that are easy to see with the naked eye, but also the invisible particles that are flowing through the air at any given time. This includes pollen, mold spores, pet dander, dust, viruses, and bacteria.
You might think that it's only the outside air that's polluted, but you'd be surprised at the number of minuscule particles that are in the air in your home. Leave them untreated and you could create or exacerbate certain medical conditions including asthma and allergies.
For this reason, it's a good idea to place an air purifier in your home. These will capture these harmful particles and keep the air in your home as clean as possible at all times. There are loads of different brands to choose from too, but of the plethora of options available to you, it's Molekule and Dyson that are considered the best.
But why is this? And what are the differences between the two? Below, we'll take a look at each of these brands and some of their air purifiers, exploring their features and finding out exactly why they are regarded as the best air purifier brands out there.
Table of Contents
Molekule Vs. Dyson: Design
Let's start by taking a look at the overall design of both brands. They are quite different, yet they each have a modern style that makes them suitable for any home decor, without pulling focus. For this reason, they are both a great choice for anybody looking for an air purifier that will discreetly blend in with their home.
As a general rule, all of Molekule's air purifiers follow the same design principle. They are compact, aluminum cylinders that have a clean-looking aesthetic. They're also incredibly user-friendly, and most models feature a touch screen display that allows you to easily adjust settings and select different modes. The integrated vents also feature UV lights that add to their modern, stylish appearance.
All Dyson air purifiers also follow the same basic design principle. They range in size from 27.2" - 41.5" tall, and each air purifier brings different features to the table. The real standout design feature of a Dyson air purifier, however, is the bladeless ring known as the "amp". This allows for more efficient air distribution throughout the room after the air has been drawn in through the bottom vents and cleaned through the filters. This also gives them a super modern, stylish appearance.
Molekule Vs. Dyson: Cleaning Modes
The first thing to note is that both Molekule and Dyson air purifiers do a fantastic job of cleaning the air in your home, and each uses a different process to do this, but we'll take a more detailed look at this a little later. As far as the cleaning modes they offer, there aren't that many differences between the two brands.
First up, we'll look at Molekule. Each of the air purifiers in Molekule's range has a choice of different cleaning modes; "Auto Protect", "Boost", "Silent", and "Dark".
When the "Auto Protect" cleaning mode is selected, the air purifier will regulate the quality of the air in the room and automatically adjust the settings for a better clean. All you need to do is input some information about the size of your room, and the air purifier will do the rest!
However, it is worth noting that not all Molekule air purifiers have the "Auto Protect" mode. If you do like the sound of this feature, you'll need to choose the Molekule Air Pro or the Molekule AirMini+.
The "Boost" mode does exactly what it says, and gives the air purifier an extra boost so that it can clean the air within the room at a faster rate. Ideal for those days when the pollen count is particularly high, or if you're trying to eliminate an unpleasant odor.
When the "Silent" mode is selected, a Molekule air purifier will run at its lowest setting and reduce the noise level it operates with. This is perfect for keeping it running in the background while you're working or watching TV.
Finally, the "Dark" mode is the ideal cleaning mode if you're looking to keep your air purifier running at night. It will turn off the UV light and run at its lowest setting so that you can get clean air all night long without any fear of the air purifier disturbing your sleep.
Dyson air purifiers have three cleaning modes; "Auto", "Custom", and "Night". The "Auto" mode works in the same way as Molekule's by monitoring the air quality inside the room and automatically adjusting the settings for a more efficient clean. It will also turn the air purifier off automatically when it isn't needed, which helps to conserve energy.
As with Molekule, however, there are only certain Dyson air purifiers that offer an "Auto" mode. These are the Pure Cool DP04, the Pure Cool TP04, and the Pure Hot+Cool HP04.
The "Custom" mode gives you full control over fan speed and the direction of airflow. The "Night" mode acts as a timer and allows you to keep the air purifier running for a set amount of time before it automatically shuts off. This is ideal if you'd like to keep it on while you fall asleep, but don't want to leave it running all night.
Molekule Vs. Dyson: Wi-Fi Capabilities
Both Molekule and Dyson air purifiers feature Wi-Fi capabilities, giving you the power to operate them using your smartphone and set schedules to run them at certain times of the day. Some can even be paired with Amazon Alexa, so you can adjust them using only your voice.
Molekule Vs. Dyson: Purification Process
While the cleaning modes offered by both brands are fairly similar, the purification process each of them uses is different. They both have the same goal in mind - attracting dirty air towards them, cleaning it, and pumping fresh air out into the room. But each of them does this in a different way.
As usual, we'll start with Molekule. Molekule air purifiers feature PECO (Photo Electrochemical Oxidation) filters which, rather than trapping particles, actually destroy them! The whole filtration process works in the following way:
Air is drawn into the air purifier using a 360º air-intake vent
It then flows through a high-efficiency pre-filter where larger particles (such as animal dander) are trapped, VOCs are slowed down, and unpleasant odors are eliminated
Once it's been passed through the pre-filter, the air comes into contact with nanoparticle-coated PECO filters. These work with the UV light inside the air purifier to destroy 99.97% of airborne particles as small as 0.03 microns.
Finally, the clean air is dispersed back into the room from a 360º angle.
Dyson air purifiers use HEPA filters that capture particles, rather than destroy them. This is a highly effective way of removing airborne particles from your home and is the most widely used filtration method amongst air purifier brands.
Here's how the HEPA filtration process works:
Air is drawn into the air purifier through the vents located on the bottom of the unit
It first comes into contact with an activated carbon filter where larger particles are trapped, VOCs are reduced, and odors are eliminated
Next, it meets a HEPA filter that captures 99.97% of particles as small as 0.03 microns
The clean air is then released back into the room through the bladeless "amp"
It may not seem like there is that much difference in the filtration process, but the real difference lies with the type of filters each brand uses. As Molekule air purifiers use PECO filters, they destroy airborne particles. Dyson's HEPA filters capture them. This means that Molekule air purifiers are generally more efficient when it comes to cleaning the air in your home.
There is a slight downside to PECO filtration, though. It requires UV light in order to function. This can be distracting for some people, especially if you're running your air purifier throughout the night. Of course, Molekule air purifiers have a "Dark" mode which kills the light, but in doing so its efficiency is reduced.
There's a difference in the life span between each of them, too. You'll get around 12 months of use from a HEPA filter, while a PECO filter will last for about 6 months before it needs replacing. So, if you're looking for a low-maintenance option, HEPA could be the better choice.
Molekule Vs. Dyson: Room Coverage
Both brands have air purifiers that are capable of covering small and large spaces alike. This makes each of them a good choice for open-plan spaces, offices, and large homes as well as personal cooling needs such as small bedrooms or desktops.
With this in mind, choosing a winner between them in this category is quite difficult. So, instead, we'll look at the extremes of each situation. If you want to clean the air in a smaller space, the Molekule AirMini+ would be a good choice, as it can cover a 250 square feet space.
If you're got a very large room to cover, the Dyson Pure Hot+Cool HP04 would be a good choice as it has an 800 square foot coverage. It also has the added bonus of being able to cool down a room while purifying the air, as well as a heating function that can be used during the winter. Ideal if you're looking for something that you can use all year round while getting extra value for money.
Molekule Air Purifiers: Pros and Cons
With their incredible PECO filtration system and multiple cleaning modes, it's easy to see why Molekule air purifiers are so popular. But, if you're still unsure whether Molekule is the brand for you, let's take a look at the pros and cons of their air purifiers.
| | |
| --- | --- |
| Pros | Cons |
| Compact, stylish design | Although compact, some of Molekule's air purifiers can weigh as much as 18lbs |
| User-friendly touchscreen display | Only capable of cleaning the air in a room, not cooling or heating |
| Offers Wi-Fi compatible air purifiers that can be paired with a smartphone and Amazon Alexa | One-directional airflow |
| Uses PECO filters to destroy airborne particles, rather than simply capturing them | The PECO filtration process requires UV light in order to work, which can be distracting for some people |
| A great choice of cleaning modes including "Auto", "Boost", "Silent", and "Dark" | |
Dyson Air Purifiers: Pros and Cons
It's also easy to see why Dyson is such a popular brand. To begin with, everybody is aware of the brand due to their other innovative, highly-efficient inventions. And, just like Molekule, they also offer a wider range of features that make their air purifiers a popular choice. So, again to make things easier, we'll look at the pros and cons of a Dyson air purifier.
| | |
| --- | --- |
| Pros | Cons |
| Modern, stylish, and lightweight enough to move around your home with ease | Dyson air purifiers are generally more expensive than Molekule's air purifiers |
| Some models, such as the Pure Hot+Cool HP04, can purify, cool, and heat a room | The HEPA filtration process only captures particles, whereas the PECO filters used by Molekule actually destroys them |
| Features 350-degree oscillation and a bladeless fan for super-efficient air distribution | |
| Offers Wi-Fi enabled models that can be controlled with a smartphone | |
| Uses HEPA filters to capture airborne particles | |
Molekule Vs. Dyson: Which Is The Best?
Working out whether Molekule or Dyson is the best air purifier brand is not an easy thing to do. Both of them offer fantastic air cleaning performance and, while neither of them is particularly suitable for anybody on a budget, the price tag they come with is fairly justified in terms of what they'll offer you.
Ultimately, choosing a winner is something that will come down to personal preference. If you're looking for something that's compact, has a PECO filtration system that destroys particles, and has multiple cleaning modes, Molekule would be the brand to go for.
However, if you're looking for something that can cover a larger space, offers real-time air quality reports, and is super-stylish, Dyson has some fantastic air purifiers that fit the bill perfectly.