The lodge cast iron cleaning kit is a great solution for cleaning and maintaining your cast iron cookware. The kit contains several tools that effectively eliminate all the burnt and unwanted material on the equipment's surface while featuring specific oils explicit to premium seasoning. Including this care set in your cleaning routine holds numerous advantages, the most significant being it features all the tools necessary for a complete and practical session.
A seasoning spray, silicone handle holder, pan scraper, scrub brush, and a care booklet are the items that come in this cast iron cleaning kit. Each of these items serves a specific function in the cleaning process of your cast iron cookware. For example, the silicone handle holder effectively protects your skin from the excess heat involved in the cooking and cleaning process. Here we will review the lodge cast iron cleaning kit, its features, uses, and pros and cons.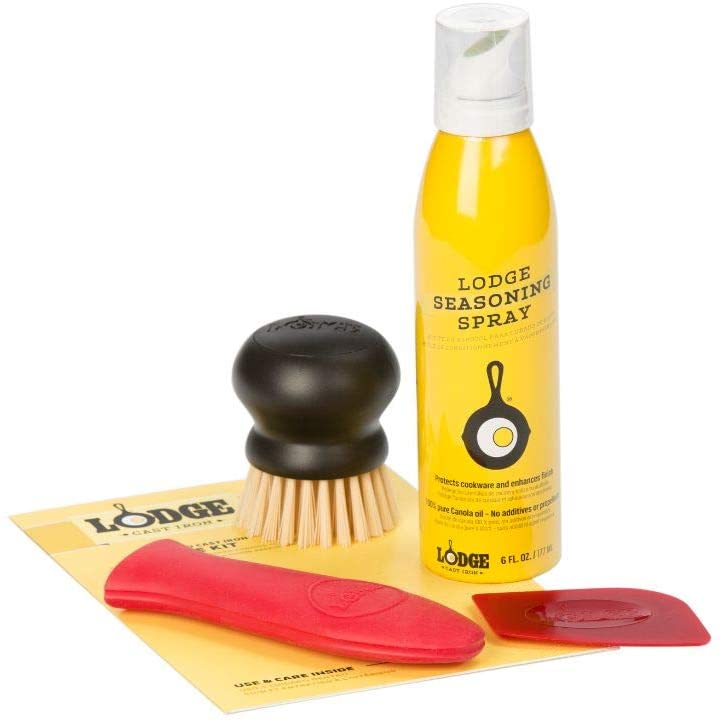 Table of Contents
Features of the Lodge Cast Iron Cleaning Kit
6 oz. Seasoning Spray
The 6 oz. Seasoning spray is one of the most effective tools included in the lodge cleaning kit for cast iron. Its primary role is to protect and enhance the surface of your cast iron cookware from a skillet, grilling pan, and even stoneware found in your kitchen. Research shows that using a thin layer of vegetable oil on your cast iron cooking equipment is necessary after every cleaning session as an approach to proper use and care. The lodge seasoning spray is free from additives and propellants and proves effective in replenishing the seasoning of your cookware.
One good thing about cast iron cooking equipment is that the more you use them, the better they get, provided you are strict with the recommended care routine. The spray also features an adjustable spray setting for effective manipulation, and its contents are made of 100% pure Canola. Air and light exposure is kept at the bare minimum thanks to an internal pouch and its recyclable aluminum container, ensuring the oil is fresh and propellant-free when spraying.
Pan Scrapper
A polycarbonate pan scraper is another tool that plays a vital role in cleaning your enameled cast iron equipment. The pan scraper found in the lodge cast iron care kit is made from rigid and easy to clean polycarbonate that cleans without collecting food particles.
Silicone Handle Handler
The silicone handle handler proves a great addition to every kitchen with cast iron cookware primarily because of its excellent heat-resistant abilities. Its design is unique and is made to fit cast iron skillet handles measuring a diameter of 9 inches going up for lodge traditional style keyholes. You can easily remove pans and pots by sliding the tool onto the hot handles, providing you with a safer and more comfortable grip on hot cooking equipment handles.
This silicone holder guarantees protection for temperatures rising to 450 degrees. Another advantage derived from the material is storage compatibility, as the tools are flexible enough to accommodate the minimum space in your kitchen drawers.
Scrub Brush
The scrub brush serves multiple purposes in cleaning your cast iron cookware, its primary role being to eliminate any rugged remains on your equipment's surface. The brush found in the lodge cast iron cleaning kit features stiff nylon bristles fitted on its plastic head that easily clean your cast iron cookware. Thanks to its ergonomic shape, it grips easily in your hands, providing you with a safer and more comfortable hold during your cleaning sessions.
How To Use the Tools in the Lodge Cast Iron Cleaning Kit
Using the Scrapper for Burnt Sticky Messes
Reaching for your scrapper is the best approach you can take to cleaning a burnt sticky mess on your cast iron cookware. The scrapper's design features curved edges, which allow it to cover every crevice. The grill pan scraper, on the other hand, further simplifies cleaning the spaces between ridges. The good thing about scrappers is that their use fits multiple tools, proving effective in almost all of them.
The seasoning Spray is More Than Seasoning
Unlike other seasoning sprays, the lodge seasoning spray oil serves multiple functions. The oil effectively keeps your equipment's surface looking top-notch, even better than the way you bought it, courtesy of its premium formula.
The oil made from canola oil has an extremely high smoke point, making it the perfect ingredient when searing steak, making a tasty and evenly cooked meal. Its container has a nozzle that facilitates even spraying of the oil on kitchenware surfaces.
The Chain Mail Scrubber is Efficient in Cleaning Cast Iron
The chain mail scrubber is another tool that helps in every kitchen setup and is suitable for scrubbing almost every piece of kitchenware. The tool also proves effective when cleaning your kitchen sink and stoneware, thanks to its exquisite design.
The Gentle yet Effective Scrub Brush
The scrub brush found in the lodge cast iron cleaning kit is gentle enough to ensure it does not harm the coating of your cookware while still being effective in eliminating stubborn stains and burnt materials.
It features stiff nylon bristles that help clean the cast iron for a substantial period without showing wear to itself or your cookware's finish. You can use this tool on various kitchenware for great results, including enameled cast iron Dutch ovens.
What are the Steps Involved in Cleaning Cast Iron?
Wash
The first step involved in cleaning cast iron cooking equipment is washing them by hand and running water. Soap is not necessary but recommended for tough stains and messy scenarios. Ensure you use the required cleaning tools like a pan scraper to remove the stuck food and use warm or hot water for stubborn unwanted materials.
Dry
After a thorough washing process, the next step is to dry your cast iron cookware. Use a lint-free cloth to thoroughly dry the equipment's surface to avoid damaging the cookware's finishing. You may notice some black residue on the fabric because of the seasoning, and there is no reason for concern.
Oil
The final step in cleaning kitchen equipment made of cast iron is oiling. At this stage, the seasoning spray oil from the lodge cast iron care kit comes in handy, as you will need to rub some of the oil on your cookware's surface. It would help if you wiped the surface with a paper towel until you are sure no oil residue remains to increase the longevity of your seasoned cast iron cookware.
How Frequent Should I Season My Seasoned Cast Iron Pan?
Although most of the new cast iron cookware comes seasoned and ready for use, you must maintain a strict schedule for the perfect approach towards excellent care and maintenance. It is recommended that you follow the cleaning routine for your cooking equipment after every cooking session. That includes washing, drying, and applying a thin layer of oil.
Is it Bad to Use Soap when Cleaning my Favorite Pan?
Soap tends to harm your equipment's seasoning despite it being reasonably resistant. It would help to limit including soap when cleaning simple and not so dirty cookware to avoid exposure to the equipment's surface. The more you expose your favorite pan to soap, the more you increase the potential of eventually damaging your cookware's finish.
Does the Seasoning Oil Use Matter When Cleaning Cast Iron Cookware?
The type of seasoning you decide to use when cleaning your cast iron cookware does not significantly impact the overall outcome of the process. You can use whichever oil you prefer, but be aware that each oil you select has its own smoke point. Good examples of oils you can use for sauteing and baking include sunflower oil, olive oil, and vegetable oil.
Conclusion
Every kitchen enthusiast who owns cast iron cookware will find the lodge cast iron cleaning kit useful. It comprises multiple tools that prove effective in rust prevention, seasoning protection, and more effortless cleaning routines.