Jump to Recipe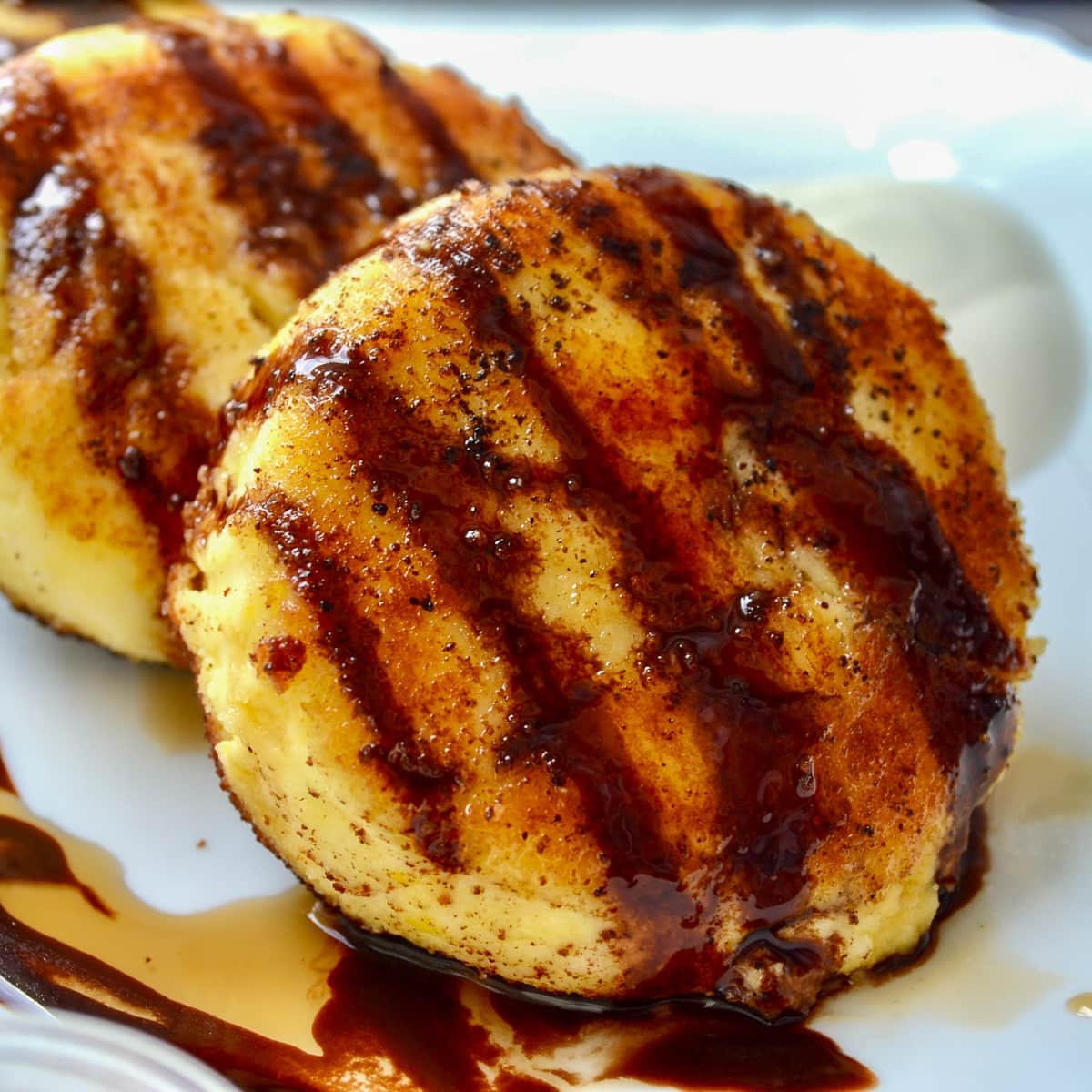 If you are looking for a perfect low-carb sweet breakfast idea, this keto syrniki recipe is a must to try. They are made out of cottage cheese, coconut flour, sweetener, and an egg. And, you'll need less than half an hour to make this for breakfast.
My kid loves syrniki, which is why I make them quite often. But since the traditional syrniki recipe is not keto-friendly, I had to make some changes for it to be as low-carb as possible.
All of the ingredients can be found in almost any grocery store. But if you're having trouble finding cottage cheese, you should look for it in a Slavic or Russian grocery store. Alternatively, you can also make the cheese yourself, which is unbelievably easy to do. Read on to learn how to do it.
Table of Contents
What Is Syrniki?
Syrniki is a dish most popular in Ukraine and Russia. If you've never tried syrniki before, think of them as cottage cheese pancakes. They are quite similar to a cheesecake, but they're only fried on a skillet in oil. Traditionally they are made out of cottage cheese mixed with some flour and eggs. However, some people believe that flour is not needed for syrniki.
Also, many prefer to add raisins, carrots, apricots, apples, nuts, and even potatoes to the cheesecake pancake batter. But since this recipe is intended to be low-carb and keto-friendly, I decided to skip such ingredients.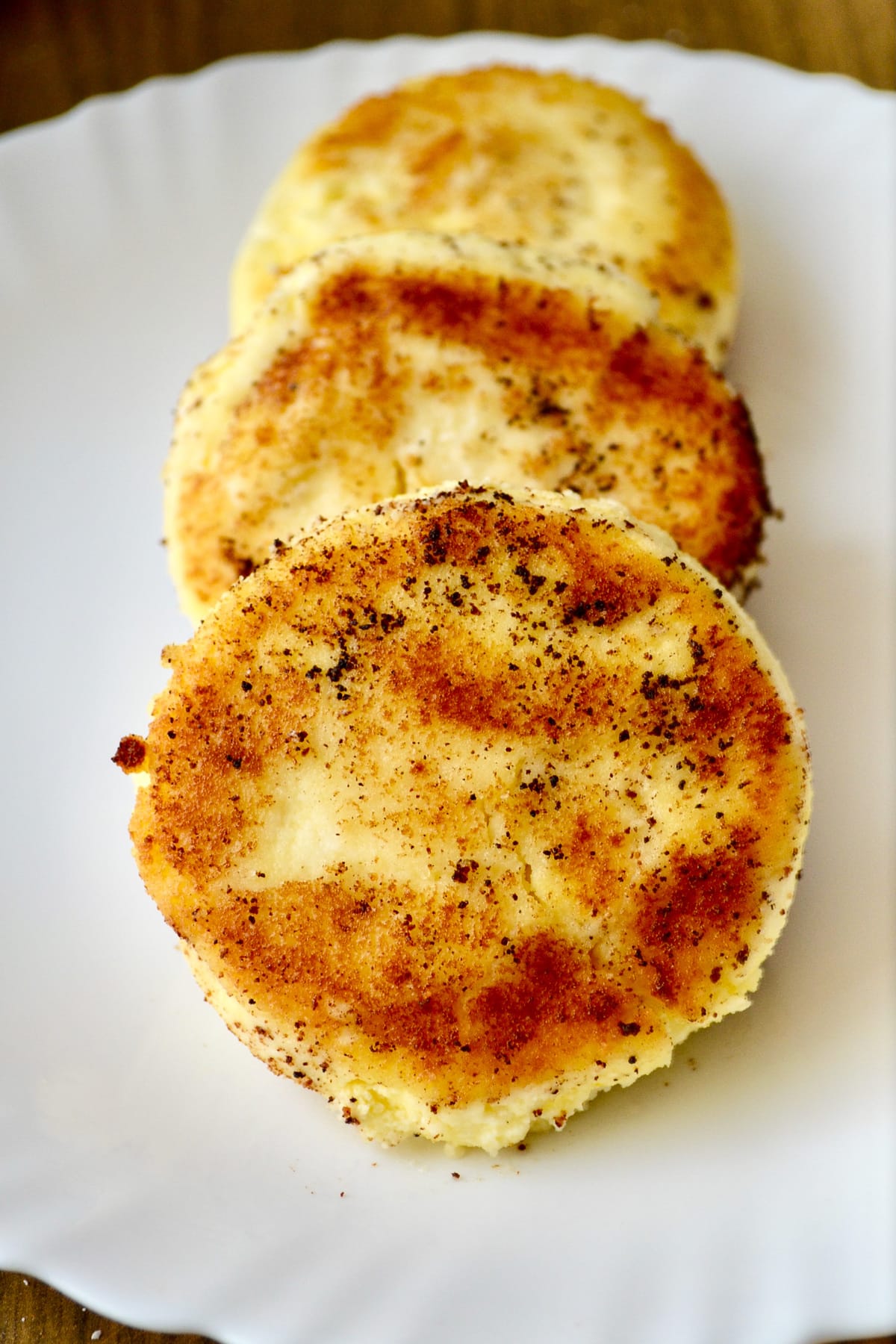 Is Syrniki Healthy?
Yes, syrniki definitely makes a healthy meal. However, if you don't want to fry them on the pan, you can easily bake them in an oven or an air fryer to make them even healthier.
You'll need cottage cheese, coconut flour, an egg, some vanilla extract, lemon juice, stevia, and a pinch of salt for this cheesecake pancakes recipe. Even though the traditional recipe includes other ingredients, I had to change them to make this recipe compatible with the keto diet.
How to Make Cottage Cheese
You can find cottage cheese in almost any grocery store. But if you have free time and would like to make your own cottage cheese, trust me, it will be much tastier than store-bought cottage cheese.
There are dozens of ways one can make cottage cheese at home. Most of them require for the milk to be kept in a warm place for about three days. But if you want the easiest and fastest way to make cottage cheese, you'll need to add white vinegar to the milk. And for everything to work, you'll need to choose whole milk that is not long life or ultra-high temperature processed.
So here's how to make cottage cheese quickly and painlessly:
To make 2 pounds of cottage cheese, you'll need 1 gallon of cow's milk.
Pour the milk into a heavy-bottomed pot. Place it over low heat and occasionally stir it until the milk reaches 190 F.
Remove the part from the head and pour in 4 fluid ounces of white vinegar. Stir it, cover it with a lid, and set it aside for an hour.
Prepare a cheesecloth or a clean kitchen towel and place everything from the pot into that cloth. Form a ball to make sure that the cheese drains properly. Chill the cheese for a few hours before serving.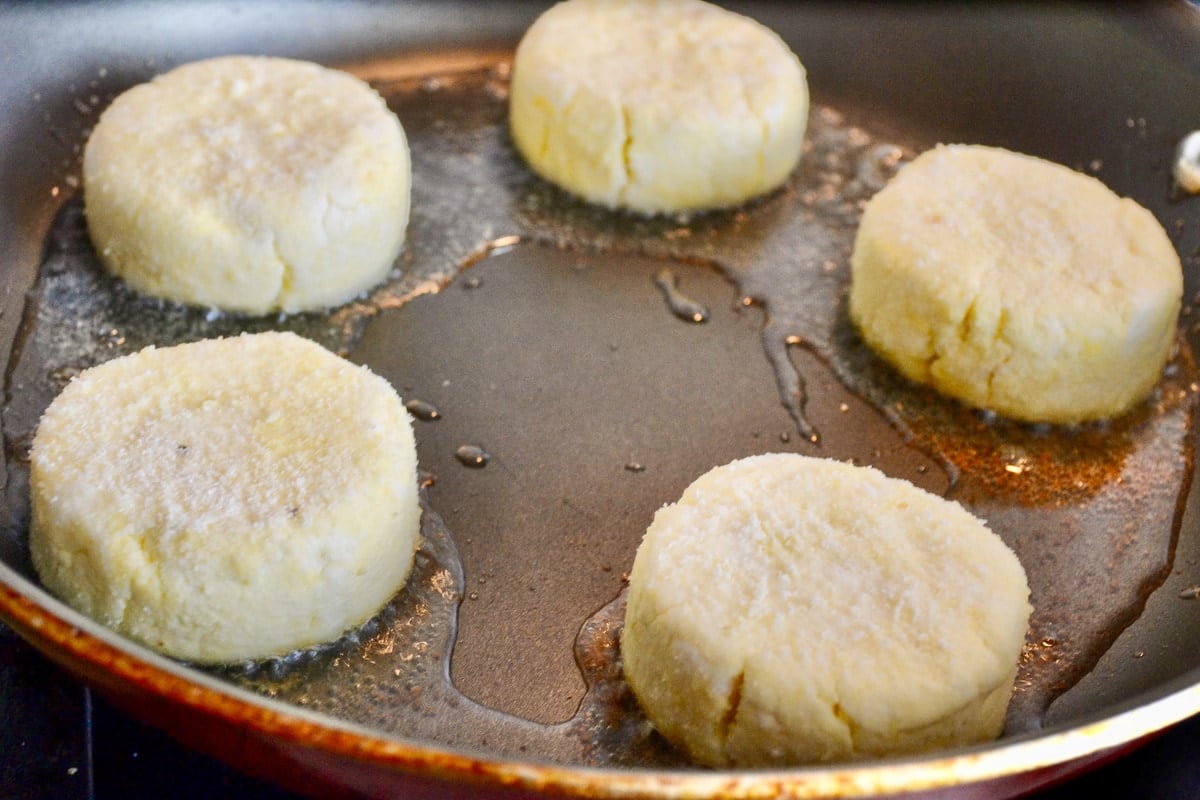 Storing Tips
You can store syrniki in the refrigerator for up to 3-5 days. After that, you can serve them either warm or cold.
What I like most about this keto cheesecake pancake recipe is that it is freezer-friendly. You can easily load your freezer with pre-made syrniki so you can just fry them on the skillet right from the freezer whenever you want.
To freeze these cheesecake pancakes, you'll need to mix all of the needed ingredients for the pancakes, form them, place them on a cutting board, and freeze. When they are frozen, you can simply place them in a zipper bag. You can store them in the freezer for up to three months.
Serving Options
The traditional way of serving syrniki is with some sour cream on top. But when following the keto diet, you should be careful with how much sour cream you're adding since even though it has more fat than carbs, it is still relatively high in carbs.
Personally, I love to eat my cheesecake pancakes with some maple syrup. Be careful when choosing one since many contain sugar or other unnecessary ingredients. My all-time favorite choice is ChocZero's Maple Syrup. Or, you can also add both some maple syrup and some low-carb chocolate.
Another way to serve cheesecake pancakes is with fresh fruits or berries. But, always remember to choose low-carb options. I like to add some strawberries, peaches, raspberries, blueberries, or blackberries.
Recipe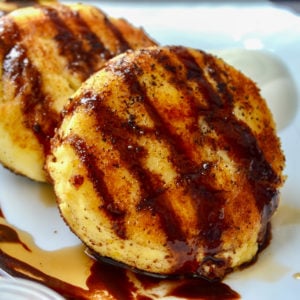 Keto Syrniki (Cheesecake Pancakes)
If you've never tried syrniki before, think of it as a cottage cheese pancake. Made out of cottage cheese, coconut flour, sweetener, and an egg, you'll need less than half an hour to make this for breakfast.
Ingredients
1

lb

cottage cheese

1

large

egg

1

cup

coconut flour

1

tsp

vanilla extract

1

tbsp

lemon juice

1

tsp

stevia

pinch

salt
Instructions
In a bowl, mix all of the ingredients. The mixture should be paste-like.

Wet your hands and form the syrniki into a round shape. Roll them in some coconut flour.

Fry on a skillet on low-medium heat in some coconut or olive oil on both sides until golden brown (about 3-4 minutes on each side).
Notes
The oil for frying is not included in the nutritional values of the meal since the needed amount may vary.
Nutrition
Calories:
169
kcal
Carbohydrates:
6
g
Protein:
12.8
g
Fat:
7.6
g
Saturated Fat:
3
g
Polyunsaturated Fat:
1
g
Monounsaturated Fat:
1
g
Trans Fat:
1
g
Cholesterol:
33
mg
Sodium:
247
mg
Potassium:
70
mg
Fiber:
5
g
Sugar:
3
g
Vitamin A:
113
IU
Vitamin C:
1
mg
Calcium:
51
mg
Iron:
1
mg