Jump to Recipe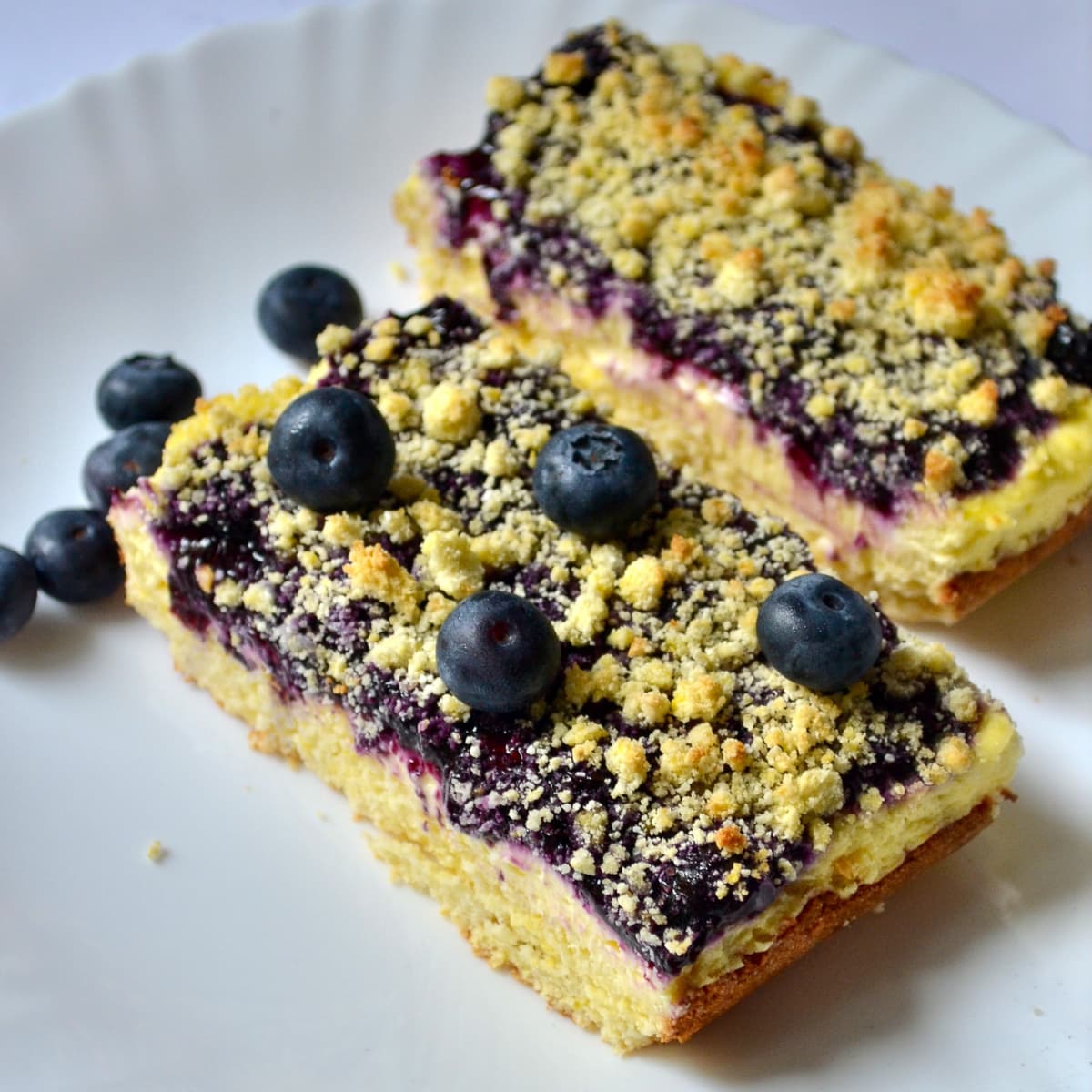 These keto blueberry lemon cheesecake bars are the perfect sweet treat that you'll need after a long and busy day. Made with coconut flour, cream cheese, and plenty of berries, these are the healthiest version possible of everyone's favorite blueberry bars.
You can call these bars whatever you like: blueberry cheesecake bars, crumble bars, or lemon blueberry bites. And since blueberries are pretty low in carbs, this recipe turned out entirely keto-friendly.
Another advantage of this low-carb blueberry cheesecake bar recipe is that it is quick to make; you can have this sugar-free dessert ready in less than an hour. So with just a bit of patience, you can have these bars ready at your kitchen table for your whole family to enjoy.
Table of Contents
Here's What You'll Need
Don't let the list of needed ingredients scare you. Yes, it may look like a lot, but they are pretty simple, and you might already have most of them in your kitchen. So, here's what you'll need to make these blueberry cheesecake bars:
Coconut flour
Butter
Plant-based milk
Eggs
Baking powder
Erythritol
Cream cheese
Lemon juice
Lemon zest
Vanilla extract
Blueberries
Water
Xantham gum
Personally, I think that this recipe goes well with coconut flour. Of course, you can replace it if you want to, but my experience tells me that these cheesecake bars are best made with a coconut flour crust rather than an almond flour one.
If you're wondering what the xantham gum is for, I used it to thicken the blueberry sauce. However, you can skip this ingredient if you want to. The sauce will thicken by itself, but it will take a bit longer if you don't add any xantham gum.
You can find the exact amount of each ingredient that you'll need in the recipe card at the bottom of the page.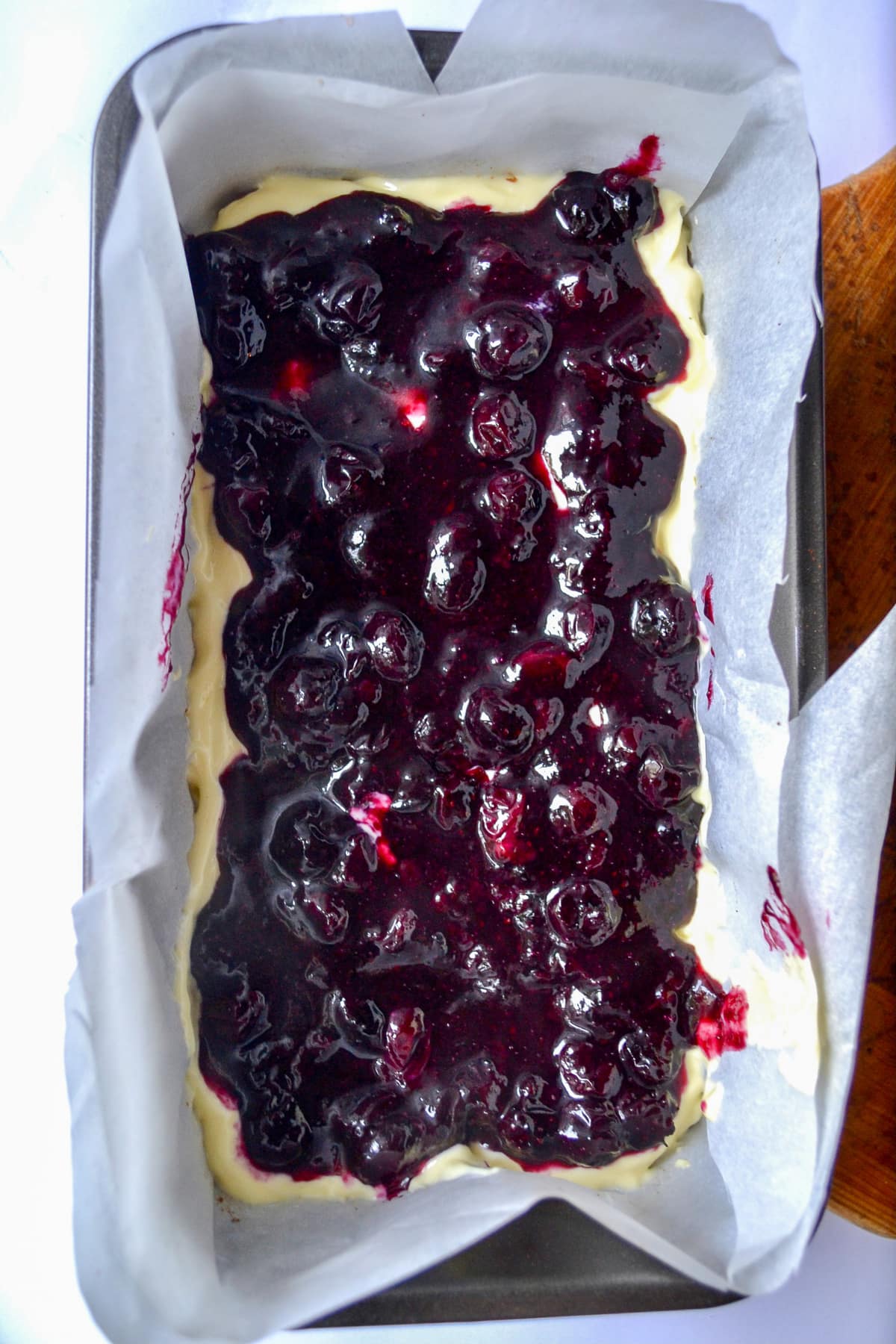 Cooking Tips
These low-carb blueberry bars consist of four layers. The bottom one is the coconut crust, then goes the cheesecake layer, on top of that goes the blueberry sauce, and finally the top layer—the crumbles.
First, you'll need to mix all of the ingredients needed for the bottom layer and bake the crust. Don't forget to set aside some of the dough crust—you'll need it for the crumbles. After the crust is ready, you'll need to prepare the next two layers, place them on top of the crust one after the other, sprinkle with the dough leftovers, and bake in the oven.
Here are a few tips that might be helpful when baking these keto bars:
Line your baking pan with parchment paper. This will make cleaning the baking pan much easier, and you'll have no trouble removing the blueberry cheesecake bars from the pan.
Let the coconut crust cool before adding the next layers. This is important; otherwise, the crust will become wet when the cheese melts.
Place the bars in the freezer before cutting. If you want to get perfectly clean slices, it is best to let your cheesecake bars cool completely after baking and then place them into the freezer for about 20-25 minutes.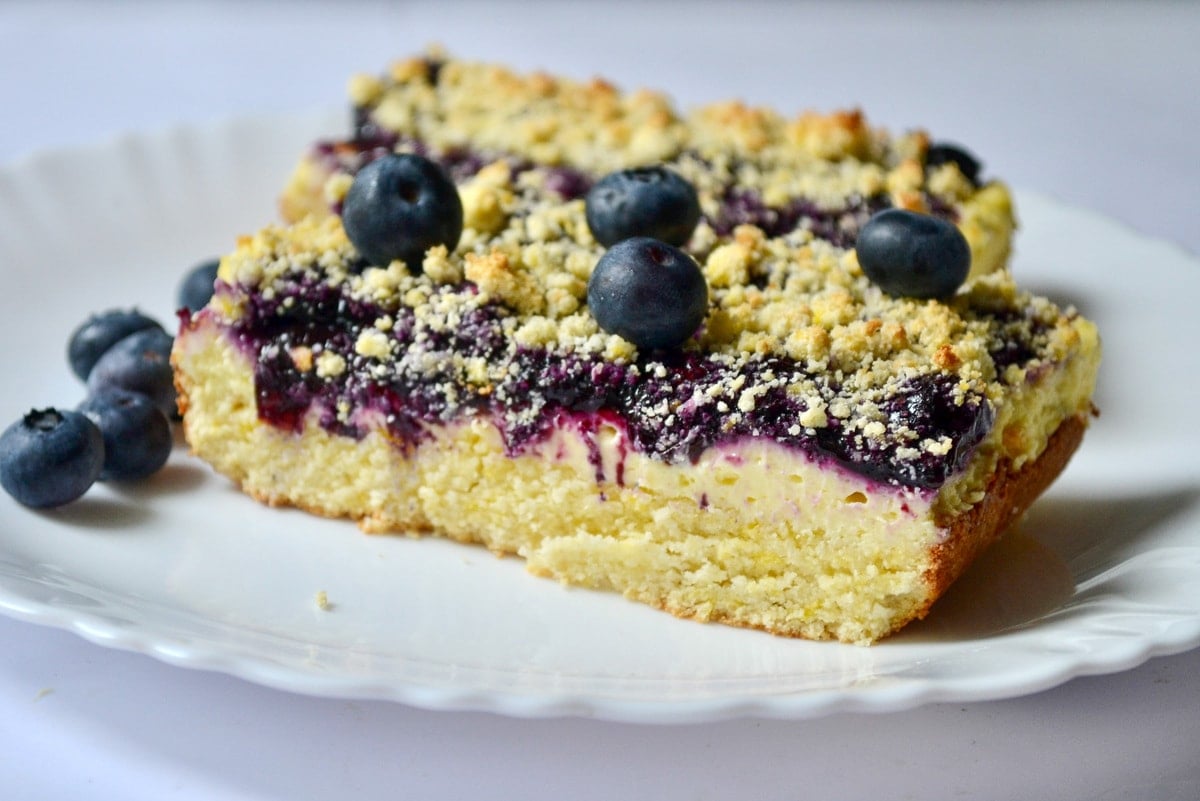 Variations to Try
By no doubt, a lemon cheesecake layer and blueberry sauce go well together. But, there are also a few other variations to this recipe that you can try.
If you want to experiment a bit with this recipe, I recommend trying these sauce options:
Blackberry sauce. This is a perfect alternative to the blueberry one; it tastes incredibly delicious with the lemony cheesecake layer and adds the same bold color.
Raspberry sauce. This is another great berry option that you definitely should try. And since they are pretty low carb (just 3 grams of carbs per half a cup), they'll be perfect for this recipe.
Kiwi sauce. If you want to try something completely different, then make the sauce using kiwis.
You might be wondering why there are so few variations, but not many fruits and berries are low-carb, so keep that in mind when you experiment with the recipe.
Storing Instructions
Even though this recipe is unbelievably delicious, it's still possible that you'll have leftovers. I prefer to keep any blueberry cheesecake bar leftovers in a tightly closed container. You can store them the same way or just wrap them up in some plastic food wrap. They can be stored either way for up to 6 days.
Also, these keto bars are freezer-friendly. So, you can freeze these bars, and just thaw them in the fridge the night before you want to serve them. They'll taste as good as the freshly made ones.
Recipe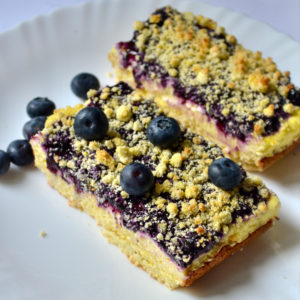 Keto Blueberry Lemon Cheesecake Bars
These keto blueberry lemon cheesecake bars are the perfect sweet treat that you'll need after a long and busy day. Made with coconut flour, cream cheese, and plenty of berries, these are the healthiest version possible of everyone's favorite blueberry bars.
Ingredients
Crust:
⅔

cup

coconut flour

5

tbsp

butter

melted

5

tbsp

milk

plant-based

1

large

egg

1

tsp

baking powder

2

tbsp

erythritol

or any other sweetener
Cheesecake layer:
8

oz

cream cheese

1

egg yolk

1

tbsp

lemon juice

1

tsp

lemon zest

½

tsp

vanilla extract

2

oz

erythritol
Blueberry sauce:
5

oz

blueberries

1

oz

erythritol

4

tbsp

water

¼

tsp

xantham gum
Instructions
Preheat the oven to 350 F. Then, lay a 5x9-inch baking pan with parchment paper.

Add the coconut flour, baking powder, melted butter, milk, egg, and erythritol into a medium bowl. Mix everything and form the dough. If the dough is crumbly, you're doing things right.

Move most of the dough into the baking pan, leaving behind two tablespoons for the top crumble layer. Using a spoon, press the coconut dough into the pan to make sure that it is evenly spread out. Bake in the oven for 10 minutes.

While the crust is in the oven, make the blueberry sauce. In a small saucepan, add the blueberries, erythritol, and water. Cook it over medium heat while constantly stirring for about 5-10 minutes. Then, add the xantham gum and let the sauce simmer for a few more minutes to thicken. Set it aside.

To make the cheesecake layer, place the cream cheese, egg yolk, lemon juice, vanilla extract, and erythritol in a medium bowl. Beat everything with a hand blender until smooth.

Once the crust has cooled, spread the cheesecake mixture over it. Place the blueberry sauce on top of the cheesecake mixture then sprinkle the coconut dough leftovers over the sauce.

Bake in an oven preheated to 350 F for about 20-25 minutes. Let the bars cool completely before serving.
Nutrition
Calories:
231
kcal
Carbohydrates:
8.2
g
Protein:
4.4
g
Fat:
20
g
Saturated Fat:
8
g
Polyunsaturated Fat:
1
g
Monounsaturated Fat:
3
g
Trans Fat:
1
g
Cholesterol:
81
mg
Sodium:
190
mg
Potassium:
92
mg
Fiber:
4
g
Sugar:
4
g
Vitamin A:
487
IU
Vitamin C:
3
mg
Calcium:
87
mg
Iron:
1
mg