Chili con carne, more popularly known as "chili," is a nutrient-dense food that many people enjoy. Aside from the health benefits it offers, chili's savory and rich taste makes it very easy for people to add it to their diet.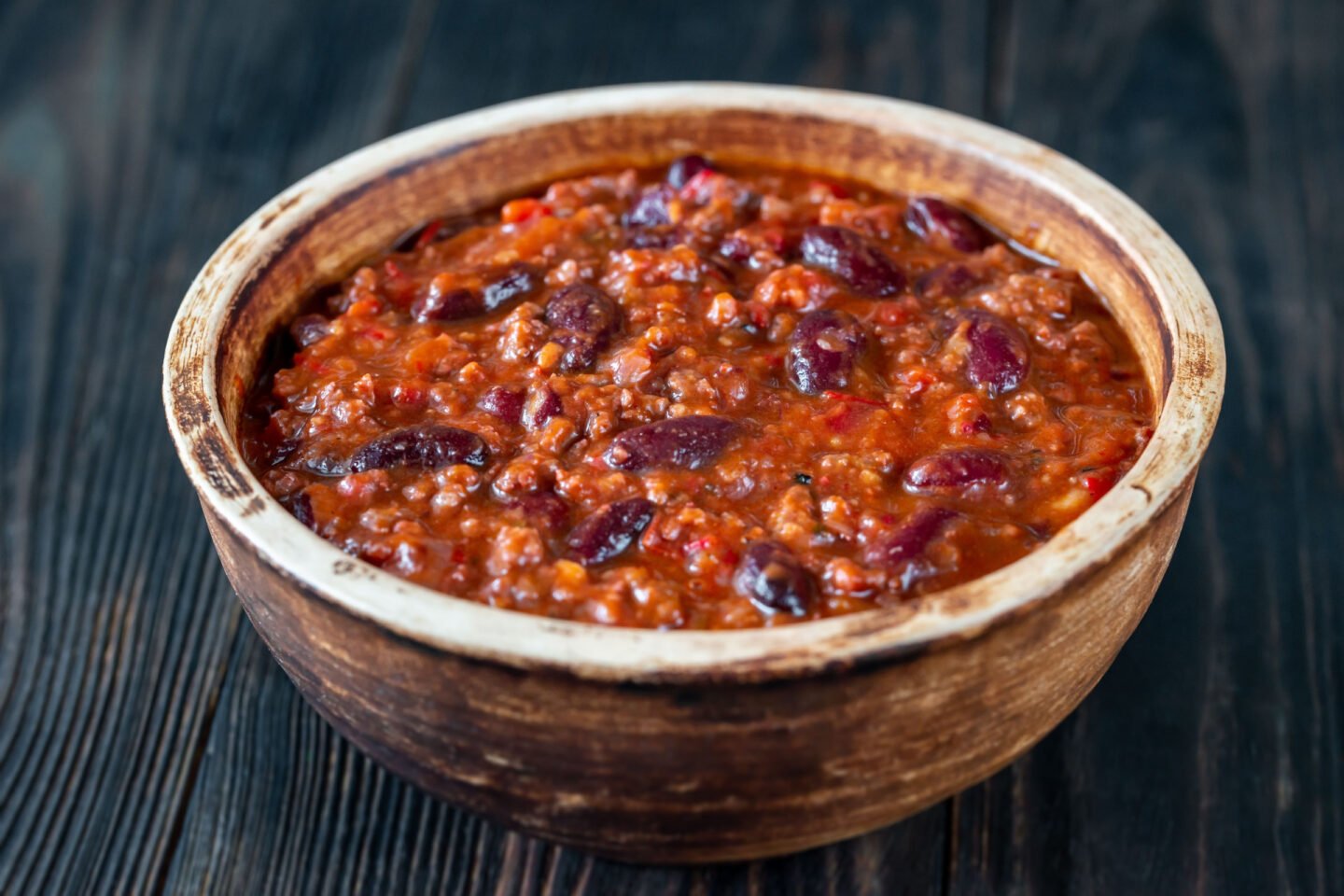 The excellent news is that chili is a good food option for people with diabetes. Chili is rich in fiber and lean protein, low in glycemic index and glycemic load, and lowers insulin resistance.
The only risk of eating chili more often is its high sodium content, which increases the risk of developing high blood pressure. However, you can always make a low-sodium version at home.
Read on as I discuss the benefits and risks of adding chili to your diet, how it affects your blood sugar level, and provide a diabetes-friendly recipe that you can make at home.
Table of Contents
Diabetes in a Nutshell
Diabetes is a disease characterized by chronically high blood sugar levels, which result when the body has impaired insulin levels or usage. With diabetes, your body either does not produce enough insulin or is not using it properly.
There are three types of diabetes: type 1, type 2, and gestational diabetes. Type 1 diabetes, also known as juvenile diabetes, is an autoimmune disease in which the immune system attacks the cells that produce insulin, resulting in an absolute insulin deficiency.
Type 2 diabetes is a metabolic disorder that results when the body cells become resistant to insulin and the sugar remains in the bloodstream, eventually causing complications.
Lastly, gestational diabetes occurs during pregnancy but usually goes away after giving birth.
Although both types have no known cures, both are manageable by maintaining a healthy lifestyle, including healthy eating and regular exercise.
Failure to manage diabetes can result in serious health complications, including heart disease, blindness, kidney disease, and nerve damage.
Is Chili Good for Diabetics?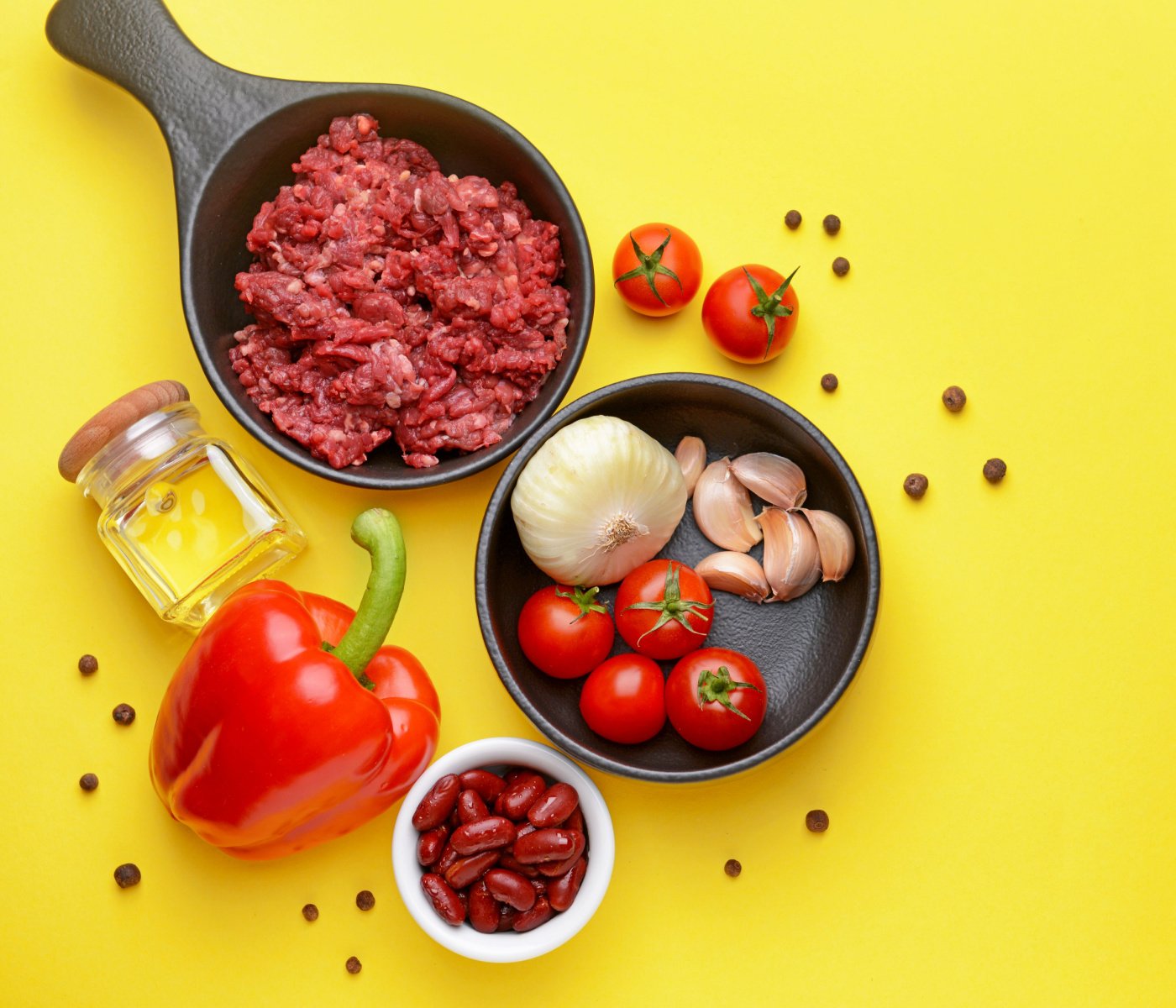 Chili con carne is low in carbohydrates, high in protein and fiber, and has a low glycemic index and glycemic load, making it suitable for people with diabetes or anyone who wants to manage their blood sugar levels.
The protein content helps to slow down the digestion of carbohydrates, which prevents blood sugar levels from spiking too quickly.
Additionally, chili is low in fat and contains plenty of vitamins and minerals. This makes it a nutritious and balanced meal that can help those with diabetes reach their nutritional goals.
The best way to understand why chili is great for people with diabetes is by understanding its ingredients and how they affect one's blood sugar levels.
First, chili usually uses lean meat as one of the main ingredients. The protein helps keep blood sugar levels steady, while the low-fat content helps prevent obesity, which can worsen diabetes.
Lean meat is also a great source of iron, zinc, and other essential minerals.
Next, chili contains kidney beans or pinto beans, which are rich in fiber and have a low glycemic index, preventing a blood sugar spike. Baked beans are also an excellent source of plant protein, potassium, magnesium, and iron, which all help in managing diabetes.
Lastly, chili contains tomatoes or tomato sauce, which are great for maintaining heart health and are rich in anti-inflammatory properties.
However, it's also important to note that some chili contains high amounts of sodium, which is not beneficial for people with diabetes.
In the sections that follow, I will discuss the benefits and risks of including chili in your diet.
Benefits of Chili for Diabetics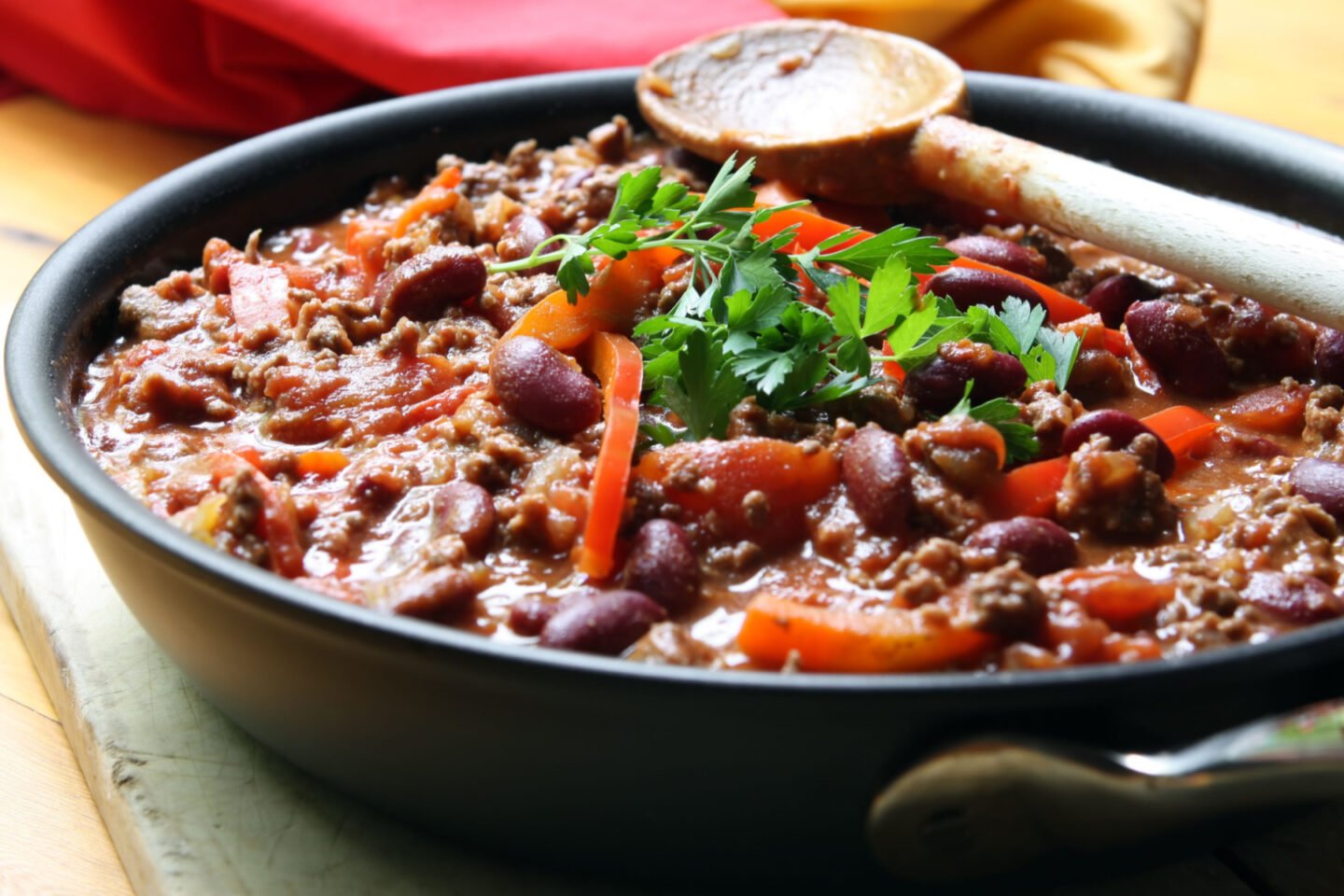 Chili is Rich in Fiber
A cup of chili with beans contains 11.26 grams of fiber, which is 44% of the daily fiber intake required for diabetes patients.
Fiber is an essential nutrient for people with diabetes, as it regulates blood sugar levels and improves overall health. Fiber is a carbohydrate type that the body can't digest, so it does not affect blood sugar levels.
In addition to regulating blood sugar levels, fiber can also improve heart health, promote feelings of fullness and satiety, and help to manage weight.
Fiber can be essential for people with diabetes who are at risk for heart disease and other related health problems.
Chili has a Low Glycemic Index
Chili con carne has a glycemic index of 34, which belongs to the low category. A food's glycemic index measures how quickly a particular food affects blood sugar levels. It's a way of ranking carbohydrates based on their effect on your blood glucose level.
Foods that rank low on the GI scale (55 or less) get digested slowly and cause a more gradual rise in blood sugar levels, while foods that rank high on the GI scale (70 or more) get digested quickly and cause a rapid rise (blood sugar spike) in blood sugar levels.
Chili has a Low Glycemic Load
A cup of chili has a glycemic load of 7, which is low, making it a good food for people with diabetes. You can calculate a food's glycemic load by multiplying the number of carbs in a serving by its glycemic index and then dividing by 100.
The main difference between glycemic load and glycemic index is that the glycemic load depends on the serving size, while the glycemic index remains constant.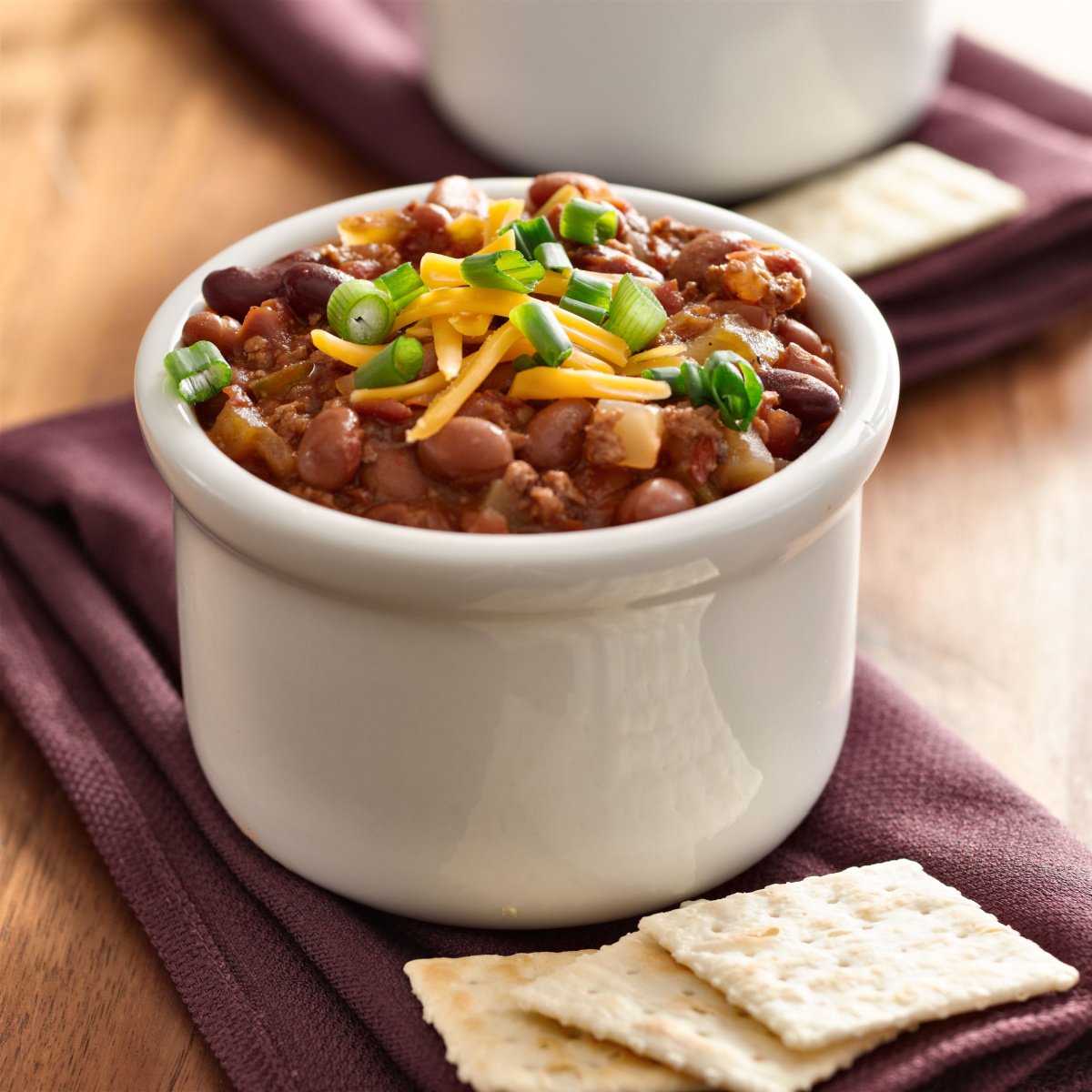 For instance, a cup of chili contains 22 grams of carbohydrates and a glycemic index of 34, which means that a cup of chili has a glycemic load of 7, while every 100 grams of chili has a glycemic load of 3.
Here's an easy glycemic load guide for your reference:
Low Glycemic Load - 0 to 10
Medium Glycemic Load - 11 to 19
High Glycemic Load - More than 20
Chili Contains Lean Protein
A cup of chili offers 50% of the daily protein needs. According to the American Diabetes Association, foods rich in lean protein are good for managing diabetes.
Kidney beans, black beans, and pinto beans, common ingredients in chili con carne, are among the best protein options for diabetes patients.
Moreover, although beef is the more common option for chili, chicken chili is becoming more popular as it contains less saturated fat and has more lean protein.
Chili Lowers Insulin Resistance
Insulin resistance or lack of insulin sensitivity happens when your cells do not respond to insulin and do not use the sugar in your blood, resulting in high blood sugar levels.
Eating chili lowers insulin resistance as it contains beans and tomatoes that both lessen insulin resistance, help manage one's blood glucose level, and even prevent high blood sugar.
A 2012 study linked eating beans with a lower chance of developing insulin resistance in healthy Korean adults.
Chili Contains Diabetes-Friendly Spices
Chili contains several spices that enhance its flavor profile and help benefit diabetic patients. Onion, garlic, chili powder, cumin, oregano, paprika, tomatoes or tomato sauce, and pepper (chili pepper and cayenne pepper) all help manage diabetes symptoms and lower blood sugar levels.
Risks of Chili for Diabetics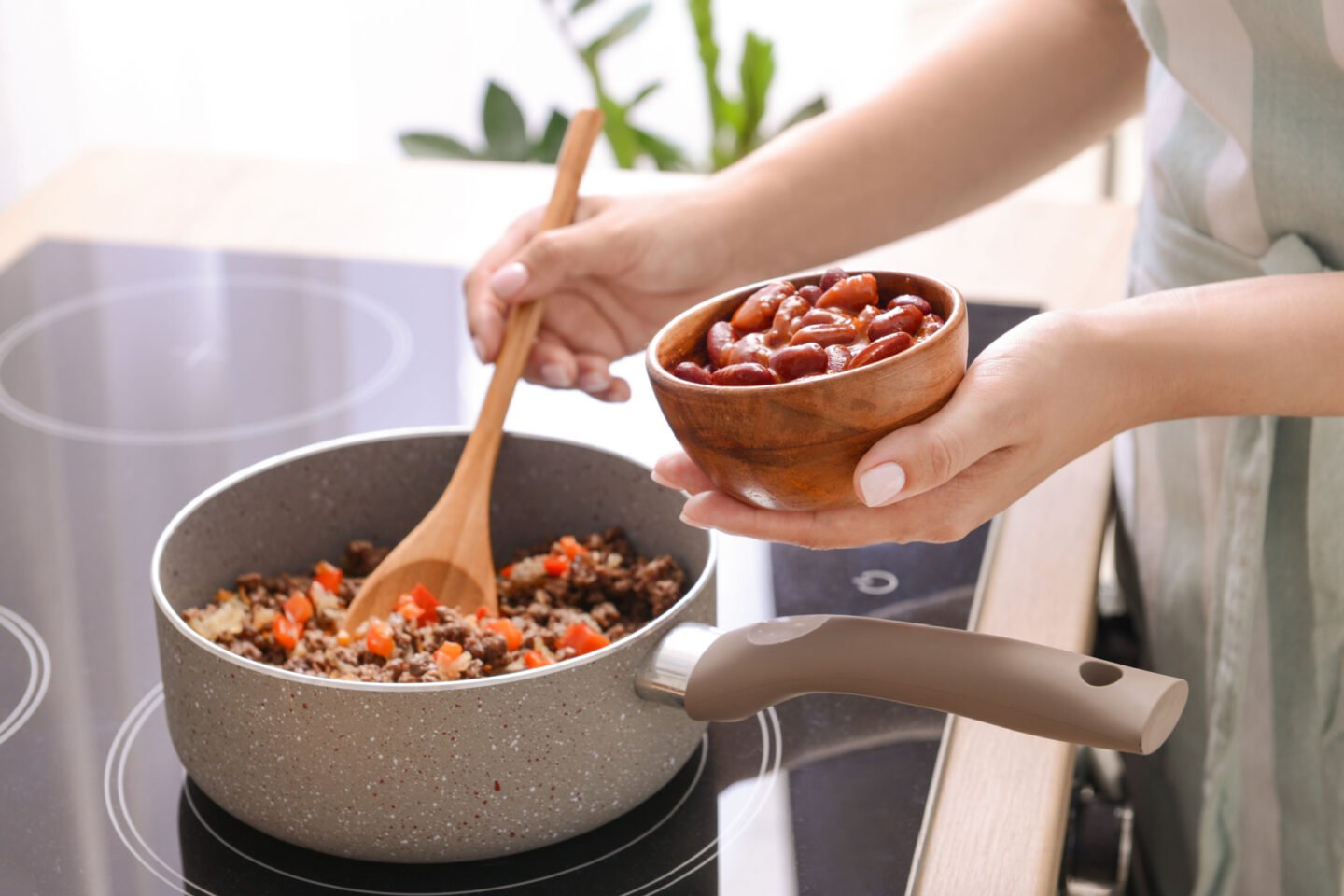 Chili is High in Sodium
Although salt does not influence blood glucose levels, it is necessary to restrict your intake to manage your diabetes because too much salt might cause high blood pressure.
High blood pressure, which raises the risk of heart disease, stroke, and renal disease, is more likely to affect people with diabetes. However, you can always fix this by making a low-sodium homemade chili.
Can Chili Lower Blood Sugar Levels?
Chili doesn't lower blood sugar, but it does have ingredients that have been shown to help people with diabetes. Also, chili helps prevent insulin from becoming less effective, which is just as important as lowering blood sugar levels.
Can Chili Increase Blood Sugar Levels?
No, chili does not increase blood sugar levels. Chili is low in carbs and sugar and high in fiber and protein, both of which help keep blood sugar levels steady.
How to Make Chili Safer for Diabetics
Making your own chili is the best way to avoid the negative effects of long-term high sodium consumption. Moreover, you should use healthier alternatives, such as olive oil, instead of regular oil.
Most chili recipes include added sugar, but you can skip it to make it as diabetes-friendly as possible. Lastly, check the nutrition facts for added sugar and salt before using canned beans and canned tomato sauce.
Is Canned Chili Good For Diabetics?
Canned chili contains high amounts of salt, which is unsuitable for people with diabetes. As discussed earlier, high sodium levels result in high blood pressure.
When trying to maintain a healthy blood sugar level, it's always best to make everything at home, where you are in charge of the ingredients you use.
Recipe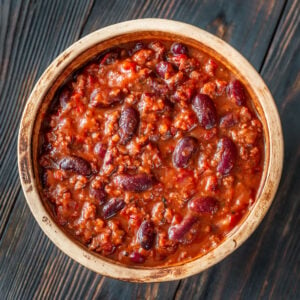 Diabetes-Friendly Chili Recipe
People with diabetes can have lots of chili without worrying about their blood sugar. If you have diabetes, here's a nutritious chili recipe you can make at home.
Ingredients
1

tablespoon

olive oil

1

medium

onion

sliced

1

green bell pepper

diced

1

yellow bell pepper

diced

2

cloves

garlic

minced

1

pound

lean ground beef

14.5

ounces

diced tomatoes

one can

8

ounces

tomato sauce

one can

2

tablespoons

chili powder

1

teaspoon

ground cumin

1

teaspoon

dried oregano

¼

teaspoon

rock salt

¼

teaspoon

black pepper

¼

teaspoon

cayenne pepper

400

grams

kidney beans

drained and rinsed
Instructions
Heat olive oil in a saucepan over medium heat. Add the diced onion and bell pepper and cook until softened.

Add the garlic and ground beef and cook until it turns brown.

Add the diced tomatoes, tomato sauce, green chilies, chili powder, cumin, oregano, salt, pepper, and cayenne pepper. Bring to a boil, then reduce the heat to simmer for 30 minutes, stirring occasionally.

Add the kidney beans and simmer for an additional 10 minutes.
Nutrition
Calories:
387
kcal
Carbohydrates:
39
g
Protein:
36
g
Fat:
11
g
Saturated Fat:
3
g
Polyunsaturated Fat:
1
g
Monounsaturated Fat:
5
g
Trans Fat:
0.4
g
Cholesterol:
70
mg
Sodium:
571
mg
Potassium:
1416
mg
Fiber:
12
g
Sugar:
7
g
Vitamin A:
1790
IU
Vitamin C:
96
mg
Calcium:
120
mg
Iron:
9
mg