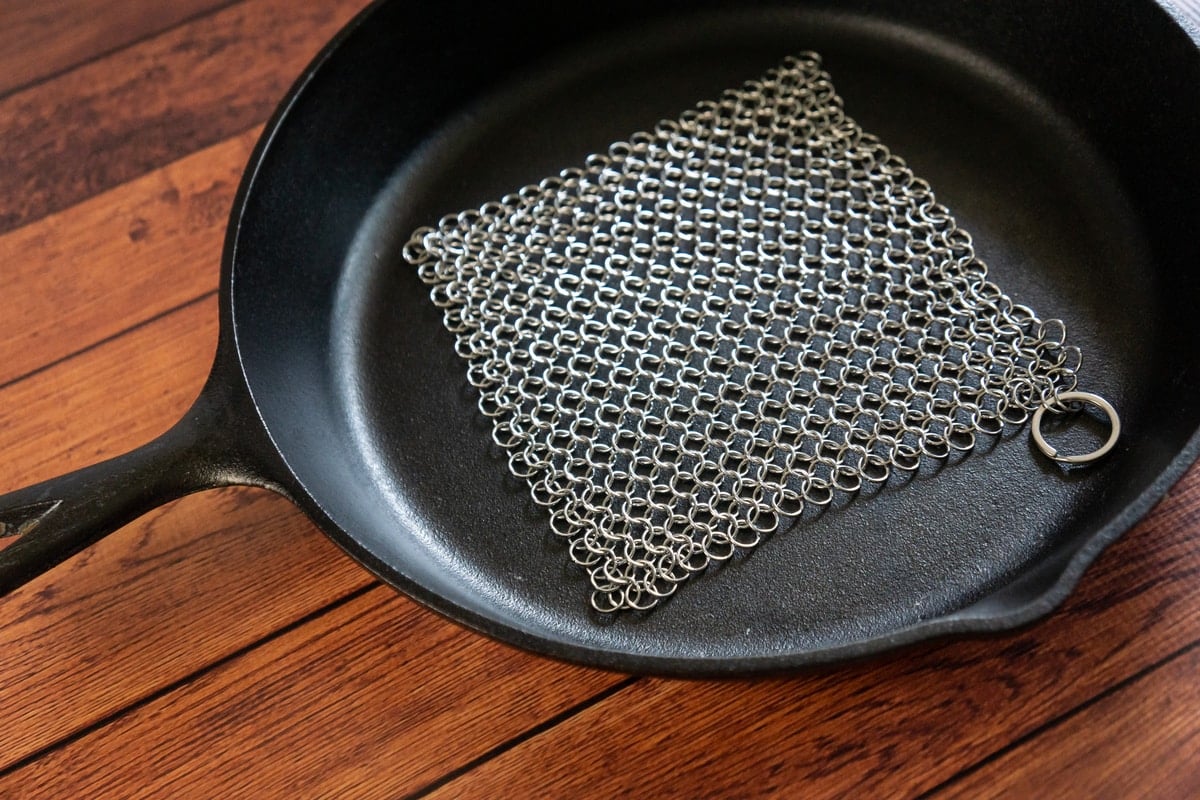 The appeal of cast iron is undeniable. Known for its versatility and durability, to say that cast iron will last for decades isn't actually an exaggeration. But, it does take some effort. Consistent maintenance is a big part of why some cooking enthusiasts think twice about investing in cast iron cookware.
Fortunately, achieving clean cast iron is not as hard as you might think, and you can refer to The Ultimate Guide to Cleaning and Caring for Cast Iron Cookware. A chainmail cast iron scrubber is an integral part of the toolkit for cast iron cookware care and maintenance. So what is a chainmail scrubber, and what is it for?
A chainmail scrubber is a cleaning tool that scrubs off food residue without removing the cast iron cookware's seasoning. It is essentially a chain of food-grade stainless steel, giving an antiquated appearance that certainly matches the rawness of cast iron. Aside from maintaining your pan's seasoning, it also helps build stronger seasoning over time.
Clearly, it is a must-have for proper maintenance and for prolonging the lives of your cast iron cookware. But with so many similar features, how do you choose among the different options? Below, we have listed down what we think are the best chainmail scrubbers in the market today.
Table of Contents
Best Overall: The Ringer — The Original Stainless Steel Cast Iron Cleaner, Patented XL 8 x 6 Inch Design
Pros: Versatile kitchen cleaning tool, heavy-duty, superior-quality stainless steel scrubber, low cleaning maintenance, large coverage
Cons: High price point
The Ringer's Original Stainless Steel Cast Iron Cleaner undisputedly deserves its spot as the Best Sellers in Dish Scouring Pads on Amazon. The brand guarantees the durability of its chainmail scrubber by using the same quality-grade materials utilized in law enforcement protective gear. But the uncompromising quality also explains why it is relatively expensive.
Do we think it is worth the price? Absolutely! The Ringer's quality is not only top-notch, but you can also use it on glassware, stainless steel, dutch ovens, teapots, plates, and cauldrons. Its large coverage of 7 x 0.3 x 8 inches is another plus. The product's superb quality and large coverage combine for a winning scrubber that's sure to gently remove grit and gunk while preserving your cast iron's hard-earned seasoning.
Also, The Ringer's chainmail scrubber itself is easy to clean. Simply rinse it with hot water and a little soap or just toss it in a dishwasher.
Best Budget: HOVFITNESS — 316 Premium Stainless Steel Cast Iron Cleaner, Chainmail Scrubber
Pros: Low price point, versatile kitchen cleaning tool, high-quality stainless steel, comes in two sizes, low cleaning maintenance, large coverage
Cons: Manufacturing tolerances need improvement
The HOVFITNESS chainmail scrubbers are made from 316L stainless steel, making them more resistant to corrosion and rust than the more widely used 304L stainless steel. And despite its material's marine-grade quality, the HOVFITNESS scrubber is surprisingly priced around the same range as disposable sponges. That is fantastic value-for-money in our book, and they are our preferred budget option.
The round-form, dishwasher-safe, chainmail scrubber also comes in two sizes: the 7-inch and 8-inch options. Much like The Ringer's, this pan scraper is incredibly versatile. You can use it on a variety of kitchenware, including stainless steel cookware, enameled cast iron, dutch oven, woks, waffle iron pans, and skillets.
In other words, it is practically as versatile as The Ringer's but more affordable. So what is the catch? Unfortunately, we found the manufacturing tolerances lacking, with a few linking rings breaking the chain. But for the price of a disposable sponge, we can't complain much. The scrubber still rubs off food residue perfectly well anyway, despite a few broken links.
Runner-Up: Herda Cast Iron Chainmail Scrubber, Upgraded Iron Skillet Cleaner with Scouring Cloth
Pros: Better grip, comes with bonus accessories like a bamboo fiber cloth, offered in different colors, versatile kitchen cleaning tool, low cleaning maintenance
Cons: Limited motions of the scrubber
The Herda Cast Iron Skillet Cleaner is a variation of the common chainmail scrubber that is worth considering. It comes with a non-detachable silicone honeycomb insert that is in a chain enclosure linked by eight ringlets. The available colors are a refreshing sight, too, coming in hues of red, green, blue, black, orange, purple, pine-green, midnight blue, gray, and pink.
This dishwasher-safe chainmail scrubber also comes with a bonus bamboo fiber cloth, which has high water absorption capabilities.
While Herda's unique design gives users a better grip, the unusual form also limits the full range of motion. This makes it difficult to get into curves, edges, and other odd surfaces or tough to reach areas.
Nevertheless, Herda's chainmail scrubber comes at a lower price than The Ringer's offering and is also made of high-quality 316L stainless steel like the HOVFITNESS. It is a fantastic alternative to our two previous recommendations.
Chainmail Scrubber for Cast Iron Buying Guide
Buying a cast iron chainmail scrubber can be confusing because they all largely look the same. For this reason, we have narrowed down the important points to the following: durability, budget, and ease of maintenance.
Durability: Cast iron is very durable, and you will likely need an equally sturdy cleaning tool to partner it with. Different brands will offer diverse chainmail scrubbers made of varying grade levels. Some will be of high-quality stainless steel, such as 316L stainless steel, while others of cheaper ones.
Although virtually all chainmail scrubbers will function as intended, not every option will guarantee long-lasting service. Plus, there will often be a tradeoff between durability and budget.
Budget: Cast iron chainmail scrubbers come in different price tiers. Some sell for as low as the price of disposable sponges, while others sell for as high as the cost of a grill pan. If budget is not an issue, then we recommend getting the best chainmail scrubber available in the market. At least for chainmail scrubbers, you will get what you pay for.
But of course, the budget option on our list is made of high-quality stainless steel that is also sure to do the job.
Ease-of-Maintenance: Cast iron kitchenware care alone will require consistent dedication and time. So spare yourself the extra maintenance duties by choosing a chainmail scrubber that is easy to care for. All things considered, we suggest choosing the chainmail scrubber with better stainless steel as they are dishwasher-safe, durable, and rust-resistant.
FAQ
How do you use a stainless steel chainmail scrubber?
Using a chainmail scrubber is actually pretty intuitive. Simply start by pouring warm water on the cast iron. While the water drips, have your scrubber scrap the baked-on food residue off of the cast iron's surface. Make sure the leftovers are completely off.
Alternatively, you may scrub your cast iron with a bit of water while on low heat. The heat and water will help loosen up the debris.
Can you use other alternative cleaning kitchen tools for your cast iron products?
Yes, you can use alternative cleaning tools, and most will perhaps work just as well. Each option will have its pros and cons, and which one you choose will ultimately come down to preference.
Some people will opt for a disposable sponge due to accessibility, despite the difficulties of removing hardened sediments with a soft scrubber. Others will choose the salt and oil method, where salt acts as your abrasive. A chainmail scrubber should last longer though, and its dense nature will make removing residue easier than a disposable sponge.
How do you clean a stainless steel chainmail scrubber?
For most chainmail scrubbers, cleaning is a breeze. Its stainless steel material means you can throw them in the dishwasher for cleaning. A more involved process includes running soapy water through them, guaranteeing spotless cleaning.
How does a stainless steel chainmail scrubber aid in strengthening your cast iron pan seasoning?
Before seasoning cast iron cookware, make sure you first get rid of the sticky and stubborn dirt. Not doing so will render the process ineffective. This is the reason we recommend chainmail scrubbers. They ensure the removal of unwanted residue and the optimization of the seasoning process, and we know that well-seasoned and well-cared-for cast iron cookware will last longer.
On top of the effective removal of grit and grime, the scrubber also creates a textured surface on your cast iron cookware. This is good because the rough patches give the new layer of carbonized oil a better grip, ensuring that the surface remains non-stick and rust-free.
Can you use chainmail to clean stainless steel?
Yes, you can use your chainmail scrubber to clean stainless steel kitchenware. Chainmail scrubbers are versatile kitchen cleaners that are safe to use in a variety of kitchenware, including stainless steel cookware.
Is a chainmail scrubber worth it?
For their versatility, durability, and relatively affordable price, we recommend getting a chainmail scrubber. A disposable sponge may be accessible and cheap, but the solid residue will wreck your soft sponges.
If budget is the biggest concern, then there are chainmail scrubbers that cost about the same as disposable sponges. But if it isn't, then go for the best quality that you think is reasonable. The infrequency of replacements may mean you save costs in the long run, too.