OK, so you're learning to love cooking and are expanding your cast iron cookware options. Have you considered the benefits of a great cast iron sauce pot? They're an excellent choice for anybody who loves cooking many unique items.
But before you dive in and buy a cast iron pan though, you need to understand a bit more about them. After all, cast iron cookware is somewhat unique, and you need to make sure you've considered all the options. For example, you need to know what saucepan is perfect for your needs and how a basting brush helps.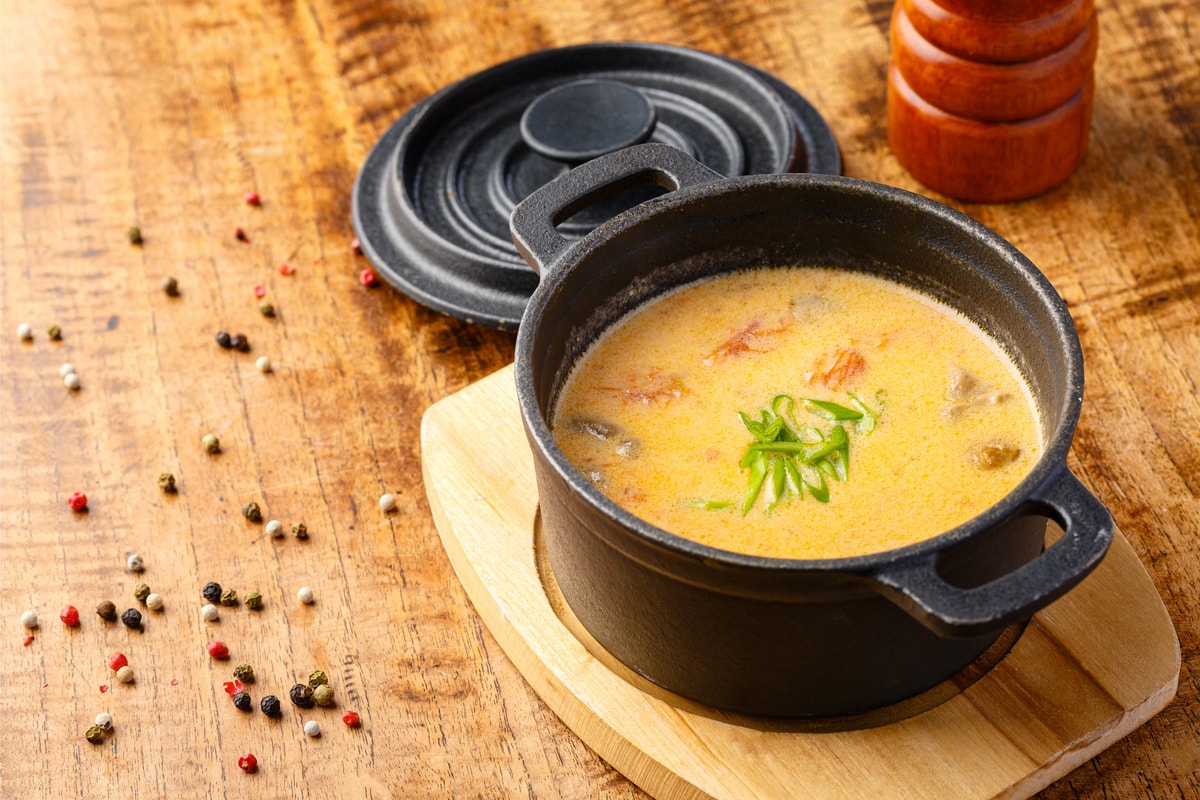 The 7 Best Cast Iron Sauce Pots
Jim Beam Pre-Seasoned Basting Pot
This excellent sauce pan provides you with easy spatula access when cooking various foods and pairs well with multiple items. For example, meat basted with a barbecue sauce glaze should cook very well. You may also prepare a single-serve lasagna or baked beans quite well, as long as you carefully prepare the surface. However, it is best used as a simmering pan or for warming various sauces.
Wiselady Enameled Cast Iron Dutch Oven
Though technically a Dutch oven, this pot can be used for sauces and other recipes. It comes in sizes up to five quarts and in multiple colors, like orange and blue. The lid's condensation helps make this an excellent pan for cooking sauces, soups, and various other items with relative ease.
Bayou Classic
This simple sauce pan holds up to one quart, making it perfect for smaller meals and portions. Reviewers state that it's great for boiling eggs and reducing sauces, particularly those that other pans may not easily handle. And the gently rounded sides and the overall look are pretty appealing.
Tramontina Covered Sauce Pan
Tramontina makes some of the best cast iron items on the market, and this pan is no different. With a 2.5-quarter capacity and a beautiful overall design, you can't go wrong with this option. In addition, reviewers were pleased about how well it worked with their favorite basting brush.
Outset Q173 Cast Iron Sauce Pot
As advertised, this sauce pan is helpful for frying, grilling, and even sauteing various foods. And it is capable of withstanding many different types of temperatures. Interestingly, many reviewers also found that this company's shrimp grill and seafood pans were worth consideration.
Lodge Cast Iron Melting Pot
Lodge produces some of the highest-rated cast iron products on the market. Reviewers loved the heat resistance of this pan (up to 450 degrees Fahrenheit) and the included silicone basting brush. However, some were disappointed with its overall sauce, though others enjoyed its compact design.
Hawok Cast Iron Melting Pot Pre-Seasoned Saucepan
If you want a small melting pot for camping or sauce creation, this option is a great choice. At just 3.9 to 4.9 inches, it should be small enough for most camping experiences. Many reviewers stated that this product needed minimal care and maintenance when adequately cleaned after every use.
Why Do People Use Cast Iron?
Now that you know what kind of cast iron pans are available for your needs, it is crucial to understand why people buy this kind of cookware. Is it any better than stainless steel? What kind of disadvantages does it have over other materials? Does it provide superior heat retention, strong cooking abilities, and is it dishwasher safe? Let's take a look at a few pros and cons to answer these questions:
Outstanding Thermal Density – Cast iron uses a heavier carbon content than other types of cookware. As a result, it retains heat much longer, allowing you to keep your soup or other foods warm for longer. In a saucepan used for big meals, that advantage is significant.
High Iron Content – If you're naturally low in iron and suffer from anemia, cast iron may help. A little bit of iron will be present in each of your meals. While this content won't heal or reverse your anemia, it can help with some of its many symptoms.
Long-Lasting Lifespan – A great cast iron skillet or pot can last much longer than a stainless steel option. With the proper care, it may last your whole life. That's why you see cast iron sauce pots in many antique shops. And enameled cast iron lasts longer by providing more robust surface protection.
Easier Maintenance Steps – Though you will have to go through seasoning from time to time to keep your cast iron pot or skillet strong, very little other maintenance is necessary. And you can quickly restore this material if it ends up damaged. We'll discuss proper seasoning, cleaning, and restoring later.
The benefits make a cast iron saucepan an excellent option for many homeowners. However, it is also essential to take into account the disadvantages of these pots. These may be upsetting for some people and could even cause them to choose stainless steel options instead:
May Get Very Hot – The fantastic heat retention of cast iron may also be a curse. These pots stay hot for a very long time and may burn your hand if you're not careful. Try to find a cast iron saucepan with a stainless steel handle. Doing so will help to keep you safe from burn risks.
Takes Longer to Warm – If you're in a hurry to cook your soup or sauce, cast iron is not an excellent choice for you. It takes longer to warm up than other options. That said, it will also keep that heat longer, keeping your food warmer. That said, some people won't want to deal with this slow warming time.
Heavier and Denser Design – The denser material design does help cast iron pots last longer. However, they may also be more problematic for young children to handle during mealtime. And if dropped, they can easily damage flooring, counters, or even seriously hurt toes and feet.
Could Damage With Some Foods – Unfortunately, a cast iron Dutch oven, skillet, or pot could oxidize (rust) when exposed to tomato sauce or other acidic foods. Enameled cast iron resists this problem more easily but could also experience it over time.
Some may also found that a cast iron pot damages their oven if they aren't careful. Scratches and breaks aren't uncommon if you drag your pot across the surface. That said, these issues can easily be prevented if you handle your pot with care on your oven. However, you might be interested in other materials after reading this section. How do they compare to cast iron? Let's find out!
What Other Materials are Available?
While cast iron makes an excellent option for your sauce pots, there are other materials available. These alternatives could meet your needs better than cast iron and should be carefully understood. Just a few options that you may want to buy include:
Stainless Steel – Works well for searing, braising, making sauces, and sauteing various foods. They typically pair well with an indoor stovetop and have a rust-resistant bronze finish that makes them last a long time. However, they do not hold heat as well as a cast iron sauce pan on a stovetop, depending on the stainless steel rod stock.
Copper – Many saucepans come with a copper design instead of cast iron construction. They typically cook sauce quite well but do not do well with high heat, unlike cast iron. They do hold heat better than cast iron, however, and heat more quickly. Unfortunately, they're expensive and require maintenance.
Aluminum – This material remains a trendy alternative for cast iron. As the least expensive option, they're also free from rust, require little maintenance, and pair well with most lid options. It also cooks softer foods like polenta very well but does poorly with baked goods like delicious single-serve brownies.
Glass – A glass sauce pan or frying pan does very well on an oven and works well with casseroles, pies, and bread puddings. However, they should not be used on a grill or in a wood-fired oven. And they don't do well with higher temperatures and may easily shatter if you aren't careful.
Cast iron pots compare very well to these four alternatives. That said, it's also clear that each of these options has benefits worth considering. So, don't hesitate to try them out if they seem suitable for your needs. And if you do buy cast iron, read below to learn how to use them.
How to Use Your Cast Iron Pot
This short section will help you cook, clean, and season your cast iron pot properly. Just a few steps to take while cooking includes how you must:
Pre-heat your pot before adding your ingredients
Set the head to no higher than medium
Add oil to the pan or wok surface to minimize burns
Place your ingredients in the pot
Use a silicone basting brush on chicken and other ingredients
After you've cooked with your pot, please wait for it to cool down fully before cleaning. And you can then hand wash the surface using these steps:
Run warm water across the surface of your pot
Use a small brush to break apart burned foods and stains
NEVER use mild soap on your pot unless you're going to season
Lastly, you need to occasionally season your pan after use. Some will tell you to do it after every use. However, you only need to season it a few times per year or so, depending on how often you use them. This step requires you to:
Use mild soap in hot water to clean the surface fully
Wait for the pan to fully dry
Spread vegetable oil or options like organic flaxseed oil on its surface
Pre-heat an oven to around 375 degrees Fahrenheit
Bake the pot upside down for one hour
Let them cool in the oven and remove with an oven mitt
This process helps to infuse the pot with this protective oil and keeps it from rusting. Most modern items, like Lodge cast iron cookware are seasoned before purchase. However, occasional after-purchase seasoning will help your pot last your lifetime when cooking delicious recipes.