If you've started looking at blenders to buy, you've probably come across the Breville brand. Breville makes great personal blenders that are clearly labeled and easy to use for beginners and pros alike.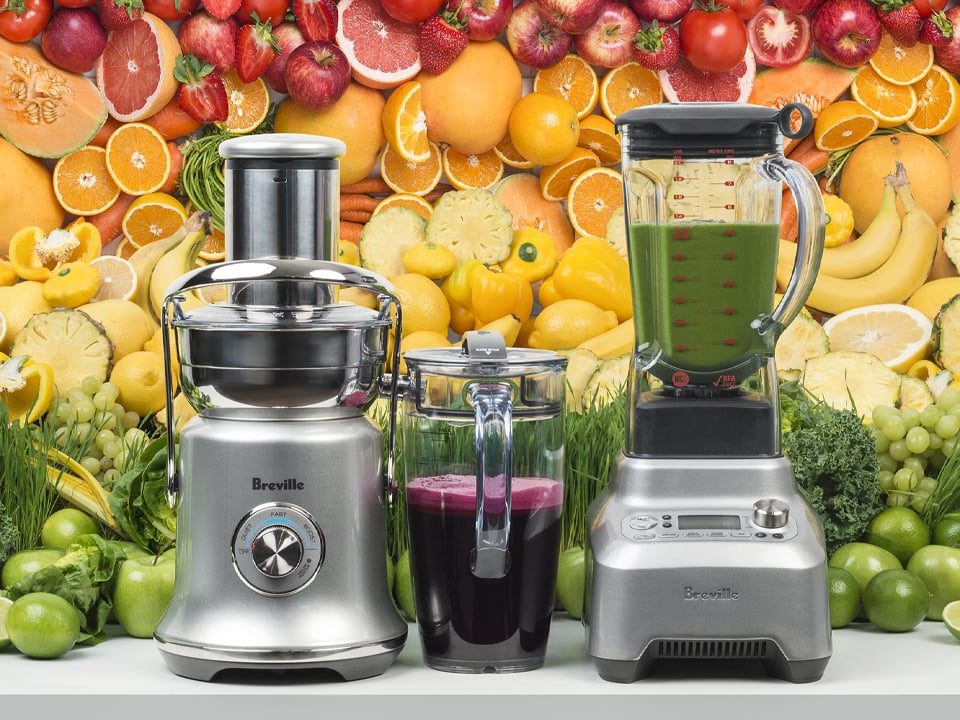 If you know what you want to make most, you can pick an option that saves you some cash and gets you blending up all the delectables you could want (be they sweet, savory, or alcoholic) with a minimum of fuss.
That's what this list is about. Keep reading to find your best option fast.
Table of Contents
What Should You Look for in a Breville Blender?
Besides just being simple to use, there are a few things you'll want to look for in your new blender. Here are the criteria we used to help you evaluate the best blenders.
Criteria #1: Motor Strength - The stronger the motor, the faster the blades will spin, and the better a job your blender will be able to do of, well, blending. This is because the blades will be able to spin faster and therefore blend your ingredients more finely. A motor's strength is measured in watts, and you can expect to look somewhere in between the range of 1000 and 1500 watts.
Criteria #2: Speed Settings - The stronger the motor the better, but you don't always want your blades to just go at top speed with reckless abandon. For dishes like sauces and dressings, where you'll mostly be using liquids for your ingredients, you'll want a more delicate touch, and therefore it's important to be able to control the speed of your blender. No blender should have less than three different speed settings, while some will have as many as ten. It's not quite as simple as the more, the merrier, though, because too many speeds will become overwhelming. You want an idea of what kind of different dishes you'll be making in your blender and therefore how many different speeds you'll need.
Criteria #3: Price - We all know you don't want to spend your hard-earned money for no reason, and we're here to make sure you don't have to. Your blender will be a bit of an investment—any good blender will be close to $100—but we'll help you find the best deals on the market, so you can avoid that $300 blender that's only as good as a $200 blender. This list is tailor-made to help you spend only as much as you want to.
Here's How We've Determined Breville's Best Blenders
We've used the above criteria and thought of your needs to help you find the best Breville Blender. In addition to the criteria, you might want a blender that's particularly easy to use or one that has a self-cleaning function. There are also features such as preset options designed specifically for green smoothies or for crushing ice. Whatever you're looking for in your new Breville product, you'll find it here.
One of Breville's newest products, you won't find a better combination of everything you could possibly need and an affordable price. Listed at $199.95 on the official Breville website, this 1100 watt blender gives you a BPA-free, 1.4-liter pitcher that has clearly marked measuring lines in both cups and milliliters, so you won't need to buy any measuring cups.
Where the Fresh and Furious really shines is in how simple it is to use. In addition to the measuring lines on the pitcher, this Breville blender comes with three preset functions: "green smoothie," "auto pulse ice crush," and "smoothie." The green smoothie option is of course for making green smoothies, while the auto pulse ice crush option is great for slushies and icy cocktails like Pina Coladas, and the smoothie option is best for non-green fruit smoothies.
On top of the preset option, the Fresh and Furious' speeds are clearly labeled for what purpose they serve. The slowest setting, which would be used for sauces and dips, is labeled "mix," while the fastest speed is labeled "liquify" and is what you'd use to completely juice something.
It also has an auto-clean feature, so all you need to do is add soap and water, and push a button. It has a convenient LCD display that counts down to when the presets finish and up during the standards speeds. The standard speeds auto-cancel, so you don't need to worry too much about ruining your recipe.
The pricing on this model is very reasonable considering how good it is. It's well-designed too, in addition to its useful features. It has a long cord that you can wrap under the base, and the lid has a removable center so you can add ingredients while you blend. (That's a feature, by the way, that expensive brands like Vitamix even brag about.)
As the name implies, this is Breville's baddest blender around. While it didn't take the top spot on our list (mostly because of its price), there are a few reasons you might want to go with The Boss over the Fresh and Furious.
Reason #1 to Choose This Product: The Horsepower
The Boss has a motor strength of 1500 watts compared to the 1100 watts of the Fresh and Furious, and unlike the Fresh and Furious, it has a knob that lets you fine-tune the speed of the blades, so you can really use every last one of those watts. If you're going to be blending a lot of thicker ingredients and want to make sure everything is as liquid and smooth as possible, you'll want that extra horsepower.
Reason #2 to Choose This Product: The Size
Again, going along with its name, this Breville product is a solid amount bigger than the Fresh and Furious with its 2-liter shatterproof jug. The main reason you'll want this extra room is if you're making smoothies for more than one person, or if you like to do early meal-prep. So if you're hosting your friends or trying to make getting to work in the morning a little less terrible, you'll want to buy The Boss.
Other than the size and motor, The Boss and the Fresh and Furious are fairly similar. They have similar presets, though The Boss actually has presets for soup and "frozen dessert," which are missing from the Fresh and Furious. Both also come with the auto-clean feature. The Boss is the better machine, but only if you're willing to pay for it.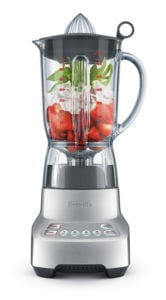 If you're trying to keep things cheap, you can't go wrong with the Breville Kinetix Twist. It sells online for less than the Fresh and Furious (though the official price tag on the Breville website is $189) and is still a solid mixer that's easy to use.
It only has four-speed options, but they're labeled in the same clear manner that Breville is known for. Another drawback is that it has 100 fewer watts than the Fresh and Furious, so you might find more chunks in your mixtures, but it shouldn't be too noticeable.
This is the best cheap option from Breville. It has all the main features Breville is known for, it just packs a bit less of a punch. A great unique feature of this blender is the citrus cone on top of the lid. This cone lets you juice citrus fruits straight into your blender without removing the lid at all, so you can add citrus juice to your mixtures at the drop of a hat.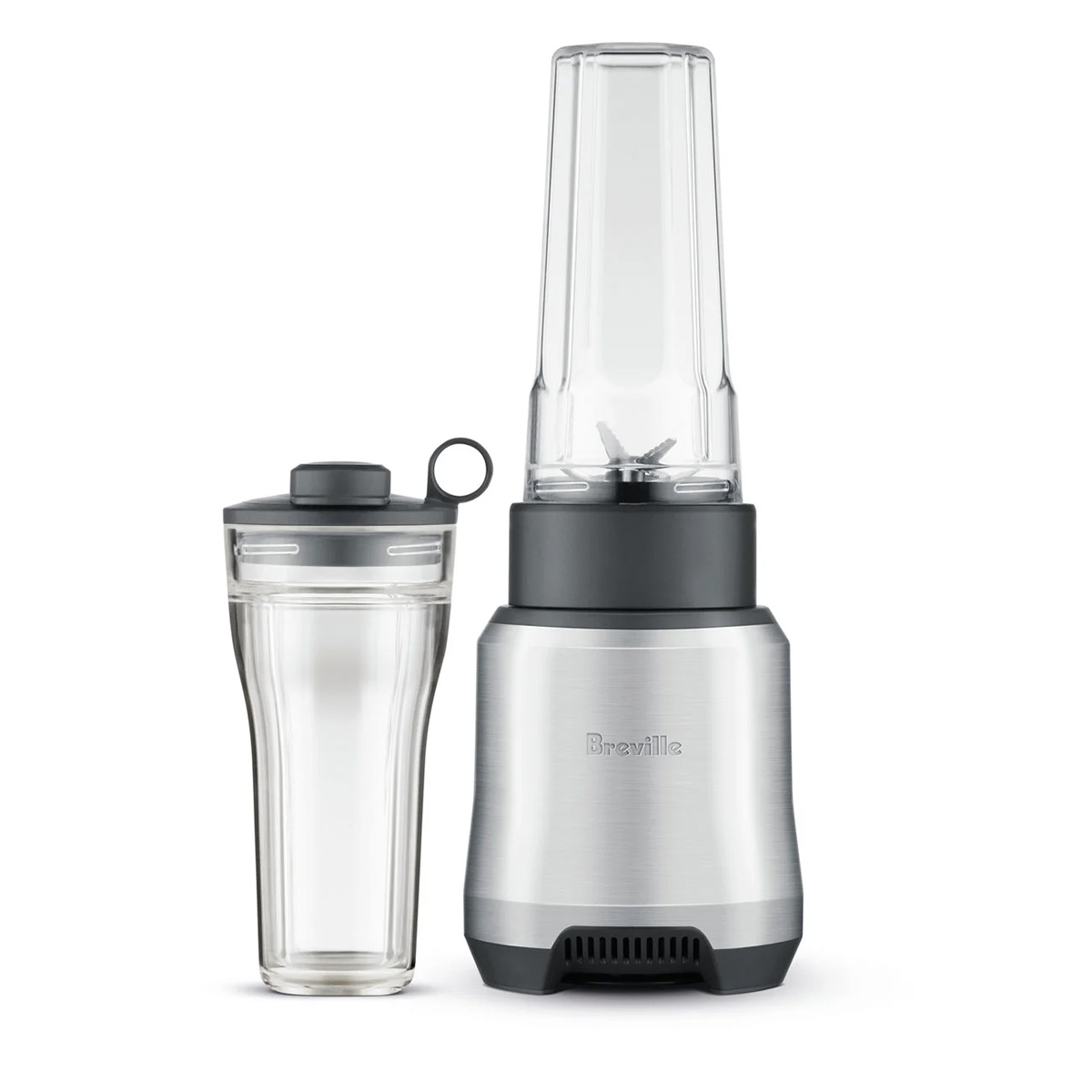 If you're a workout fiend having a protein shake before or after your workout, a fitness junky getting all your veggies from a green smoothie, or if you just know you're the only one who will be using your blender, then you'll need the Breville Boss To Go personal blender. This blender's pitcher is actually a personal bottle, so you can cut a step out of your smoothie prep, pull the bottle off the blender base, and just start drinking as you get ready for work or for your next set of bench presses.
Breville sells their "The Boss To Go" for a mid-range price, and it comes standard with two different bottles - one 23-oz bottle and one smaller 15-oz bottle - so you're not stuck having the same size smoothie or protein shake every day if your appetite is feeling a little bigger or smaller. The lids of both bottles come in the Breville Assist Lid style, with a ring on the lip that makes them easier to remove, so no worrying about spraying smoothie all over the kitchen. The blender itself is equipped with a die-cast metal base and stainless steel blades and is powered by a 1000-watt motor, which is pretty strong considering the size of the bottles that act as the blender's pitchers.
The biggest drawback of The Boss To Go Sport is that it only has one speed, but this makes sense considering how niche the blender is. You're really only expected to be making smoothies or protein shakes with this blender, and it's not designed to do much else. This blender is perfect if you're not so handy in the kitchen but need that blended drink in the morning.
#5: Breville Super Q (Strongest and Longest Lasting Blender)
Did I say that The Boss is the baddest blender around? I might have been mistaken. Breville's Super Q, which they sell for a much higher price, has an even stronger motor at 1800 watts and comes with an insane 12 different speeds. It also has the same five presets of The Boss: Smoothie, green smoothie, soup, pulse/ice crush, and frozen dessert.
On top of that, this blender boasts a unique cooling system that's designed to be as quiet as possible. So, despite the insane motor of this blender, it will have optimal noise canceling so you don't have to yell over it. You'll still be able to hear your music or the person next to you.
What really sets this blender apart from The Boss is the 10-year warranty, which shows how confident Breville is in the durability of their product. There's really no reason for you to ever buy another blender again if you splurge for the Super Q.
At 68 ounces, the Super Q is also actually four ounces bigger than The Boss, so you can really fit everything in there all at once. It comes in a sleek stainless steel design and is packaged with a 24-oz bottle. I called The Boss, "The Fresh and Furious on steroids". The Super Q is The Boss on steroids.
With all this being said, the Super Q's price is just too much, even for some of our most luxurious readers, and that's why we have it at number 5 on our list instead of in the number 2 spot occupied by The Boss. The extra wattage, speed settings, and size of the Super Q also just don't make that much of a difference compared to the Boss unless you're doing some restaurant-grade blending. I would only recommend this blender if you really need the extra space or speed. The only scenarios I can think of that require all that space are if you actually own a restaurant, if you're constantly hosting at least 10 people, or if you just love the peace of mind that comes with that warranty.
Why No Hemisphere Control?
If you've been looking for Breville blenders on Google, you may have come across the Breville Hemisphere Control blender, and you might be wondering why it's not on our list. The reason is that the Hemisphere Control has been rebranded as the Fresh and Furious (our number one pick).
While searching online, you may see the two names used interchangeably or be looking at an outdated webpage. If you are interested in the original Hemisphere Control over the Fresh and Furious, you should be able to find it used, and it should of course be cheaper than a new Fresh and Furious. The older versions are still more than up to par, but we've only included the Fresh and Furious here.
Verdict: Our Best Blenders from Breville
If you want the best value for money, pick the Fresh and Furious Blender.
If you want the best Breville blender, pick the Boss
If you want to keep the spending low, pick the Kinetix Twist.
There you have it: three of the best Breville products for five different purposes. Whether you just want the best deal and a reliable product, a monster blender that does it all, the cheapest option, or a personal option, there should be something for you.
We know that your needs might fall somewhere in between the niches of the different blenders, but we've laid the information out there, and now it's up to you to make the best choice for your needs. We hope this makes your choice as easy as possible.