Cast iron pans have become a trendy cookware option in modern America. Many amateur and professional chefs herald their benefits. But is cast iron as good as they say, or are other grill pan options better? How does their heat retention compare to other nonstick pan choices on the market? And, is a cast-iron Dutch oven an excellent choice for camping situations or different unique cooking types?
Let's take a look at this exciting facet of the modern cooking world to give you an insight into whether a cast iron pan is right for you. First, we'll look at the origins of traditional cast iron cookware. And we'll talk about the benefits of cooking with cast iron. Importantly, we'll also discuss their disadvantages. Lastly, we'll look at cast iron pots that use a nonstick coating to keep them safe from various issues.
By the end of this article, you should know if this nonstick skillet cooking surface suits your needs. And you'll have a good idea if this type of cookware does well with seasoning, various types of food, and whether high heat affects their structure. In this way, you'll have the most comprehensive look at the best cast iron skillets on the market today.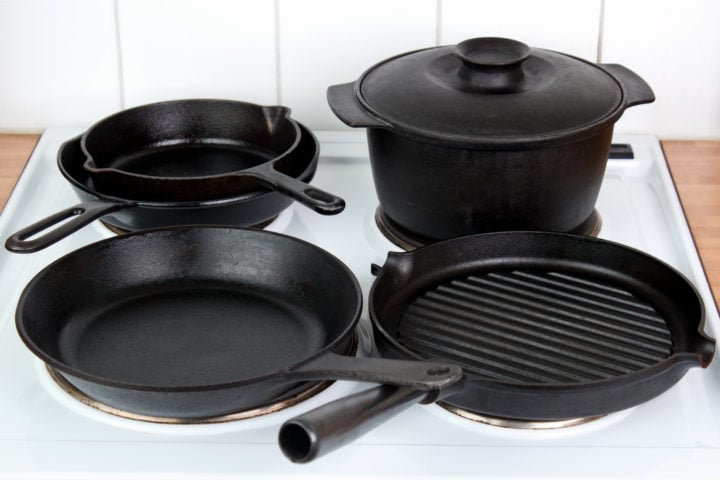 Table of Contents
What is a Cast Iron Skillet?
Cast iron is a combination of iron and carbon similar to steel but contains a higher carbon combination than steel. Typically, it includes around 2-3.5 percent carbon to create a unique texture and various benefits. For example, that extra carbon produces that rough feel and thicker texture to the metal, as cast iron is far too brittle to be used in very thin pans.
Over the years, cast iron cookware has become a popular option for many homes' cookware. However, iron cookware of this type is nothing new. The earliest known use of cast iron was in the fifth century B.C. China. They used cast iron to produce cannons and kettles and even created some early cast iron pan and cast iron skillet models. However, the first modern cast iron pot was invented in England during the 1700s.
These early iron pans were not quite a skillet but more of a Dutch oven. They had a heavy three-foot base and a large handle that allowed them to be cooked over an open fire. Modern cast iron skillets and other iron cookware have primarily been an American institution since this time. But what are the cast iron benefits, and how do they stand up against other items like stainless steel? With three feet on the base and a heavy, handled lid, these early pots were used for cooking over live fire. They were most akin to the types of Dutch ovens used today for outdoor cooking.
What Are the Benefits of Using a Cast Iron Skillet?
Over the years, cast iron cookware has become popular for many reasons. And an excellent iron skillet is typically among the toughest type you can find. Have you ever been to an antique shop and seen a cast iron pan from the 1800s that looked in perfect shape? If not, look for iron pans the next time you go antique shopping. You'll be surprised at how many iron cookware models you're likely to find.
Even better, cast iron is great at retaining heat, though it does take time for them to warm up. As a result, you can usually cook multiple types of food very quickly on a cast iron pan. The meat cooks particularly well on a cast iron skillet, although other foods cook just as well. A skillet or cookware of this type is also great for camping or outdoor situations, as they allow you to cook quickly and evenly.
In the same way, you can keep food warm on iron pans for extended times, such as if you're preparing meals for multiple people at once. This benefit allows you to leave your cast iron pan to the side, away from heat, as you prepare other foods. Even better, a small amount of iron is absorbed into your food every time you cook with a cast iron pan, providing you with a healthier level of iron.
These benefits are expected when you cook with a cast iron skillet or a cast iron waffle iron, allowing you to enhance your diet in any way. But does an iron skillet help with anemia, a disease caused by a lack of iron in the blood? Let's create a separate section to address this point and determine if iron pans and those with a nonstick coating can really help with this condition.
The Effects on Anemia
Does cooking with an iron pot and nonstick cookware help to improve symptoms of anemia? Scientists have examined this question in multiple studies. When reviewing these studies, it was found that 40 percent did show an increase in hemoglobin in the blood in those who cook with iron. This increase is directly connected to increased iron levels in the body and could be connected to cast iron cooking.
And the study found that cooking acidic food, such as spaghetti sauce or meals with tomato sauce, may help absorb more iron from a bare cast iron pan. However, many of these benefits could also come with pans with an enamel coasting or a nonstick pan. Seasoning the food with various acidic ingredients may also increase the level of iron absorption from a cast iron pan.
That said, researchers also claimed that the benefits from a bare or enamel cast iron frying pan were small. As a result, it was not enough to make it a single treatment for anemia. They believe it could be helpful to use bare or enameled cast iron cookware. However, they also strongly suggest focusing on other iron-rich foods to help fight anemia. Medications may also be necessary for those with this condition.
Are There Drawbacks to Using Cast Iron Cookware?
Cast iron skillets have a few drawbacks that must be considered before you make a purchase. First, all cast iron cookware must be seasoned to get the best effects. This term refers to using the pan regularly to help strengthen its surface and make it suitable for more types of meals. A seasoned pan typically will last longer than non-seasoned options but takes time to create.
Proper seasoning requires coating every surface of your pan with vegetable oil, shortening, or other oils. You also may want to disinfect or clean the surface with baking soda first. Then, you must put bake it in the oven for an hour at 400 degrees Fahrenheit. Doing so helps to enhance its strength and improve the dietary iron it provides when you cook. After seasoning, wait for the pain to cool down and wipe the surface with a paper towel to keep it strong.
Some people may find this extra step annoying and prefer other types of nonstick cookware instead. And others may rust their pan by cooking acidic food. This mistake usually occurs if you haven't adequately seasoned your pan. Seasoning also helps prevent other rust types, which may be common on many types of cast iron pots and pans.
There is also a minimal risk that cooking with cast iron pots could cause too much iron in your blood. This could trigger a condition known as hemochromatosis. This health problem may be life-threatening if it advances too far. However, the amount of iron added to your food from cast iron is so tiny that this risk is minimal. As a result, very few cases of this have ever occurred.
What Differences Are There Between Carbon Steel and Cast Iron?
Carbon steel differs from cast iron by having a different mixture of steel and carbon. It typically contains around two percent of carbon, which makes it less brittle than cast iron. Carbon steel pans typically use an enamel coating, as well, which protects them from the dangers of rust and corrosion. However, they tend to be more prone to cracks when cooking at temperatures around 400 degrees Fahrenheit.
Compared to cast iron, these pans heat up more quickly and more evenly, allowing a smoother cooking process. When carefully seasoned (like cast iron pots), these pans can be used on a stove or an oven top with minimal issues. And they usually cook stickier items like fish and eggs more efficiently than cast iron. This is because of their enamel surface and nonstick design.
The drawbacks to this type of pan are minimal. While they can crack when exposed to temperatures cast iron easily tolerates, it is easy to avoid this problem. And they are safe to use because the enamel surface locks in any potential mineral seepage. However, they will not add any iron to your diet, which may give the edge to cast iron skillets for some people.
Who Should Buy Iron Skillets?
While cast iron skillets do have many advantages, their disadvantages may make them inappropriate for some users. Most homes should do reasonably well with cast iron cookware, but others may appreciate them even more. Just a few people who may appreciate cast iron cooking gear include:
Regular Campers — If you love camping, a cast iron skillet is a good choice for you. It will resist heat very well on an open fire, retain that heat for multiple meals, and can be packed easily in most backpacks. However, remember to handle it carefully to minimize your risk of burns.
Chefs in Specialized Restaurants — Many restaurants may use cast iron pans to produce specialized meals. For example, breakfast restaurants often use cast iron to prepare high-quality meats and delicious eggs. In addition, the cooking surface is easy to clean quickly and can be used multiple times.
Antique Collectors — Even if you don't like cooking with cast iron pots, they can be an exciting collector's item for many antique buyers. Their high level of strength and their unique history make them a fine addition to many types of antique collections.
Who should not buy cast iron cookware for their cooking needs? Typically, cast iron may not suit people who want a quick and easy cooking experience. Though quite solid and available in nonstick varieties, cast iron requires more preparation. As a result, inexperienced chefs may find them frustrating to use and handle.
And homes with children may want to avoid cast iron pans. These pans retain heat for so long that a curious child (or one trying to help with dishes) may grab one with a bare hand and get burned. Similarly, older teens starting to cook meals may also get burned or may try to wash the pan too quickly in cold water. Again, this could potentially lead to damage to its surface.
Are These Skillets Right for You?
As you can see, a great cast iron pain can produce many benefits that may be right for you. However, it would be best to consider the drawbacks you may experience using these pans, including the need for high heat. It would be best if you also compared them to stainless steel pan models with a nonstick coating. Doing so will help you decide if a bare or enamel cast iron skillet is suitable for your needs as a person.
Remember: not all cast iron pans will be nonstick. Some may need to use baking powder or vegetable oil to produce a nonstick pan surface. And a seasoned pan takes some time to create, requiring you to cook multiple meals on it using various heat levels. However, once your pan reaches the proper level of seasoning, it may provide even higher heat retention.