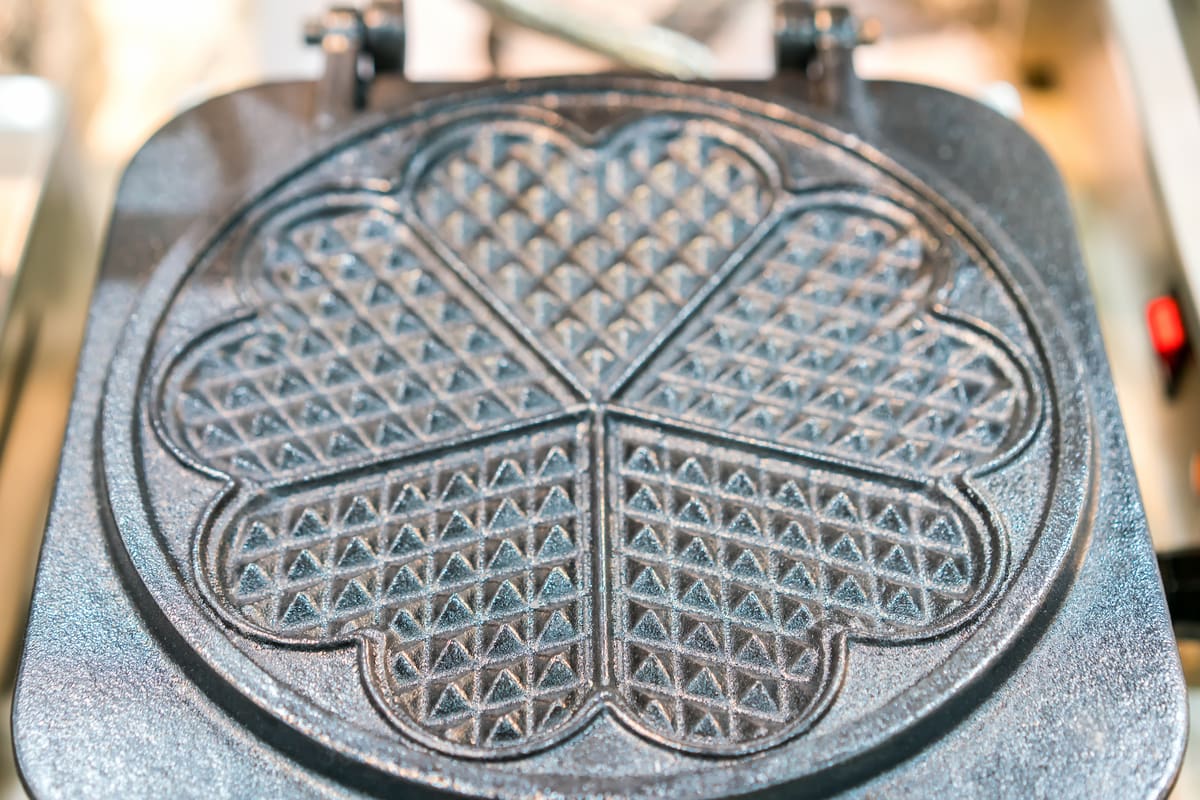 Everybody loves waffles! From breakfast to snacks, a delectable waffle won't let you down. But do you know the secret to cooking the perfect waffles? It's by using the best cast iron waffle maker.
Granted, it's much easier to simply plug an electric waffle maker and just pour the batter. However, the perfect waffles are prepared with love using the traditional waffle maker. Traditional waffle makers are designed to be placed directly on stovetops, in ovens, and even over campfires.
If you want a crisp, fully cooked waffle at home, the traditional waffle makers made of cast iron are the way to go. But of all the waffle makers out there, how do you choose the best one? In this post, we have narrowed down the best cast iron waffle makers in 2023 so you can make a guided decision when buying one.
Table of Contents
Best Overall: Rome Industries Old Fashioned Waffle Cast Iron
Rome Industries Old-Fashioned Cast Iron Waffle Maker
This highly durable waffle iron makes classic round waffles. Best used on a two-burner stove at camp or in your kitchen.
Pros: Compact design, built to last, comes with instructions, easy to use and clean
Cons: Short handle, needs regular seasoning
First on the list is the Rome Industries Old Fashioned Waffle Cast Iron. This traditional round-shaped waffle maker made from 100% cast iron may be old-fashioned, but it is built to last. It has a secure hinge system that connects both sides of the pan.
Because of this hinge system, the waffle maker ensures easier and more secured flipping with no batter spillage. In addition, its hinges can be detached easily, which means it's easy to clean and hassle-free to season. But, like all other iron cast cookware, you need to regularly season cast iron waffle makers, too.
With this waffle maker, you can make standard-sized waffles at 7-9 inches, with a crunchy edge and fluffy center. One thing to keep in mind when using the Rome Industries Waffle Cast Iron is that you need to cook the waffles over a 2-Burner camp stove or over the gas stove. By doing so, both sides will be evenly heated.
Best For Outdoor Use: Rome's 1028 Chuckwagon Waffle Iron
Rome's 1028 Chuckwagon Waffle Iron (Cast Iron)
This versatile waffle iron can be used outdoors or on the gas stove. Just unscrew the handles to oven season.
Pros: Lightweight, best for outdoor use, long-wooden handles
Cons: Makes small waffles
Rome Industries indeed knows how to make good waffles. Another product of Rome Industries is a highly recommended waffle maker. If you love waffles and the outdoors, Rome's 1028 Chuckwagon Waffle Iron is the best choice for you.
This waffle iron has a long-wooden handle making it perfect for outdoor use when camping or during a picnic. You can use it to cook over stoves, open fires, BBQ grills, and even wood stoves. In addition, you won't have to worry about hot handles thanks to its long-wooden handle design.
Furthermore, it's lightweight, has a compact design, and the handles are removable. It's easy to carry around and won't take up too much space in your picnic bag. And, since its handle is removable, seasoning and cleaning is a hassle-free experience.
To set your expectations, Rome's 1028 Chuckwagon Waffle Iron makes 6-inch waffles, which is not a bad serving size. Other than that, its smaller dimension does not affect making waffles with a nice brown crust and fluffy center.
Lightweight and Budget-Friendly: HAWOK Cast Iron Waffle Maker
HAWOK Cast Iron Waffle Maker
Designed for easy storage in an RV or camper. You can also take this with you on your next camping trip.
Pros: Lightweight, budget-friendly, good for outdoor use
Cons: Short handles
If you're on a budget, the HAWOK Cast Iron Waffle Maker can be your best choice. Like Rome's 1028 Chuckwagon, its lightweight and compact design make it desirable for outdoor use. So on your next camping trip or picnic outdoors, you can take it along with you trouble-free.
The HAWOK Waffle Maker is a round waffle maker that can make 6 to 6.5-inch small waffles. Moreover, this waffle iron is best used over a home gas stove or gas camp stove. Its hinges can easily be removed, thus, it's easy to clean and season.
However, one thing to consider is that it has short handles. You will need to use a cast iron silicone handle or kitchen mittens. But, since it's lightweight, it won't be hard to maneuver while cooking, even with an oven mitt on.
The HAWOK Waffle Maker comes with detailed instructions on how to remove the factory wax coating and how to properly season it. Overall, this waffle maker is a bang for the buck and is definitely a breakfast staple for many households.
Best For Square-Shaped Waffles: Useful UH-CI194 Old Fashioned Cast Iron Stove Top Waffle Iron
If you're into square-shaped waffles, the Useful UH-CI194 Old Fashioned Cast Iron Stove Top Waffle Iron is definitely worth considering. Like the other waffle makers mentioned above, this also comes with interlocking hinges for easy cleaning and seasoning. You can use the UH-CI194 Stovetop Waffle Iron over stovetops or campfires.
Its slim profile has its pros and cons. Because it is slim, you can easily store it at home and conveniently pack it for outdoor use. Unfortunately, you can only make four 3x3-inch square waffles at a time. But, looking at it positively, 3x3-inch square waffles are the perfect size for kids.
Needless to say, this is perfect for cooking a classic American waffle or Brussels waffle. However, it isn't a good choice for making a thick Belgian waffle.
Best Eco-Friendly Design: Skeppshult Waffle Heart Shape Maker
You have to give your heart when making delectable waffles and, with a Skeppshult Waffle Heart Shape Maker, you're literally making heart-shaped waffles. Using the Skeppshult Stovetop Waffle Maker, you can make five small, heart-shaped waffles per batch.
The Skeppshult Waffle Maker is one of the best eco-friendly waffle makers. This is because it has a natural nonstick coating and its waffle plates come pre-seasoned with organic rapeseed oil. Furthermore, it's free of harmful chemicals like perfluorooctanoic acid (PFOA), polytetrafluoroethylene (PTFE), and cadmium.
Another thing you'll love about Skeppshult Waffle Maker is its compatibility with all heat sources. Unlike other waffle makers that can scratch the surface of an induction stovetop, the Skeppshult Waffle Maker has a flat surface that won't cause any damage.
Why Choose a Traditional Waffle Maker?
Before buying a waffle maker, you need to make a guided decision. Why choose it over an electrical waffle maker? Here are some thoughts to ponder on the disadvantages of electric waffle makers:
They take time to heat up, which means a longer cooking time.
They're harder to clean especially if the plates are not detachable. You can't just pour water over it since it's an electrical appliance. If you do not take the time to clean it thoroughly, you might find leftover food crumbs the next time you use it.
As many chefs would attest, most electrical waffle makers cannot achieve the crunchy edge, full texture, and fluffy center that a cast iron waffle maker can.
You can't use them outdoors.
Most electrical waffle makers have nonstick surfaces made from potentially harmful chemicals like cadmium, PFOA, and PTFE. Needless to say, if you want a healthier option, cast iron is the way to go.
Electrical waffle makers have wires or cords that could potentially break, and replacing parts may be difficult. In contrast, cast iron waffle makers have a simpler make-up, are more durable, and are easily repaired if you're handy.
So if you prefer quality over convenience, traditional cast iron is always the best choice. Just remember that cast iron cookware needs to be regularly seasoned and cleaned by hand. If you believe that the perfect waffles are worth a little more effort, then traditional waffle makers might be best for you.
Buying Guide
When buying a cast iron waffle maker, here's what you should consider.
Compatible With Many Heat Sources
Not all cast iron is compatible with all heat sources. Some cast iron waffle makers can be used over an open fire, while others cannot. Also, there are waffle makers that can scratch the surface of induction cookers.
So when you're choosing a waffle maker, make sure it's compatible with the heat source you use most often. If you only have a glass or induction cooktop, choose a waffle maker with a flat surface. Likewise, if you plan to prepare waffles on your camping trips, choose the ones compatible with a campfire or a butane stovetop.
Simple Handling and Cleaning
Generally speaking, cast iron kitchenware is heavy, requires regular seasoning, and is easy to clean. Of course, you would prefer a cast iron with simple handling and cleaning.
Waffle makers made from cast iron with a detachable hinge system are easier to handle, clean, and preseason, so that's what you should look for. Furthermore, when buying a waffle maker, make sure it comes with instructions for how to properly clean and season it.
Durability
Regardless of the price tag, you should always go for a product that is built to last. Generally, cast iron waffle plates are durable, but it's the hinges and handles you have to look out for. Most complaints of cast iron pans are the non-sturdy handles, so make sure to consider this factor.
Some waffle makers have plates made of cast iron but have handles made from different materials like plastic. When choosing a waffle maker, consider buying from trusted brands that come along with a warranty.
Shapes and Sizes
Waffle makers come in different shapes and sizes, so when you're buying one, always consider these two factors. Do you want the traditional shapes such as round or square? If you have kids, you may want to bring a smile to their faces by making heart or animal-shaped waffles for breakfast.
In addition, make sure to check out what size the waffle maker can cook. If you want to cook bigger waffles at a time, choose the ones with at least 8-10 inch diameter. If you have kids and think smaller waffles are the best serving size, choose the ones that are 6-inch in diameter. Or, you can also buy one that can make several small waffles at a time—like the HAWOK or Skeppshult mentioned above.
PFA, PFOA, PTFE, BPA and Cadmium Free
Other nonstick cookware like Aluminum uses Teflon for its nonstick coating. This contains man-made chemicals like PFA (polyfluoroalkyl), PFOA (perfluorooctanoic acid), PTFE (polytetrafluoroethylene), BPA (Bisphenol A), and Cadmium.
These synthetic chemicals are used in the manufacturing of some cookwares to produce nonstick, water-resistant, and oil-resistant coating.
According to the FDA, these may have potential health risks. If you're health-conscious, then you can never go wrong with a waffle maker made from cast iron as it doesn't contain the potentially harmful chemicals mentioned above.
FAQs About Cast Iron Waffle Makers
How to Use a Cast Iron Waffle Maker?
Depending on the brand, preheat each side of the waffle maker for 1-3 minutes. Pour the batter, cook one side for one minute, flip the waffle maker, and cook the other side for two minutes.
Why Choose a Cast Iron Waffle Maker?
Cast iron waffle makers are easier to use and clean, heat faster, and have minimal or no spillage. Also, cast iron cookware is naturally nonstick when seasoned properly. This means you won't need extra oil or butter when cooking waffles, making it a safer and healthier option.
Do You Need to Season a Cast Iron Waffle Maker?
Yes, you need to season cast iron kitchenware. Depending on how often you use it, you may need to season cast iron kitchenware 2-3 times a year. Seasoning a cast iron skillet or cookware forms a natural, nonstick coating that makes it easier to remove the waffles once cooked. In addition, regular seasoning prevents the cast iron from rusting.
Is a Cast Iron Waffle Maker Easy to Maintain?
Yes, cast iron waffle makers are easy to maintain. With proper care, seasoning, and cleaning methods followed, the product may last for many years.
Can You Use a Cast Iron Waffle Maker in the Oven?
Yes, most cast iron waffle makers can be used in the oven. In fact, you can use different types of heat sources. These include wood fires, campfires, gas stovetops, electric stovetops, and induction cookers.
Which Is Better, Electric Or Non-Electric Waffle Maker?
This depends on your preference. If you want a more convenient way of cooking waffles, then an electric waffle iron may be best for you. But if you don't mind the extra effort and want the best waffle you can make, then traditional cast iron is the best option.
How Long Does It Take to Cook a Waffle in a Waffle Iron?
Depending on the brand, it may take 1-3 minutes to make a waffle. To cook a waffle, pour the waffle batter in the center of the cooking surface, close the lid, let one side heat for 1-2 minutes, then flip, and let it cook for another 1-2 minutes. The ideal waffle is golden brown and crisp when fully cooked.
What Is the Secret to Crispy Waffles?
The secret to a crispy waffle is cornstarch. When cornstarch is mixed with flour in the waffle batter, it will guarantee perfectly crisp edges and a fluffy center. Note that this is for standard classic American-style waffles, not for a thick Belgian waffle.
How to Clean a Cast Iron Waffle Maker?
When cleaning the cast iron pan, use a scouring pad, a cleaning brush, and mild dishwashing soap. Simply wash, scrub, rinse, then wipe off your cast iron cookware. After wiping it, season the waffle plate with a few drops of oil or cooking spray. Never put cast iron cookware in the dishwasher and avoid using harsh dishwashing soap as these may remove the seasoning on the cooking surface and cause rust.
The Take-Away
We hope that by reading this guide, you have decided on the perfect cast iron waffle maker for you. Just remember when you purchase one, follow the instructions that come with it so it will last longer. Additionally, some waffle makers also come with tips for cooking the perfect waffle.
Lastly, cooking a delicious waffle is a trial and error process. Don't be frustrated if the first set of waffles you made do not meet your standards. You need to combine these elements—heat, time, and the perfect waffle recipe. Practice makes perfect! In time, you'll be cooking delicious, homemade waffles easily.