You're about to learn how to make banana bread at home that is delicious, moist, and packed with banana flavor! Enjoy a toasted slice for breakfast with your morning coffee, dress it up as a dessert, or wrap up a slab and take it to school or the office.
Unlike many baking recipes, you don't need any fancy equipment like a stand mixer to make banana bread. Use a simple fork to whisk the eggs, a spoon to mix the batter and you're good to go.
To create a perfect loaf of banana bread that is as as good (or even better) that what you can get from a cafe, you'll need to choose the right bananas. Your best option? Ugly looking, brown ones that are so overripe they look like they need to be tossed out. The older they get, the sweeter and more flavor-packed they are. Of course, you'll want to make sure they aren't completely rotten because that's just gross.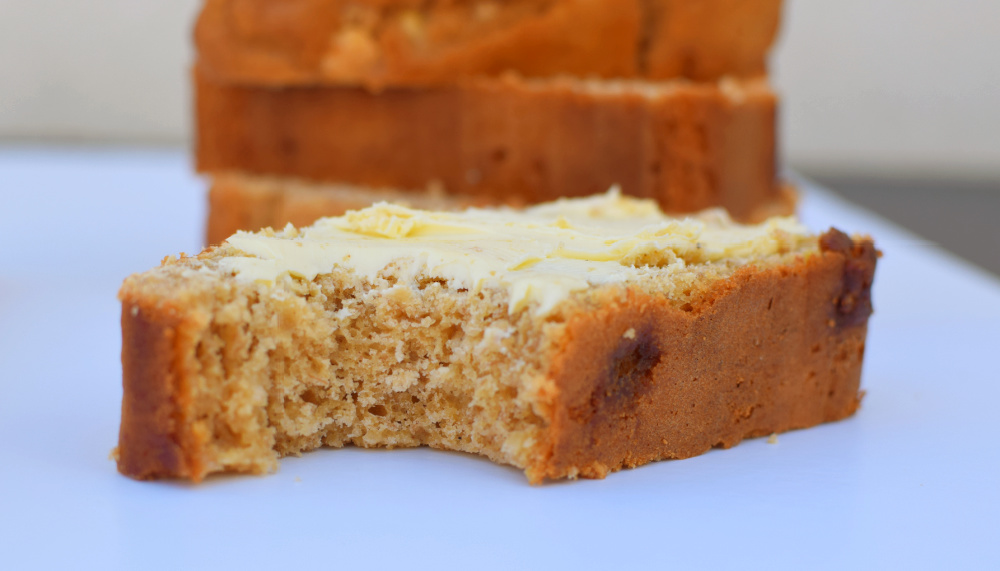 We love this banana bread recipe because the ingredients are flexible. For example, the recipe calls for one cup of sugar but it isn't a problem to reduce it to three quarters or even half a cup if you're trying to cut back on your sugar intake. Other add-ins like raisins, chopped nuts, or chocolate chips are all excellent additions. They add color and texture and kids can't get enough of them! The type of flour can also be varied, so feel free to replace it with whole wheat, gluten-free, or most other common flour types.
Recipe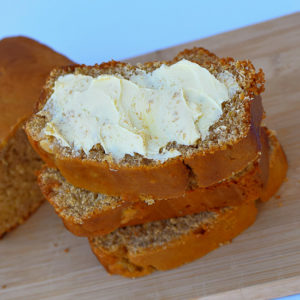 Cafe-Style Banana Bread
We love this banana bread recipe because the ingredients are flexible. If the recipe calls for one cup of sugar, you can reduce it to three quarters or even half a cup when you're trying to cut back on your sugar intake. You can also add raisins, chopped nuts, or chocolate chips for color and texture! Also, feel free to replace the flour with whole wheat, gluten-free, or most other common flour types.
Ingredients
1 ½

cups

all-purpose flour

plain flour

1

tsp

bicarbonate of soda

baking soda

⅔

cup

brown sugar

packed firmly

½

tsp

salt

1

tsp

ground cinnamon

3

overripe bananas

½

cup

milk

1

tsp

vanilla extract

2

eggs

lightly whisked

¼

cup

butter

melted and cooled
Instructions
Preheat the oven to 350°F (180°C).

Lightly grease an 8½ x 4½ inch loaf pan and then line the sides and bottom with parchment paper. Allow the paper to slightly overhang at the sides so that it is easy to remove the loaf when it is cooked.

Sift flour, brown sugar, salt, and cinnamon into a large bowl and mix with a spoon until all the ingredients are well combined. Make a well in the center and then set aside.

In a medium bowl, mash the bananas with a fork and then add the milk, vanilla, eggs, and butter. Mix ingredients together until combined and then pour into the well that you made in the dry ingredients. Stir until a smooth batter forms and then scoop into the prepared tin. Use a knife or spoon to smooth the top of the loaf.

Bake the bread for 45-50 minutes or until the top is turning golden and a skewer can be inserted into the center of the loaf and comes out clean. Remove the pan from the oven and allow to cool for five minutes before turning out onto a wire rack. Allow to cool completely before slicing and serving.
Notes
Quick tip: For a change from cooking loaves, you may also like to pour the batter into patty pans and make muffins. This is a good option for school lunches as they don't dry out as quickly. Follow the instructions above, but remember your muffins will only need around 20 minutes before they're cooked through. Insert a toothpick and if it comes out clean they're ready. Carbohydrates (per serve): 41g
Nutrition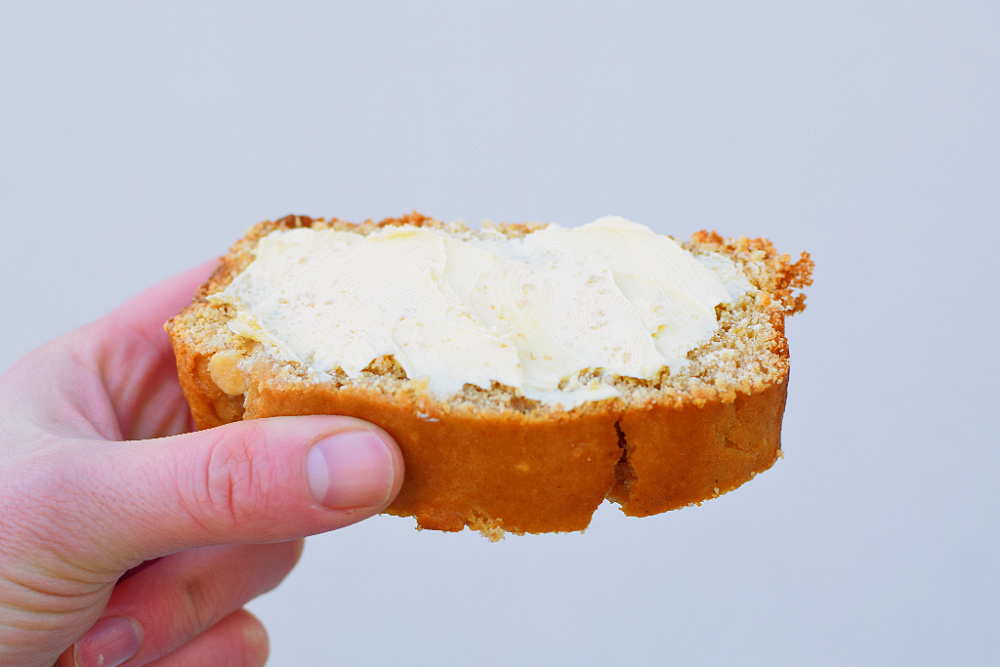 Table of Contents
How to ripen bananas fast
Few things are more frustrating in life than waking up on Saturday morning to bake banana bread only to find your bananas are barely yellow. Luckily this hurdle doesn't need to stop you. There are two options for ripening bananas which we will look at now.
Option 1: oven method
Line a baking tray with parchment paper and then place the unripe bananas in a single layer. Add the tray to an oven that has been preheated to 250˚F and bake for 15-20 minutes. Almost ripe bananas will only need 10-15 minutes. When you pull them out of the oven allow them to cool a little and then peel off the skin. You will notice that the flesh now has a sweeter taste and has softened.
Option 2: counter method
Don't need your bananas until tomorrow? Pop them in a paper bag along with an apple and then fold the top over. Leave it on the counter for a day and you'll find they are ready to be transformed into banana bread. If you're interested, you may also want to check out our article on how to ripen a pineapple.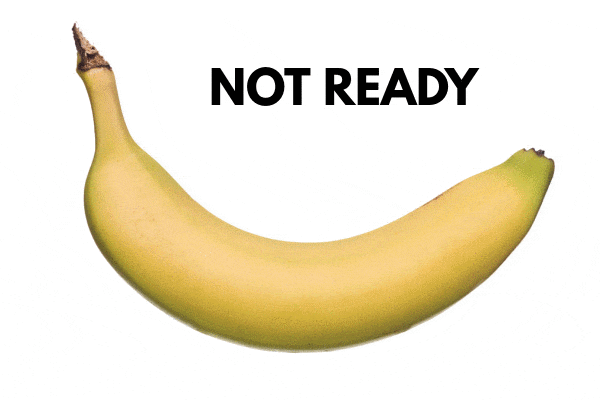 How do I keep banana bread moist?
No one enjoys banana bread that's gone stale! An excellent way to keep your bread fresh for days is to wrap it as tightly as possible. You will want to allow the loaf to fully cool first, then wrap it in plastic wrap ensuring that there are no gaps anywhere. Once wrapped, place it in an airtight container or a large zip-lock plastic bag. The bread will last 3-4 days on the counter stop or it can be refrigerated for up to one week.
Once banana bread turns stale that does not mean it needs to be discarded. The bread can be brought back to life by popping slices in the toaster. Another option is to add a knob of butter to a hot skillet and fry slices like French toast. A stack of these, drizzled in honey and topped with ricotta and seasonal fresh fruit is hard to beat.
Note: if you see signs of mold then it is time to toss out the bread.
Related Reading:
What is the difference between a plantain and a banana?
What are some useful banana leaf alternatives?
Find out how long to preheat an oven?

How to freeze banana bread
Banana bread is excellent for freezing and you can store it in a freezer as a whole loaf, half loaf, or in slices. You are best to wrap them in aluminum foil and then pop them in a sealable freezer bag. Remove all the air before freezing. Stored this way, banana bread will last up to four months. After this time, the loaf will still be edible, but it will begin to lose its quality.
Thawing slices of banana bread is easy. If you have time simply leave it on the countertop and it will be ready to eat within half an hour. If you're in a hurry, then pop them in the microwave for 20-30 seconds or drop it in the toaster like normal bread.
To thaw a whole loaf of banana bread, leave it in its aluminum foil sitting on the bench for a few hours and it will be ready to eat. You could also pop the loaf in a cold oven with the foil still on and set the temperature to 350°F. Set your timer for 30-40 minutes and when you come back the bread should be nicely warmed like you have freshly baked it.
A quick tip for mashing bananas
You can use a fork to mash bananas and the process is fairly quick and easy. But, if you're going to use a stand mixer or a handheld mixer to make the banana bread, then you can also use the mixer before you get started to mash the bananas. Break the fruit into pieces and place in a bowl then start mixing them at a low speed. As they start to mash, increase the mixer's speed until you're happy with the consistency of the banana. There is no need to wash the mixer before using it in the next stages of the recipe. This is a bonus because you don't have to worry about washing the appliance twice!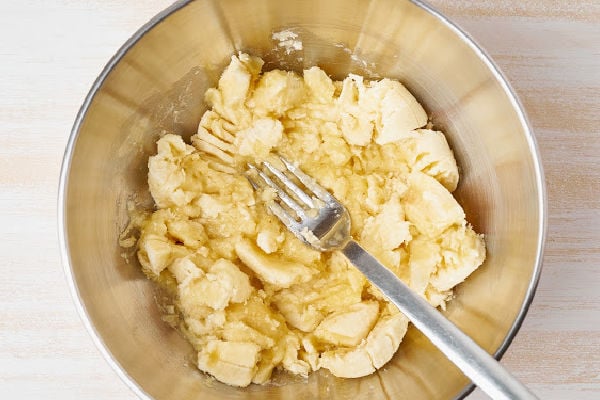 What flour can I use to make banana bread?
As we mentioned previously, banana bread is a flexible type of baked good that works even when you play with the ingredients a little. Use any of the following flours and you'll have success:
spelt flour
white whole wheat flour
oat flour - add an extra half cup
all-purpose flour
gluten-free flour
whole wheat pastry flour
How to measure flour
How you measure flour can have a big impact on the amount you use. Although varying amounts of flour won't have a huge impact on banana bread it is still good practice to learn how to measure dry ingredients correctly and accurately. First, give the flour a gentle mix with a spoon to ensure it is broken up, then use a spoon to measure the flour into the measuring cup. This is a more accurate method than simply scooping the flour out with the measuring cup. Use the back of a butter knife to level off the flour so that you have a perfectly measured cup.
What else can I add to banana bread?
Banana bread is limited only by your imagination so get creative and add additional ingredients to improve your loaf's taste and texture. Here are a few options to get you started.
Blueberries
Chocolate chips
Chopped walnuts
Pecans
Toffee pieces
Fudge
Peanut butter chips
Currants
Shredded coconut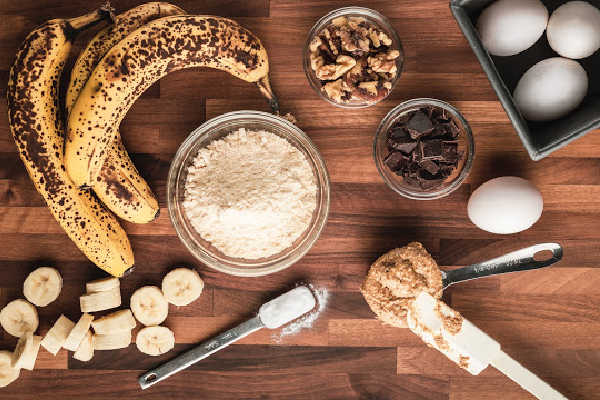 Summing up
Banana bread is a popular sweet treat that has to be one of the easiest baking options to make at home. Use this recipe as a great starting point, but feel free to make it your own by playing with the ingredients. Have fun adding extra flavors, reducing the sugar, or changing the flour variety. We've done all these things and the bread, whilst different, always tastes delicious.
Once you've finished making your bread, take a look at our Genoise sponge cake recipe or try making some colorful M&M cookies.
What is your favorite addition to banana bread that takes it from good to great? Please let us know in the comments below and we'll give it a test in the kitchen.