SpaghettiOs are canned spaghetti famous for being a convenient yet flavorful meal for kids. However, if you are considering a vegan diet, this canned product may not be for you.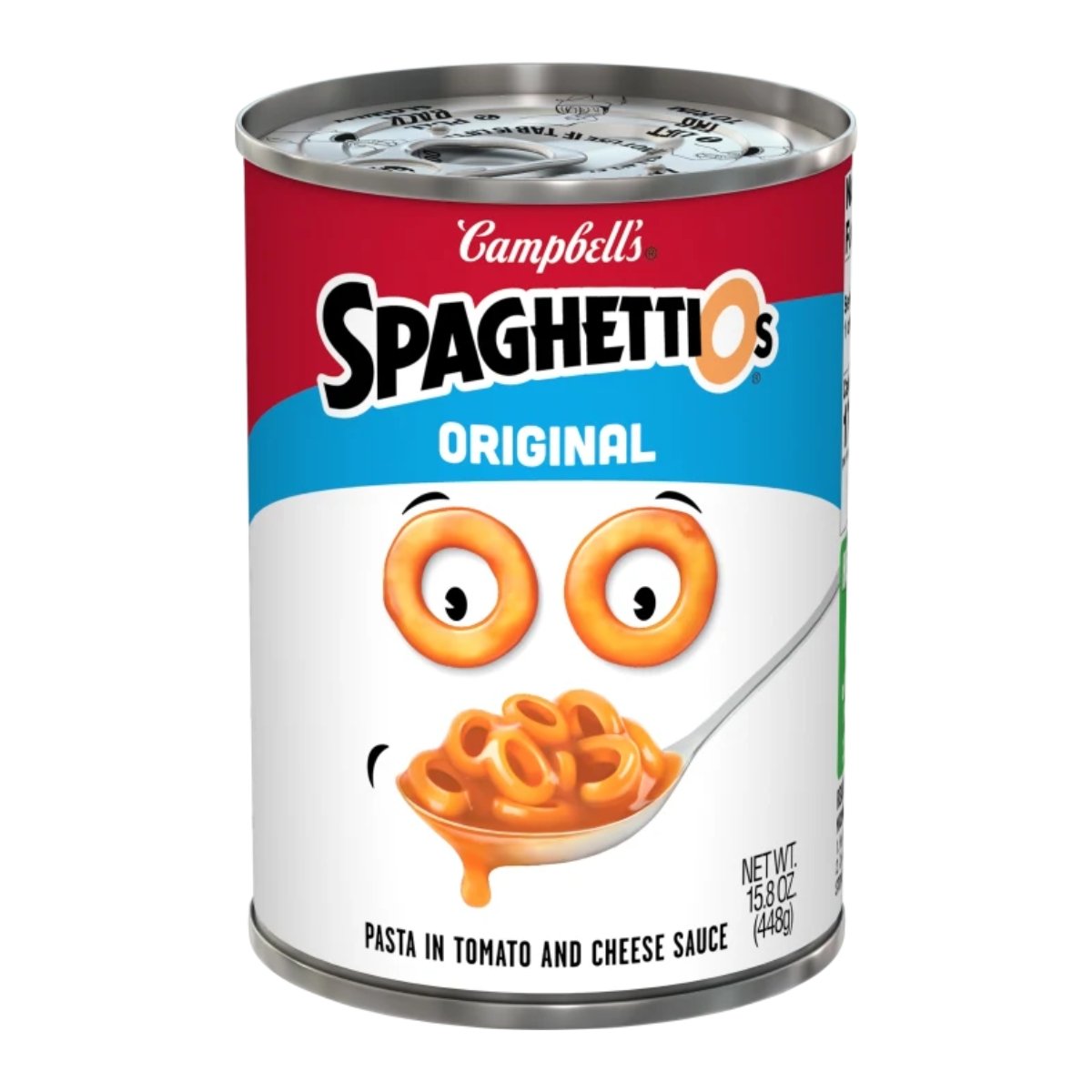 SpaghettiOs original canned pasta and its other variants contain animal-derived ingredients, such as cheddar cheese, butter, and skim milk, making them non-vegan foods.
Read on as I discuss the ingredients that make SpaghettiOs a non-vegan food. This article also contains an easy-to-follow vegan SpaghettiOs recipe, so be sure to read until the end.
Table of Contents
What are SpaghettiOs?
SpaghettiOs is a brand of canned spaghetti manufactured by the Campbell Soup Company since 1965. The product contains small, round pieces of pasta in a tomato-based sauce fortified with vitamins and minerals.
SpaghettiOs are available in a variety of flavors and shapes, such as Mini Os, SpaghettiOs with Meatballs, and SpaghettiOs with Franks.
The brand is popular among children due to its mild flavor and fun shapes. It is also a favorite for busy parents who need a quick and easy meal for their family.
You can serve SpaghettiOs as is or use them as a base for various recipes, such as baked spaghetti, spaghetti pie, and casseroles.
Are SpaghettiOs Vegan?
SpaghettiOs contain animal products and are thus not vegan. The main ingredients in SpaghettiOs are wheat flour, tomato puree, tomato sauce, partially hydrogenated soybean and cottonseed oil, and cheese, which contains milk and casein, a milk protein.
Additionally, some varieties of SpaghettiOs may also contain meat, such as beef, pork, or chicken. Unfortunately, despite having different variants, none of SpaghettiOs' flavors is vegan.
SpaghettiOs Ingredients: Are They Vegan?
Tomato Puree
This thick sauce made from cooked and crushed tomatoes. Tomato puree comes in handy as a base for soups, sauces, and stews. It is also a common condiment for sandwiches and other dishes.
Tomato puree is usually vegan, as it contains no animal-based ingredients.
High-Fructose Corn Syrup
High-fructose corn syrup (HFCS) is a corn-based sweetener that is used to make many processed foods. It is a product of glucose and fructose and typically comes from corn starch.
High-fructose corn syrup is vegan, as it does not contain animal products or byproducts.
Enzyme Modified Cheddar Cheese
Enzyme-modified cheddar cheese is a type of cheese that is made by homogenizing, emulsifying, and fortifying it. It usually contains ingredients such as emulsifiers, stabilizers, and preservatives.
Enzyme-modified cheddar cheese is not vegan, as it contains dairy products derived from animal sources.
Vegetable Oil
Vegetable oil is a type of cooking oil made from various plant sources, such as soybean, sunflower, olive, canola, corn, sesame, and peanut oils. People often use vegetable oil for frying, baking, and other cooking methods.
As vegetable oil comes from plants, it is vegan.
Modified Butter
Some of the natural fats in modified butter have been changed by adding vegetable oil. It is typically lower in saturated fat than regular butter.
Modified butter is not vegan as it comes from animal sources.
Skim Milk
This is a type of milk that has had the cream removed, resulting in a lower fat content than regular milk.
Skim milk is not vegan.
Are SpaghettiOs Gluten-Free?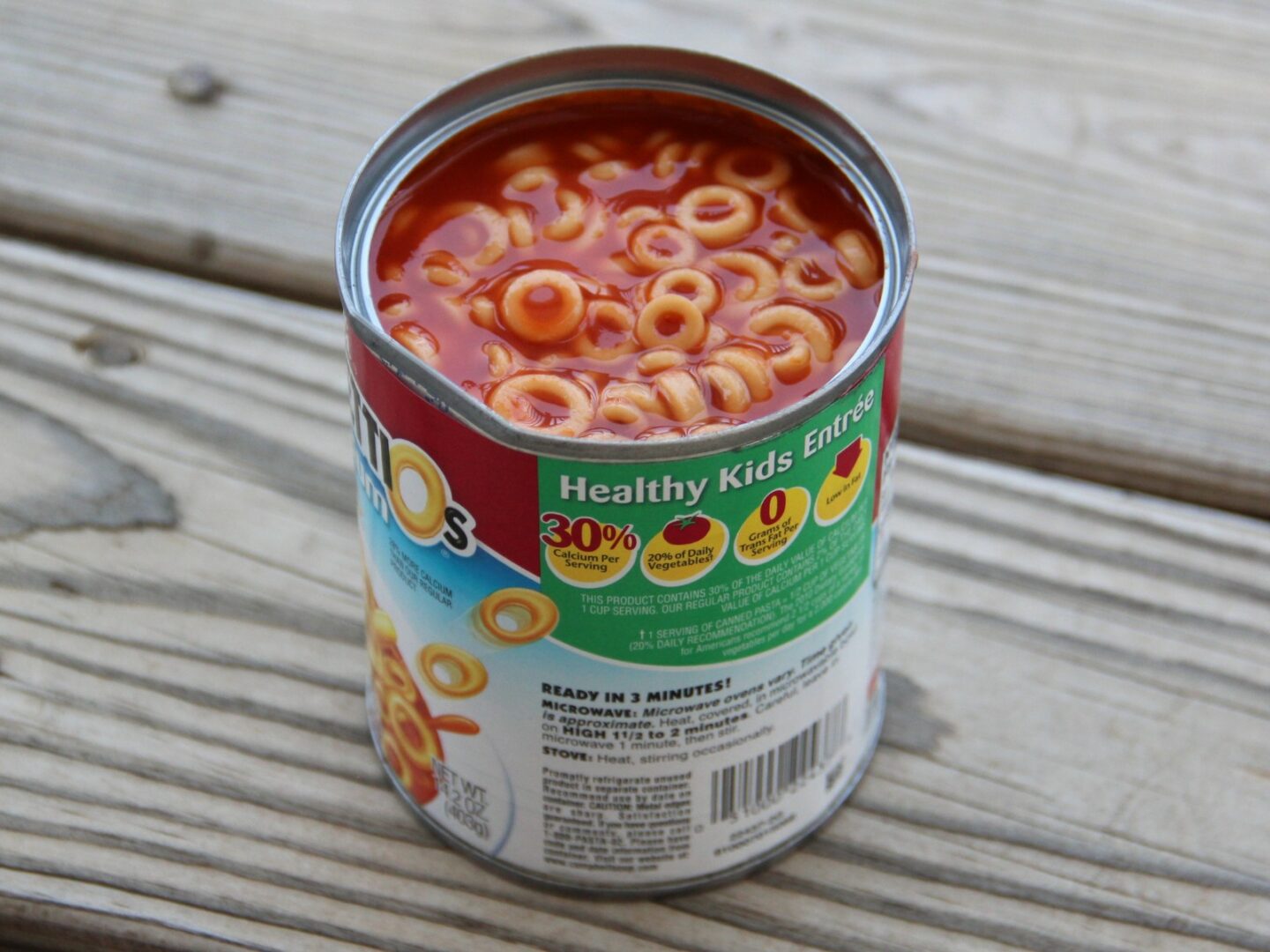 No. SpaghettiOs products contain enriched wheat, which contains gluten.
Are SpaghettiOs Healthy?
Although SpaghettiOs are very convenient and delicious, they do not offer enough nutrients and are therefore unhealthy. According to the USDA nutrition facts, SpaghettiOs do not provide a significant amount of vitamins and minerals and are also high in sodium.
Recipe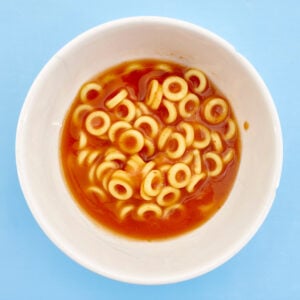 Easy Vegan SpaghettiOs Recipe
Making homemade SpaghettiOs is the best way to ensure a vegan alternative. This recipe takes an hour and is very easy to follow.
Ingredients
1

8-ounce package of vegan spaghetti hoops or small pasta/alphabet pasta or noodles

1

15-ounce can of plain tomato sauce or tomato puree

you can also use tomato paste

1

tbsp

olive oil or vegan butter

1

tsp

garlic powder

1

tsp

onion powder

1

tsp

dried oregano

1

tsp

dried basil

1

tsp

nutritional yeast

½

tsp

salt

¼

tsp

black pepper or red pepper flakes

½

cup

vegan cheese (vegan parmesan cheese or cheddar cheese)
Instructions
Preheat the oven to 350 degrees Fahrenheit.

In a large pot, combine the tomato sauce, diced tomatoes, olive oil, garlic powder, onion powder, oregano, basil, salt, nutritional yeast, and pepper. Stir until all ingredients are thoroughly combined.

Cook the vegan spaghetti hoops according to the package instructions. Drain and add to the tomato sauce mixture. Stir to combine.

Transfer the cooked pasta and sauce mixture to a baking dish.

Sprinkle the vegan cheese over the top.
Notes
Pro tip: Bake the mixture for 25 minutes, until the top is golden brown and the sauce is bubbling.
Nutrition
Calories:
1225
kcal
Carbohydrates:
185
g
Protein:
54
g
Fat:
35
g
Saturated Fat:
6
g
Polyunsaturated Fat:
4
g
Monounsaturated Fat:
6
g
Trans Fat:
2
g
Sodium:
3964
mg
Potassium:
2962
mg
Fiber:
31
g
Sugar:
15
g
Vitamin A:
2031
IU
Vitamin C:
30
mg
Calcium:
349
mg
Iron:
19
mg
Related Questions
Is canned spaghetti vegan?
This depends on the brand. Most canned spaghetti brands contain animal-derived ingredients, but a few have vegan certification printed on their packaging.
Do SpaghettiOs have pork?
The SpaghettiOs with Meatballs contains both pork and chicken.