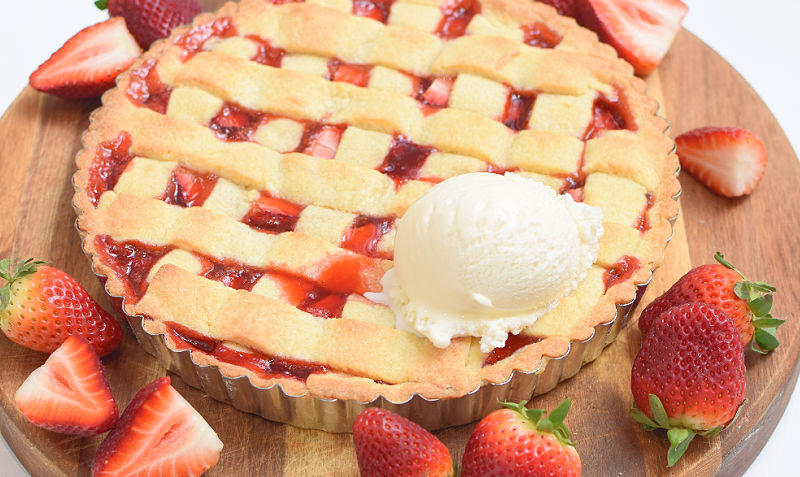 Jump to Recipe
The crostata is a popular tart made using shortcrust pastry, jam, and fresh fruit. While it makes a lovely dessert, Italians also eat these for breakfast with coffee.
We decided to put some of our freshly made strawberry jam to the test and use it to make a mouth-watering strawberry crostata. Here's how it's done.
Table of Contents
The basic steps
The base: Make a shortcrust dough and fill the bottom of a tart pan. Using a pan with a detachable bottom makes life easier at serving time.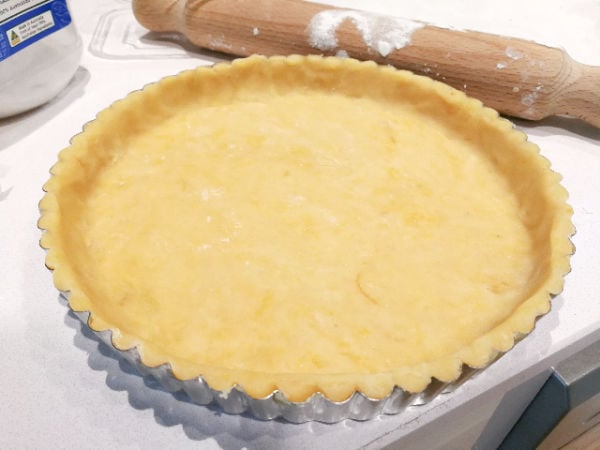 The jam: Spread a layer of strawberry jam over the pastry. We used one cup but you can easily dial this up or down to adjust the sweetness.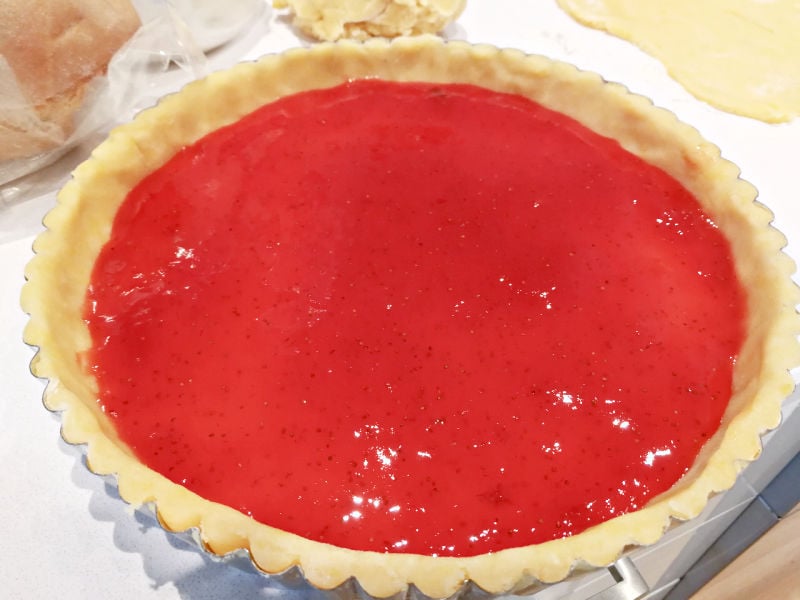 Fresh berries: Add a layer of strawberries to give your crostata more flavor. Fresh, in-season produce is always best.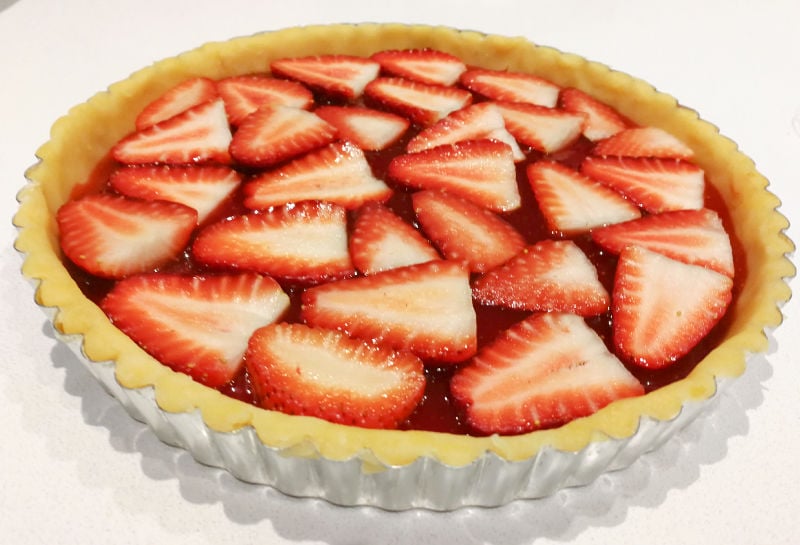 Top the crostata: Layer the top of the crostata with a criss-cross pattern of pastry strips. It doesn't have to be anything fancy... look at our "rustic" attempt.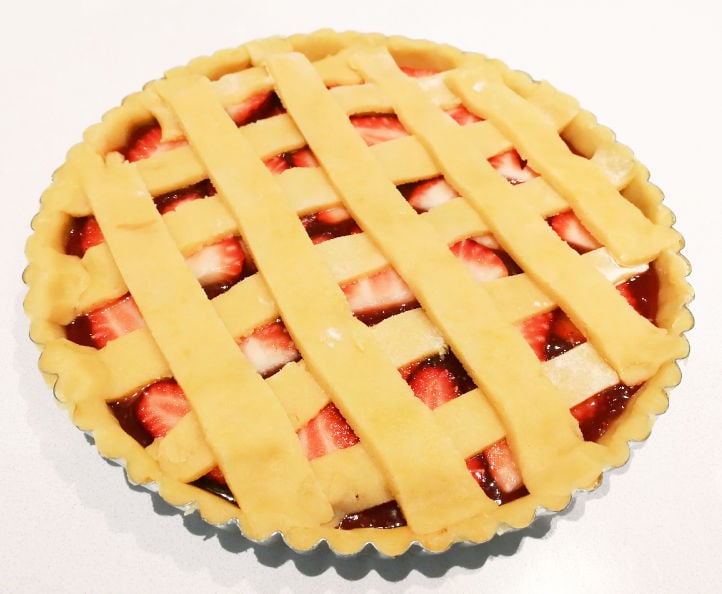 Cook it! Bake until golden brown the remove from the oven. If you eat it hot, the jam is deliciously runny, like a hot jam donut. Once cooled, the filling turns firm, but is equally as good.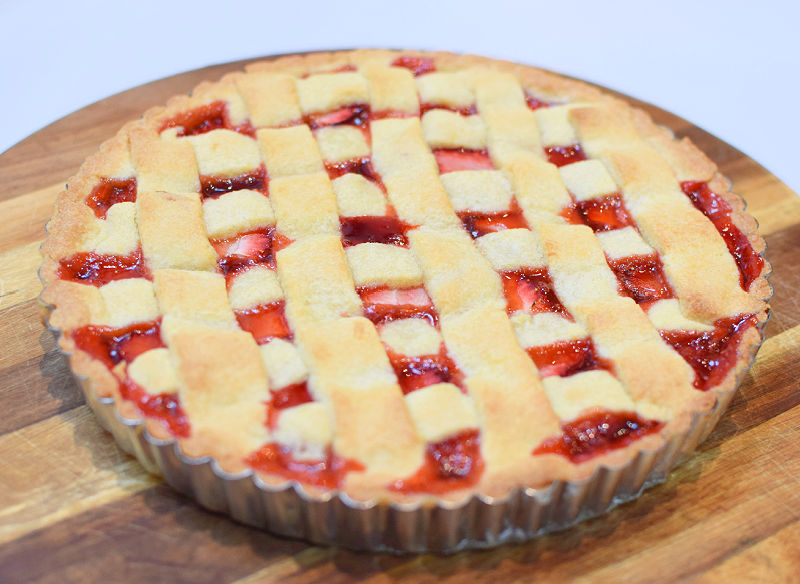 How to make a strawberry crostata
This is a simple recipe for making crostata. You'll need to allow 30 minutes resting time for the pastry. If you're entertaining or on a tight schedule, consider making the dough in advance and storing it refrigerated until needed.
Recipe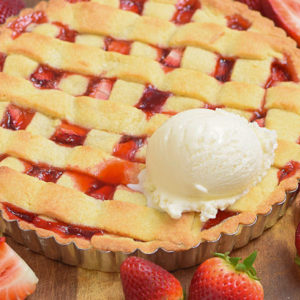 Italian Strawberry Crostata
This is a simple recipe for making crostata. You'll need to allow 30 minutes resting time for the pastry. If you're entertaining or on a tight schedule, consider making the dough in advance and storing it refrigerated until needed.
Ingredients
2

cups

all-purpose flour

1

tsp

baking powder

½

cup

granulated sugar

2

large

eggs

1

egg yolk

¾

cup

unsalted butter

chilled and cubed

zest of a lemon

1

cup

strawberry jam

2

cups

strawberries

chopped
Instructions
Preheat oven to 350°F (180°F). Grease an 8" tart pan, using one with a removable bottom if you have it.

Use a spoon to combine flour, baking powder, and sugar in a large bowl. Make a well in the center of the dry ingredients and add the eggs, yolk, butter, and lemon zest.

Use fingertips to work the mixture until it comes together. Shape the dough into a ball, cover with cling film, and refrigerate for 30 minutes or overnight.

Remove the wrap, cut off one-quarter of the dough, and set aside. Roll out the large piece of dough on a floured surface between two parchment sheets. The pastry should be around 4mm thick.

Carefully roll the dough onto a rolling pin then roll it out over the tart pan. Press it into the corners and ensure there are no holes. Trim any excess pastry from the top edge and set aside with the other dough.

Use a fork to prick the pastry multiple times, then spread the jam across the bottom of the crostata.

Hull the fresh strawberries and slice them vertically into 2-3 pieces, depending on their size. Lay fruit across the top of the jam in one layer.

Place the remaining dough on a floured surface and roll out until 4mm thick. Slice into strips using a knife or ravioli cutter and layer in a criss-cross lattice style across the crostata. Press the ends of the strips into the edges.

Transfer crostata to the oven and bake for 35 minutes or until the crust is golden brown.
Notes
Serving suggestion: Crostata is a food that can be eaten hot or cold. A slice is excellent eaten on its own with a cappuccino or latte. It is also perfect topped with a dollop of cream, mascarpone, ricotta, or strawberry ice cream.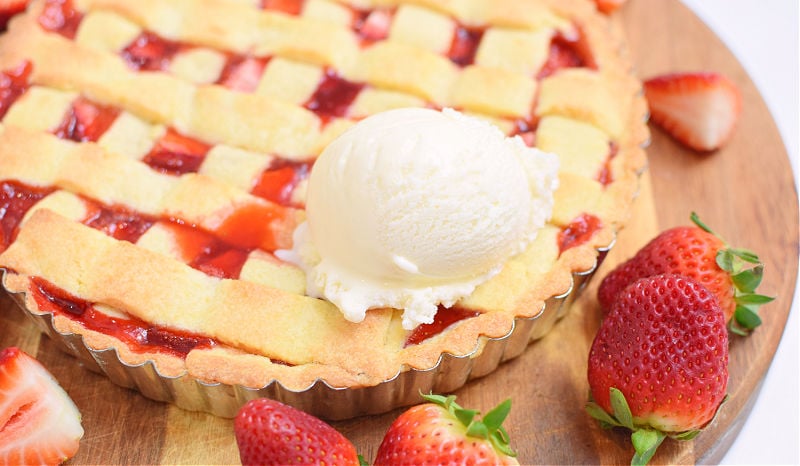 Related reading: How do I freeze strawberries if I have too many at home?
Recipe notes + tips
Dry dough can easily be fixed: If the dough is dry and won't come together, add one tablespoon of cold water at a time until the dough forms.
Chill fillings: The jam and fruit should be cool or they may partly melt the fat, resulting in soggy pastry.
Avoid room temperature butter: Use chilled butter straight from the fridge so that it doesn't melt into the flour.
Chill the dough: Chilling the dough gives it a chance to rest, making it much easier to work with.
Go easy on the dough: If you overwork dough during kneading, it will become tough and unpleasant once cooked. Work it as little as possible.
Use the middle shelf: When it comes time to bake your crostata, place it on the oven's middle shelf to evenly cook the top and bottom.
How to store a crostata
A baked crostata can be covered and left at room temperature in a cool area for 2-3 days.
The uncooked pastry dough can be pre-made and stored in the refrigerator for up to 3 days, wrapped in cling film.
Freeze wrapped dough in an airtight container or freezer bag for up to three months.
Do crostatas need a pastry top?
It isn't necessary to cover the top with pastry. If you prefer showing off the fruit then leave it off. Instead, use extra pastry on the base and make a larger circle. Once you're added the fillings, fold over the pastry so that it covers about one inch around the outside of the dessert.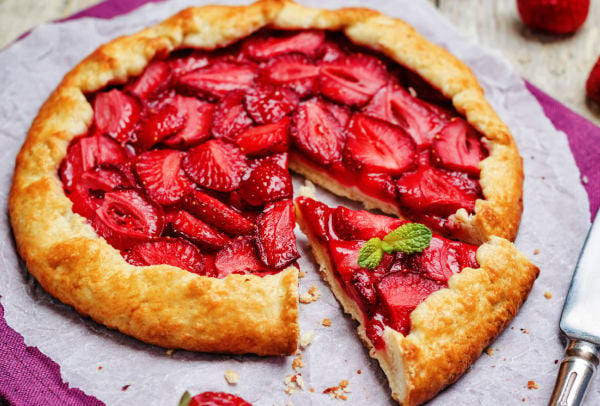 Commonly asked questions
What filling is best for a crostata?
The sky is the limit when it comes to sweet fillings for crostatas. A popular filling in Italy is fruit like peaches, apricots, plums, blueberries, cherries, apples, or even rhubarb. Often jam is used instead of fruit, or the two can be used together. Nutella and practically any type of chocolate will make delicious fillings.
Authentic crostatas are also suitable for savory dishes. Chicken, walnuts, ricotta, and cheese are all tasty options.
Can frozen strawberries be used in this crostata recipe?
Although fresh strawberries will taste best, you can also use frozen fruit in crostatas. You can also cook the frozen fruit with sugar and a splash of lemon juice in a saucepan until soft. Use this cooked fruit as a replacement for jam.
What's the difference between a crostata and a galette?
A crostata is an Italian flat pie made from shortcrust pastry and filled with ingredients like jam or fruit. A galette is the French version of a crostata, and the two can be used interchangeably.
How do crostatas and tarts differ?
While both recipes can use sweet or savory fillings, a crostata has a base of shortcrust pastry while a tart will often have a crumb base.
Related reading: How to wash strawberries.
Summing up
Shortcrust pastry is one of the easier doughs you can make and it's the perfect partner for in-season fruit. Once you'e made this crostata, you'll probably want to follow it up with different fruit fillings.
Pay close attention to our recipe notes and tips on this page to make the best pastry possible. It's tempting to take shortcuts, like not allowing the dough to rest; but it's well worth the wait.