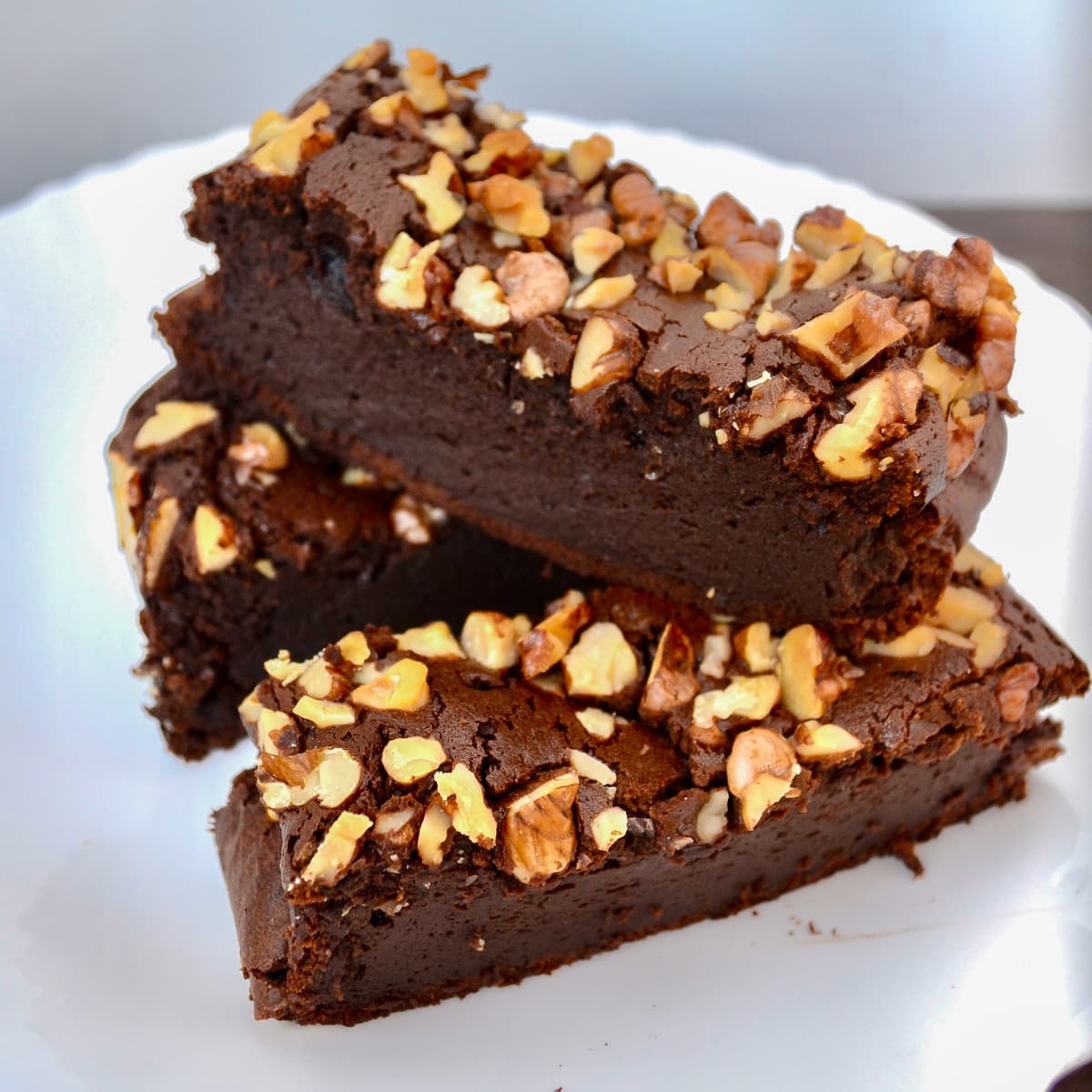 It's impossible to find the right words to describe just how delicious these keto gluten-free brownies are. Made without any flour and completely sugar-free, these fudgy low-carb brownies are a perfect dessert option that can be ready to eat in just 40 minutes.
To bake these sugar-free brownies, you'll need only seven ingredients. And, all of them are healthy and can be easily found in almost any store.
For this recipe to work, simply choose the right ingredients and follow my tips. Read on to learn what you will need and how to make these insanely tasty fudgy, and rich keto brownies.
Table of Contents
How to Choose the Ingredients
So here are the ingredients that you'll need to make these low-carb brownies: chocolate, eggs, mascarpone, cocoa powder, butter, sweetener, and walnuts.
When choosing the chocolate, make sure that it is sugar-free and low-carb. I usually go with Lilly's Creamy Milk Chocolate Bar. It has the lowest amount of carbs that I've ever found in a chocolate bar, and the brand offers a lot of different tastes, including dark chocolate, extra dark chocolate, milk chocolate, and salted caramel. For this recipe, I like to use the creamy milk chocolate bar.
You should also carefully read the label when selecting the cocoa powder. The perfect cocoa powder should have zero sugar in it and be made of 100 percent cocoa. I prefer to use Hershey's Cocoa Powder since it is unsweetened and natural.
If you wish, you can substitute butter with coconut oil. They are equally interchangeable, so you will need to use the same amount of coconut oil in exchange for the butter.
It's no secret that sugar is bad. So for all of my dessert recipes, I use sweeteners instead. But since not all sweeteners are low-carb, you need to choose one wisely. I usually use erythritol since it is the best for our bodies, but if you prefer to use something else, stevia, Splenda, and xylitol are other great options.
You can top off the brownie with any keto-friendly nuts. This time I chose to add some chopped walnuts, but if you like pecans or Brazil nuts more, you can definitely use them instead.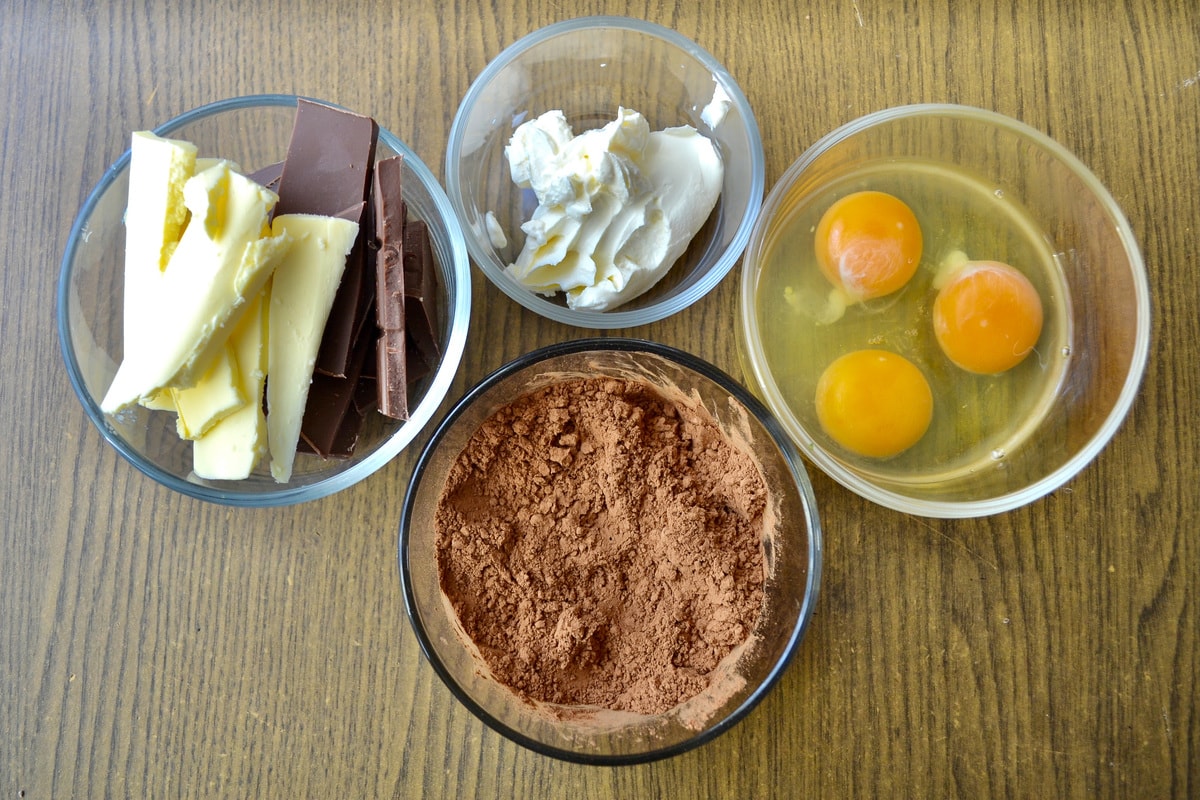 What Baking Pan to Use
You should choose the baking pan depending on how thick you want your brownies. I chose a 5x9-inch baking pan for this recipe, and the keto brownies turned out perfect. If you have a smaller baking pan, you'll need to bake the brownies a bit longer because they will turn out thicker than mine.
Keto Brownie Tips
The process of making these low-carb brownies is extremely simple. You don't need to be a professional cook to excel at baking them. If this is your first time making brownies, here are some tips that you might find useful:
Line the baking pan with parchment paper. If you're confident in your baking pan, then you can skip this step. But, I always line my baking pans with parchment paper to make sure that the brownies don't stick to mine.
Melt the chocolate with butter the right way. You can melt the chocolate either on a water bath or simply by placing the chocolate in a bowl together with the butter and using the microwave to melt it. If you choose the second option, then you will need to melt it in intervals—melt for 30 seconds, then mix and repeat until the chocolate is completely melted.
Be careful not to over-bake the brownies. Keep an eye on the timer since the brownies will end up dry and crumbly if baked too long. If you see that the middle of the brownie is not jiggling anymore, it means that your brownie is ready. Or, you can also check if it is cooked by inserting a toothpick in the middle of the brownie. If it is not drenching anymore but is slightly moist, it means that your brownie is perfect, and you can finally take it out of the oven.
Let the brownie cool down before cutting it. It is best to wait about half an hour before cutting the brownie into portions. Since it is very fudgy, you might have issues cutting it while hot.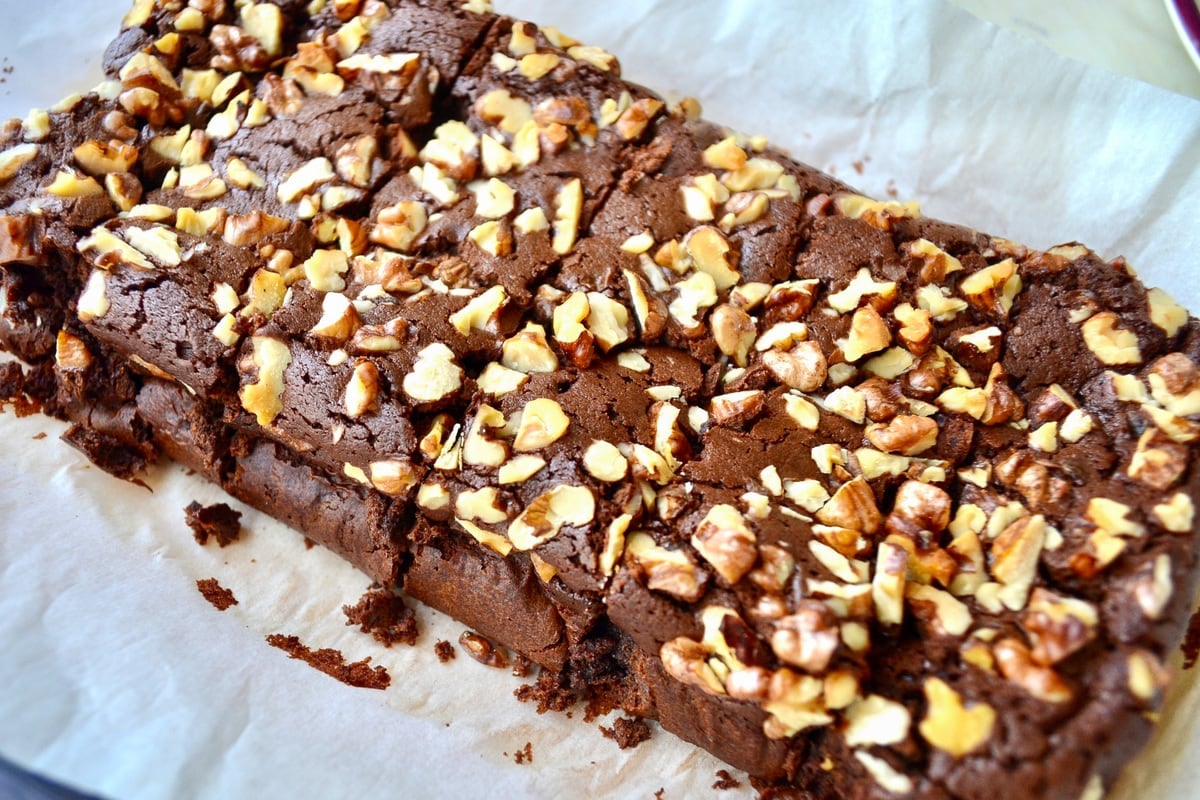 How to Store Them
You can store these keto brownies at room temperature. However, you should consume them within 2 days. I recommend the brownies in a sealed container in the fridge, where they can be kept for up to 7 days.
These low-carb brownies are also freezer-friendly. So you can definitely make more of the brownies and store them in the freezer for up to 6 months. The easiest way to freeze the brownies is to cut them into portions and place them in a ziplock bag.
To serve these low-carb brownies from the freezer, simply allow them to thaw at room temperature overnight, or if you can't wait that long, place them in the microwave and defrost for a few minutes.
Recipe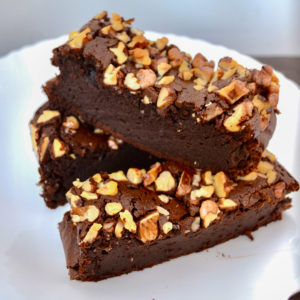 Keto Sugar-Free Brownies
These sugar-free, gluten-free, fudgy, and insanely tasty keto brownies will be ready to eat in just 40 minutes.
Ingredients
6

oz

low-carb chocolate

3

large

eggs

½

cup

mascarpone

⅓

cup

cocoa powder

2

tbsp

butter

3

tbsp

walnuts

chopped

sweetener of your choice

to taste
Instructions
Preheat the oven to 350 F. Place a piece of parchment paper on the bottom of a baking pan and up to the sides.

Melt the chocolate with the butter in the microwave. Stir it until smooth, and set aside while you make the batter.

In a separate bowl, beat the eggs with the sweetener for about 5 minutes or until the mixture becomes pale.

Add mascarpone into the egg mixture and beat until thoroughly combined.

At low speed, slowly add the cocoa powder into the mixture until it is dissolved.

Pour the brownie batter into the baking pan and bake for 25-30 minutes.
Nutrition
Calories:
304
kcal
Carbohydrates:
12
g
Protein:
6.9
g
Fat:
26.9
g
Saturated Fat:
7
g
Trans Fat:
1
g
Cholesterol:
112
mg
Sodium:
52
mg
Potassium:
136
mg
Fiber:
2
g
Sugar:
1
g
Vitamin A:
407
IU
Vitamin C:
1
mg
Calcium:
57
mg
Iron:
1
mg