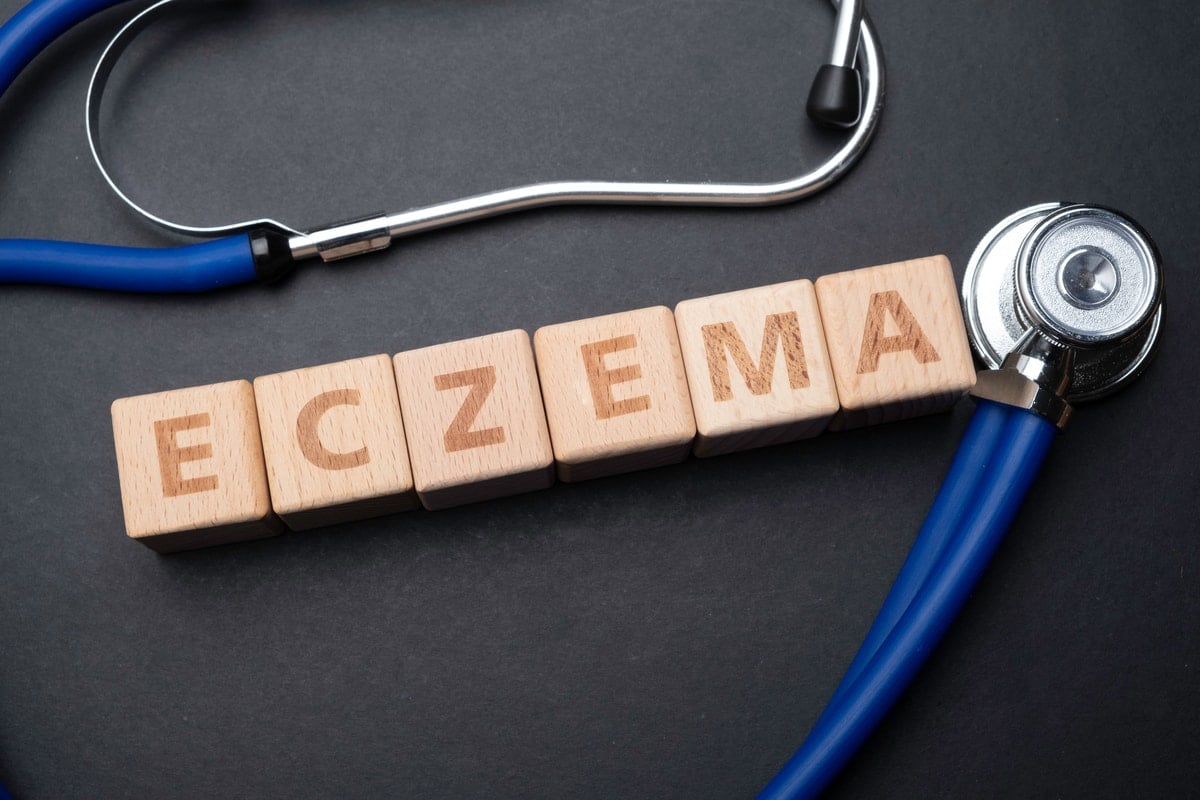 Over 31 million Americans suffer from some form of eczema, a common but chronic skin disease. This skin disease is extremely common and can appear in both children and adults. While some people have only mild symptoms of this condition, other people battle severe symptoms of eczema. This common skin condition can cause the skin to appear irritated, itchy, and inflamed. Although the disease is not contagious, it can be difficult for people to live a comfortable life with any form of eczema.
Eczema flare-ups can be unpredictable but usually are related to some irritant in the body that causes the immune system to kick into action. While some people have difficulty identifying the trigger allergen, others can draw a good connection between their diet and eczema flare-ups. Maintaining a healthy diet free of noninflammatory foods can help reduce the number of outbreaks and allow you to live much of your life without symptoms.
Table of Contents
A food allergy commonly coincides with eczema. Many people who have moderate to severe conditions also have trouble processing certain foods like soy, dairy, fish, and gluten. However, eating foods like fruits and vegetables reduce symptoms and limits the number of flare-ups. An eczema sufferer usually can achieve clear skin, with less inflammation by practicing healthy eating habits. Using a periodic juice cleanse with foods rich in the right fruits, vegetables, and fatty foods can help reduce inflammation and clear the symptoms of eczema.
Eczema In Detail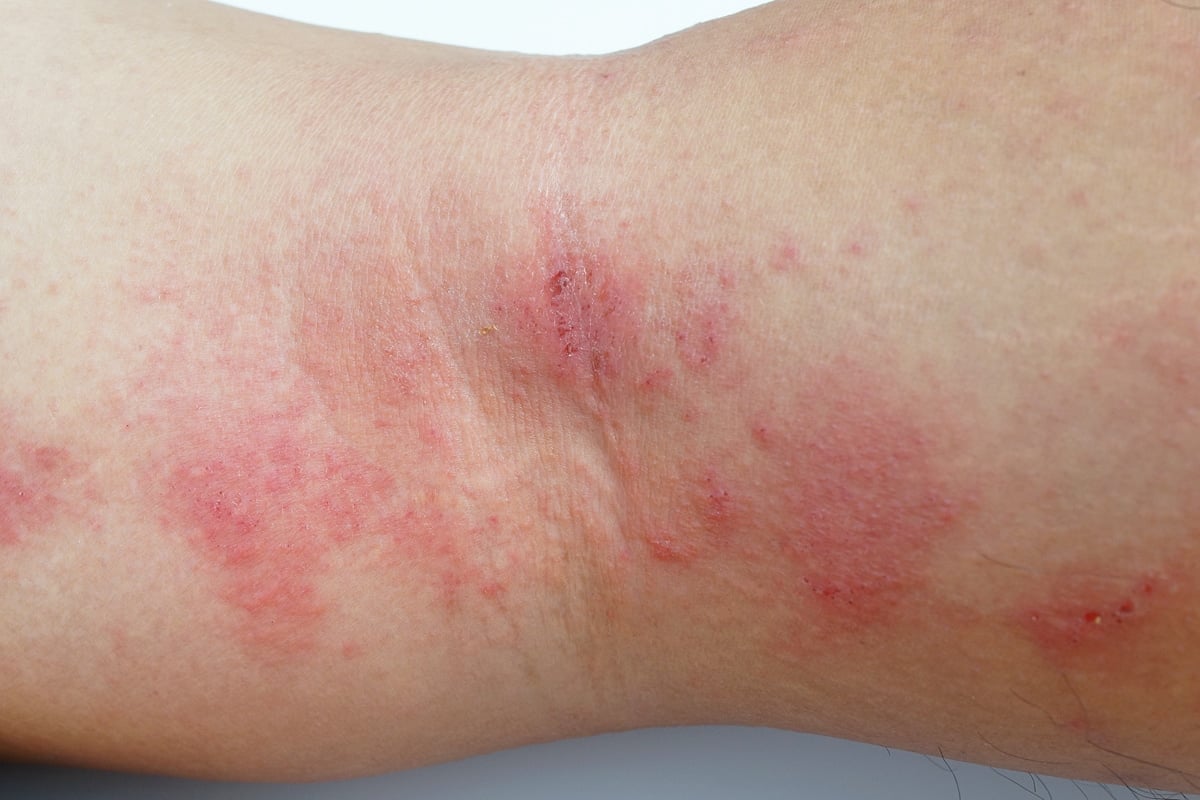 The condition eczema is actually a name for a group of skin conditions, similar to psoriasis, that causes the skin to be sore, inflamed, or itchy. It can take several forms, but usually, eczema appears as a rash. There are six distinct types of eczema conditions, including:
Contact dermatitis
Atopic dermatitis
Dyshidrotic eczema
Seborrheic dermatitis
Nummular eczema
Stasis dermatitis
It is important to remember that eczema is not contagious, even though some symptoms may appear as a rash. The cause for this condition is unknown, yet the symptoms of this condition may be triggered by hereditary genes or by specific environmental triggers, such as diet.
Symptoms of Eczema
Eczema is a tricky condition because it can be challenging to diagnose. Symptoms will look slightly different for everyone, and the food or environmental trigger that causes an allergic reaction in someone may not impact another. For some, eczema may produce skin inflammation or acne. However, there are some common symptoms usually shared between eczema sufferers. Some of the most common symptoms include:
Itchy patches
Dry or sensitive skin
Oozing or crusting
Swollen areas
Inflamed skin
Rough or leathery patches of skin
Remember that you may have just one or two symptoms or any of the above symptoms. Your skin may appear inflamed one day during a flare-up and look completely healthy and ordinary the next day. If you suspect that your skin irritation may be eczema, it is best to meet with a professional dermatologist to get an accurate diagnosis.
Common Medications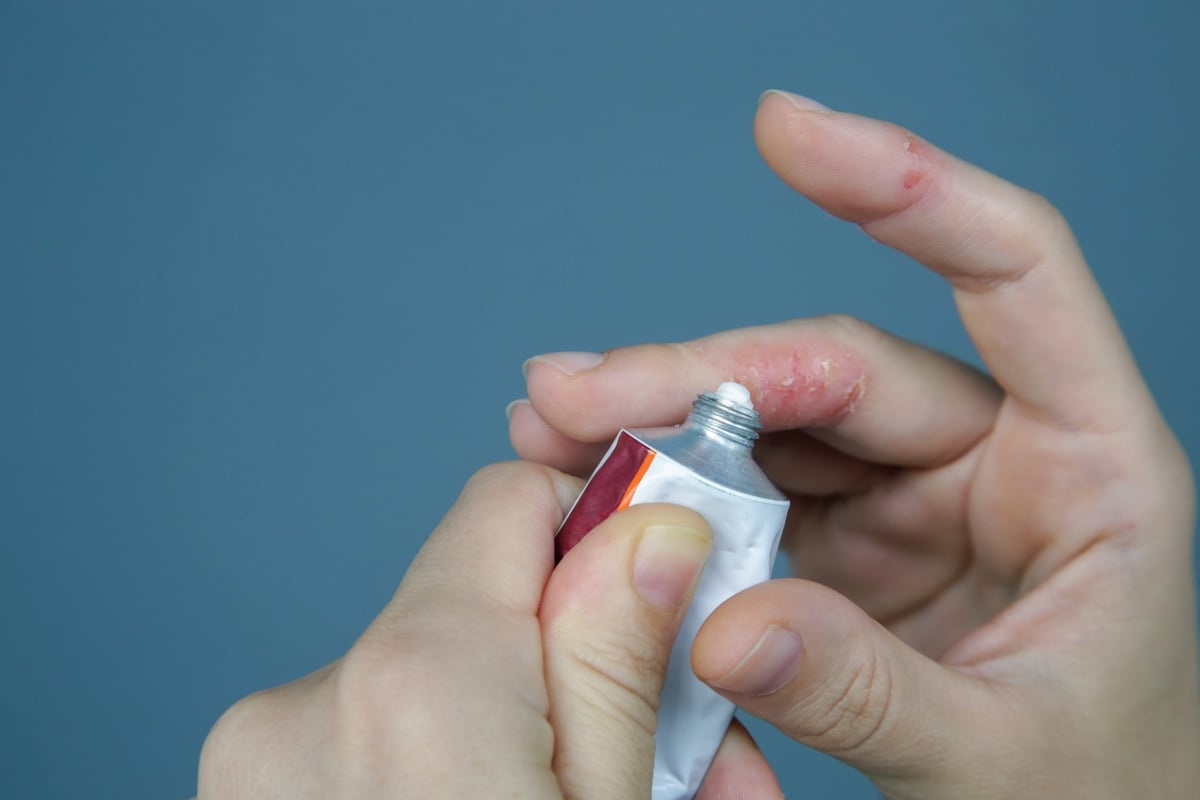 This skin condition can impact just about anyone at any age. Eczema may impact children, and sometimes a child will grow out of this condition. Other times, the condition will stay with a child for the rest of their life. To compound this problematic condition, sometimes adults will develop this condition later in life. There is no cure for eczema, so finding the right medication to help treat this condition will give you some immediate relief.
First, many over-the-counter medications can help soothe painful and itchy eczema patches. These medications include soothing moisturizers to help alleviate dry and rough patches, with medication to relieve itching. There are several over-the-counter options for people suffering from eczema.
Starting a daily skincare routine can also help alleviate the symptoms of eczema. It can help to bathe daily with a mild soap designed for sensitive skin. Follow up your daily bathing regimen with a moisturizing routine. You will want to look for daily moisturizers for sensitive skin that can help rehydrate rough or dry patches of skin. Several people can control mild flare-ups with a regular moisturizing routine at home.
Lastly and most importantly, you want to recognize your triggers that can produce a flare-up. If you know which foods will cause your skin condition to worsen, you can avoid exposure. Often, inflammation is caused by environmental conditions, such as diet, so avoiding specific triggers can reduce the number of flare-ups you experience. Avoiding certain foods that are known to be inflammatory and adding foods to your diet to help soothe irritated skin can help you combat eczema naturally.
Eczema and Food Allergies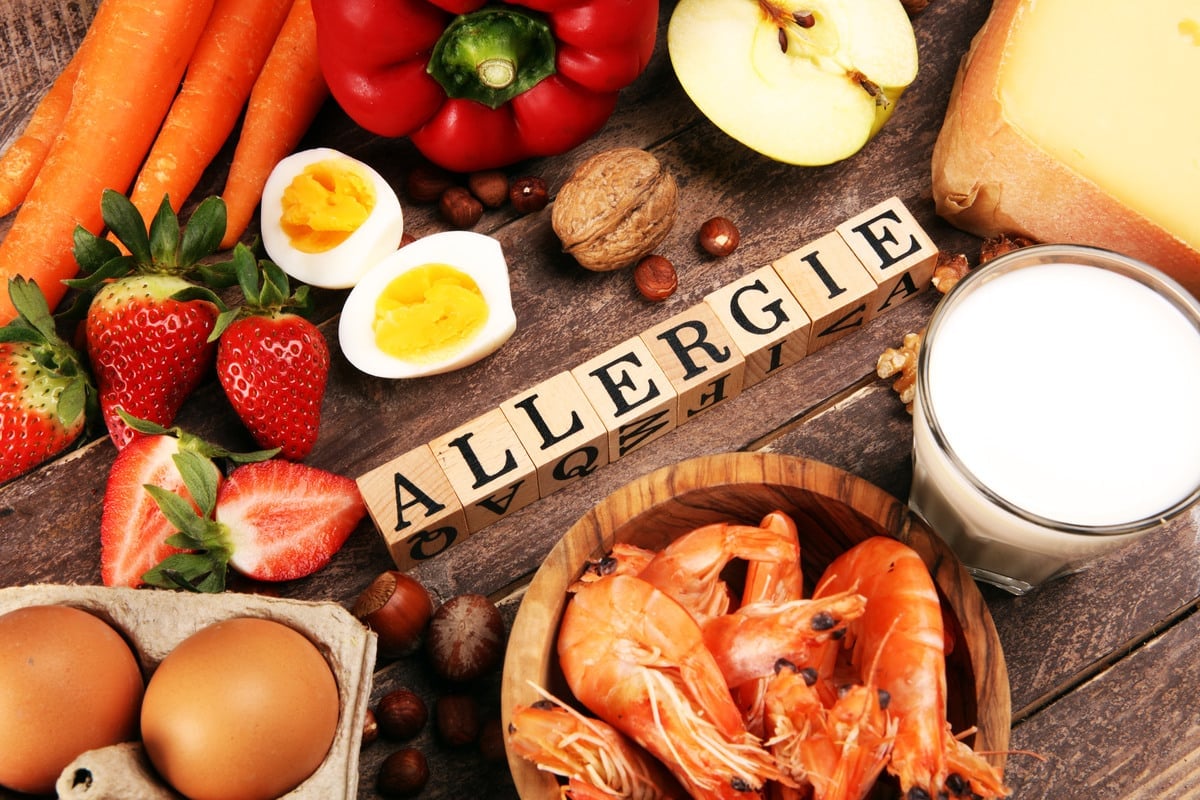 Often, people who suffer from eczema can connect recurring flare-ups and irritation to certain foods in their diet. Many flare-ups are related to an irrational immune system response your body will have to a particular food. The immune response prompts swelling, itching, and irritation on the skin. Processed foods or foods with salicylates can worsen your eczema. But, by managing what foods you ingest, you will limit immune response and keep your skin looking and feeling great. Although certainly not with every case of eczema, most often, people who suffer from this condition can draw a straight line connection to known food allergies or salicylate sensitivity.
What Foods Should I Eat?
If you suffer from eczema, there are several foods that you want to include in your diet to keep your flare-ups to a minimum and to reduce ongoing inflammation. You will want to have foods that are high in natural fats. One of the best sources for fatty fish comes from salmon or herring. If you cannot eat fresh fish, you may want to consider taking an omega-3 supplement every day. Consider adding just 250 mg of omega-3 to your diet to help reduce eczema, inflammation, and irritation.
Also, consider introducing foods that contain quercetin. This mineral is a flavonoid found in fruits and vegetables that helps give foods their color. Adding high quercetin to your diet can reduce histamines in your body, which leads to inflammation.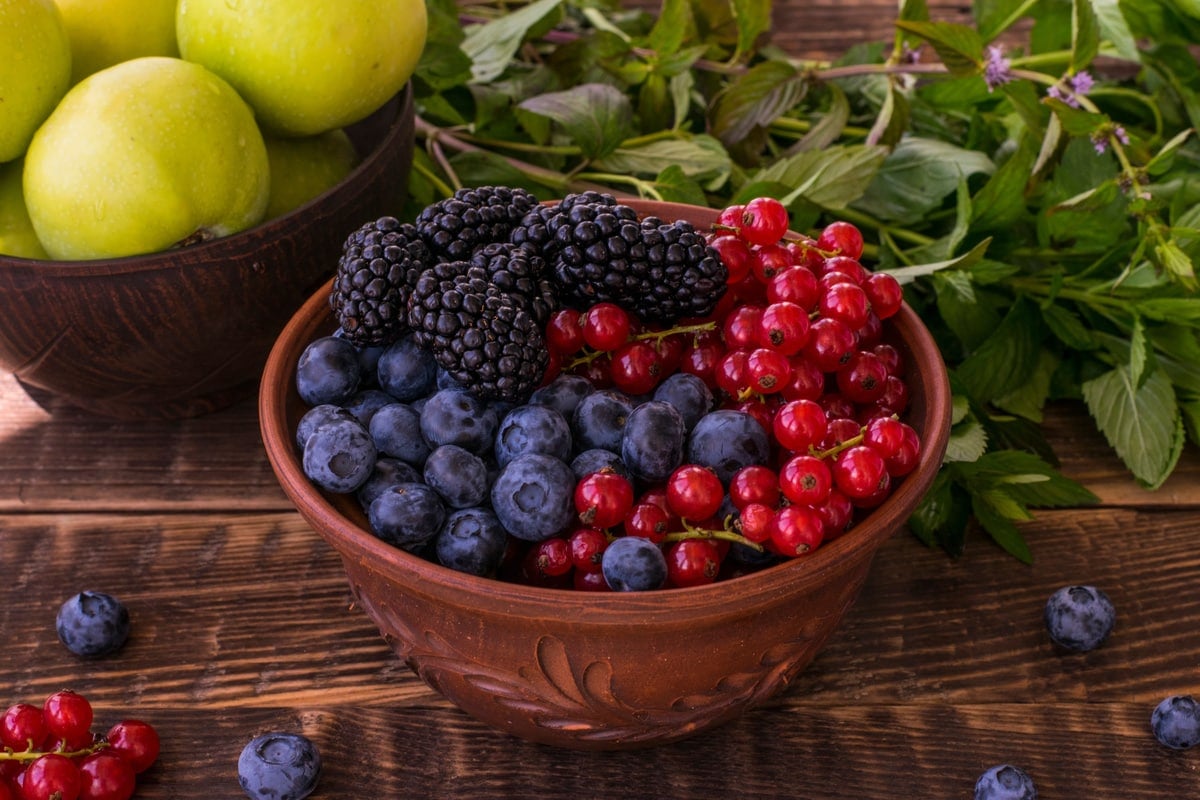 Quercetin is commonly found in :
Kale
Broccoli
Spinach
Cherries
Blueberries
Apples
Introducing some probiotics into your daily diet is also a good idea to help fight the symptoms of eczema. Not only are probiotics good for digestive health, but these live cultures can help reduce inflammation and immune response. By adding probiotics, you will keep your eczema better controlled and manage a flare-up with only mild irritation. Probiotics can be found in:
Kefir
Miso Soup
Naturally Fermented Pickles
Soft Cheeses
Of course, be careful which foods you introduce to your diet. Although food may be good for eczema, if you have a particular allergy, your eczema symptoms can actually worsen with the introduction. Always add one new food at a time to determine if the new food is safe. With no further skin irritation or response, when it is deemed acceptable, feel free to introduce another until you have a healthy, eczema-friendly diet.
What Foods Should I Avoid?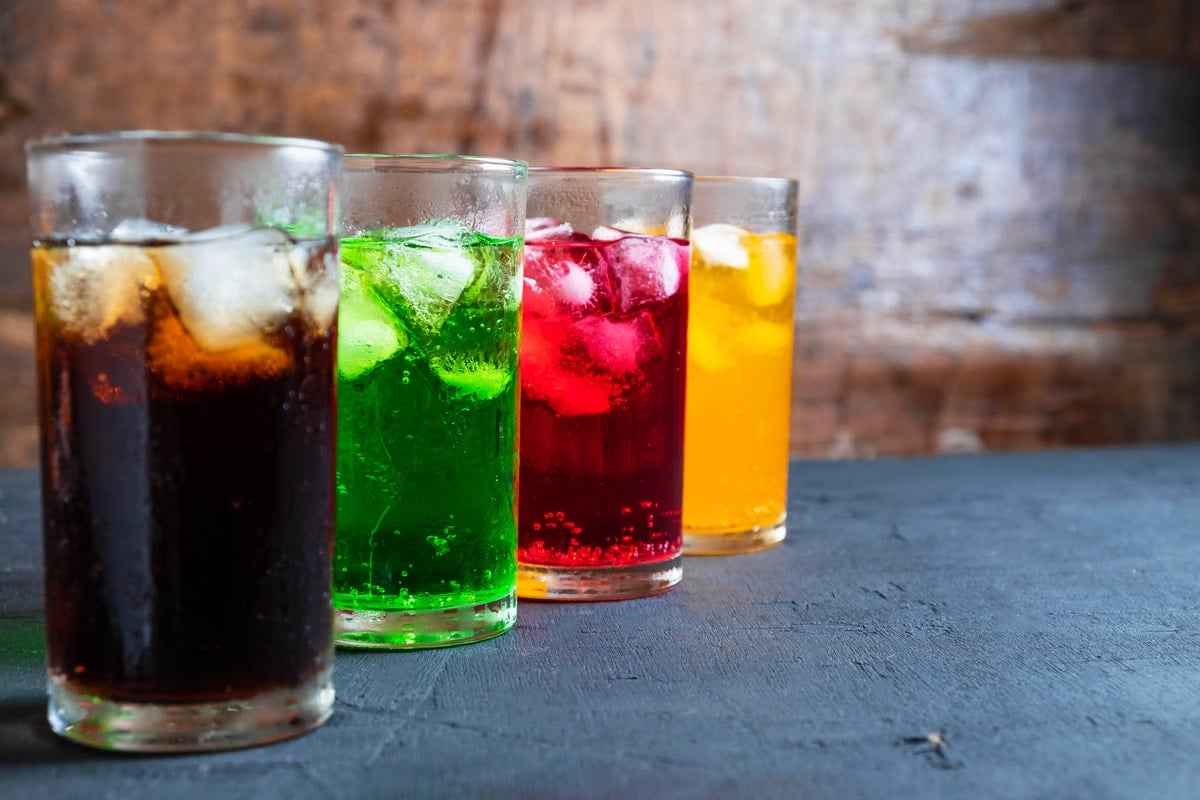 Just as it is essential to add certain foods to your diet, you will also want to eliminate certain foods that cause ongoing problems with skin irritation. Some common foods eczema sufferers should avoid include:
Sugary juices and sodas
Cakes, cookies, and sweets
Alcohol
Soy
Eggs
Diary Products
Eczema flare-ups can also worsen with foods that are high in trans fat or made with artificial ingredients. It is always best for those suffering from eczema to steer toward natural foods rather than highly processed artificial foods.
How Can Juicing Help?
Switching to a diet that includes all-natural juice made from fruits and vegetables is a great way to help ease and reduce the number of symptoms caused by eczema. Not only will juicing help to introduce beneficial foods into your diet, but it will help to improve overall health, generating a healthier digestive system and immune response from your body. A juice cleanse for eczema has several benefits and can help reduce the symptoms associated with eczema.
What is Juicing?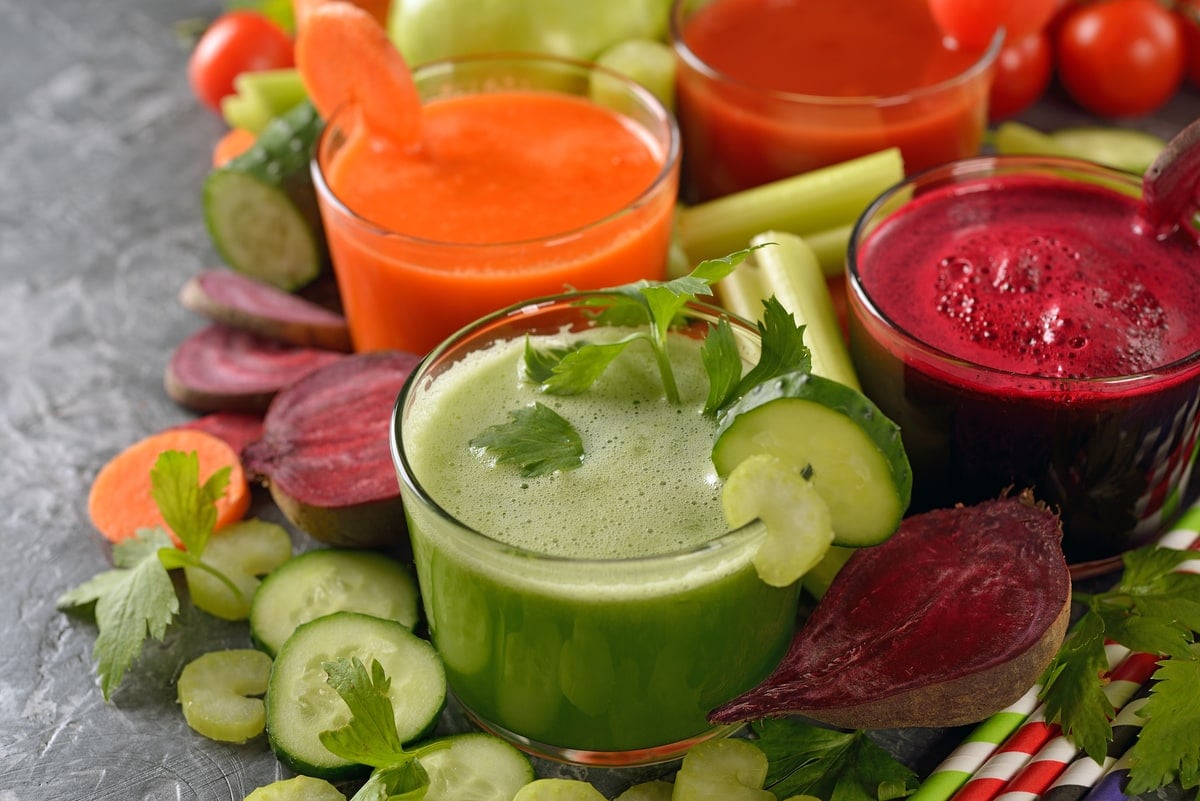 Juicing is the practice of taking natural ingredients, like fruits, vegetables, and herbs and blending them together into a drinkable puree form. While some juices will only include fruits and vegetables, other juice recipes may include protein powder or yogurt, making more of a smoothie. Juicing is a great option for people who are trying to create a healthier diet. Adding raw fruits and vegetables in the raw form helps introduce loads of valuable vitamins and minerals into your diet.
It is possible to add a natural juice as part of your regular diet, introducing just a simple juice daily to give you a much-needed boost of vitamins and minerals. Or, some people opt for a juice cleanse where they transition their diet to only include juice for a short period. An eczema detox can help give your digestive organs, like your liver, kidneys, and intestines, a much-needed break, allowing them to work better for your overall health.
What Are the Pros and Cons of Juicing?
Juicing has several benefits that make it a desirable diet for people to follow. One of the best benefits of juicing is the fact that it introduces several valuable minerals and vitamins to the diet. Fruits and vegetables are high in vitamin D and vitamin C which are largely beneficial. Having a boost of valuable vitamins can help improve overall health and improve your digestive system, leaky guy syndrome, and heart disease. A juice cleanse is great for digestive health and can help give your digestive organs a much-needed break from processing high-sugar and artificial foods. Plus, juicing can be used for weight loss reasons or improve many common conditions, including eczema.
Of course, there are some cons to juicing too. Many people question the ability to maintain a healthy diet while living on a juice-only diet. Sometimes, staying on a juice-only cleanse for too long can cause you to lose strength, leading to muscle weakness, fatigue, or headaches. Further, repeated juice fasting diets too close together can eventually cause your body to lose muscle mass and bone density because the juice cleanse lacks valuable protein to sustain a healthy body mass.
How Does Juicing Impact the Body?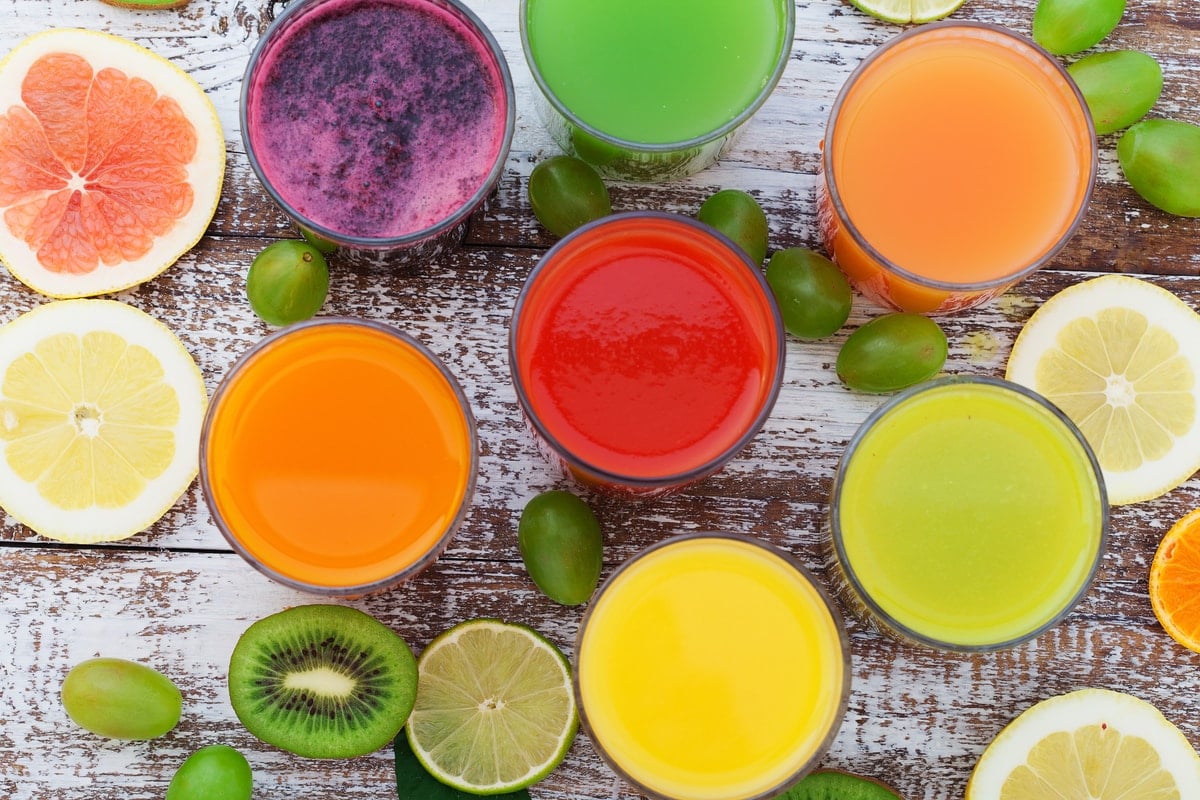 Juicing is an excellent way to get valuable vitamins and nutrients into the body in a condensed and easily digestible form. Juicing can give you a boost of minerals that are extremely helpful to your immune system. Many fruits and vegetables have antioxidants that can help improve your overall health. Plus, juicing can help strengthen your digestive health-improving organ function.
Further, juicing gives you a chance to detoxify the body. Part of being on an all juice diet involves eliminating several foods and drinks that can add toxins to your body. Juicing improves leaky gut and helps improve digestive health. To have a successful juicing cleanse, you must eliminate caffeine, artificial sugar, trans-fat, and alcohol from your system. A three-day juice cleanse gives the body time to detox and reintroduce minerals and vitamins into your system.
Juice Recipes for Eczema
Using juice to reduce inflammation caused by eczema is a great, natural remedy to reduce the signs and symptoms of this skin condition. Some of the best juicing recipes are high in fruits and vegetables with quercetin which helps to reduce inflammation in the body. Try some of these helpful recipes designed for an eczema diet to reduce the symptoms of eczema.
The Juice Recipes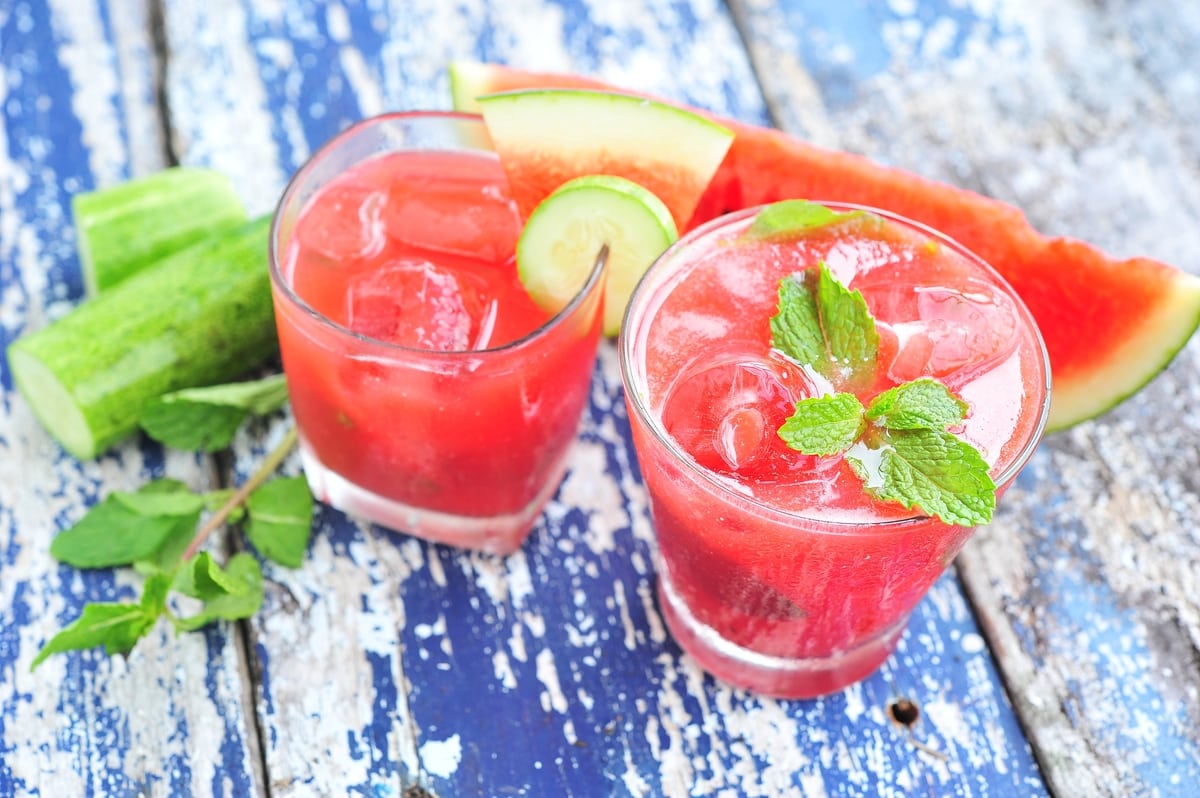 Watermelon, Pear, Mint, and Cucumber Juice
1 Pear
1 Cucumber
⅛ Watermelon including the skin
A handful of Mint Leaves
Ice
To make this juice that is full of soothing fruits that can reduce inflammation, blend together the ingredients. Make the juice drinkable in a puree form and pour over ice. Drink immediately.
Pear Juice
¼ cup celery
¼ cup filtered water
¾ cup of pear (frozen preferred)
¼ of ice (optional if pears are not frozen)
Not only is this juice delicious, but the pear has been known to be high in antioxidants and can help accelerate tissue repair, essential for healing damaged skin. To make this recipe, combine all ingredients in a juicer. Puree until smooth. If you are not using frozen pear pieces, be sure to add about ¼ cup of ice to make the drink chilled. Mix and drink immediately.
The Truth About Celery Juice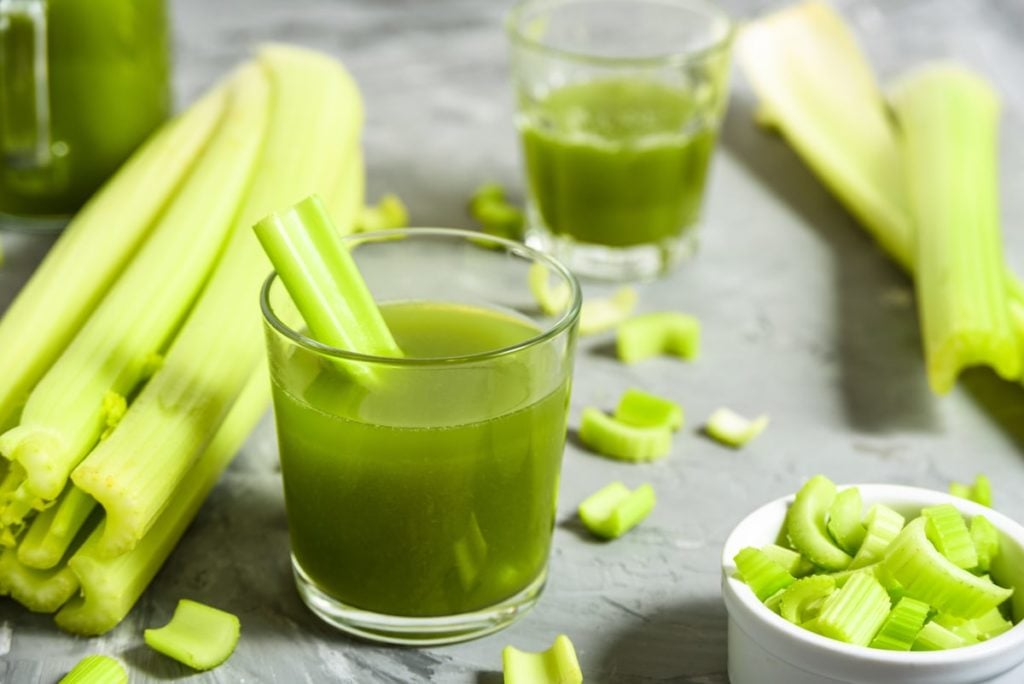 Several medical articles have been touting the effectiveness of a celery juice cleanse and its direct connection to eczema. Many reports claim that celery juice is a miracle remedy that can completely cure this irritating and painful skin condition. Using organic celery as the main ingredient, even professionals tout the ability for this green smoothie to restore and cure eczema. The truth is that there is no immediate cure for this condition. While celery juice can improve symptoms associated with eczema, it cannot completely cure the disease. The high fiber can help facilitate a better immune system, reducing inflammation. Adding celery to your juice drinks is a great way to improve overall health. However, understand that drinking celery juice alone will not immediately cure your eczema.
Sources:
https://www.healthline.com/health/skin-disorders/eczema-diet