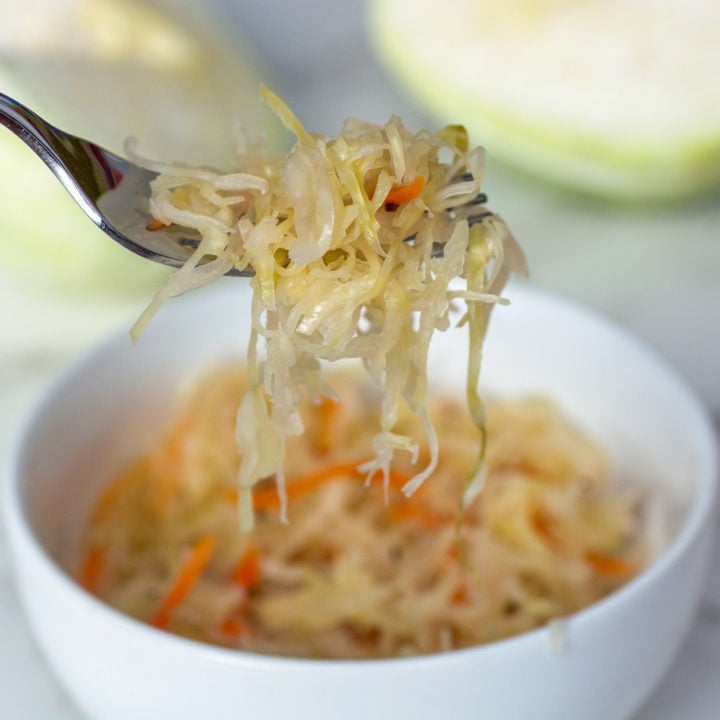 Making keto homemade sauerkraut is insanely easy and requires only a few simple ingredients. Once you make it by yourself, you'll never want to get the store-bought one any longer. The difference in taste is insane, and of course, the homemade keto sauerkraut is much better in all possible ways.
Moreover, the benefits of including sauerkraut in your diet are never-ending. You need to devote only 10 minutes of your time to make it, and the rest will be done by itself. It's pure magic: you simply mix all the ingredients and set everything aside for a few days, and you get this magical and unbelievably delicious dish.
And don't even get me started on all possible things that you can make with this keto homemade sauerkraut. Why no doubt my favorite thing is that plain sauerkraut salad, so read on to learn how to make it.
Table of Contents
Sauerkraut Benefits
Sauerkraut is a type of fermented cabbage. It is not completely low-carb, but if consumed in smaller amounts, you can eat it even on the keto diet. And you won't believe it, but sauerkraut has much more nutrition and health benefits than fresh cabbage since it's a type of fermented food.
First of all, here is a tiny list of some of the nutrients that it's loaded with:
Vitamin C
Iron
Copper
Vitamin K
Fiber
Vitamin B6
Folate
Homemade sauerkraut is known to contain lots of probiotics that are beneficial for fighting against toxins and various bacteria. Therefore this product will definitely help with your digestion. Also, since sauerkraut is low in calories but high in fiber, it will keep you full longer and therefore help you with weight loss.
Here's What You'll Need
For this keto sauerkraut recipe, you'll need only three main ingredients (cabbage, onion, and salt). All the other ones are completely optional but strongly advisable since they boost the overall flavor of the homemade sauerkraut.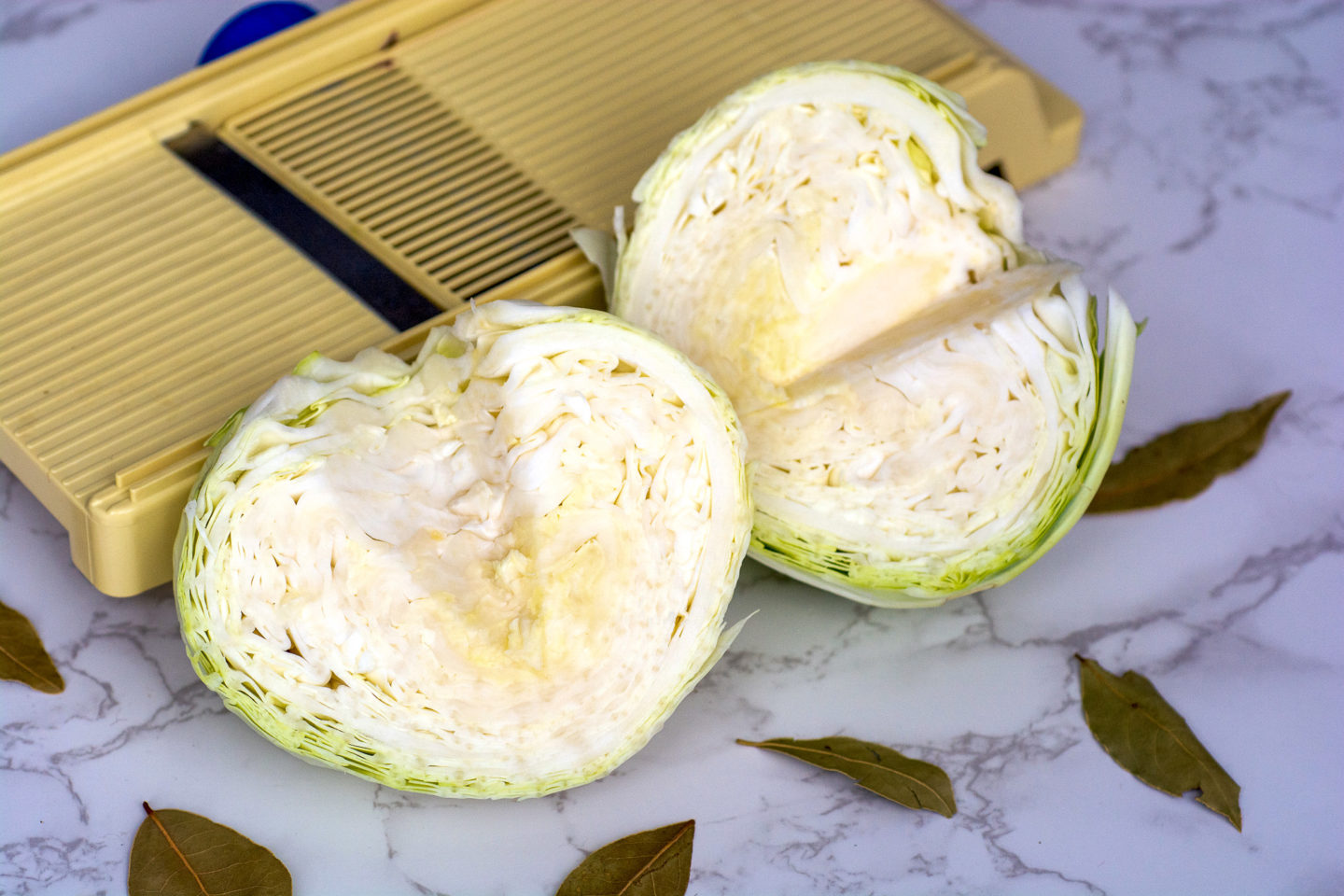 Here's what you need:
Cabbage: for this recipe, you'll need a medium-sized cabbage. Before you shred it, you'll need to throw away the bad leaves and cut the cabbage in half to remove the core;
Carrot: a small carrot will be more than enough for this sauerkraut recipe;
Onion: also a small onion will be perfect here;
Bay leaves: two or three will be enough;
Whole black pepper: ground black pepper won't give you the same flavor, so it's best to use whole black pepper;
Cumin: I love how cumin tastes in this recipe, so I always add it. But if you're not a fan of this spice, then just skip it;
Salt: this is an important ingredient here since it helps with cabbage fermentation.
How to Make Keto Sauerkraut
This homemade keto sauerkraut recipe requires only 10 minutes of your time. Here's what the overall process of making this fermented cabbage looks like:
Prepare the cabbage. Remove all of the bad leaves from the cabbage head before cutting it in half. Then, cut out the core of the cabbage and throw it away. I like to use a cabbage shredder for this recipe. If you don't have one, you can cut the cabbage with a knife.
Add everything else and mix. Place the shredded cabbage in a large bowl, add all of the other recipe ingredients, and mix well. Press the mixture by hand for the cabbage to release juice. And then transfer everything into a jar.
Wait. Cover the top of the jar with a cheesecloth and place the jar at room temperature. And all that you need to do from now is just wait. It should take about three days for the cabbage to start the fermentation process. After that, you can cover your jar with a lid and place the sauerkraut in your refrigerator for a few more days.
Once the cabbage is ready, you can eat it straight from the jar or make a keto sauerkraut salad. It's very easy to make it: all you need to do is add some olive oil into the fermented cabbage and mix.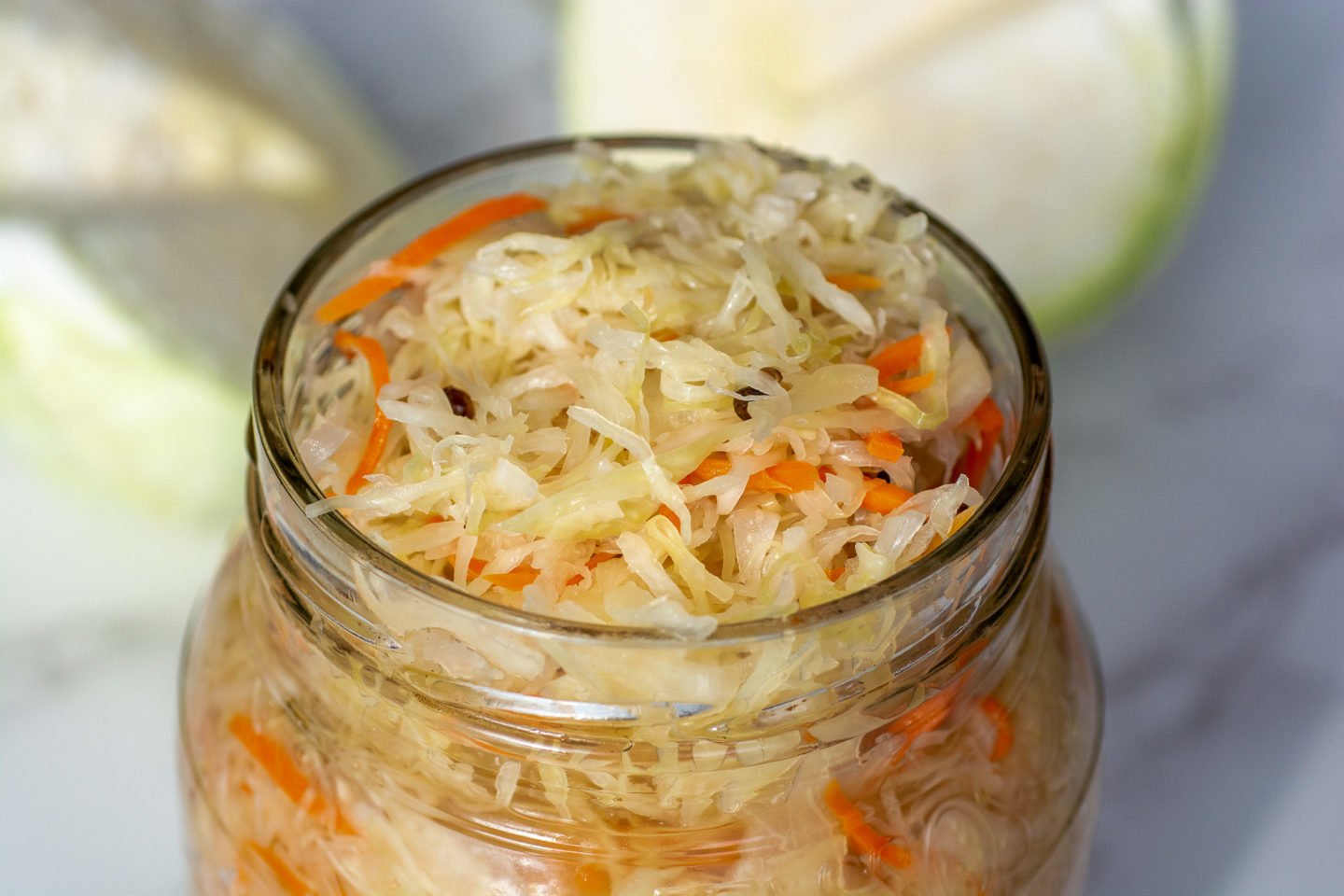 Storing Tips
Once the keto sauerkraut is fully fermented, it can stay in your refrigerator for up to a month. The longer you wait, the better it will become.
And it is best not to try to freeze it since the fermented cabbage will lose some of its nutrients and won't be as crunchy as it should be.
Recipe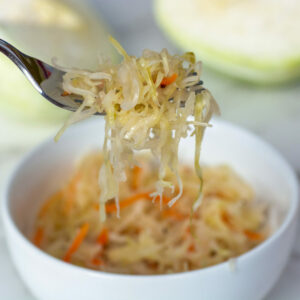 Homemade Keto Sauerkraut
Making keto homemade sauerkraut is insanely easy! It requires just a few simple ingredients and takes only 10 minutes to prepare. Simply mix all the ingredients and set everything aside for a few days. Then voila! You get this magical and unbelievably delicious dish.
Ingredients
1

medium

cabbage head

1

small

carrot

grated

1

small

onion

shredded

3

bay leaves

10

whole black peppers

¼

tsp

cumin

1

tbsp

salt
Instructions
Prepare the cabbage by cutting it in half and removing the hard cores. Then using a cabbage shredded, cut the cabbage. Place the shredded cabbage into a large bowl.

Add the grated carrot, shredded onion, bay leaves, black pepper, cumin, and salt into the bowl. By hand, mix everything well and press and squeeze the cabbage to release juice.

Transfer everything in a jar together with the cabbage juice and cover the top of the jar with some cheesecloth. Leave it at room temperature for 3 days, and then place it in the refrigerator for at least 2 more days.
Nutrition
Calories:
62
kcal
Carbohydrates:
15
g
Protein:
3
g
Fat:
1
g
Saturated Fat:
1
g
Polyunsaturated Fat:
1
g
Monounsaturated Fat:
1
g
Sodium:
1436
mg
Potassium:
393
mg
Fiber:
6
g
Sugar:
7
g
Vitamin A:
1898
IU
Vitamin C:
68
mg
Calcium:
95
mg
Iron:
1
mg