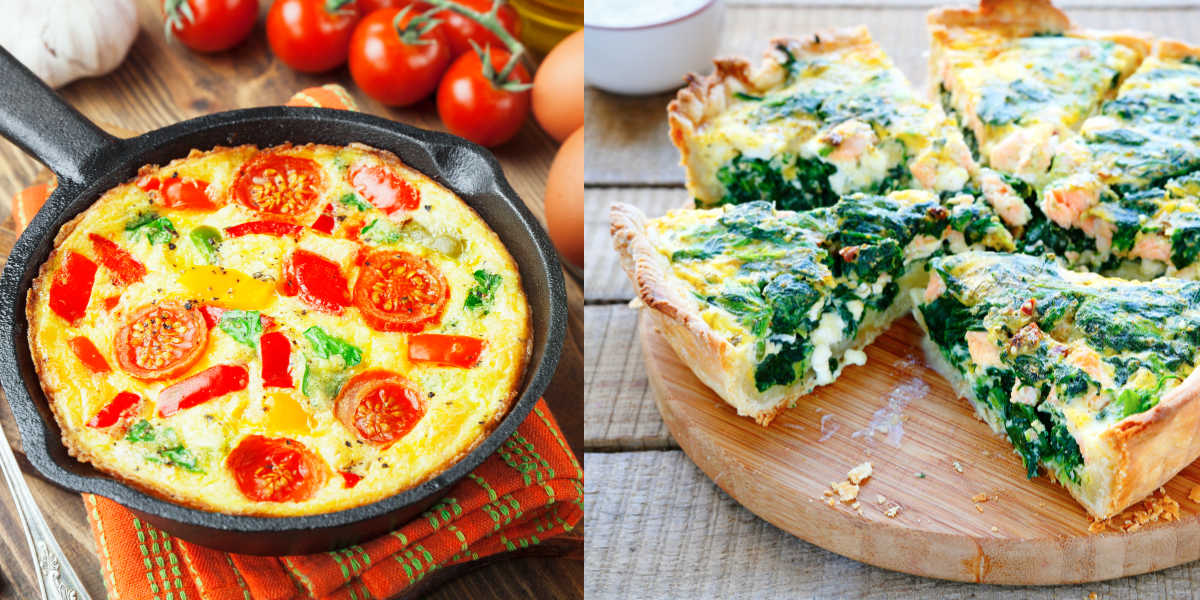 The main difference between frittata and quiche is the use of crust in quiche. Since quiche has a crust to hold the mixture together, it uses fewer eggs than a frittata. Another key difference between these two egg-based dishes is that a frittata requires sautéing the vegetable mixture for a few minutes before baking. On the other hand, you can bake quiche directly after mixing the ingredients.
This article will provide an in-depth analysis of both frittata and quiche to help you differentiate them. If you're new to discovering these egg dishes, you will find easy-to-follow recipes for both frittata and quiche in this article, so be sure to read until the end.
Table of Contents
The Difference Between a Frittata and Quiche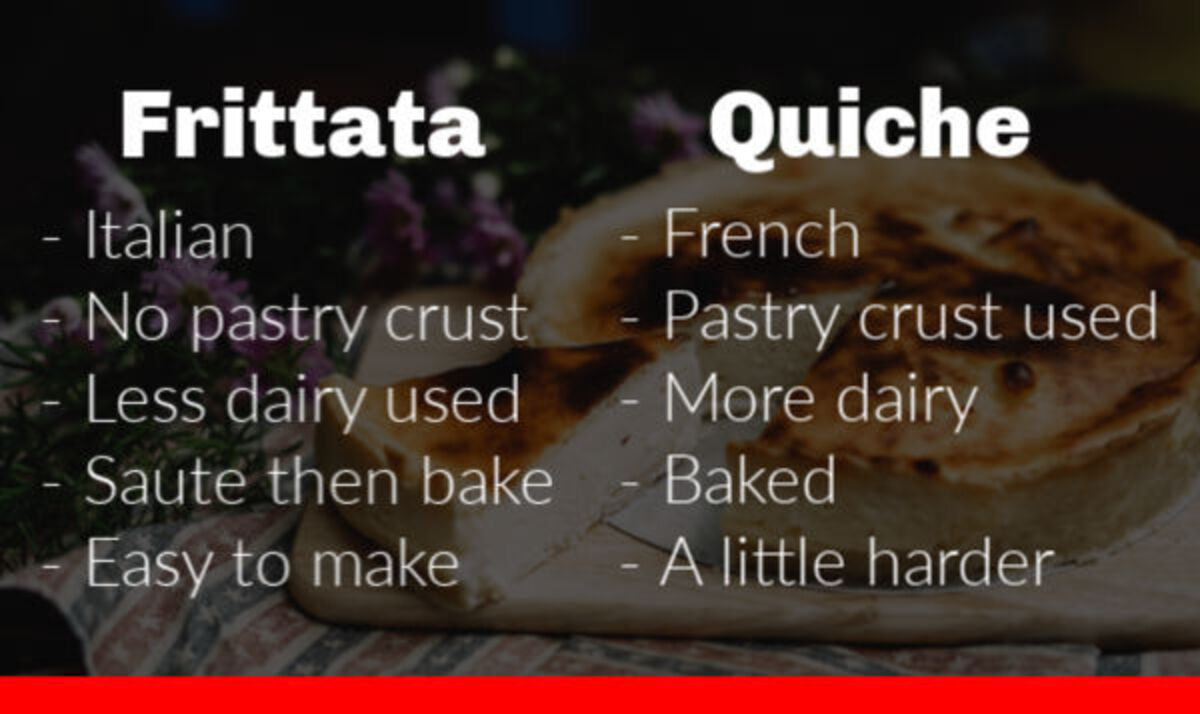 Frittata
The frittata originated in Italy and is an egg-based dish that is commonly made by sautéing vegetables and meat before adding a mixture of whisked egg and dairy such as cream or milk. After cooking for a few minutes, the frittata is then transferred to the oven, still in its pan, and baked until firm.
The flavor of a frittata will vary depending on the ingredients chosen; however, it will usually have a custard-like undertone with a fluffy texture, like an unfolded omelet.
Quiche
The quiche originally came from France and is also a baked dish that is made up of vegetables, meat, and an egg base to hold everything together. However, a quiche is cooked in a shallow tin; initially, line the tin with the pastry and blind bake before pouring the egg mixture and other ingredients into a tin. Bake in the oven until firm.
Often, a quiche will use a higher ratio of dairy, which results in a silky textured egg bake with a slight wobble to it - the increased dairy results in a creamier flavor and a smoother texture.
| | Frittata | Quiche |
| --- | --- | --- |
| Origin | Italy | France |
| How to eat | Eat slices hot or cold | Eat slices hot or cold |
| Course | Breakfast, brunch, lunch or dinner | Breakfast, brunch, lunch or dinner |
| Dairy used | Heavy cream, crème fraiche, sour cream, whole milk. | Heavy cream, half and half, whole milk. |
| Pastry crust used? | No | Yes |
| Egg:dairy ratio | 6 eggs: ¼ cup dairy | 1 egg: ½ cup dairy |
| Commonly used cookware | Frying pan | Quiche tin |
| Cooking method | Saute the add-ins then pour over egg mixture. Fry then bake. | Blind bake the pastry then pour in egg mixture before baking. |
| Cooking level | Novice | Novice-Intermediate |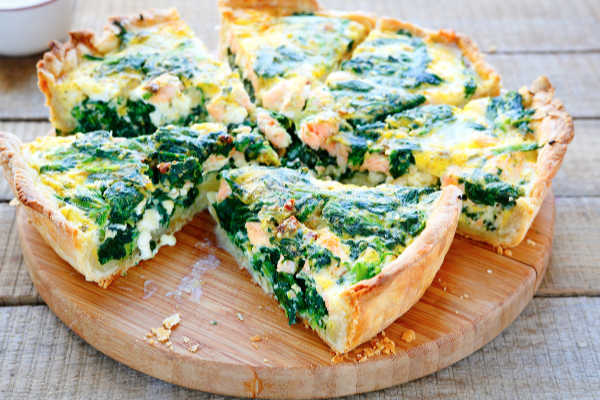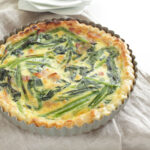 Quiche Lorraine Recipe
Print Recipe
Ingredients
2

sheets

short crust pastry

partially thawed

3

eggs

300

ml

cream

⅓

cup

milk

1

Tbsp

olive oil

1

large

diced onion

6

rashers

rindless bacon

diced

1

cup

spinach leaves

1

cup

cheddar cheese

grated
Instructions
Preheat oven to 390°F and grease a 9" quiche tin.

Gently lay the pastry onto the tin and press into the base and sides. Cut off any excess pastry.

Line the pastry with a sheet of parchment paper and weight it down with baking beans or dried rice. Bake in the oven for 8 minutes then remove the paper and weights. Continue baking until the pastry is nicely browned, about 10 minutes then remove from oven and reduce temperature to 350° F.

Whisk the eggs, cream, and milk lightly until combined. Set aside.

Heat oil in a large skillet then sauté the onion and bacon until for 5 minutes. Add spinach and cook for 1 minutes. Remove from heat and allow to cool before spooning onto the pastry.

Sprinkle over cheese and egg mixture then bake for 30 minutes. Allow to cool for 5 minutes before serving.
Notes
Quick Tip: A quiche will continue to cook after you take it out of the oven. To avoid overcooking, remove it when the texture is still slightly wobbly.
---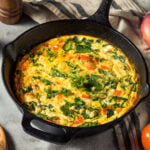 Frittata (aka Crustless Quiche) Recipe
Print Recipe
Ingredients
8

eggs

½

cup

milk

1

cup

cheddar cheese

grated

salt and pepper to taste

1

onion

finely diced

1

clove

garlic

crushed

1

red chili

diced

½

bell pepper

chopped

½

cup

Kalamata olives

pitted

1

cup

spinach leaves

½

cup

feta cheese
Instructions
Lightly whisk eggs and milk in a medium bowl until combined. Add cheese and stir in. Season with salt and pepper and set aside.

On medium heat, sauté onion, garlic, and chili for 2 minutes. Add bell pepper and cook for 5 minutes.

Toss in the spinach and stir, then pour in the egg mixture and add olives. Gently stir to mix all the ingredients then allow to cook until the egg starts to pull away from the side of the pan. Transfer pan to oven and bake for 10 minutes or until the egg doesn't wobble when it is lightly shaken.

Remove from oven and toss over crumbled feta. Cut into slices and serve immediately.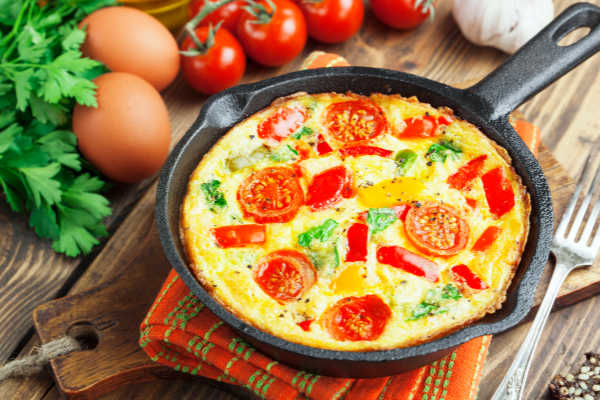 Frequently Asked Questions
What are some ingredients to add to a frittata or quiche?
Some of the tastiest add-ins are bacon, asparagus, bell pepper, spinach leaves, cheese, mushrooms, tomatoes, ham, and onions.
What is a strata?
A strata is a casserole that puffs up when cooked and is made from eggs, cheese, and bread. The ratio of dairy and eggs is the same as what you'd use in a quiche.
What is a soufflé?
A soufflé is a cake which is cooked in a ramekin and is made from whipped egg whites, egg yolks, and a combination of other ingredients. It can be a savory dish or a dessert.
Final Words
What will you cook tonight: quiche or frittata? The difference isn't huge between these two egg bakes. If you enjoy pastry, then a quiche will probably be the best option. You could argue it's a more impressive looking dish for dazzling everyone at the next office potluck or picnic. If you're looking for a quick, mid-week meal, then the frittata is an excellent choice. It is simple to make and fool-proof, but delicious. If you're short on ingredients and don't know what to cook, the chances are you can make a frittata. A few eggs and some leftover vegetables, and you have a meal fit for a king.
Quiche vs. frittata: what's your preference? Let us know in the comments below.