Honey mustard is a condiment that has become increasingly popular in recent years. It is a combination of mustard and honey mixed together to create a flavorful, tangy sauce. Many people enjoy honey mustard on sandwiches, salads, and other dishes. But does this condiment contain dairy?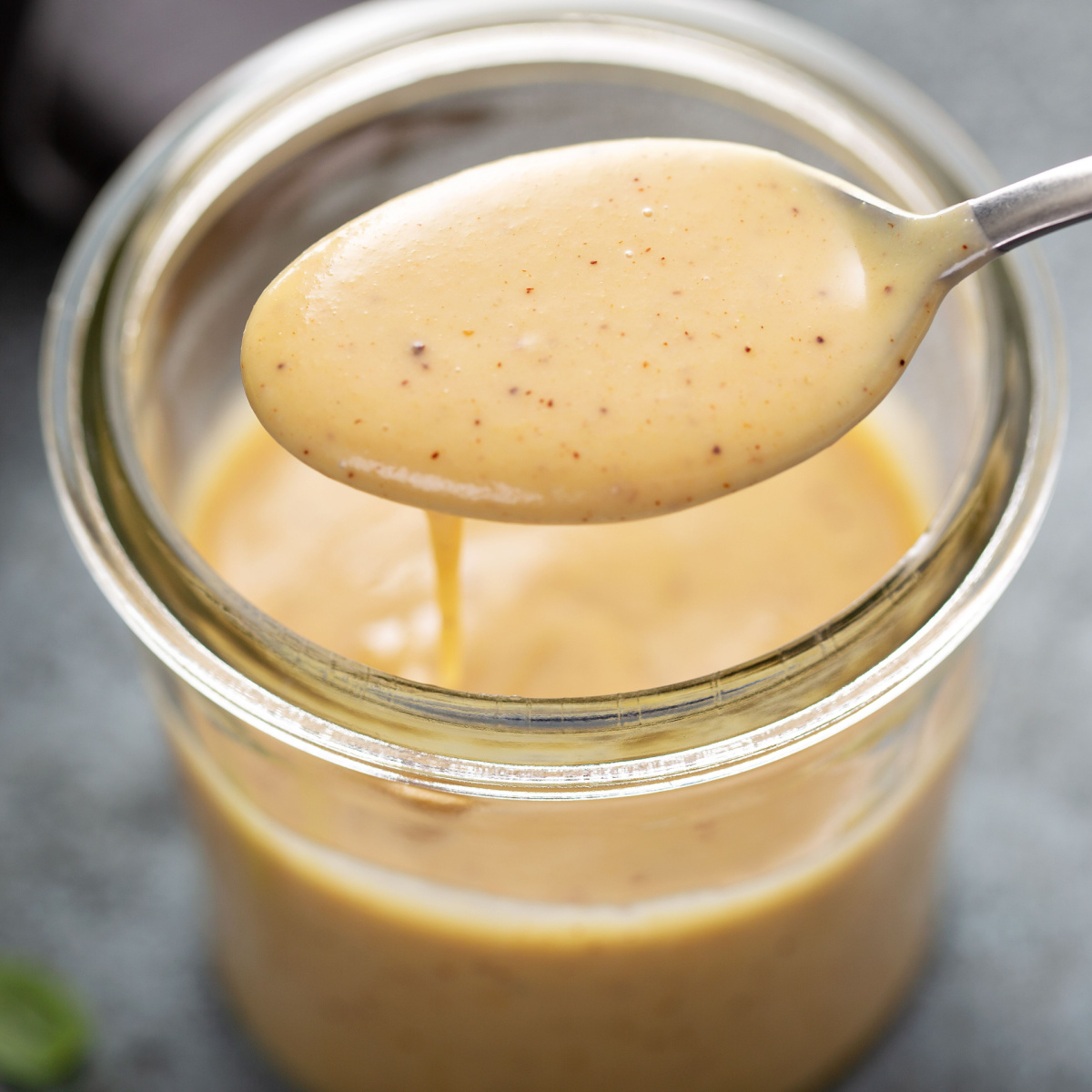 The quick answer is no; honey mustard does not have dairy. However, it all depends on the ingredients used to make the honey mustard. When buying one, make sure to read the ingredient list.
Read on as I discuss honey mustard, its ingredients, what makes it dairy-free, and an easy-to-follow recipe on how to make honey mustard at home with dairy-free ingredients.
Table of Contents
What is Honey Mustard?
Honey mustard is a popular condiment used in many recipes. While the main ingredients are honey and mustard, it also has mayonnaise, vinegar, and other spices to enhance the flavor.
There are many different types of honey mustard, including sweet honey mustard, spicy honey mustard, and Dijon honey mustard.
Does Honey Mustard Have Dairy?
The quick answer is no; most commercial honey mustard products do not contain dairy. However, some brands use ingredients that may contain dairy products, such as milk and cream, so check the label and ingredient list if you have lactose intolerance.
Even though mustard and honey don't have dairy in them, the honey mustard sauce may have other ingredients that do.
For instance, some mayonnaise products contain milk and cream that contain dairy. Nevertheless, most honey mustard products are safe for people with lactose intolerance and vegans.
Ingredients in Honey Mustard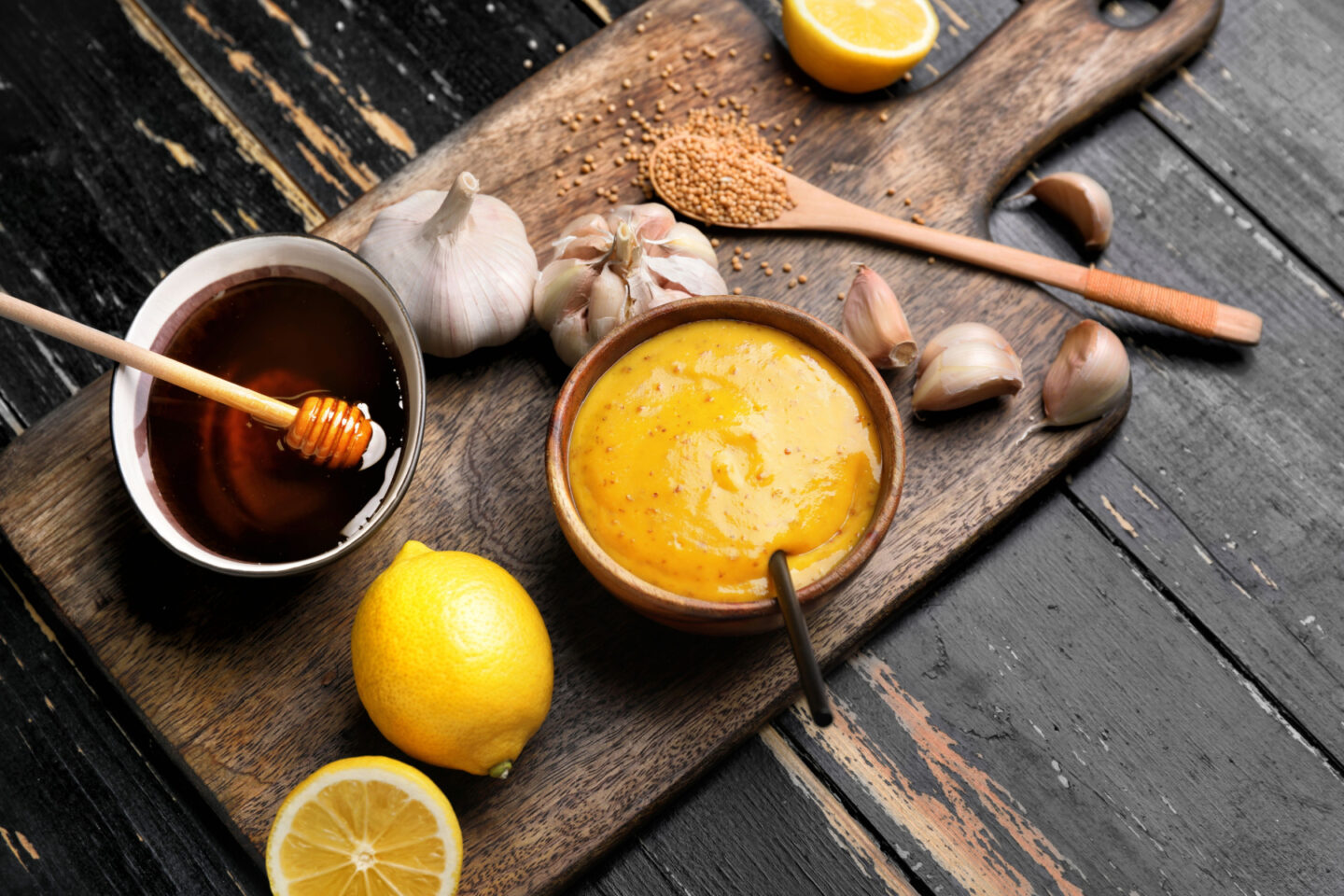 Typical honey mustard ingredients include honey, mustard, vinegar, spices, and mayonnaise.
However, commercial honey-mustard salad dressings have more ingredients. They can have any of the following: soybean oil, water, honey, maple syrup, distilled vinegar, mustard seed or Dijon mustard, salt, egg yolk, spices, paprika, high fructose corn syrup, sugar, modified cornstarch, agave syrup, xanthan gum, natural flavor, dried garlic, dried onion, white wine, salt, and calcium disodium EDTA (to keep the flavor).
Although most ingredient lists do not mention milk or cream, you should still go for brands that have dairy-free certifications.
Moreover, you can make homemade honey mustard salad dressing using dairy-free ingredients. You can make homemade mayonnaise with olive oil, lemon juice, non-dairy milk, or vegan mayo.
Dairy-Free Honey Mustard Brands
Several brands make dairy-free versions if you're looking for a dairy-free honey mustard. These include:
1. Annie's Naturals Organic Honey Mustard Dressing
2. Primal Kitchen Honey Mustard Vinaigrette
3. Follow Your Heart Honey Mustard Dressing
4. Spectrum Naturals Organic Honey Mustard Dressing
5. Simply Balanced Honey Mustard Dressing
6. Newmans Own Lite Honey Mustard Dressing
7. Bolthouse Farms Honey Mustard Dressing
8. Thrive Honey Mustard Dressing
9. Tessemaes Organic Honey Mustard Dressing
10. Miyas Organic Honey Mustard Dressing
These brands all make delicious, dairy-free honey mustards that are sure to be a hit with your family and friends.
Recipe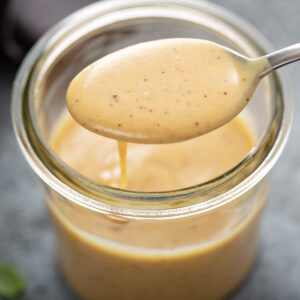 How to Make Dairy-Free Honey Mustard
If you'd like to make your own dairy-free honey mustard at home, it's easy to do. You only need a few simple ingredients and a blender or food processor.
Ingredients
2

tbsp

Dijon mustard

2

tbsp

honey

¼

cup

apple cider vinegar

¼

cup

extra-virgin olive oil

½

tsp

garlic powder

½

tsp

onion powder

¼

tsp

salt

¼

tsp

ground black pepper
Instructions
In a medium bowl, whisk together the Dijon mustard and honey until combined.

Add in the apple cider vinegar and whisk until thoroughly combined.

Slowly add the olive oil while whisking constantly until the dressing is well mixed and emulsified.

Add in the garlic powder, onion powder, salt, and pepper and whisk until you get your desired taste.

Refrigerate the dressing in an airtight container for up to 1 week. Shake or whisk well before using.
Nutrition
Calories:
161
kcal
Carbohydrates:
10
g
Protein:
0.5
g
Fat:
14
g
Saturated Fat:
2
g
Polyunsaturated Fat:
1
g
Monounsaturated Fat:
10
g
Sodium:
230
mg
Potassium:
36
mg
Fiber:
0.4
g
Sugar:
9
g
Vitamin A:
6
IU
Vitamin C:
0.1
mg
Calcium:
8
mg
Iron:
0.3
mg
What Happens If You Consume Honey Mustard with Dairy?
Consuming honey mustard with dairy can have various effects on your body. First, it can cause an upset stomach as the combination of mustard and dairy can be challenging to digest.
Yellow mustard can also irritate some people's stomachs, leading to nausea and vomiting, gas, and flatulence. If you're lactose intolerant, eating honey mustard with dairy could result in abdominal pain and bloating.
Honey mustard and dairy could also cause an allergic reaction if you eat them together. If you're allergic to either honey or mustard, the combination of the two may trigger a response.
Honey mustard with dairy could also make you allergic to dairy, so it's important to know if you have any allergies before eating this combination.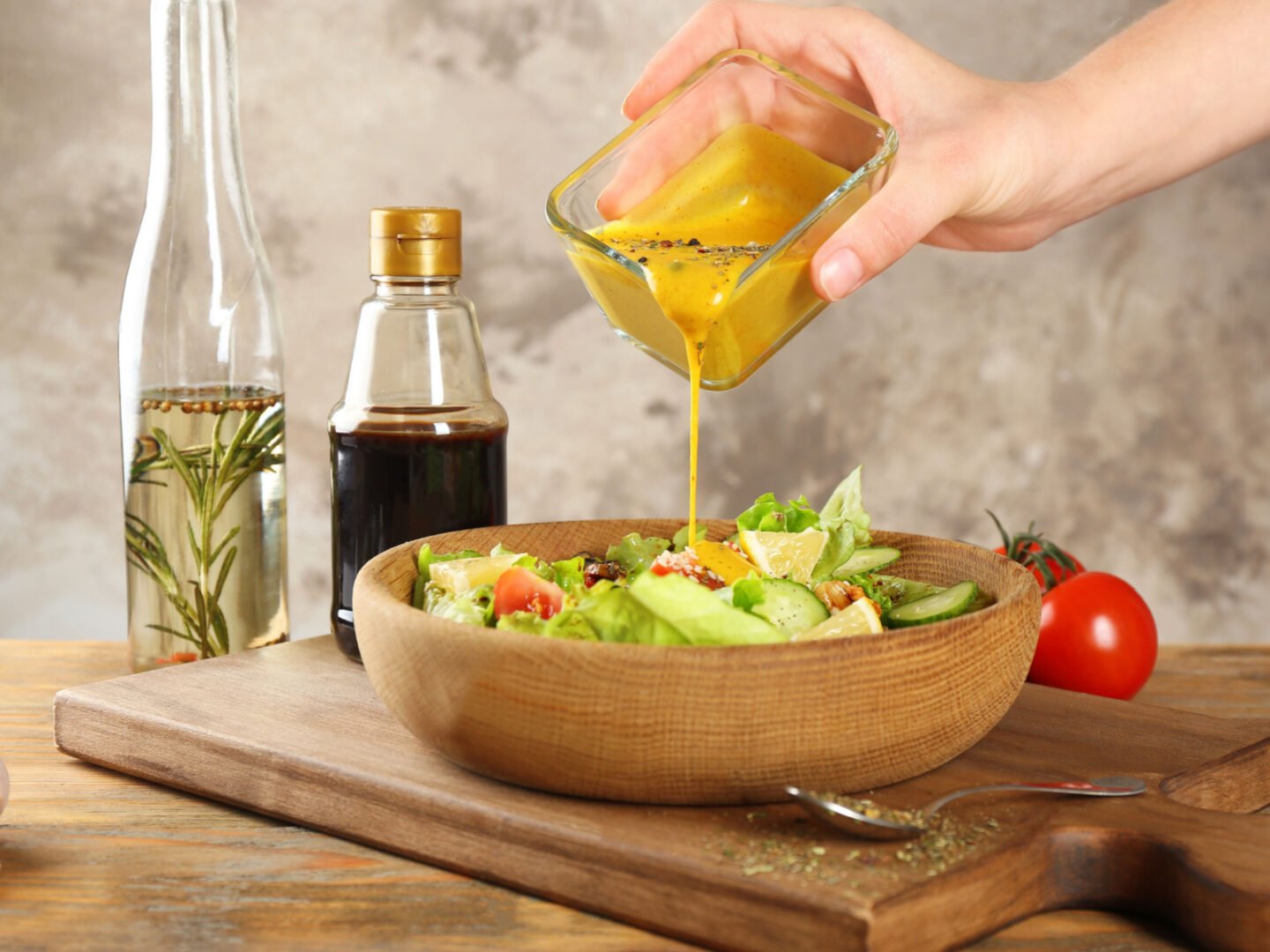 Related Questions
Does honey mustard have gluten or dairy?
Both honey and mustard are naturally gluten-free and do not contain dairy. However, commercial honey mustard may contain traces of gluten and dairy, depending on the facility that makes it. To be sure, always check the label for your safety.
Is honey mustard vegan-friendly?
Yes, honey mustard is almost always dairy-free and safe for vegans. You can also look for vegan certifications on the package or buy honey mustard dressing that says it is vegan.