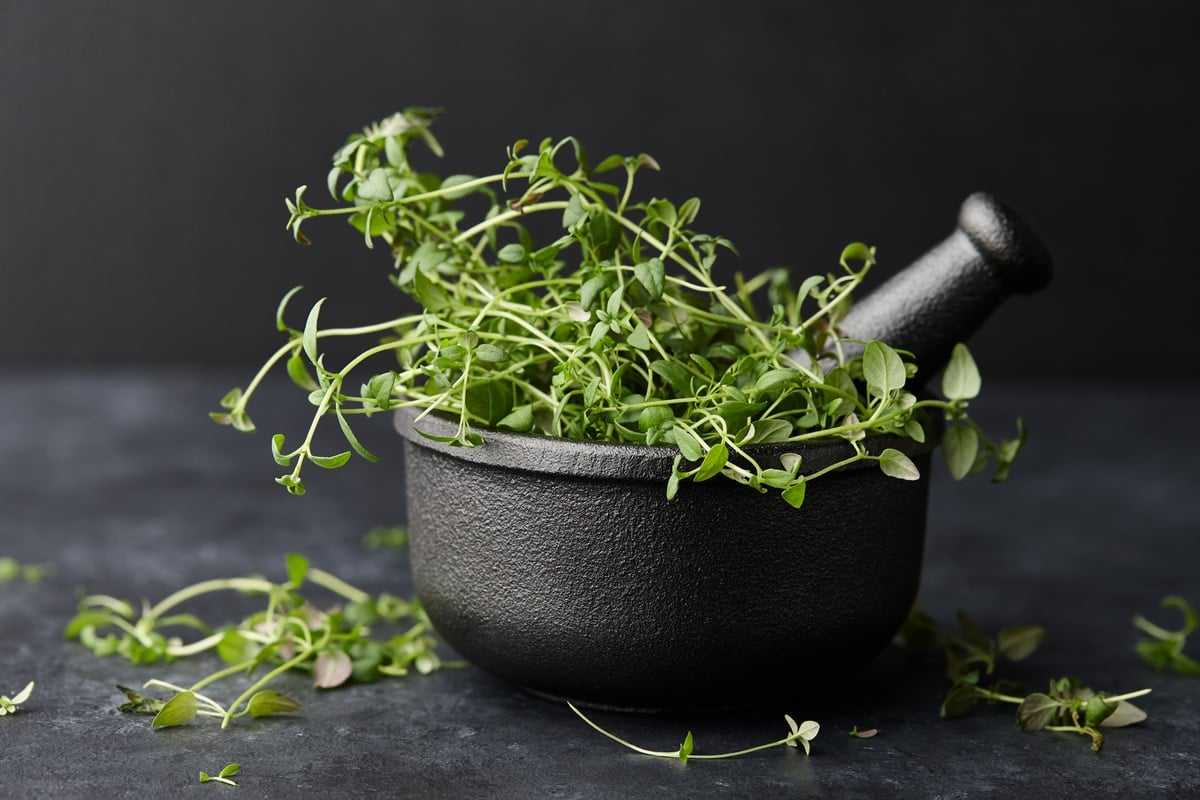 Are you ready to take your spice grinding into your own hands? Do you find that store-bought spices just don't have the blends of tastes and flavors that you crave for your foods? And does the idea of organic and hand-made spices appeal to you? Then you need a cast iron spice grinder, stat! We reviewed six of the best pepper grinder options and highlighted a few other elements to streamline your choice.
Table of Contents
The 6 Best Cast Iron Spice Grinders
We carefully researched the best cast iron spice and herb grinders and tried to create a list that covered as many unique needs and personalities as possible. And we feel confident that we reached that goal. Each of the grinding options on this list is very useful, diverse, and capable of handling most of your spice needs. They may seem somewhat similar to a coffee grinder, though may also be quite different too.
For example, you will find wood pepper mill designs, unique options with stainless steel embellishments, and much more. In this way, you can create the design and feel that you want and buy a great grinder that works well for hard spices, dried herbs, and much more. We focus mostly on the manual grinder and not electrical spice grinder options because they're, frankly, more enjoyable to use.
Skeppshult Cast Iron and Wood Pepper Mill
Get used to seeing Skeppshult on this list! This spice grinding company produces many solid cast iron items that are among the finest that we could find. We broke down each of these manual grinder options to give you a better understanding of their pros and cons when you grind. First, the advantages of this inner grinder device:
Continually Stylish Design – Most reviewers were quite pleased with their spice grinder's overall look and feel. They believed that it was more stylish than other types, no matter what the kitchen.
Excellent Design – The simple cap-and-grind style is perfect for many homes. And the appealing Swedish walnut wood top is smooth on the hands, according to most reviewers who want ground spice.
Chemical-Free – Don't worry about any chemical leak into your spices! This natural cast iron design will protect you from this issue. The enameled cast iron interior is very safe for your hard spice.
Sealed Interior – The interior seal should help to make this grinder more effective. You won't have to worry about water or other contaminants ruining your spice.
Are there any downsides? The price is a little high, according to some reviewers. And others had a negative experience with the seal popping off. However, most people were quite optimistic about this cast iron spice mill and found it was an excellent option for their spice needs.
Fox Run Mortar and Pestle
Do you crave a more traditional spice grinding experience? Then this option may be right for you. It has a beautiful and elegant look that mimics old-school designs. Its benefits include:
Reasonable Cost – If you're on a budget, this cast iron spice mill may be a good choice for you. It is pretty inexpensive and should be easy for most people to afford for their fresh spices.
Simple to Use – This elegant and well-designed grinder uses a tried-and-true style. You will immediately understand how to use this grinder without any confusion.
Compact Size – Running out of space in your kitchen? Then buy this high-quality cast iron grinder! It is just around three inches in width, providing a substantial compact feel.
Durable Cast Iron Construction – Cast iron lasts for decades with the proper maintenance, and this grinder is no different. A few simple maintenance steps will keep it firm and ready for years to come.
Any downsides to this cast iron cookware? Some people may not like having to put a little muscle into their grinding. And it's easy for spice to fall off the pestle, causing some loss. However, this design's overall style and strength are excellent and make a great addition to your kitchen!
Zassenhaus Cast Iron Spice Grinding Set
This option sets itself apart with a serrated grinding surface and an attractive beechwood lid with a similar design to the first grinding set. It is also small enough to fit into your child's hands. As a result, they can help out with cooking in a meaningful way. Other unique benefits include:
Functional Style – Reviewers praised this grinder for being among the most valuable and well-designed options on the market. The ergonomic design made it very comfortable as well.
Lid Storage Option – The beechwood lid on this grinder lifts, allowing you to store various spices inside. Many consumers found this option to be elegant and useful for their needs.
Simple Maintenance – Like many cast iron spice sets, this grinder is easy to clean and maintain. And the seasoning is simple once you remove the wooden cap.
Varying Uses – Some people converted this simple grinder into a storage device for spices. This option is up to you, though. Others found it was helpful not only for herbs but peppers as well.
Downsides would include a somewhat steep, but not too high, price. Others complained about the cap because they didn't want it to come off. However, more people praised that design idea than not. But it is worth pointing out that a few people did not enjoy it.
Skeppshult Little Swing Cast Iron Pepper Mill
Skeppshult's unique hand-held design holds for this fun pepper mill. While you can use it for black pepper, you can also adapt it to other types of spices. In this way, it is helpful for many different spice purposes. And its Swedish walnut wood lid is appealing and beneficial. Its benefits include:
Medium Weight – Some grinders have a dense feel that may not appeal to some users. This grinder is more compact and lightweight, minimizing any issues here.
Firm Texture – The cast iron texture of this spice mill makes it easy to hold. It has a slight coarseness that doesn't hurt the hand but instead just enhances your grip.
Sealed Design – If you plan on storing your spices in your grinder, the rubber seal will keep them fresh. And its portable design makes it easy to take to the table for your favorite meals.
Complete Cast Iron Construction – This cast iron pepper mill is 100% metal beyond the removable wood cap. As a result, cooking heat won't damage it if you've placed it near your stove or oven.
Price is a consistent complaint with some buyers, who find the $60 asking price a bit high. Others did not like the smaller size, believing bigger Skeppshult models were more beneficial. However, users who want a portable and simple pepper mill will enjoy this choice.
Cast Iron Mortar and Pestle Tool Set
Here's another mortar and pestle grinder that hands-on cooks may love. You'll get the chance to grind each seed and spice grain with this option carefully. And skilled users claim that they can create the finest blend of flavors with this choice. Other benefits include:
Purposeful Design – Do you want a grinder that can handle spices, pepper, grains, seeds, and even medications? This option works well for you. Reviewers also liked it for molcajetes and tejolote.
Easy-to-Integrate Look – Cast iron will look great no matter what kind of materials you have in your kitchen. As a result, you can pair this grinder with just about any home.
Superior Flavor Release – Reviewers who'd tried a handful of different grinders loved this option's flavor release. They believed it released far more potent tastes than others.
Useful for Acidic Foods – Many reviewers stated that this cast iron spice mill was useful for tomatoes and other acidic foods. This benefit is enormous for those who want to make salsa or other meals.
The big downside of this option is one it shares with all mortar and pestle pepper mills. You'll have to physically grind the spices yourself and not with a mechanical grinding tool. Some may find this process is annoying and not enjoyable. However, others love taking their herb grind process into their hands.
Skeppshult Cast Iron Spice Grinder
Some grinders have an almost elementary look and feel that betrays strong capability. This option is such a spice mill. Its overall feel and design are fascinating and should be easy for you to integrate into your home. Just a few grind benefits that it provides you include:
Minimalist Design – If you want a very compact and straightforward grinder, this should be your choice. Its overall look couldn't be simpler, and its power lies in this basic feel.
Strong Teeth – The unique two-sided design of this grinder creates a robust grinding surface. As a result, you can produce some of the finest spice powders available for your needs.
Helpful With Seeds – Some grinders on this list don't work well with seed-based foods. However, this choice is good for grinding spices and seeds with ease. So if you like grinding pumpkin or sunflower seeds, pick this option.
Chemical-Free Design – Like the best grinders on this list, this mill has no unnatural chemicals. And the cast iron is carefully sealed to minimize any spice leakage.
The most common complaint about this grinder was its price. At nearly $100, they thought it could have been a bit more fanciful. And others found its learning curve a little steep. That said, its overall strength and durability help to make it a healthy option for many people.
Why Pick Cast Iron?
A cast iron spice grinder has many benefits for your spice, such as:
A solid interior surface
Long-lasting overall design
A classically cool look and feel
Please ignore myths about cast iron, such as its quick rusting. While cast iron can rust, owners can easily prevent and treat this problem by cleaning and restoring the surface.
How to Use Your Spice Grinder
Spice grinders are incredibly easy to use. However, manual mechanical options require you to:
Open the lid and clean out its interior
Place your spice inside and keep it compact
Put the top back on the grinder
Twist the lid and grinder to pulverize your spices and seeds
As for mortar and pestle grinders, follow these steps to produce healthier cooking:
Wipe down the mortar bowl and pestle grinder
Put your herbs or spice in the mortar bowl
Press the pestle against the spices
Grind them to the consistency you want
Optional step: toast your spices to make them easier to serve