Cast iron is durable, versatile, and can take the high, constant heat necessary for perfect fried food. Easy to maintain and built to last for a lifetime, cast iron fryers should be considered by all cooks. Whether you use it in your home or over an open fire, a cast iron fryer is an essential piece of cookware for a well-equipped kitchen.
Cast iron fryers are designed a little differently than cast iron skillets or Dutch ovens. The best-cast iron fryers have lids that do double duty as a piece of cookware. Perfect for deep frying chicken or fish, they are fitted with handles that offer a flat top. This handle design lets you flip its lids, which you can place over a fire and use as another piece of cookware. Used as an instant skillet, you can make fried eggs and bacon before setting off on a day of fishing.
Read on to find how cast iron fryers can help when cooking around the hearth, at home, or while camping.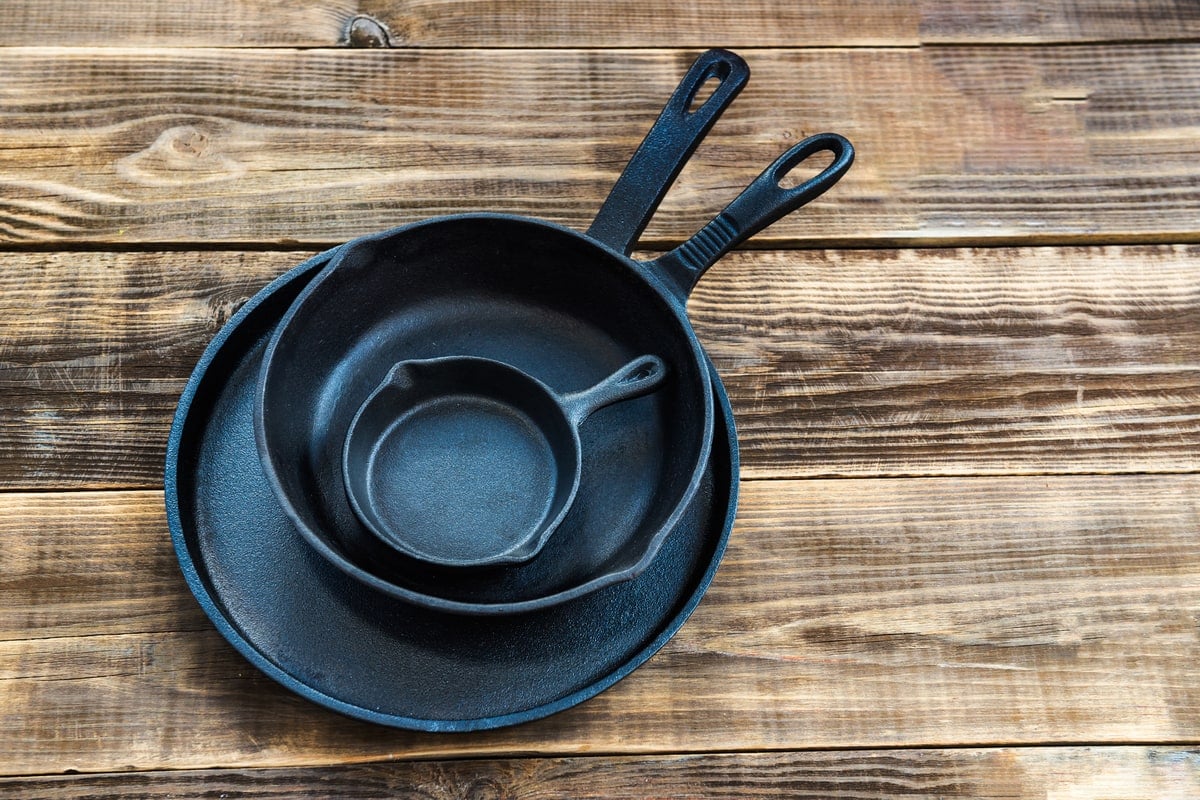 One of the smaller cast iron fryers in this lineup, the Lodge pan three-quart chicken fryer, has the highest rating. Big enough to fry a batch of chicken or fish, this piece of cookware is not as heavy as some of its counterparts, but at eight pounds, it is not a lightweight, either. The shiny black patina of all Lodge pan cookware is due to the pre-seasoning process that prepares your cast iron fish fryer to be used.
The Lodge process of pre-seasoning cast iron is unique. Lodge uses an electrostatic sprayer to apply vegetable oil to the surface of their cast iron cookware. It is then baked in an oven at a very high temperature. This process bakes the oil onto the surface, making it nonstick.
For use in your home or over the campfire, the Lodge cast iron fryer will work as well in one location as the other. You can use it as a chicken fryer, fish fryer, or for a pot of chili. The double pour spouts help you dispense oil or food from the fryer, which is an added convenience on any cast iron fryer.
One of the best cast iron fryers that offer a lid that becomes a skillet is the Cuisinel cast iron fryer. It provides a 10.6-inch skillet, along with a three-quart pot. The skillet has a lip that sits nicely inside the edge of the pot. This feature helps keep it in place during cooking and storage. In addition, the pre-seasoned finish offers improved frying and cooking ability whether you use it in your kitchen, on your grill, or on an open fire.
Not just for frying chicken, you can use a cast-iron fryer to make bread, braise meat, make sauces, stews, or a pot of beans on the woodstove, to go with cornbread from your cast-iron skillet. Although not endless, the recipes you can cook using a cast iron fryer skillet combination are numerous. In addition, the three-quart size of this cast iron fryer is perfect for smaller batches of food than many larger pieces of cast iron cookware.
Cuisinel cast iron cookware is made with superior artisanship, will come to you already seasoned, and with a lifetime warranty. That means you can fire up your cookware, have a feast with the Cuisinel 2-in-1 cast iron fryer, and not worry about replacing it if it cracks or chips.
The Legend cast iron fryer and has a capacity of 3.2 quarts. Its unique combination of a cast-iron skillet as a lid along with the three-quart pot offers extraordinary versatility. It is one of the best cast iron fryers because of this feature. The top of this cast iron fryer is also a skillet that you can use to make fried eggs and potatoes, go with your fried fish, or use it as an oven to bake bread.
The Legend cast iron fryer lid has a loop on one side and a handle on the other. The result is a 12-inch diameter field skillet with a handle and loop, like the pot. The pot and lid together weigh in at 12.3 pounds. Not a lightweight cast iron fryer; however, it can do so much you will not mind the weight.
The contemporary features of Legend cast iron cookware include a smoother finish than some vintage cast iron or lesser brands. The lip on the lid/skillet keeps it in place when cooking or storing. Cast iron fryers will work on an open fire, a gas flame, electric cooktop, or induction cooker. Not many other pans offer this versatility. This cast iron fryer's design takes versatility a step further than many of its competitors.
With a capacity of five quarts, the Bruntmor cast iron fryer has the size for a large crowd. In addition, it offers double-looped side handles on the lid. So, you can take it off the pot, flip it over, and you have a 10.5-inch cast iron skillet. You can use it to fry potatoes, heat beans, or do any other cooking task you might have. This 2-in-1 cast iron cookware duo is perfect for camp side, or your kitchen.
As a cast iron fryer, it can fry fish, fry chicken, vegetables, or bread. However, when using the lid as a field skillet, you will have the ability to sear, braise, sauté, or merely heat a can of beans. The surface of the lid has the same pre-seasoned finish as the cast iron fryer portion of this combo. This finish gives it a smooth nonstick surface that gets better over time.
Cast iron is easy to clean, maintain, and will last for generations if properly cared for. Every manufacturer of cast iron cookware suggests hand washing and air-drying, and Bruntmor is no different. Traditional and vintage cast iron cannot be washed in the dishwasher. The heat and detergent will remove the baked-on oil coating, seasoning, and your pan will stick and could potentially rust.
Bayou takes a different approach with their Classic cast iron chicken fryer. It does not have the versatility of the 2-in-1 cast iron fryers, but what it does have, is a basket. If you have ever done much frying, you understand how helpful a fry basket is when frying chicken or fish. Add in the cast-iron Dutch oven lid, and you will keep the grease splatter down.
The capacity of the Bayou Classic cast iron chicken fryer is a little shy of eight and a half quarts. That large capacity makes it one of the larger of the best cast iron fryers. Suppose you need to fry large quantities of fish, chicken, or potatoes. In that case, a dedicated cast iron fryer in your arsenal of cookware can make every party and holiday easier.
The Bayou Classic is made from unseasoned cast iron, so you must season it before using it. The fry basket is made of aluminum and folds up so that it is easy to store. If you use it without the basket, you have a traditional cast-iron Dutch oven. You can use it without the fry basket for stews, sauces, oven roasting, and baking, which gives it almost as much versatility as 2-in-1 cast iron cookware.
The most basic chicken fryer, BrylaneHome's 12-inch cast iron fryer, has no top or basket. Instead, you get a pre-seasoned three-quart cast iron pot with a long pan-style handle and a front handle loop. These features make the fryer easy to use.
The pre-seasoned finish of the BrylaneHome cast iron fryer means that it is ready to cook with when you receive it. In addition, since it is primarily a fryer, keeping it seasoned should be easy. You can use this cast iron fryer to heat foods or cook foods, as well as fry.
Brylane Home has offered housewares since 1998. They sell products for the home that provide value with classic designs. The 12-inch cast iron chicken fryer is one of those items that will help you furnish your kitchen with the cookware you need to make life a little easier.
One of the few enameled cast iron Dutch ovens with skillet lids, the Bruntmor cast iron Dutch oven, will do double duty as a fryer. With the same heat distribution as traditional cast iron, enameled cast iron has the added benefit of coming in beautiful colors and being coated with a nonstick surface.
This cast-iron Dutch oven has many uses, and a campfire may not be what you had in mind. A pot with a lid that doubles as a skillet is handy for many recipes in the kitchen. The double-looped handles and flattop of this pot make it easy to handle and store. A fryer is a perfect size for small batches of fried chicken or fish, and like a skillet, it is big enough to cook breakfast or sear a steak.
Unlike vintage cast iron, enameled cast iron is dishwasher safe and perfect for braising, sautéing, soups, stews, and sauces. In addition, the five-quart capacity of this fryer is large enough for large batches of your favorite recipes.
Although you can use enameled cast iron on an open flame, it will leave soot. Remove any soot with soap and water or with a magic eraser. It is best to consider this if you are looking for a cast-iron fryer to use over a campfire. However, do not let that stop you from considering this colorful enameled cast iron fryer.
The Best Cast Iron Fryers for every occasion
As with most cookware, cast iron fryers come in different sizes and styles. The 2-in-1 styles offer features that expand their usability and make perfect camp cookware. Like fryers, the heat distribution of cast iron keeps the oil at an even temperature while frying a batch of chicken or fish. In sizes of less than three quarts, on up, there are cast iron fryers for personal use and cooking for your family or friends.
The different styles and sizes of the cast iron fryers should enable you to find one that perfectly suits your culinary needs. From the basic standalone chicken fryer to large enough for a chicken, all you need to do now is decide what you need.
Adding one of the cast iron fryers to your current inventory of cookware can make you the hit of the party. Watch their eyes when you pass around mini-eggrolls and other fried treats, because there are many delicious foods that you can fry besides chicken and fish.