Over the years, cast iron cookware has become the hot new "must-have" item for kitchens worldwide. These cast iron items are heavy, durable, and potentially even beneficial for your health. For example, some studies have found that cast iron cookware could help with problems as diverse as anemia, a health issue that affects people with low iron in their blood.
However, cast iron cookware has expanded beyond preparation pans in recent years. For example, cast iron serving dishes have become very popular in many homes. These serving dish options include things like a bowl, a serving platter, many types of plates, a platter, a dish, and even a cast iron serving dish for pizza and other specialty items. Lodge, Staub, and many other manufacturers produce these items.
That said, is a cast iron skillet or serving dish right for you? Will a pan of this type hold your heat properly, provide health with iron deficiencies, and pair well with your Dutch oven cooking? Let's take a look at a few of the best cast iron dishes on the market today. We'll also discuss the pros and cons of cast iron for cooking, including superior heat retention and much more.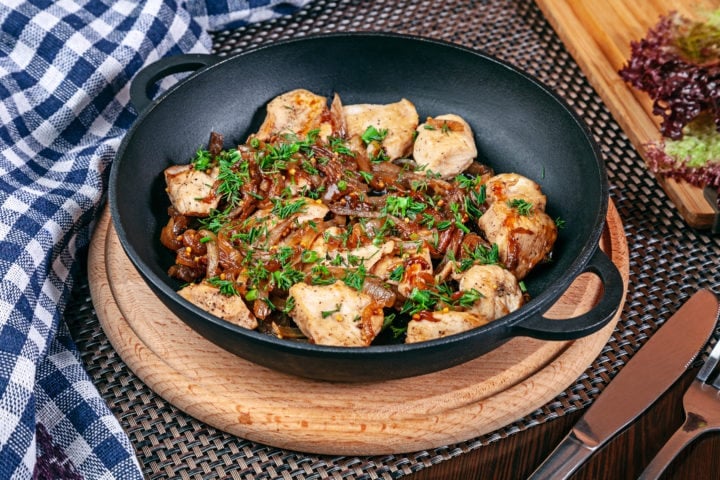 Table of Contents
Why People Prefer Cast Iron Serving Dishes and Plates
Cast iron serving dishes and plates provide a unique array of benefits compared to other options. First of all, they have superior heat retention, meaning that your food will remain warm longer. As a result, you won't have to worry about it going cold while you eat. It also helps if you serve food for your family and don't come to the table for some time after you're done.
A cast iron pot also has superior strength compared to other options on the market. Simply put, it will last a long time (potentially your whole life) and rarely needs repairs or maintenance. In addition, unlike ceramic plates, they won't break when you drop them. In fact, iron cookware of this type is likely to damage your floor when it falls! That's a minor issue, though, as the marks they make should be small.
Even better, these dishes pair well with cast iron fry pan or skillet models to create a fascinating look for your kitchen. You can use them for more than serving and place them around your kitchen to produce an old-fashioned style. And this extra style pairs with how delicious your food will be when served on cast iron. Cast iron helps your food retain its flavor right out of the oven, maximizing your taste benefits. And cast iron dishes also add a little iron to your diet, helping with anemia.
Before ordering any of these dishes, though, knowing a few of their downsides is vital. First of all, cast iron must be carefully handled and maintained. For example, you need to season them occasionally to keep their surface strong. Second, you'll have to heat them to over 400 degrees Fahrenheit for extended periods. This patented heat-treating process protects them from rust and other damage.
Cleaning also requires a careful touch. Cast iron cookware should not be placed in a dishwasher. Instead, it would be best if you washed it by hand using warm or hot water. Avoid using soap to minimize the damage. And make sure that you scrub away any burned-on vegetable oil to reduce complications further. This kind of special care extends beyond cleaning and maintenance.
For example, you may need a trivet (a special tripod that holds your pans) when serving food. That's because cast iron will hold onto heat for a very long time. That superior heat retention may be positive but can also be upsetting if you burn your hand or a table. For that reason, cast iron dishes may not be a good choice if you have children who may unsafely handle the plates.
However, most people should easily avoid these problems with just a little bit of care. For example, rusted cast iron can be quickly restored even by amateurs. And if you follow these steps, you should keep your cast iron in great shape for decades. So, if you're interested in buying a few of these cookware items for your home, read on to learn about the best options for your needs as a homeowner.
A Few of the Best Cast Iron Cookware for Your Needs
We researched several iron cookware product options and split the best options up into multiple categories. Each of these choices can be found on Amazon and other online shop destinations. In each of our mini-reviews, we'll discuss different elements about each of these products.
For instance, we'll let you know if they have things like a lid or a wood underliner to protect against burning. And we'll give you an idea of what kinds of foods they serve best. For example, some may be great for fajitas, while others are more appropriate for casserole dishes or even dessert.
The Best Cast Iron Serving Dishes
This serving dish from Lodge is hard to top. First, Lodge is one of the best cast iron manufacturers currently on the market. Second, they were the first to pre-season their cookware, a step that most now follow. That kind of trend-setting has helped to make them an exciting choice.
And this dish (which weighs a hefty three pounds) is an acceptable option. It can hold a variety of goods, including items as diverse as baked pasta. And Lodge's patented vegetable oil seasoning is one of the best on the market. In this way, you won't have to season your dish for some time.
We also liked the simple design of this serving dish. It's nothing fancy, we admit, but its elegant design should fit into most kitchens. As a result, this option is an excellent choice for many people. We especially suggest it for camping situations or use in an outdoor cabin.
The Best Cast Iron Serving Plates
While these JapanBargain cast iron griddles are designed for steaks, they can be used for many situations. For example, they serve fajitas very well. And they pair with many skillets well, as they have a wooden base that makes them easy to serve with and minimally damaging to counters.
We particularly like how well this plate holds the "sizzle" when serving. That's what makes it so perfect for serving meat: it'll stay hot and sizzling for a long time. As you can imagine, this does mean that you need to be careful when eating any items off of these plates.
However, you don't have to eat sizzling-hot foods off of these serving plates. They work well with many warm and even cool dishes. For example, they can work well as a salad or dessert plate. The options here are diverse enough to make this an excellent choice for many homeowners.
The Best Cast Iron Serving Bowls
The Versatile Oval Cast Iron serving bowl has a perfect rating on Amazon and is around six and one-half inches in width. This means it is ideal for holding a surprising array of different foods, including many tasty baked dishes. It is best used when serving for a small family get-together, though.
Produced by 47th and Main, it features the same high-quality design standard with all their goods. The cast iron is strong, pre-seasoned, and easy to clean. Remember never to soak your cast iron cookware to minimize the risk of serious rusting problems.
You can also serve smaller portions of various casserole dishes to your guests. Some might even eat right out of the bowl. And if you have multiple cast iron items, these bowls should easily blend in with their design. Some people may even enjoy hanging them on their walls for easier display.
The Best Cast Iron Bowl
Our choice for bowls is the 47th & Main Rustic Round Cast Iron Bowl. There are many different choices here, from extra small to large. We like this diverse array of serving options, as it lets you choose individual portion sizes more easily. However, the prices do go up as the size increases.
Expect bowls that can hold 3-10 ounces, making them a good choice for multiple uses. For example, they can be used as a nut bowl for parties, a place to hold keys, and even as a cereal bowl for the larger models. Some might even use them to store various types of cooking oil.
When taking care of this bowl, follow all typical cast iron steps. Hand wash only and dry immediately to prevent rust. Use a soft hand towel to pat it dry, particularly in the bowl. And avoid pairing it with tomato sauce. Tomato sauces can increase the risk of oxidation or rust on cast iron.
The Best Cast Iron Tray
Here's another 47th & Main product worth your time. This rustic serving tray is large enough to hold just about any meal, with a 10x5.8 inch surface. Its 3.04-pound weight should be sturdy enough for most homes without being too heavy to lift and move quickly.
We particularly like the lifted edges here, as they help to keep your food from falling out. And the handsome design pairs well with just about any home style or look. That said, the manufacturer does not suggest it for steak plating, so keep that in mind when making a purchase. The steak serving plates we reviewed earlier would be a better choice for this option.
Choosing Your Cast Iron Cookware
Before you choose any cast iron serving dishes for your home, it is vital to understand a few different items you may also need. For example, a trivet is suitable for a Dutch oven as it helps to hold hot plates before serving safely. And you may need a grill to prepare various meat and other dishes. A cast iron grill needs to be seasoned like any other cast iron dish to prevent rust.
However, when you carefully choose the best dishes, you'll find it easier to prepare many dishes. For example, stews in cast iron bowls often provide for better individual portions. And you can also serve many handmade appetizer options, restaurant sauce, or other items in these bowls. Most importantly, make sure you know various metal cleaning and maintenance steps to minimize issues.