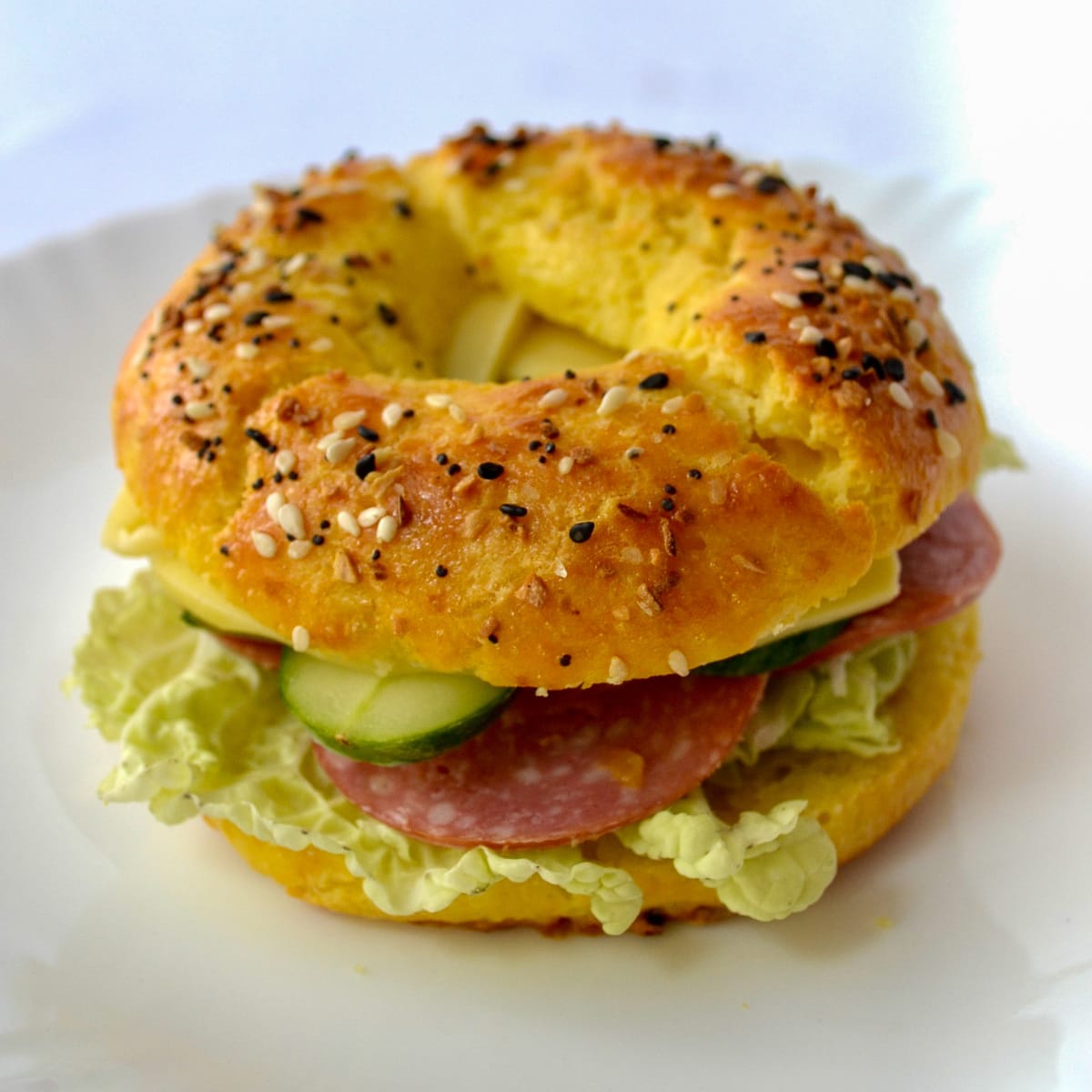 These keto bagels are the chewiest and the most delicious ones that you'll ever try. With these bagels, you can make the best keto breakfast sandwich that is insanely low carb. One almond flour bagel has only 4g of carbs.
To make these gluten-free, low-carb bagels, you'll need only 6 simple ingredients and a seasoning of your choice to top them off with. For this recipe, I chose to make the famous keto everything bagels, which is why I used the Everything Bagel seasoning. But, you can sprinkle the bagels with almost anything you like: sesame seeds, dried garlic, pepper flakes, or even some finely chopped almonds.
If you're craving bread or your favorite breakfast on-the-go sandwich, I'm sure that this keto bagel will be a decent replacement. You can toast it and place almost anything inside the bagel—some cream cheese and a slice of smoked salmon, an egg and some bacon, or even make it a tuna melt.
Table of Contents
Are Bagels Keto-Friendly?
The usual store-bought bagel has around 56 grams of carbs. When following the keto diet, it is of the essence to keep your carb intake limited. So, the store-bought bagel is definitely not an option for keto dieters.
But luckily, it's possible to make them keto-friendly. This keto everything bagel recipe is perfectly low carb, and you'll be able to enjoy these bagels without any regrets.
These almond flour bagels are the best alternative to the traditional ones. They are easy to make, low carb, and are perfect for those following the keto or paleo diet.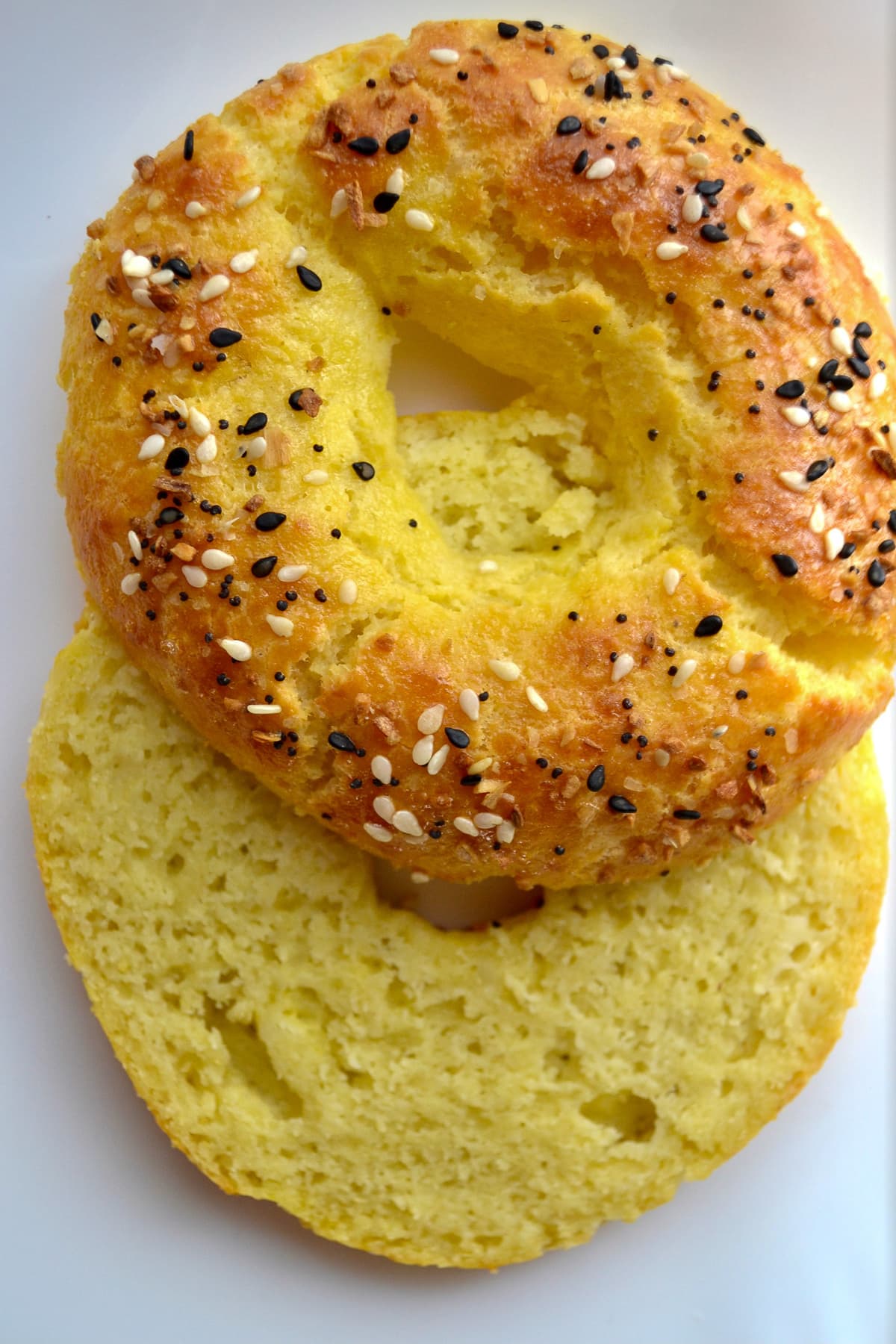 How to Make Keto Bagels
If this is your first time making any type of keto bread, you might get quite overwhelmed with the instructions. But actually, there's nothing complicated here.
To make these keto everything bagels, first, you'll need to prepare the famous keto cheese dough. Simply microwave the shredded mozzarella cheese with the cream cheese until they melt. Then, mix in the other ingredients—almond flour, egg, baking powder, and xantham gum.
Once done, you should form the dough into the shape of a bagel, brush the egg wash over them, sprinkle with the preferred seasoning mix, and bake them for about 12-15 minutes. You can find all of the needed ingredient proportions and detailed instructions below.
A Few Tips
Here are a few of my tips that should help you with this keto bagel recipe:
Use superfine almond flour. You won't be able to detect the almonds at all, and the taste of the ready keto bagels will be almost the same as the usual store-bought ones.
Use a food processor to mix the dough. If you find it complicated to mix the keto bagel dough with a spatula or by hand, you can use the dough blade attachment with your food processor.
Shape the bagels with wet hands. It's okay for this dough to be sticky. If you're having a hard time shaping the bagels, try doing it with wet hands.
Bake only one tray at a time. Don't stash your oven with two baking trays of bagels at the same time; otherwise, you'll end up with flat bagels.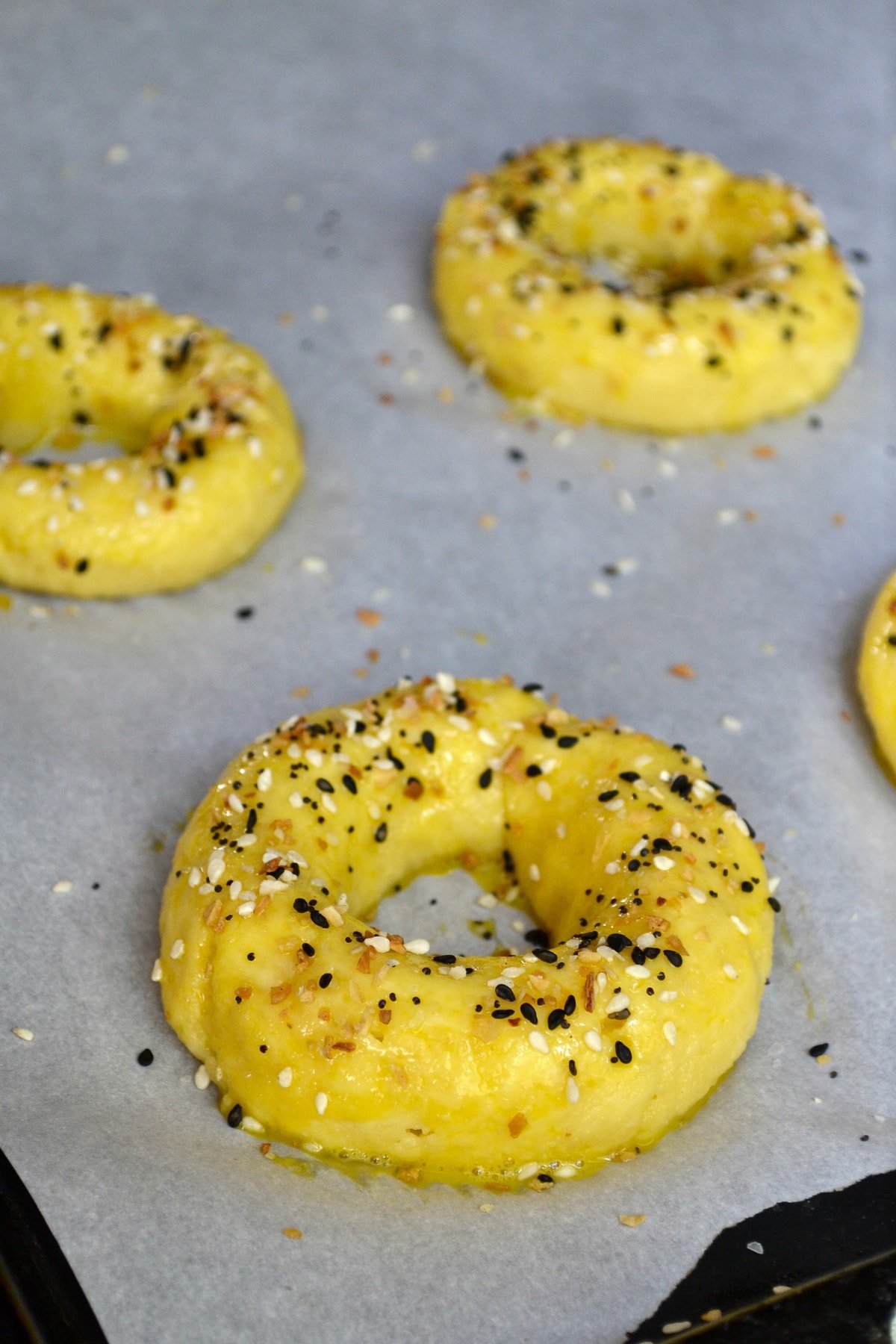 Bagels Seasoning
You can let your imagination run wild when it comes to choosing the seasoning for your low-carb bagels. Personally, I love my bagels topped off with the Everything Bagel Seasoning. It is crunchy and garlicky, which is just how I like my bagels. You can either buy the Everything Bagel Seasoning or make it yourself.
If you chose the second option, here's what you'll need to make the everything bagel seasoning:
Poppy seeds
White sesame seeds
Black sesame seeds
Minced dried onion
Minced dried garlic
Flaked sea salt
All you'll need to do is simply mix the same amount of each ingredient.
If you want to experiment a bit with your keto bagels seasoning, here is what you can sprinkle them with before baking:
Garlic powder
Red pepper flakes
Sesame seeds
Finely chopped almonds
Poppy seeds
There's always the option of leaving the bagels plain. And remember, plain doesn't mean bad. Some people prefer them, and plain keto bagels taste perfectly fine.
How to Store Keto Bagels
It is best to store these low-carb everything bagels in the fridge. Simply wrap up the bagels in some food wrap, and place them in the refrigerator. You can store them in the refrigerator for up to 4 days. Whenever you want to make a sandwich from the bagels, you can either make it with the bagel straight out of the fridge or toast it.
Also, this keto bagel recipe is entirely freezer-friendly. So you can make more of these bagels in advance and freeze them to have a low-carb bagel waiting for the right occasion at all times.
Recipe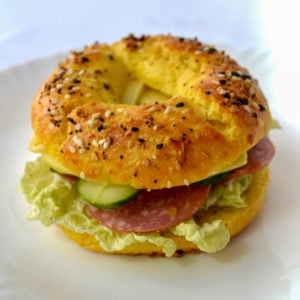 Quick Keto Low Carb Bagels
These keto bagels are gluten-free, low-carb, and the chewiest and most delicious ones that you'll ever try. With these bagels, you can make the best keto breakfast sandwich that is unforgettably delicious.
Ingredients
4.5

oz

mozzarella cheese

shredded

1

oz

cream cheese

2

large

eggs

set one aside for the egg wash

3.5

oz

almond flour

1

tbsp

baking powder

⅛

tsp

xantham gum

2

tbsp

Everything Bagel Seasoning
Instructions
While preheating the oven to 400 F, line a baking tray with some parchment paper.

Place the shredded mozzarella cheese and the cream cheese in a microwave-safe bowl and microwave it on high for 30 seconds. Stir the two kinds of cheese together and microwave for 30 more seconds. Stir again. Repeat until the cheese has melted completely.

Add an egg, almond flour, baking powder, and xantham gum into the melted cheese mixture. Mix everything together with a silicone spatula and then knead the dough on a non-stick surface until it turns smooth.

Divide the dough into four parts. With wet hands, take one part of the dough and roll it into a small log. Then shape the log into a bagel and connect the ends. Place it on the baking tray and repeat with the other dough parts.

Whisk up the other egg in a small bowl. Using a pastry brush, generously brush the bagels' surface with the egg wash. Then, sprinkle the bagels with the everything bagel seasoning.

Bake the bagels for about 12-15 minutes. Once they are golden brown, they're ready. Let the bagels cool a bit on the baking tray before removing them.
Nutrition
Calories:
212
kcal
Carbohydrates:
4.1
g
Protein:
13.2
g
Fat:
18.8
g
Saturated Fat:
7
g
Polyunsaturated Fat:
1
g
Monounsaturated Fat:
4
g
Trans Fat:
1
g
Cholesterol:
126
mg
Sodium:
970
mg
Potassium:
69
mg
Fiber:
3
g
Sugar:
2
g
Vitamin A:
446
IU
Calcium:
410
mg
Iron:
2
mg