While Lodge was once the most prominent name in cast iron cookware, that reality has changed significantly since the resurgence of cast iron cooking gear worldwide. Once considered an old-fashioned and passe material for cookware, cast iron has become incredibly popular thanks to companies like Lodge. However, Tramontina is rapidly making a name for itself in the world of cast iron items.
But does this company stand up with the very best on the market? Do its porcelain enamel, ceramic cast, and enamel coating cast iron items compare well to Lodge? Will their Dutch oven feel essential compared to a Lodge Dutch oven? These questions and much more will be answered in this article! But, first, we'll take a look at Tramontina and its cookware to give you an idea of its overall quality.
Then, we'll examine a few of their best nonstick cookware to give you an idea of which is suitable for you. Our team tested out several cast iron skillet, pan, and griddle options and found the best for your needs. So, here's our short-short version: Tramontina is an excellent manufacturer worth your time. Now, read the long-long version to understand why!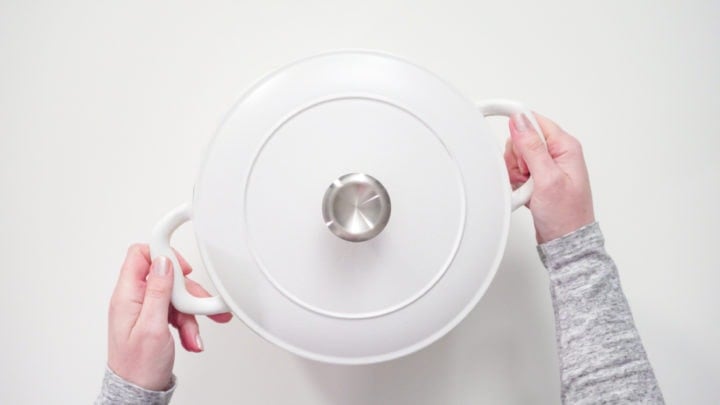 Table of Contents
Tramontina: Who and How Are They?
Tramontina is a Brazilian company with over 110 years of experience creating a variety of items. They are one of those significant manufacturers who produce an almost dizzying array of objects. For example, they have created products like utensils, appliances, gardening tools, furniture, utility vehicles, and industrial gear. Their broad scope makes them an exciting option for several different situations.
Since 1911, they have spread to over 120 different countries, including the founding of Traomontina USA in 1986. Their mission is to provide "everyday solutions" to their customers' needs. During our research, we found that Tramontina met this goal by providing low-cost alternatives to many manufacturers. And their cast iron cookware is no different in that respect.
How Does Their Cast Iron Hold Up?
We not only examined a few Tramontina cast iron cooking items ourselves but read online reviews about many products. And we tend to agree with what we found online. In essence, most reviewers found that Tramontina offered an inexpensive alternative to brands like Lodge. In addition, our research found that Tramontina cast iron pots and skillets offered identical performance to other brands.
We want to emphasize that here to make a point. The performance is not close to the top brands but identical. And with prices that are several hundred dollars less than other options, it's hard not to like a lot about Tramontina. However, it is also fair to say that there are downsides. These primarily come in the quality of the material that they use for their cookware.
Simply put, their goods were not as durable as other options. We're not talking about a massive downgrade in quality or anything. And, as we said, the overall performance is excellent. Unfortunately, their cast iron does seem to scratch or dent a bit easier than Lodge's. Keep that in mind if you plan on buying any of the items reviewed below. Also note: many of their items are made in Brazil before being shipped overseas.
The Best Tramontina Cast Iron Items
The following items are all highly rated on Amazon and other review sites. They provide an excellent cast iron cookware experience for any homeowner. Read through each of our mini-reviews to understand more about what each has to offer you as a person.
Tramontina Cast Iron Skillet
This Tramontina Covered Skillet features a 12-inch enameled surface and is available in multiple colors, including a handsome gradated red. Each comes with a simple handle that does not retain heat like the rest of the pan, minimizing your risk of severe burns when handling.
It also includes two pouring lips to make serving much easier. Even better, it contains a self-basting condensation ridge that helps to collect and direct vapors directly into your food. As a result, they will come out rich and fresh, tasting as good as possible. Did we mention food just tastes better with cast iron?
Tramontina Cast Iron Dutch Oven
A Dutch oven is one of the standard cast iron items available on the market. And this Tramontina version is well worth considering. It is a seven-quart design, meaning that you can cook large amounts of stew, meat, or other items with minimal fuss.
Like the skillet, this model has self-basting condensation ridges that help to cook food more evenly. The included lid fits the oven perfectly, allowing you to cook your food very evenly. Don't forget to purchase a cast iron tripod if you ever plan on cooking outdoors.
Tramontina Cast Iron Casserole Pan
This unique casserole pan provides an even surface with excellent heat retention. Like all of Traomontina products, it comes pre-seasoned. As a result, you can use it right out of the package without any difficulty. Serve up a delicious and layered casserole that helps to feed your family a healthy array of foods.
Tramontina Cast Iron Grill Pan
This grill pan has an 11-inch surface with a gradated cobalt color that's quite handsome in many kitchens. Use it on gas, electric, glass, ceramic, and induction cooktops to get great results. Use this particular pan for cooking any meat or vegetable dishes, serving them right out of the pan when they are done cooking.
Tramontina Cast Iron Bowl
Lastly, let's look at this three-quart bowl produced by Tramontina. It has many design features mentioned for previous dishes, such as an enameled surface and a self-basting condensation surface. It works best when cooking things like soup, macaroni and cheese, or other similar items. You can also eat directly out of it once the bowl cools down enough.
Is Tramontina Right for You?
When deciding to buy a Tramontina cast iron skillet or Dutch oven, it is crucial to take your time to examine all of your options. Although Tramontina is an excellent option for your cast iron skillet and cookware options, you must weigh its pros and cons. And you must also carefully choose iron cookware that makes sense for you. Doing so will cut back on expensive costs when buying these items.
For instance, you need to make sure that your cast iron pan has the proper seasoning. Tramontina does do pre-seasoning at this point, so you should be okay. Next, talk to your vendor to determine if your cast iron pan, skillet, or cookware has gone through this process. They can let you know about superior heat retention and which of your options will hold your heat as long as necessary.
Then, consider accessories like lids, trivets, and much more. Your cast iron cookware or cast iron Dutch oven will need these items to operate smoothly. For example, a Tramontina Dutch oven often needs a tripod if you plan on using it outside. And the lid helps to keep the heat inside the oven, minimizing temperature loss. Inspect the lid to ensure it holds over the top of your fry pan or oven when you cook.
Make sure also to debate whether you need an enameled cast iron nonstick skillet or if an everyday skillet will work just as well. We strongly suggest that you get enameled to minimize any cast iron damage. And when buying cast iron cookware from Tramontina, make sure to weigh their pros and cons against stainless steel. Take all of these steps, and you should find excellent cookware at reasonable prices.
A Look at Cast Iron Pans: Pros, Cons, and Why They're Used
We know that you may have found our website while researching bare cast iron or enamel cast iron. You may know little about this material and need help to understand it. Thankfully, we're here to help you!
Cast iron is a type of cooking material that uses a higher carbon content than stainless steel and other similar iron cooking tools. It is an elementary material to make and is one of the early man's earliest known cooking gear materials. Some cast iron cooking surfaces are over one thousand years old and can still be used to cook. The same is true of modern cast iron items.
And after the emergence of Lodge Cast Iron, this material surged in popularity and is once again being used on various cooking surfaces, like induction cooktops. But why do people love to cook with a covered cast iron skillet? And are there any negatives associated with these items? Let's take a deeper look at their pros and cons to give you a better idea of what to expect here.
The Pros of Cast Iron Cook Gear
When buying a Tramontina or Lodge cast iron skillet, it is essential to know what you are getting into as a buyer. These items typically have a nonstick coating to produce a nonstick surface to keep them as clean as possible. They also provide a myriad of other benefits worth considering:
Rugged Design – A standard cast iron nonstick pan will last for decades with the proper care. The best maintenance does take some time to handle, but we'll get to that later.
Excellent Heat Retention – A typical Tramontina or Lodge skillet will hold heat longer than other options, meaning that your food will stay warm longer and cook faster.
Enamel Protection – Many cast iron items have an enamel surface that keeps them strong. In addition, this enamel helps to cut back on the need for seasoning and cleaning.
Superlative Meat Preparation – Cast iron items like a round Dutch oven are helpful when cooking meat dishes. They create an even and superior level of heat that keeps your meat well cooked.
These benefits are upgrades from the traditional cast iron skillet due to modern upgrades and changes to the cast iron formula. For example, a silicone grip helps to make your pans even easier to use. However, cast iron does have some downsides that must be considered carefully.
The Cons of Cast Iron Cook Gear
While cast iron does have many great benefits, they are by no means perfect. The following disadvantages are a few reasons why you might want to avoid these items. While we think that their benefits outweigh their disadvantages, you may disagree:
Dense Materials – While the density of cast iron makes it very strong, it could also cause them to scratch the surfaces of some cooktop appliances, so be very careful here.
Intense Heat – Unfortunately, the superior heat retention of cast iron may also be a curse if you try to handle them without an oven mitt. This disadvantage makes them unsuitable for young children.
More Intense Maintenance – Unlike stainless steel gear, you have to "season" your cast iron cookware and must clean them using meticulous methods to avoid rust.
May Burn Some Foods – Softer foods, like cornbread and eggs, may burn on cast iron cooking gear. And items like tomato sauce may cause oxidation or rust to your gear.
Despite these concerns, cast iron remains a popular option for preparing steak. Many people particularly love them for campfire cooking because of their strength and heat retention. And a growing number of people are buying these items from Tramontina. Should you?