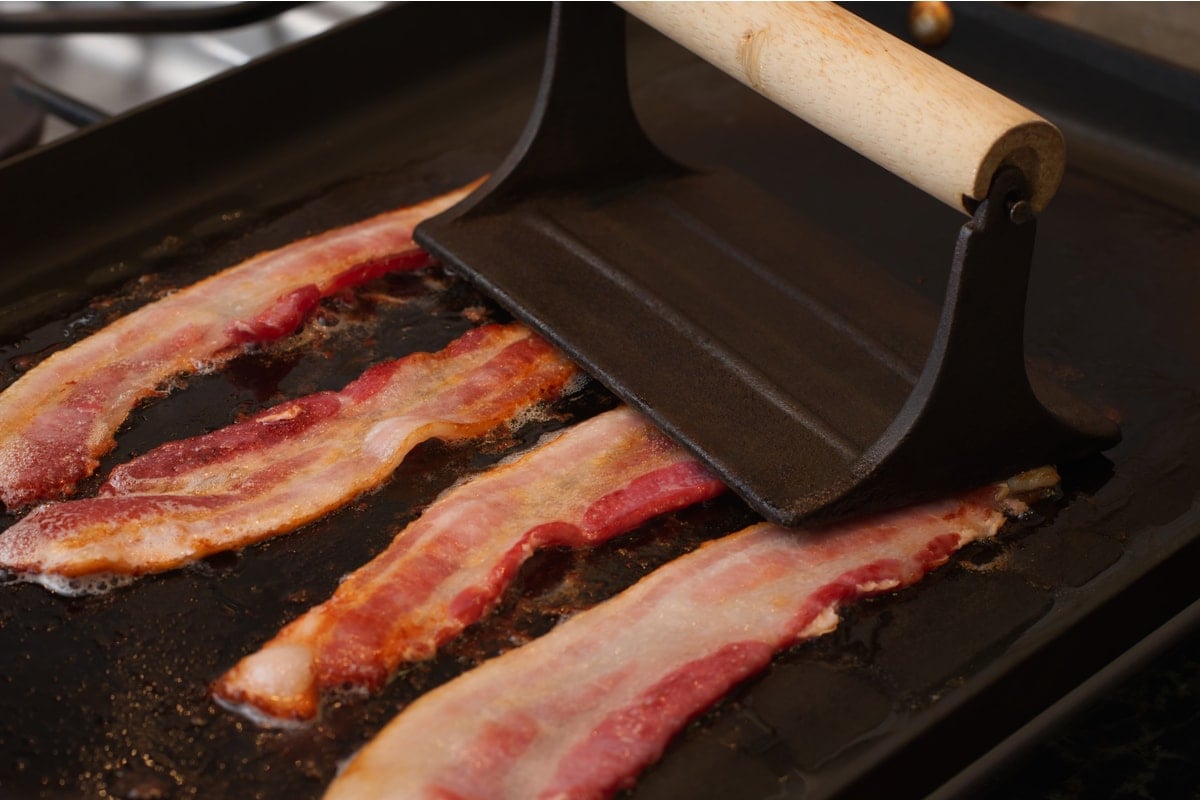 Bacon and other meats have a tendency to curl during cooking. This makes it harder to cook evenly and that's cast iron bacon presses come in. By flattening the bacon, meat, sausages, or even sandwiches, the heat is transferred more evenly. The result is an evenly cooked and not partially dried-out bacon...sausage or steak.
As with many cookware items, they are also various types of bacon presses such as rectangular, pig-shaped, and so on. Below we will take a closer look at the presses, uses and any negative sides of using them (Hint: they aren't many)
Table of Contents
What Is Cast Iron?
Cast iron is defined as "a group of iron-carbon alloys with a carbon content of more than 2%." The material is rather brittle in nature and features a fairly low melting temperature. This combination makes cast iron a perfect material for cooking and the results are typically phenomenal.
Cast iron is also quite durable and practically crack resistant. When small cracks do appear, they are kept from spreading further into the pan by the graphite flakes that are fluent throughout the fry pan. It is no wonder a cast iron skillet is preferred by most professional chefs.
What Is a Bacon Press?
Made with a heavy flat weight, a bacon grill press is a cooking utensil that prevents the bacon from curling up when it is being fried. What you do is place the press on top of the bacon strips and allow it to remain there during the cooking process.
The result is perfectly flat and tasty bacon with less fat content splattering all over the place. This grill press is composed of durable cast iron that makes cooking bacon a true delight.
Are There Different Types of Bacon Presses?
There are no different types per se, but there are many manufacturers of bacon presses. They all look roughly the same and feature the same basic design and wooden handle.
The products from the different manufacturers might have slightly varying designs; however, they all function in the same manner and serve the same purpose. The majority of cast iron bacon presses are rectangular shaped, but there are some exceptions as noted below.
A few of the different companies offering the more traditional rectangular shaped press are:
Other Bacon Press Uses?
Despite its name, a bacon press can also be used to flatten and help cook other meats such as steaks, sausages and chops. Besides meats, a cast iron grill press (another term for bacon press) can help cook delicious Panini grilled sandwiches. The presses can be utilized either when cooking on top of your stove or on a barbecue grill.
Other things to use a bacon press for include meat like sausages, burgers, roast beef cut into thin strips, pork chops, and so much more. It can even improve the taste of something like homemade quesadillas or even hash browns. This is quite true.
Although technically, you would be buying this to facilitate the cooking of flat bacon, this could become a very important cooking tool in your kitchen. You can also use it to make crispy tortillas, grilled sandwiches, seared vegetables or potatoes. They are many uses for it.
What Are Some Advantages of the Press?
Perhaps the biggest is that anything you make with your grill press will cook evenly on both sides. No more drier parts or having one side of your dish cooked and the other ice cold.
The second biggest advantage is in the taste of your food. Between the seasoning of the grill press and the thorough cooking of your dish, your meal will be delicious every time. Just make sure the press is heated before use.
Another advantage is one we have been eluding to. That is the diversity of your grill press. Although it is best known as a bacon press, this cast iron kitchen tool has a wealth of uses. Pretty much anything you cook will come out so much better if you use your grill press during the cooking process.
Cons of Using a Cast Iron Bacon Press
The reason we are starting this section with the cons is that there are so few of them. Those cons that do exist are easily balanced out by the pros of using this increasingly popular cookware. So, let's get right to it.
Perhaps the reason most people hesitate to buy cast iron bacon presses or cookware in general is that it can be heavy to lift and maneuver around. This may be true; however, you don't have to worry about the pan incurring scratches, dents, or flaking. The cast iron is quite durable. Plus, it really is not as heavy as someone might think. Using it in the kitchen is a breeze.
This, however, is not a big con. We are only mentioning it for folks who might see it as such. That is having to season the pan itself with spices or vegetable oil prior to using it. After all, with other cookware, you season the meat itself, right? Perhaps this is true; however, by seasoning the cast iron grill press itself, your food comes out tasting incredible.
Cleaning and Seasoning
Additionally, bacon grill presses must be seasoned--just like all cast iron cookware and also cleaned. Most of them do come preseasoned and you'll notice them via their mate finish. If they are unseasoned, you can do it very easily by following the steps we describe here. Seasoning adds a very thin layer of oil so the iron cast press doesn't stick to the food.
As for cleaning, it must be done after every use. Given that it is iron cast it has a few pecularities, such no submerging in water, removing food stuck with a plastic brush while it is hot and drying them completely after washing them. Yes, you can wash your bacon press with soap.
DO NOT put it in the dishwasher. It is not necessary to degrease the press. Having trace amounts of grease on it helps to season it for future use. If you put your bacon press in the dishwasher, it will degrease and remove any seasoning from the press.
Instead, what you should do is use some plain hot water. No detergents or scouring pads are required either. Perhaps use a soft sponge with hot water. Be certain you are gentle when washing your cast iron bacon press.
Do You Need a Cast Iron Bacon Press?
The answer is yes, most likely yes. As we mentioned above, they are quite versatile and it can be used for a myriad of foods. You're bound to eventually cook bacon, steaks, sausages, grill vegetables, sandwiches and more. Each meal will be better than it has ever been before.
No matter which brand or shape cast iron bacon press you buy, you will not be spending a lot of money, as prices start at under $10. Plus, you can expect it to last a lifetime with care we described above. This might not make you the world's greatest chef, but it improve a lot of your meals.