As Donkey says in the first Shrek movie, who doesn't love parfait? While a good yogurt parfait can be enjoyed with a spoon, this recipe mixes things up a bit (literally) by turning it into a drink. This smooth and creamy beverage is perfect for mornings, afternoons, or just when you need a delicious pick-me-up.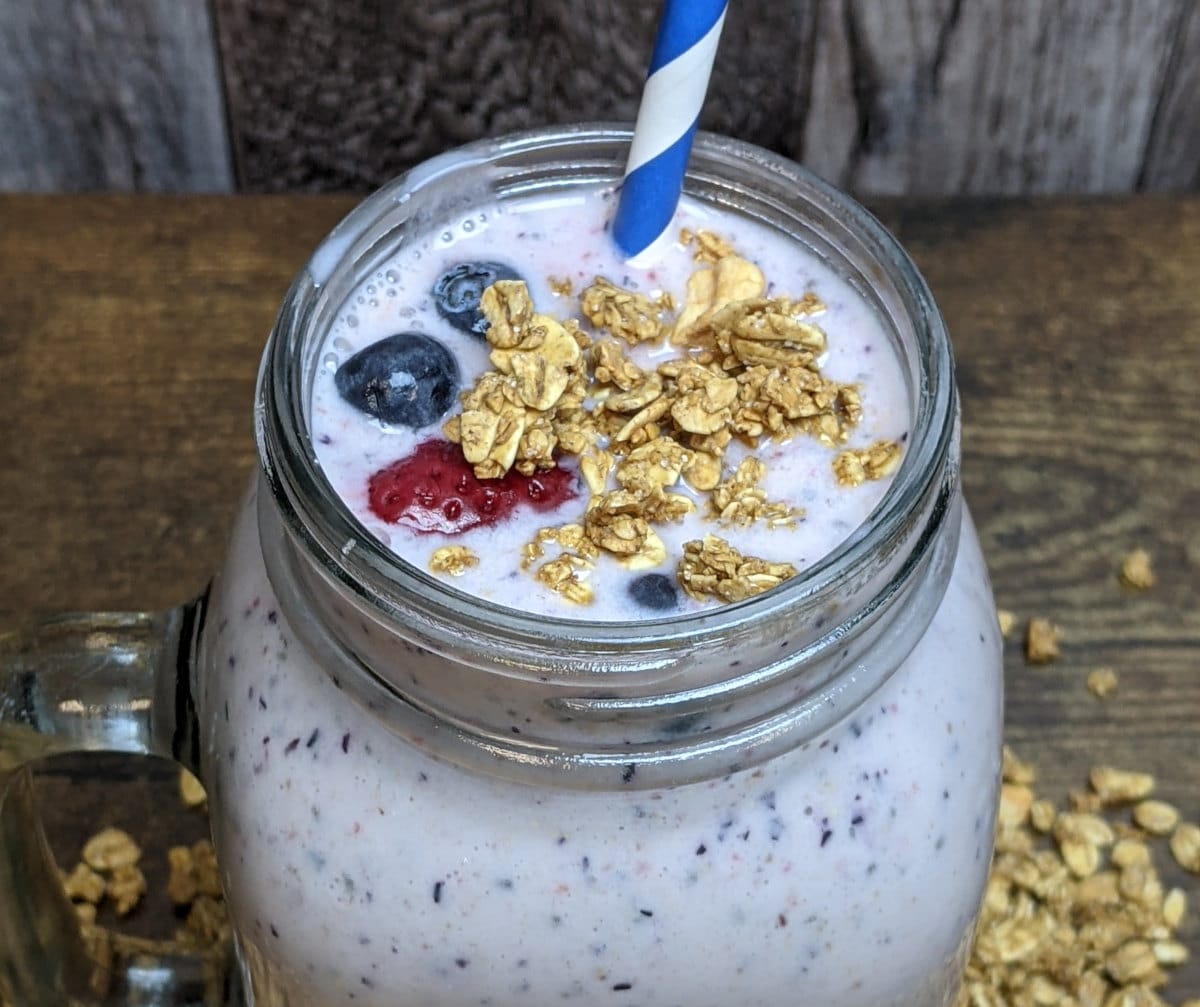 I got into blending and smoothie-making recently as a way to incorporate more healthy foods into my life. Before I purchased my blender, I had a hard time eating the daily recommended servings of fruits and vegetables. Now, I struggle to make sure I'm not eating too many.
Whether you're an old smoothie pro or you're a newbie like me, you'll appreciate the speed and efficiency of this recipe. Yogurt parfaits don't have to be complicated, and when they're in smoothie form, you don't need to worry about layering either.
Table of Contents
Yogurt Smoothie Parfait — Healthy and Decadent
Just because I'm trying to add more nutrients to my palate doesn't mean that my taste buds have to suffer, and neither will yours. The best thing about yogurt smoothie parfaits is that they are endlessly customizable. This particular recipe offers the fundamentals, but feel free to add your own spin to the creation. There are no wrong answers, just better-tasting smoothies.
However, what makes this particular beverage so healthy? Here are a few reasons:
I've Got a Good Gut Feeling - I use Greek yogurt, which helps aid digestion and ensures that your stomach is working properly. No bloat here!
I C Vitamins - Both strawberries and blueberries are packed with vitamin C, which helps your immune system. Plus, they have antioxidants and plenty of other nutrients.
Fiber to the Rescue - You can use a yogurt parfait smoothie as a meal replacement, thanks to the heaping spoonful of Chia seeds. These seeds help you feel full and clear out your system.
How to Make a Yogurt Parfait Smoothie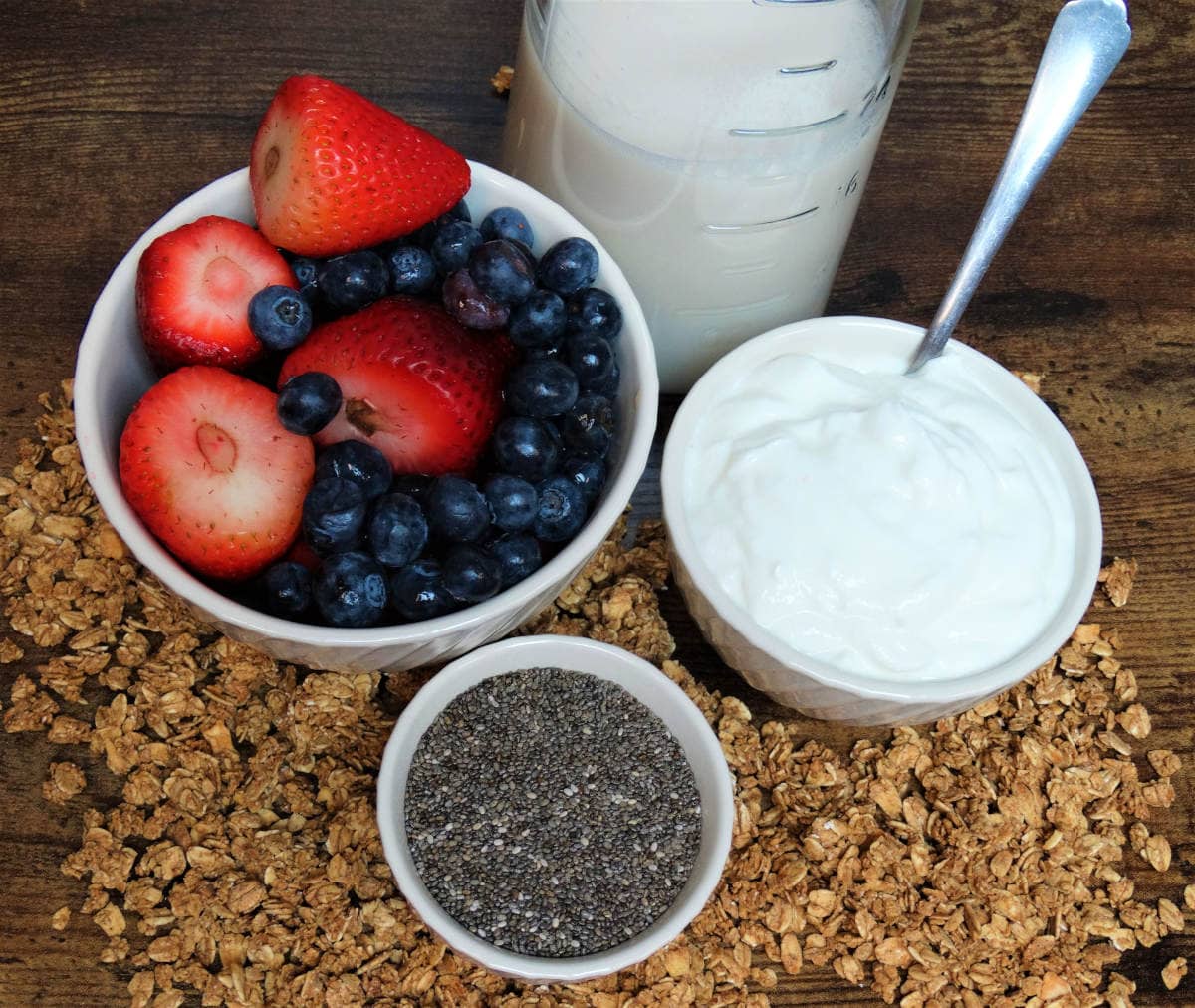 As I mentioned, this recipe is ridiculously easy — you don't need a degree in smoothie science. However, as I'll discuss later on, you can adjust these steps to make your smoothie even tastier and healthier. Depending on what you decide to change, you may have to do a little more prep.
Nonetheless, here is how I make mine:
Step One: Yogurt, Anyone?
Greek yogurt is excellent for your body but not so great for your taste buds. The first time I ever tried plain Greek yogurt, I thought it had spoiled. So, I highly recommend choosing flavored varieties, at least at first. I've developed a taste for the unsweetened stuff over time, but it took a while.
You can also choose different yogurt options, like almond or cashew yogurt. I tend to prefer chocolate to vanilla, although strawberry yogurt mixes well for this particular recipe.
Step Two: Fruits of My Labor
I've chosen strawberries and blueberries for this recipe, but feel free to add others as well. Raspberries and blackberries can add a little tartness to the mixture, depending on how many you add. Be sure to cut the tops off of your strawberries before blending them unless you like some extra fiber in your drink. If you want a more refreshing treat, try freezing your fresh berries beforehand.
Step Three: Ch-Ch-Chia!
Chia seeds are such a fantastic ingredient, and they are easy to incorporate into any smoothie. I like to put them in my yogurt parfait because they mix well with the flavor profile. If you're not into Chia seeds, you can opt for loose granola instead. Put a full tablespoon into the cup if you want to feel full and satisfied.
Step Four: Pour Some Almond On Me
I love almond milk, and I use it for all of my smoothies. However, you can use whichever milk you prefer, whether it comes from an animal or a nut. I like unsweetened vanilla almond milk, but if you're going to use plain Greek yogurt, you'll want a little more sugar in there.
Once all ingredients are in the jar, blend until smooth. The Chia seeds won't break down, so be aware that your smoothie will have a little satisfying crunch to it. If you really want to sell the parfait aspect, put a dollop of fresh whipped cream on top. The purple color of the yogurt smoothie will stand out against the white cream, making it perfect for social media sharing.
Recipe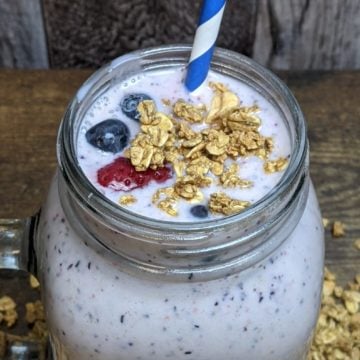 Yogurt Parfait Smoothie Recipe
This smooth and creamy beverage made with strawberries, blueberries, chia seed and almond milk is perfect for mornings, afternoons, or just when you need a delicious pick-me-up.
Ingredients
⅗

cup

Greek Yogurt

(Plain or Flavored)

½

cup

Strawberries and Blueberries

(Frozen or Chilled)

1

tbsp

Chia Seeds

1

cup

Almond Milk
Instructions
Scoop the yogurt into the bottom of the jar.

Cut the stems off of your strawberries, and toss them in with the blueberries.

Pour a heaping tablespoon of Chia seeds, then cover with almond milk.
Alternative Recipes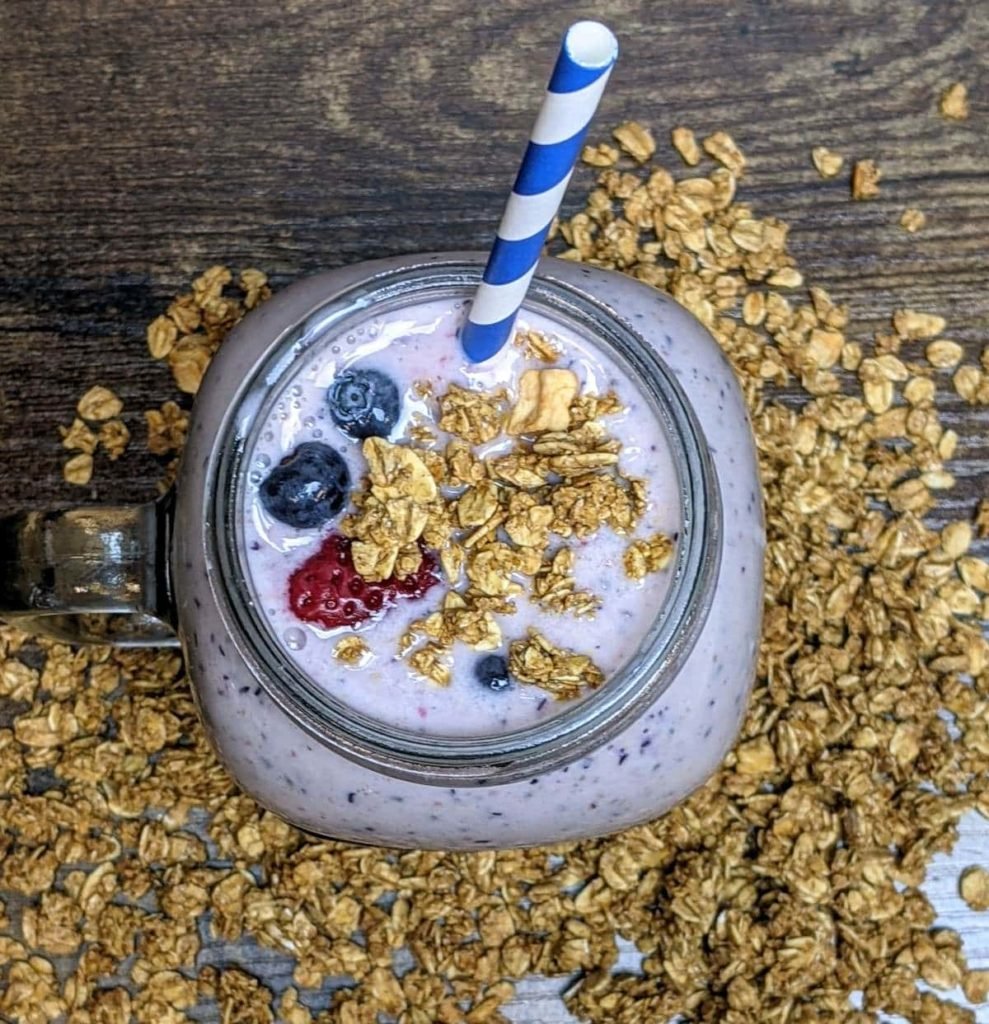 While this basic yogurt parfait smoothie is sure to tickle your fancy, you can kick things up a notch with these alternate suggestions.
Ice, Ice Baby - In addition to using frozen fruits, you can toss a few ice cubes in for good measure. Doing this will make a cool treat for hot summer days. You can go even further and freeze your almond milk into cubes! However, be sure that your blender can handle so many frozen items. You will want to have some liquid to help create a smoother mixture.
Berry Cool - Add extra fresh berries into the mix, including blackberries, raspberries, and boysenberries. The resulting smoothie will be a rich, deep purple. If you use chocolate yogurt, the resulting beverage will be even more eye-catching.
Sugar-Free - To reduce your overall sugar intake, use unsweetened almond milk and plain Greek Yogurt. If Greek yogurt is too sour for you, try regular yogurt instead.
Crunchy Time - While Chia seeds add fiber and some crunch, granola will enhance those characteristics even more. To get the best results, I recommend sprinkling some on at the end and stirring them in. Otherwise, the blender will chop them up too much.