Dumplings are a staple in Asian homes and have become increasingly popular worldwide. Making dumplings at home is easy, and if you don't know what to serve dumplings with, this article is for you.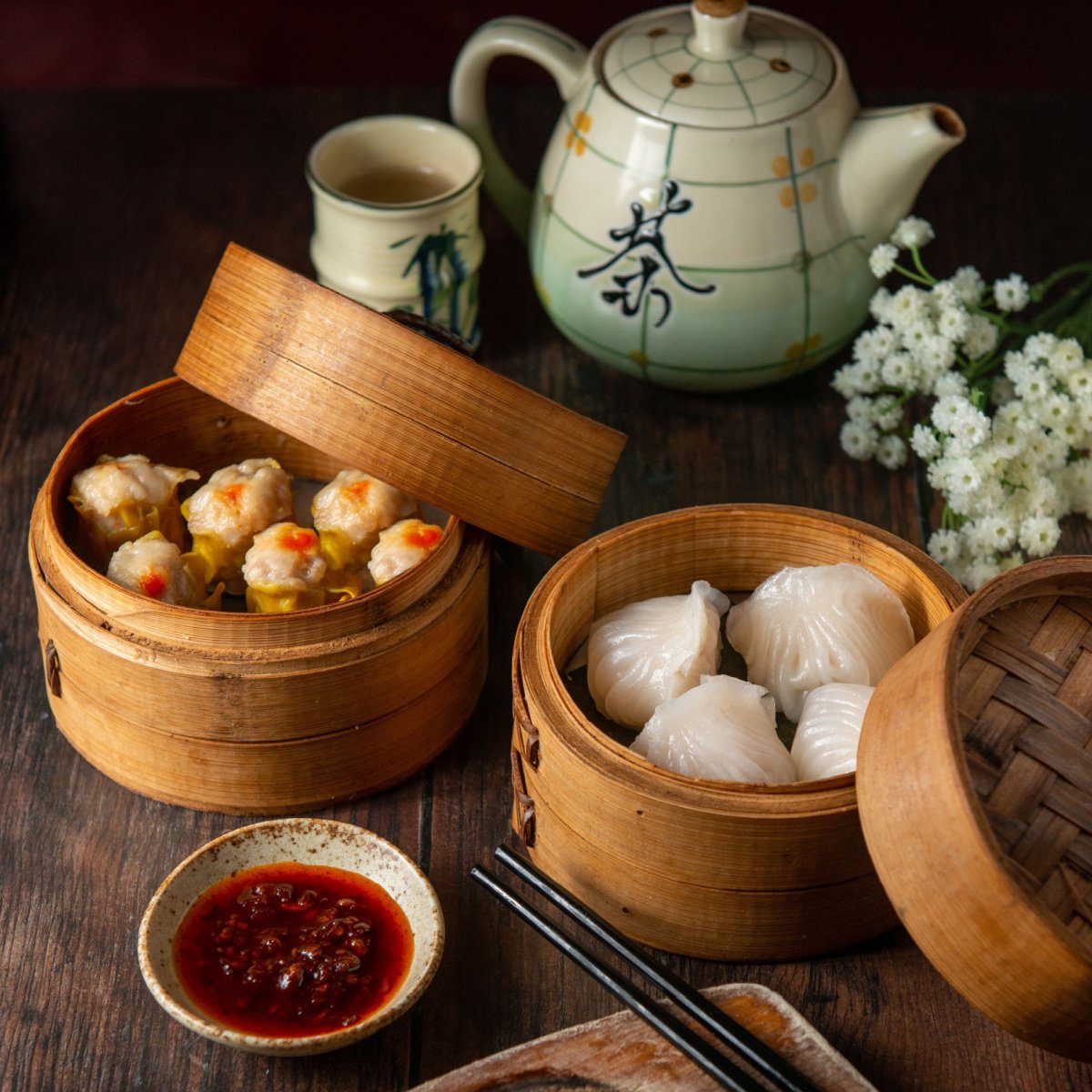 Aside from dumpling sauce, you can serve fried rice, Chinese pickles, noodle soup and other soups, mashed potatoes, and other dim sum. Milk tea, soda, and herbal teas, such as ginger tea, are excellent drink options.
This article will discuss the top 20 side dishes that go well with dumplings and provide easy-to-follow instructions on making them.
Table of Contents
What Are Dumplings?
Dumplings are made of dough and filled with a savory or sweet filling. Dumplings are famous in Asian cuisine but are now popular worldwide.
Dumplings are typically boiled, steamed, or fried and served as a side dish, appetizer, or main course.
There are many different types of dumplings, including Asian dumplings like potstickers, xiao long bao, gyoza, shumai, and mandu, and dumplings from other countries, including empanadas, pierogi, knishes, and ravioli.
Potstickers, Guo tie, and gyoza are small, crescent-shaped dumplings that are pan-fried, steamed and served with a dipping sauce.
Xiao Long Bao is a popular Chinese dumpling with thin dough filled with ground pork and hot broth.
Wonton, also known as soup dumplings, are Chinese dumplings made with a thin dumpling wrapper filled with ground pork, shrimp, and vegetables.
Shumai is an Asian dumpling filled with ground pork and shrimp and served in a bamboo steamer.
Mandu is a Korean dumpling similar to a potsticker, filled with savory ingredients.
Pierogi are dumplings filled with savory ingredients such as potatoes, cheese, and onions and boiled in water.
Knishes are Jewish dumplings usually filled with chicken, potatoes, or cheese and are then fried or baked.
Empanadas are savory pastries with flaky dough filled with meat, cheese, or vegetables.
Ravioli are Italian dumplings with various ingredients such as cheese, vegetables, or meat and usually come with a sauce.
German potato dumplings are sphere-shaped dumplings filled with potatoes, eggs, and celery.
Top 20 Sides To Serve Dumplings With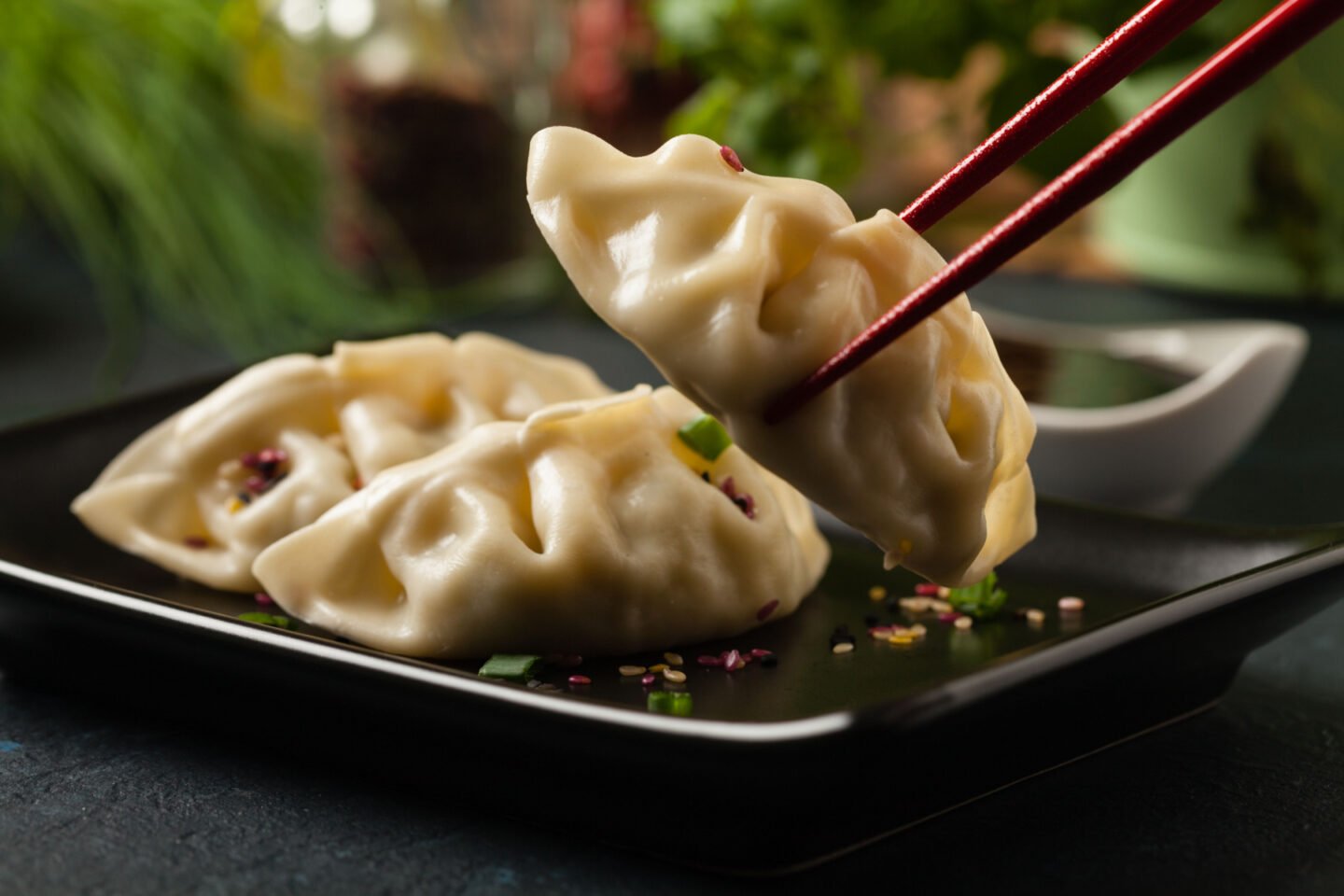 1. Dumpling Sauce
Dumpling sauce is an excellent side for dumplings, as it adds flavor and texture. The type of dumpling sauce you make depends on the kind of dumpling you have.
Famous sauces for dumplings include soy sauce, black bean sauce, chili oil, green onion, sesame seeds, and sesame oil. You can mix and match these ingredients or add things like oyster sauce and rice vinegar to make them taste better.
If you have homemade pork dumplings, you can easily make a simple dumpling sauce by mixing the ingredients to your desired taste and drizzling it on the dumplings or dipping them in the sauce.
2. Fried Rice
Fried rice is a delicious side dish to serve with dumplings. This is an easy one-pan meal with lots of different ingredients. For basic fried rice, you'll need cooked white or brown rice, oil, green onions, garlic, and your choice of vegetables and meat.
You can often see Chinese fried rice, also known as chao fan, served along with shumai in many Asian dim sum restaurants.
3. Chinese Pickles
Chinese pickles are a traditional side dish served with dumplings. They are a combination of various vegetables, such as cucumber, cabbage, and bell peppers, pickled in a mixture of vinegar, sugar, salt, and spices such as Szechuan peppercorns.
The pickling process helps preserve the vegetables and gives them a unique flavor. Although it may sound complicated, making Chinese pickles is pretty simple.
Start by washing and cutting the chosen vegetables into thin slices or sticks. Then combine the vinegar, sugar, salt, and spices in a bowl and stir until evenly distributed.
Place the vegetables in a jar and cover it with the vinegar mixture. Leave the mixture to pickle for at least a few hours before serving.
4. Noodle Soup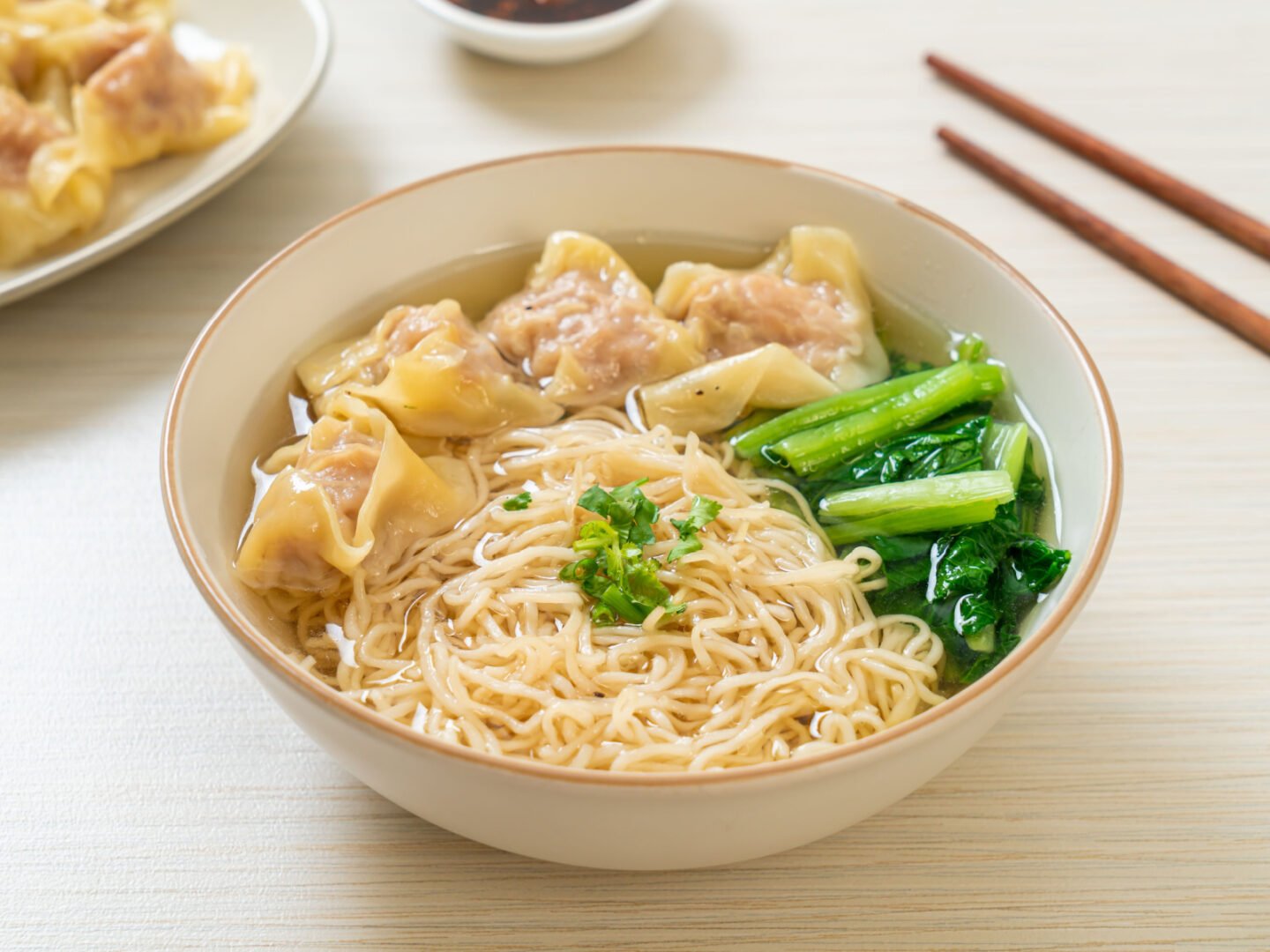 Noodle soup and dumplings can make a delicious and comforting meal. The noodle soup adds a light and flavorful broth to the dumplings. The noodles can take on the flavor of the dumplings, and the broth can make what would be a heavy dish lighter.
Wonton noodle soup is a standard menu option in dim sum restaurants, proving that noodle soup with dumplings is an excellent combination.
If you are making noodle soup to go with savory dumplings, make the broth light so it doesn't overpower the dumplings.
5. Pumpkin Soup
Pumpkin soup is a rich, creamy, and subtly sweet soup made from pumpkin puree that adds a rich flavor to your dumplings. It often comes with nutmeg, cinnamon, or other spices, served with a swirl of cream or a dollop of sour cream.
Making pumpkin soup for your steamed or fried dumplings at home is easy. Start by sautéing onions and garlic in butter or olive oil. Then add cubed pumpkin and diced carrots, and stir until softened. Add vegetable or chicken broth and bring to a boil.
Simmer for 20 minutes, or until the vegetables are soft. Then, use an immersion blender to puree the mixture. Finally, add salt, pepper, and any other spices you like.
6. Egg Drop Soup
Egg drop soup is a light and flavorful Chinese soup made with eggs and broth that balances the flavors of your fried dumplings. The eggs are lightly beaten and then poured into a boiling broth, where they cook and form thin strands or ribbons.
The soup comes with soy sauce and scallions and can sometimes include other ingredients such as mushrooms, tofu, or cornstarch.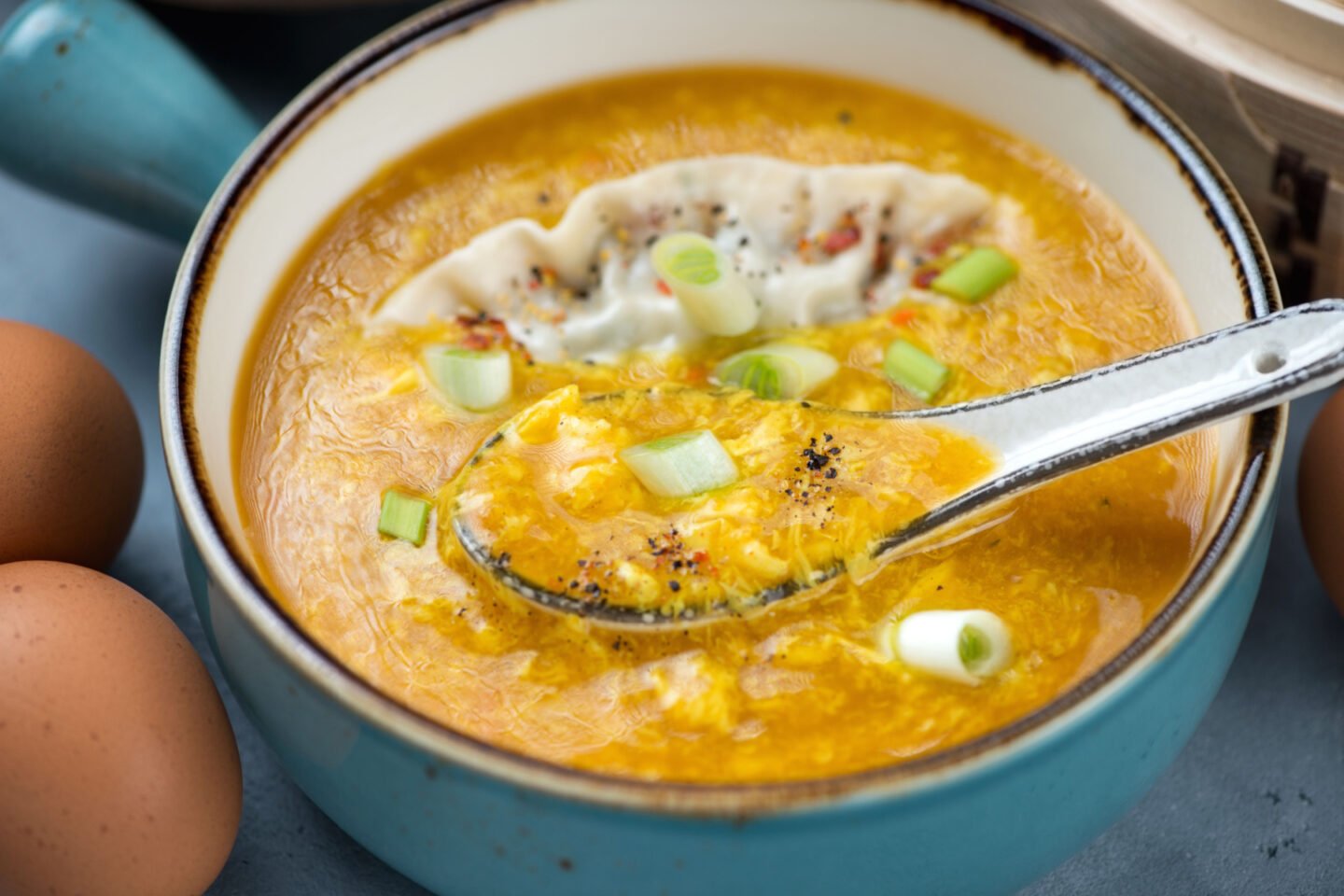 To make egg drop soup at home, start by heating chicken or vegetable broth in a saucepan. Bring it to a gentle boil, lower the heat, and add soy sauce, scallions, or Chinese chives. Beat an egg in a separate bowl, then slowly pour it into the soup while stirring gently.
The egg should cook quickly and form thin strands. Serve the soup with extra scallions and a sprinkle of black pepper.
7. Vegetable Soup
Vegetable soup is a hearty, comforting soup made with a variety of vegetables and a broth or stock. It is an excellent dumpling side dish that is light, flavorful, and easy to customize.
To make vegetable soup at home, start by sautéing onions, celery, and carrots in a large pot. Add in the vegetable stock and bring to a simmer.
Add a variety of vegetables, such as potatoes, green beans, corn, and peas. Simmer for about 20 minutes until the vegetables soften. Season the mixture with salt, pepper, and herbs.
8. Mashed Potato
Mashed potatoes are an excellent pair for shrimp dumplings or any dumpling recipe, as they have a very light flavor and filling.
Making mashed potatoes at home is simple and easy. Begin by boiling peeled potatoes in a pot of salted water until they are fork-tender. Drain the potatoes, and then return them to the pot.
Add butter, milk, and seasonings to the potatoes, and then mash them with a potato masher until they are smooth and creamy. Adjust the seasonings as desired and serve hot, topped with garlic, Chinese chives, or parsley.
9. Spring Rolls and other Dim Sum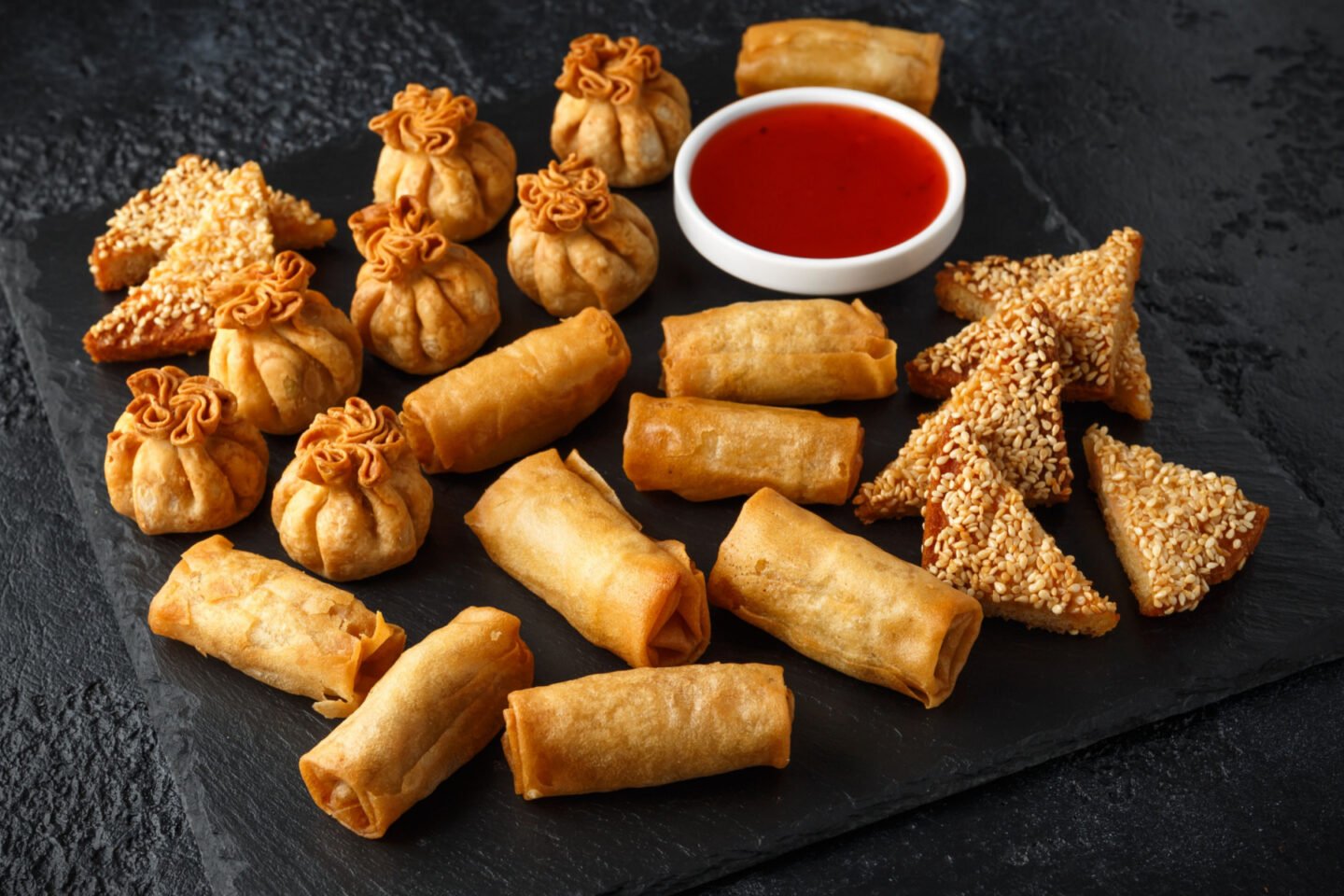 Spring rolls are an Asian-style appetizer made with a thin, cylindrical wrapper and various ingredients like shredded cabbage, bean sprouts, carrots, mushrooms, and pork or shrimp.
You can easily buy dim sum products in any Asian store. You can have a variety of shrimp dumplings, pork dumplings, and vegetable dumplings on your plate with spring rolls.
Most ready-to-cook dim sum products come with instructions on the packaging, so you just have to follow them.
10. Cucumber Salad
Cucumber salad is a classic dish in many cultures worldwide that adds crunch to your dumplings. It is a simple salad made up of cucumber slices, usually seasoned with any acidic ingredient, such as rice vinegar, lemon juice, or white vinegar.
To make cucumber salad at home, start by slicing two cucumbers into thin slices. Place the slices in a bowl and season with one tablespoon of rice vinegar and one tablespoon of sugar.
Allow for 15 minutes for the flavors to develop. Lastly, top with a few tablespoons of sesame seeds and serve.
11. Stir-fried Noodles
Stir-fried noodles are one of the easiest side dishes to make at home. It complements dumplings very well and only takes a few minutes to complete.
First, cook the noodles in boiling water until they are al dente. Then heat some oil in a wok or pan and add the vegetables. Once cooked, add the cooked noodles, meat, and any seasonings you desire.
Cook everything together for a few minutes until the flavors are blended. Serve it hot with your favorite dumplings.
12. Vegetable Stir Fry or Steamed Vegetables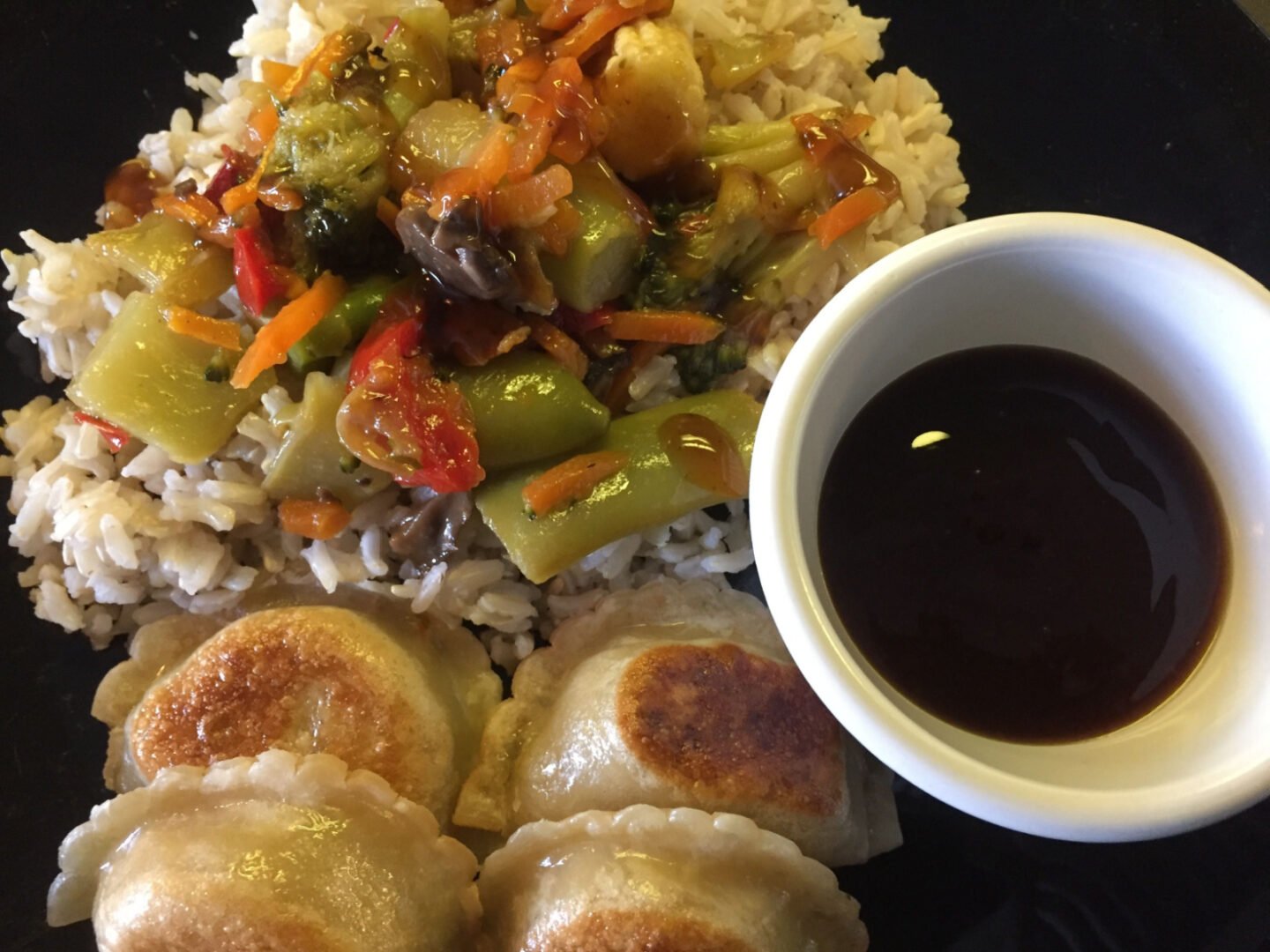 Vegetables are a healthy addition to your dumplings, especially if you want more dietary fiber. You can choose any vegetable to stir-fry or steam.
Steamed broccoli or Chinese broccoli stir fry is a famous dumpling side dish as it offers a light flavor profile that goes well with any dumpling. If you want something sweeter, you can also steam a sweet potato.
13. Cabbage Salad
Cabbage salad is like Chinese pickles but does not take hours to make. You only need shredded cabbage, carrots, other vegetables, and a light dressing, such as a vinaigrette or a citrus-based sauce.
Mix in other vegetables of your choice, like bell peppers, celery, and onions. Then, whisk together your favorite dressing, pour it over the vegetables, and mix until evenly coated. Finally, season the mixture with salt, pepper, and other herbs or spices.
14. Green Bean Salad
Green bean salad is perfect for those who like a flavorful and crunchy side dish. Making green bean salad at home is easy.
Begin by trimming the ends off of a pound of fresh green beans and blanching them in boiling, salted water for three minutes. Drain and rinse with cold water to stop the cooking.
Mix minced garlic, lemon juice, olive oil, salt, and pepper in a separate bowl. Next, add the cooled green beans and any desired nuts and herbs to the bowl. Toss everything together until evenly coated, and serve.
15. Scrambled Eggs
Scrambled eggs are a staple side dish that you can make effortlessly. Begin by beating two to three eggs in a bowl with a fork. Heat a pan over medium heat and add a tablespoon of butter or oil.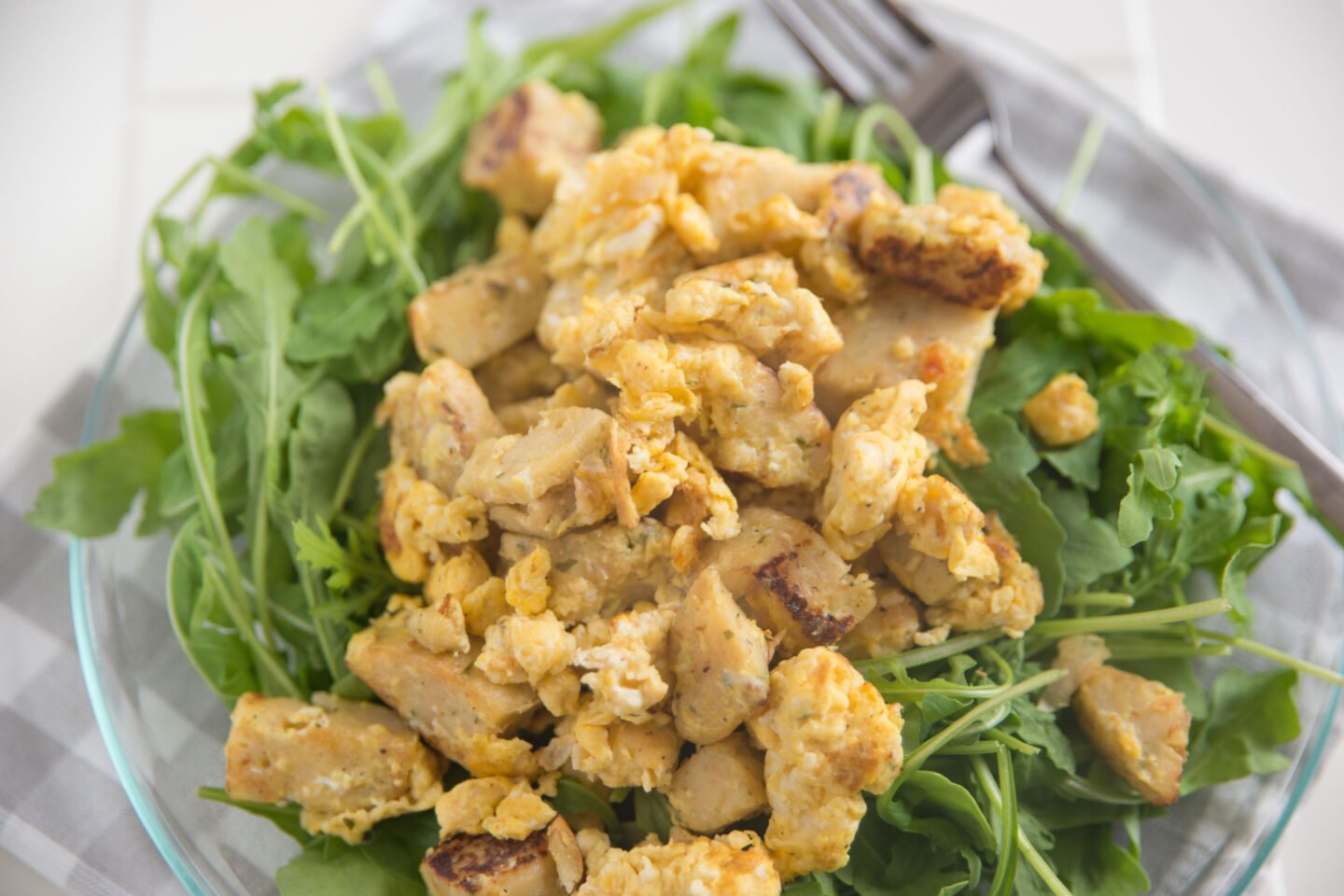 Once the butter or oil melts, pour the beaten eggs into the pan and stir with a rubber spatula or wooden spoon. As the eggs cook, continue stirring until they have reached a soft scrambled consistency.
16. Meat
While not a common combination, meat is very savory and increases your protein intake. You can have the meat grilled or fried, but make sure to marinate it before cooking for more flavorful results.
17. Milk Tea
Milk tea is a traditional beverage that combines black tea with milk that is creamy and flavorful. Although I don't advise making milk tea at home as it takes a lot of time to make tapioca pearls, I suggest you buy them from a bubble tea shop near you.
18. Soda
Soda is a great way to cleanse your palate before eating other fried or steamed dumpling varieties. However, this may not be the best for you if you don't want any carbonated drinks.
19. Iced Tea
Iced tea is a popular drink if you don't enjoy soda. Aside from being light, iced tea also offers many health benefits.
20. Ginger Tea
Another great healthy drink that you can make at home is ginger tea. You only need to boil fresh ginger, let it steep for at least 10 minutes, and serve.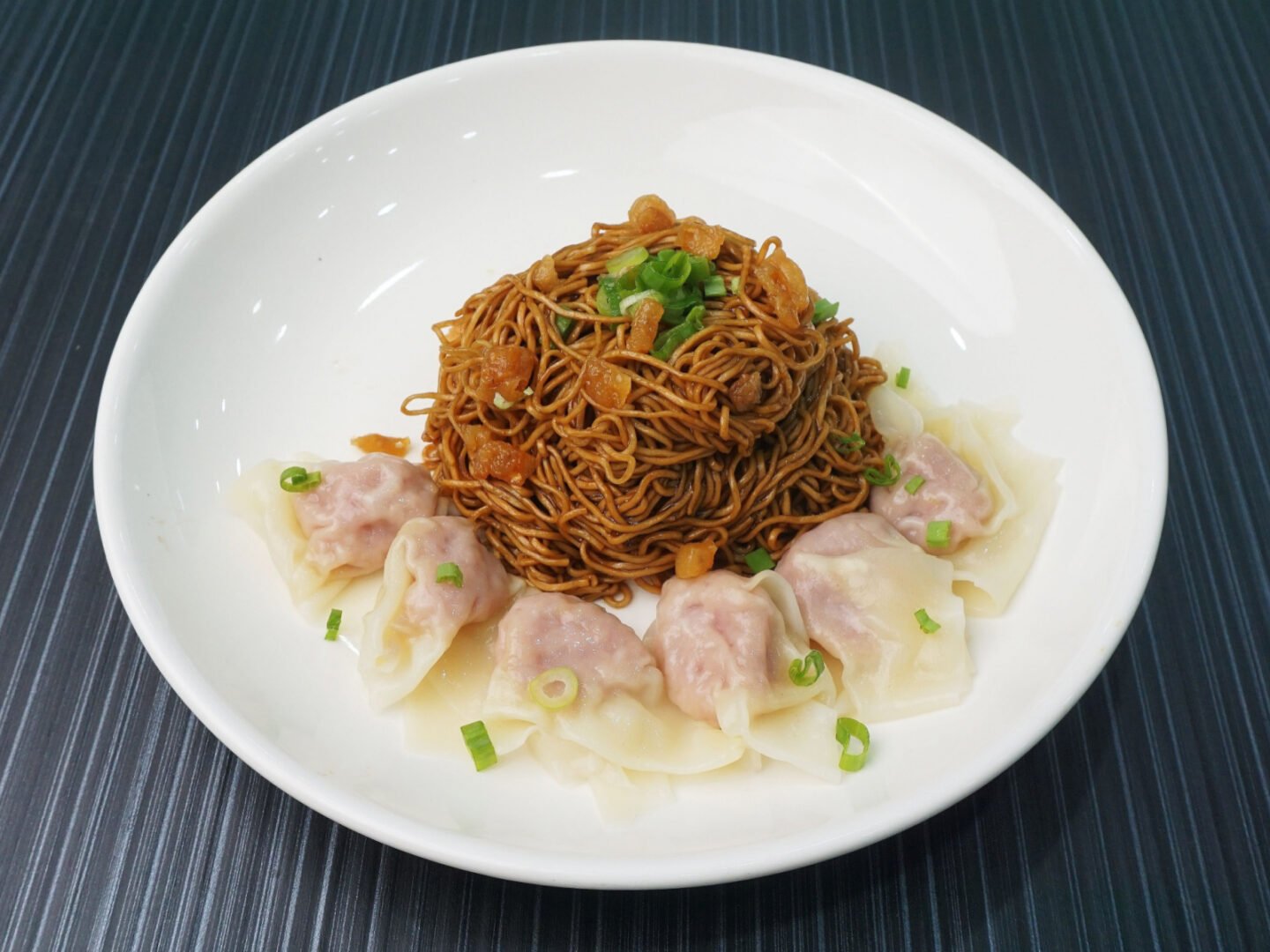 Related Questions
Are frozen dumplings healthy?
Yes, frozen dumplings are still healthy. However, check their quality and freshness before cooking a batch. Frozen dumplings tend to go bad when not stored correctly, so keep them in the coldest part of the fridge.
How do you serve dumplings at home?
I suggest keeping the steamed dumplings in the steamer to maintain their temperature and preparing an excellent dumpling sauce with lots of sesame seeds. It's best to serve dumplings with a cold drink to balance the flavors.
What is the best dumpling?
The answer to this question depends on your tastes. Most people enjoy xiao long bao, wonton, and other dumplings from Asian cuisine, but you can also enjoy dumplings from other countries, such as ravioli, empanadas, and pierogi.