Even though picanha steak is the preferred cut in South America, it is surprisingly unknown outside of Brazilian steakhouses. However, once you try it for yourself, you'll understand exactly why it has earned such high esteem in its home country. With a fantastic flavor, low-hassle preparation, and an affordable cost, it's an all-around great cut of beef.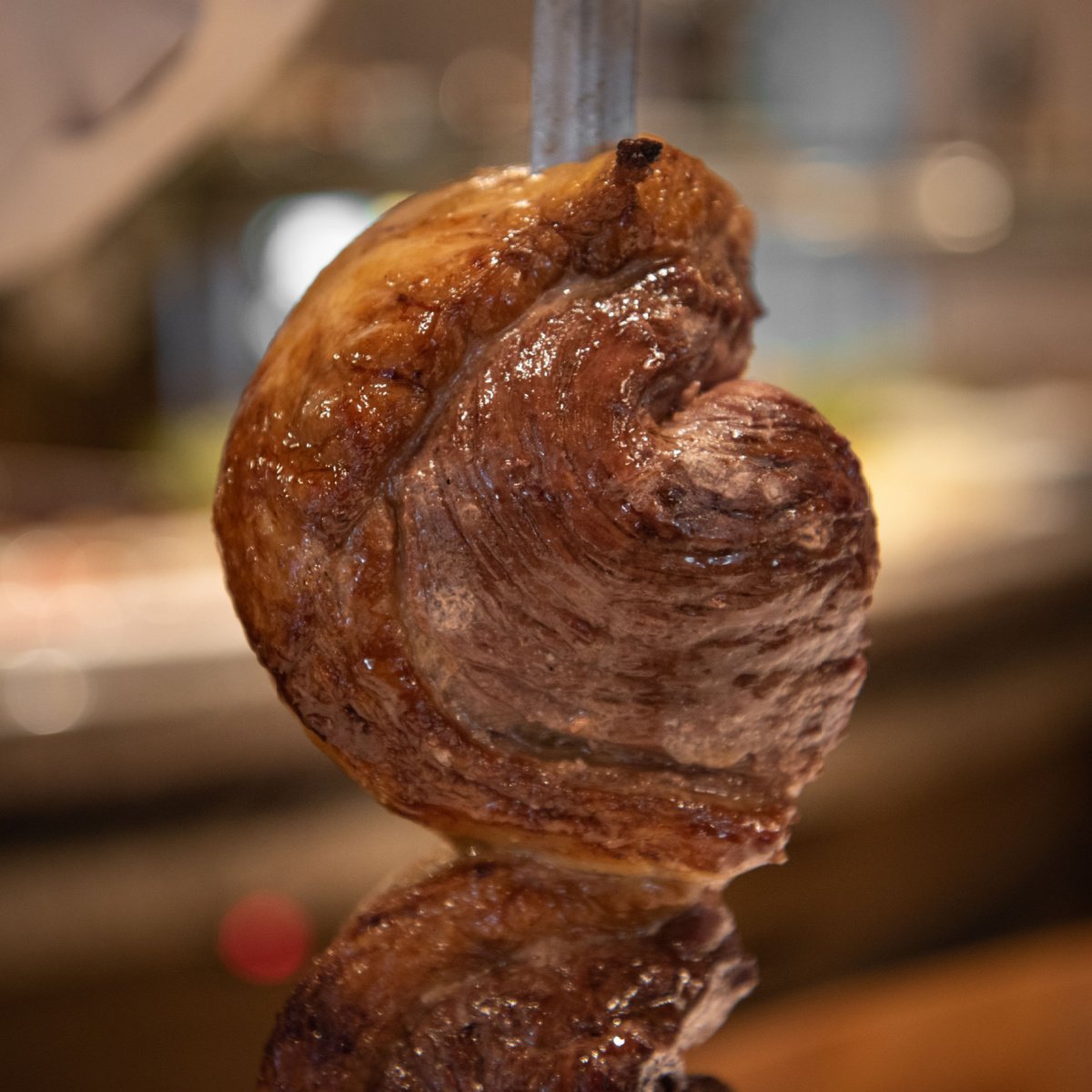 Picanha steak is a cut that comes from the cow's rump above a fat cap. It's sometimes known in other parts of the world as a sirloin cap or rump cap. To learn more about this unique steak, take a look at our complete guide here.
Table of Contents
Learn More About Picanha Steak
The name "picanha" comes from the name of a tool used by cattle farmers in Spain and Portugal. Even though it's no longer used today, the name stuck around as the meat was popularized in Brazil. Brazilian steakhouses are known for having a variety of cuts, but picanha has earned a special place because it is inexpensive and tastes great.
The most common way to prepare the steak is churrasco style, which is a native Brazilian barbecue method. It involves skewering steaks and then roasting them in charcoal, then serving them with rock salt.
As mentioned above, it comes from a cow's rump, giving it a juicy and tender texture.
Picanha Steak's Flavor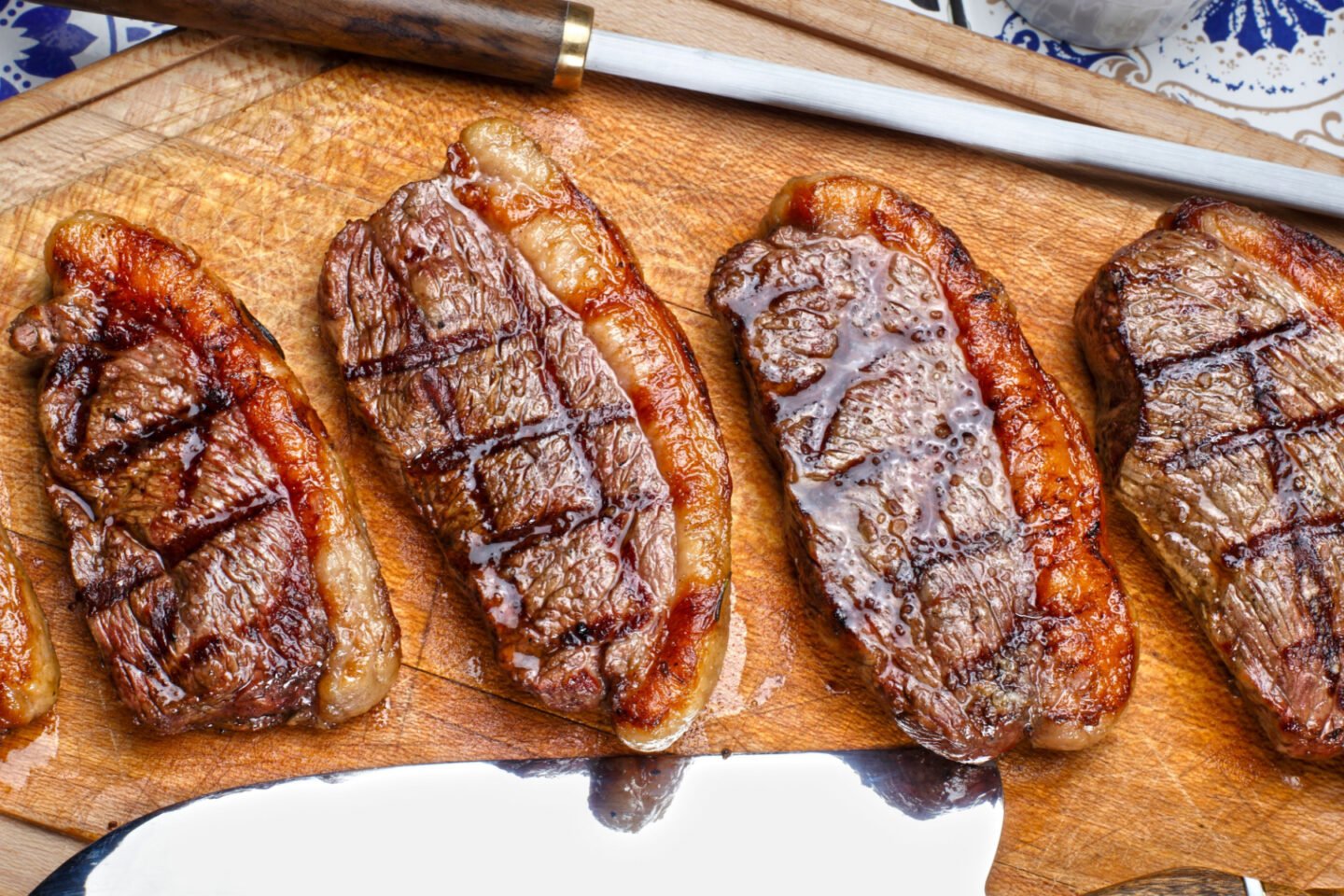 While picanha steak doesn't have as much fat marbling as other cuts, its thick cap of fat helps give it a tender, juicy texture and bold flavor. It is probably most similar in flavor to ribeye. The extra fat makes it a good choice for the smoky flavor and cooking over an open flame that churrasco-style cooking is known for.
Another reason it's the top choice in Brazilian steakhouses is because of how well its bold flavor stands on its own. Enjoying this steak with just salt is recommended.
Where Can I Find Picanha Steak Near Me?
Picanha is popular in some parts of the world, but it hasn't caught on everywhere. In fact, you'll probably have a hard time finding it in American and European grocery stores. However, if you know what to ask for, you might be able to find a butcher who can give you the same cut.
The Name
When looking for your own picanha steak, your search will be made easier by knowing some of the other names it goes by. Coulotte, top sirloin cap, rump steak, and rump cap are all common pseudonyms. Make sure to ask for one of these if your butcher hasn't heard of picanha.
Fat Cap Thickness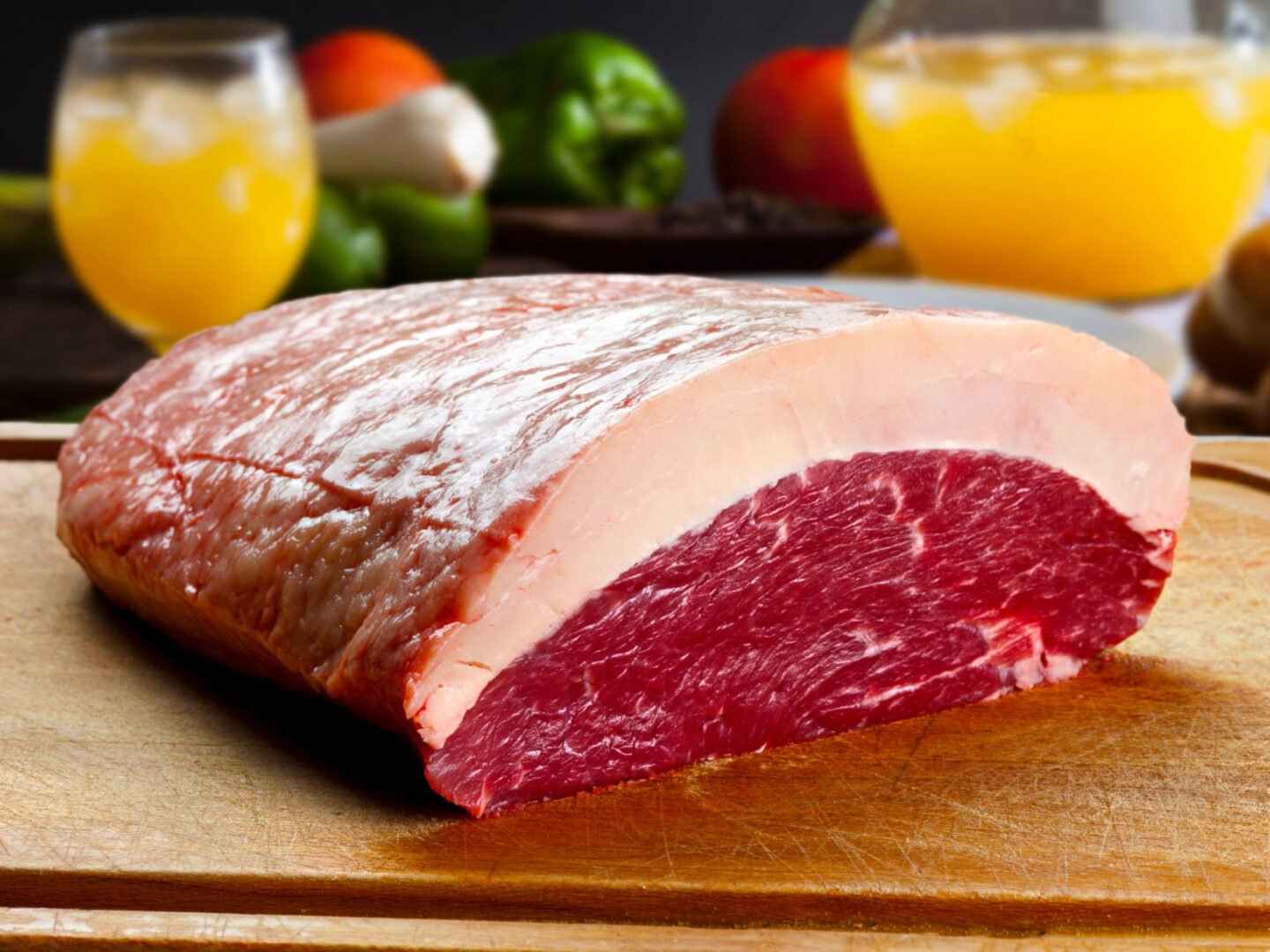 The fat cap on a picanha steak is very important because it keeps the meat juicy and tender while it cooks. Make sure yours is nice and thick, at least ¾ of an inch.
Weight
Generally, you'll want to stay on the small side when choosing a picanha steak. The reason is twofold. First, this will allow you to cook it faster with a deeper char on the outside. Second, thicker picanha steaks often contain other cuts of meat that are tougher. Your best bet is to choose a cut that is between two and three points.
Dryness
Picanha cooks best when it is relatively dry, meaning there isn't excess liquid coming from the steak after it's been butchered. Avoid cuts that have excess marbling throughout. Most of the fat should be in the cap.
How to Cook Picanha
The traditional way to cook picanha steak is to roast it over an open flame. However, if you're looking to prepare it at home, you can make it just as flavorful with simpler methods. Try any of these to get the most out of your picanha steak.
On the Grill
Picanha steak is best enjoyed with simple seasoning, so all you need to do before throwing yours on the grill is to season it thoroughly with coarse salt and let it come to room temperature. Prepare your grill by cleaning it with water and then wiping it down with olive oil to keep the meat from sticking.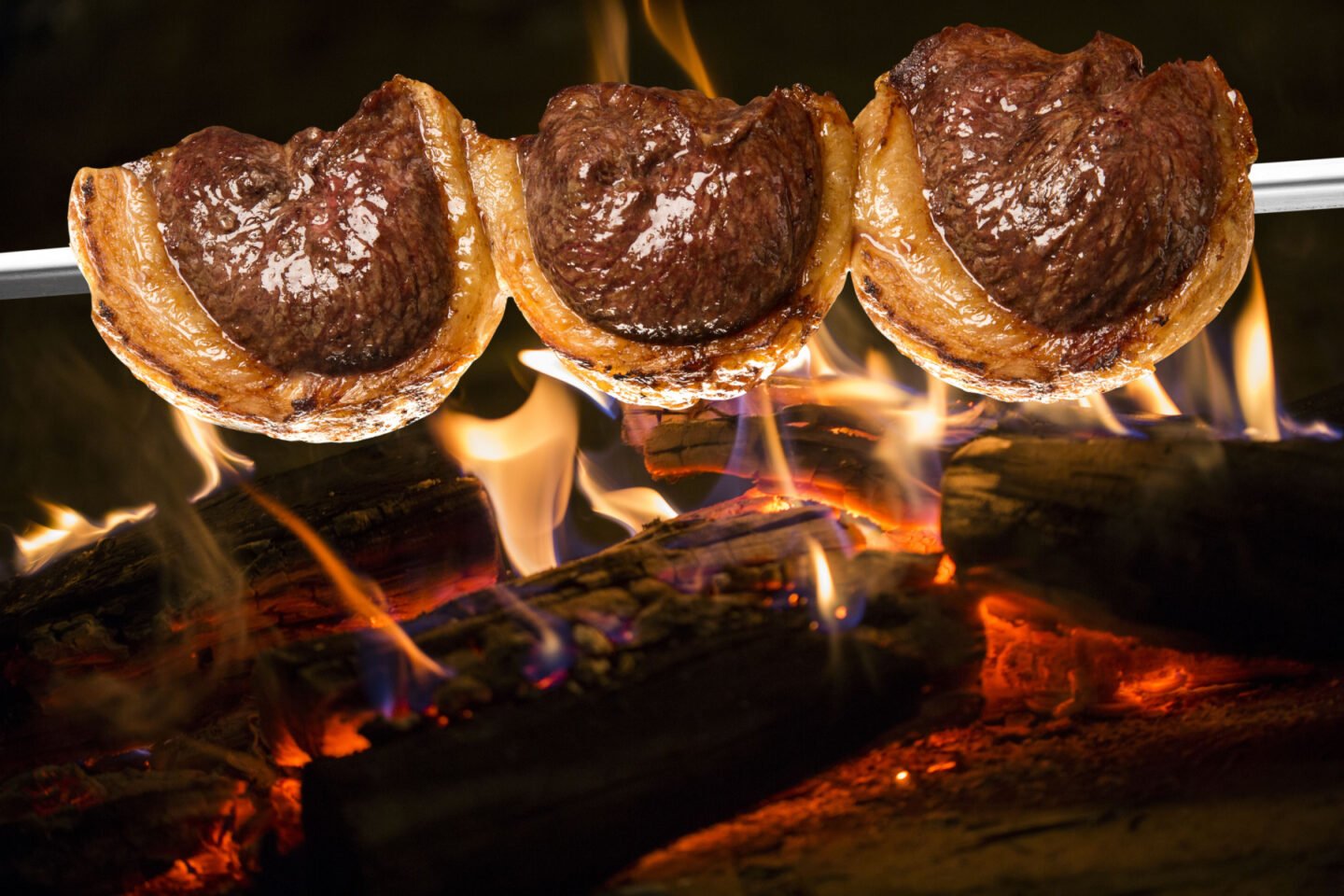 Once your meat and grill are ready, lay your steaks along the outer edges, away from the heat, and close your grill's hood. Cook them this way for six minutes, flip them, and cook for six minutes more. Then move them to the center of the grill and sear them on both sides until the outside is crispy and the inside temperature reads 130 degrees Fahrenheit, which should be perfectly medium-rare.
In a Pan
The grill is probably the most traditional way to cook picanha steak, but a steak cooked in a pan will still taste great. Prepare your steak as you normally do and heat a neutral-flavored oil in a skillet over medium-high heat.
Once your pan is up to temperature, place your steaks inside and sear each side for one to two minutes until a deep brown crust has formed. Then remove the steaks and lower the heat to medium. Wait a few minutes for it to come down to the right temperature, and then sear for another three to four minutes per side.
In the Oven
Oven-roasting steaks is a great choice for those who want to get the perfect finish on their meat with minimal hassle. It's a simple method that anyone can perfect without much experience.
Start by preheating your oven to 350 degrees Fahrenheit. Then score the fatty band on the top of the steak and season all over with coarse salt. Once your oven is up to temperature, heat a skillet to medium-high and sear each side of the steak until a brown crust has formed.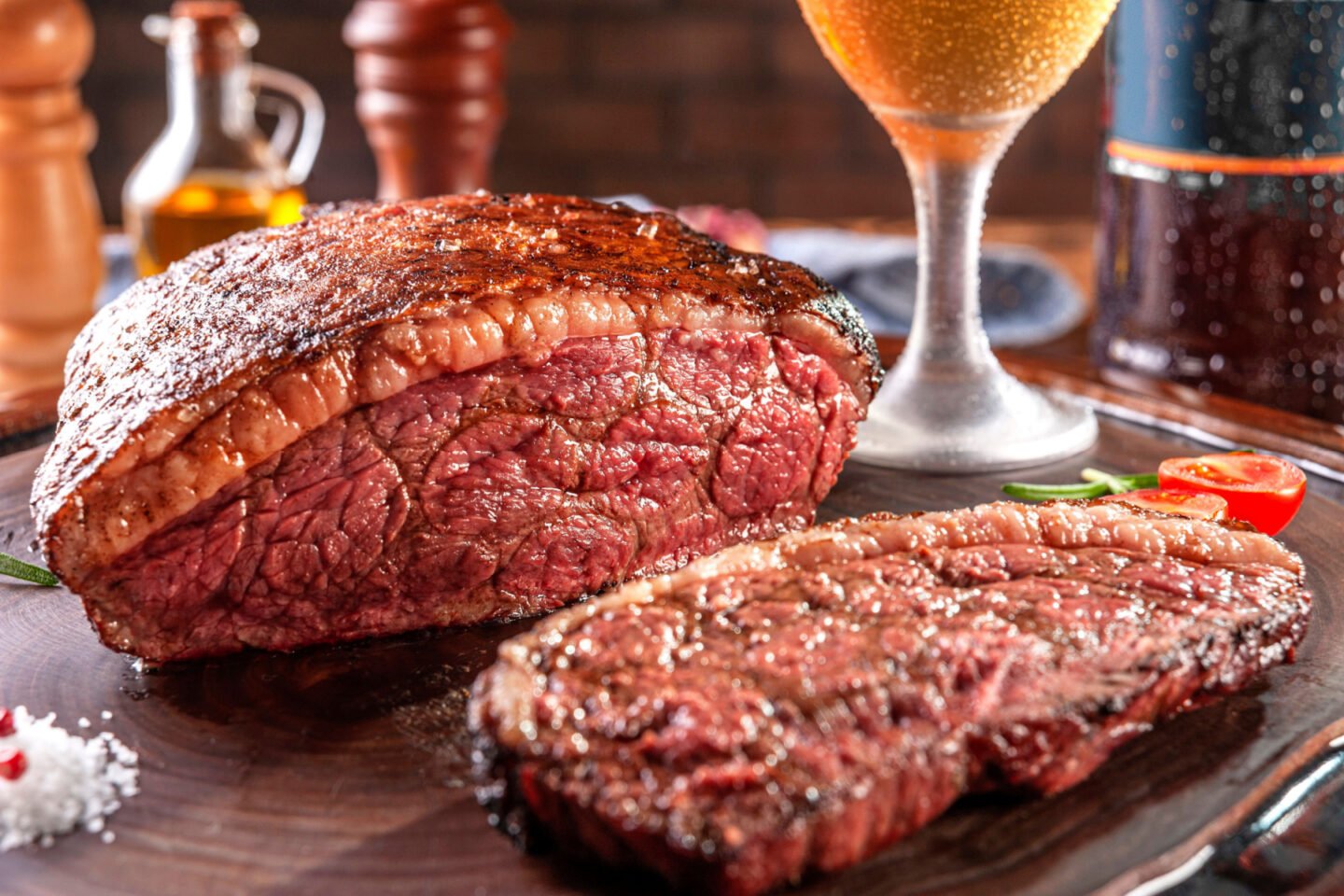 So far, it seems similar to the pan-cooked method, but here's where this approach differs. After searing the steak, transfer the meat and its drippings to an oven-safe pan. If you have a cast-iron pan, you can use it for both the stovetop and the oven. Cook it for 30 minutes at 350 degrees, or until the internal temperature reads 130 degrees Fahrenheit.
You can also cook picanha steak in a convection oven. To learn how, see our full guide here.
Slicing Picanha Steak
Most steaks are served to the table whole, so diners can enjoy them as fresh as possible. However, picanha steak is traditionally sliced beforehand using a technique specific to Brazilian cooking. To get a truly authentic experience, try this serving method at your house.
First, allow the steak to rest for fifteen minutes. Once it has, slice the meat into thin strips against the grain. One of the things that makes picanha steak special is that it is butchered with the grain, which is the opposite of most steaks. This allows you to cook it and then slice it against the grain once it's time to serve.
You can then serve the steaks individually or on a platter in the middle of the table. Pair it with a glass of red wine and a chimichurri sauce.
Frequently Asked Questions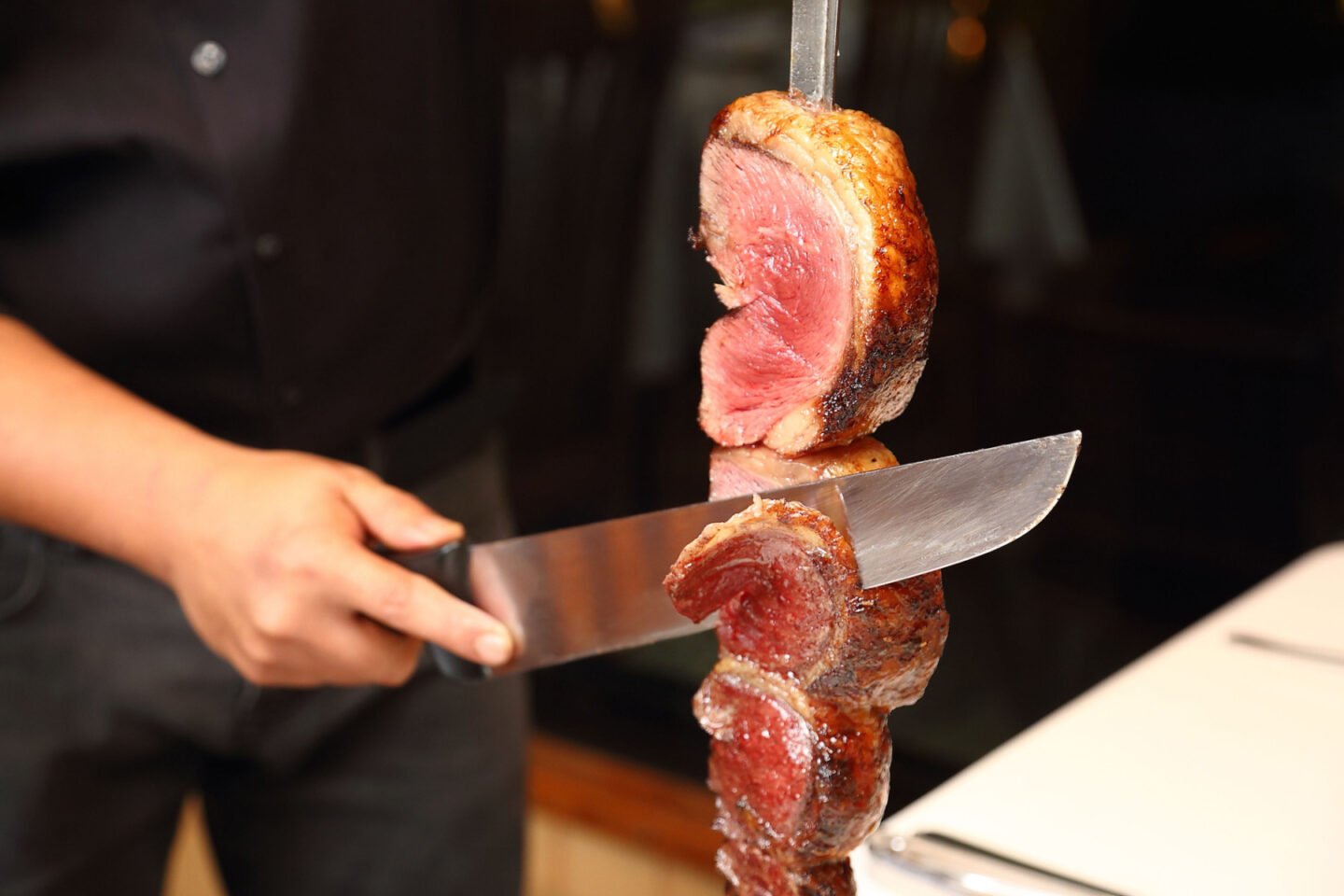 Should I eat the fat on a picanha steak?
Whether or not you eat the steak on your picanha steak is up to you, as it's enjoyed both ways in Brazil. The fat cap is kept on during cooking to help keep the meat moist, tender, and flavorful. But if you don't like it, you can always cut it off while eating.
Is picanha steak the same as Wagyu?
Picanha steak and Wagyu aren't the same, as the words refer to two totally separate concepts. Picanha refers to the cut of steak, that is, the part of the cow where the steak comes from. Wagyu is a Japanese breeding method that refers to the cows themselves. This means you can have a Picanha Wagyu steak!
What's the best way to tenderize picanha steak?
The secret behind picanha steak is that it doesn't need any tenderization at all but gets its soft texture from the way it's butchered. Contrary to common sense, it's butchered with grain, which would normally make the meat chewy. However, the meat is sliced just before serving against the grain, which makes it tender and easy to chew.