A garbage disposal can be a real time saver, letting you clear your plate in record time with half the hassle. Anyone who has had to unclog their own pipes or pay to have it done knows that it can be a headache if not used correctly. Exactly what can you put in a garbage disposal, and what is better saved for the trash?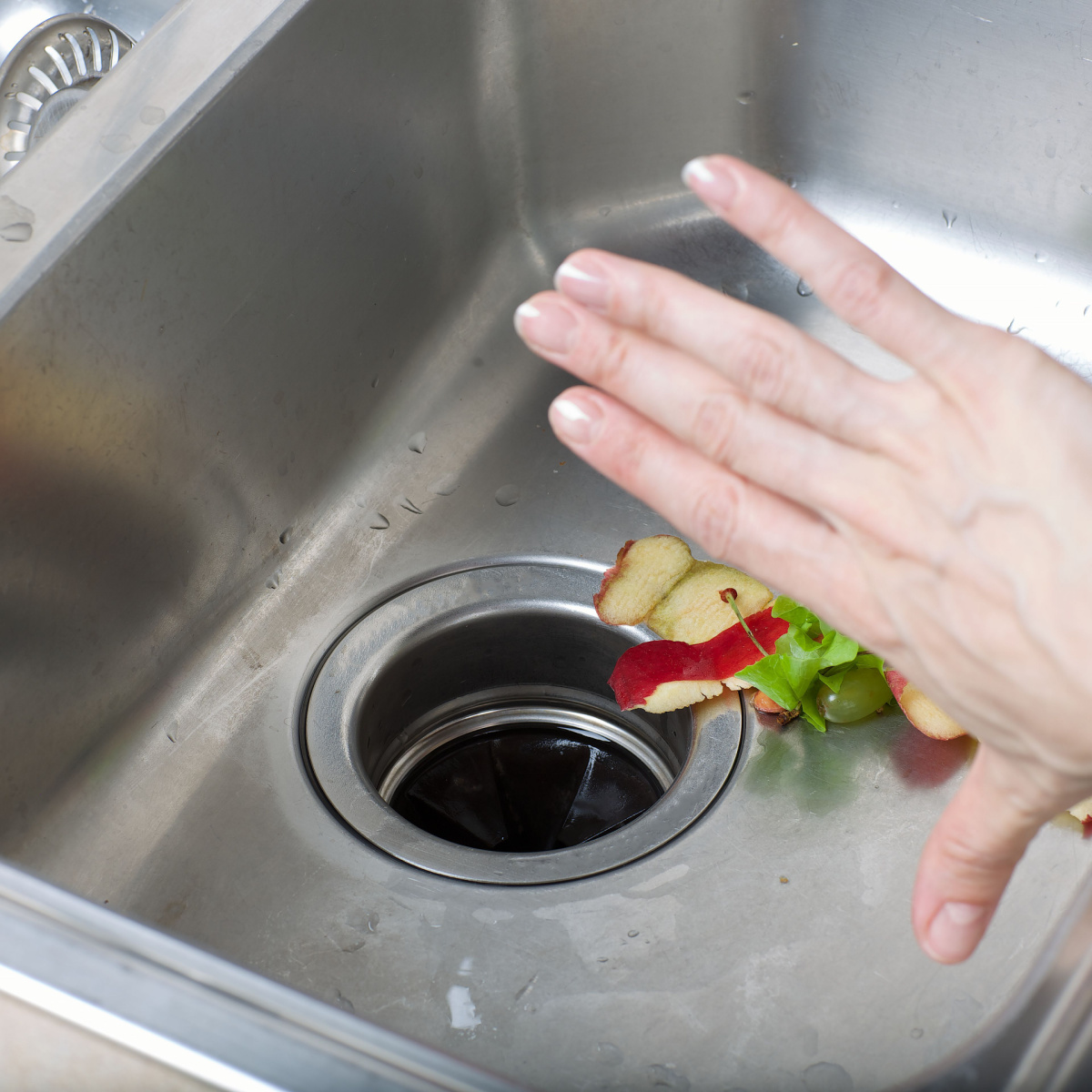 Simply put, there are two main categories of food that can't go in the garbage disposal. The first is fats, oils, and grease, and the second is anything tough or fibrous. To learn why these kinds of foods will give your disposal a hard time and what specific foods to watch out for, take a look below.
Table of Contents
Foods to Keep Out of the Disposal
Garbage disposals are actually pretty tough and durable. However, your plumbing is another story. Make sure to keep all of the foods listed below out of your sink entirely.
Fats and Grease
As we all learned in third-grade chemistry, oil and water do not mix. It's a fact we all know, but somehow, when it comes time to clean up after dinner, it's easy to forget. If this sounds like you, it could pay to take a moment to learn what exactly happens to your pipes after too much fat builds up.
While many fats, like olive oil, start out as liquids, they will eventually congeal and clog your pipes. It can take years to accumulate in your plumbing, but once it does, it can completely back up your drain. That means costly repairs and a non-functional sink for hours or days.
That means keeping fats like butter, oil, and grease out of your disposal. However, creamy foods like cream, cheese, coconut milk, peanut butter, and frosting should stay out too, since they're all high in fat. Of course, small amounts of fat may be unavoidable, and residual grease left on your plate should be fine.
Fibrous Fruits and Vegetables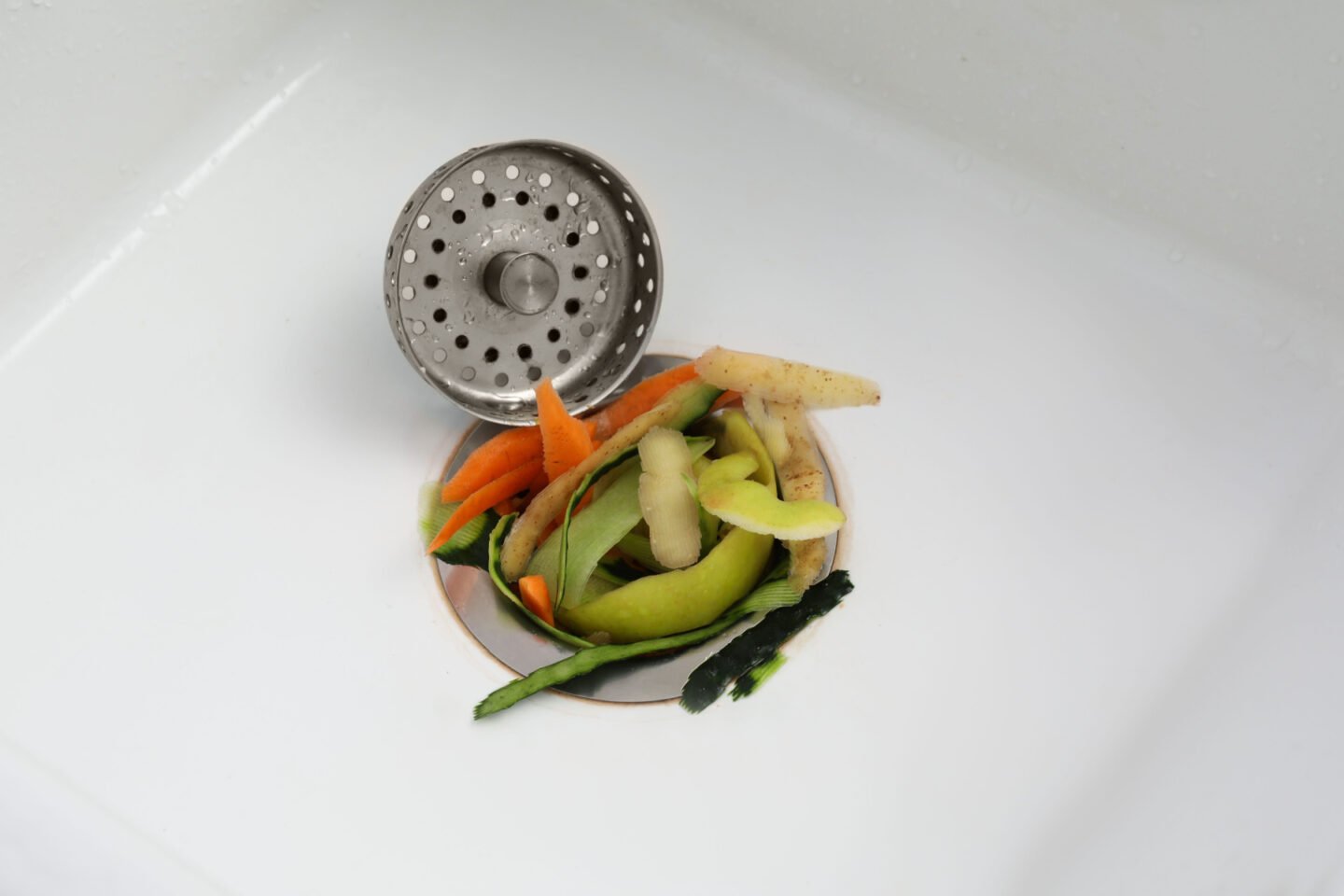 While a garbage disposal can chew through just about anything at first, over time, more fibrous foods will wear down the motor. Vegetables like celery that have long fibrous strands should especially be avoided, as these fibers can tangle in the disposal. Otherwise, fibers can gradually accumulate in your plumbing, leading to a clog.
That means artichokes, bean pods, celery, corn husks, and asparagus should go straight in the trash rather than the disposal.
High-Starch Foods
Small amounts of pasta, rice, or oatmeal are fine to throw away because they will break down in water over time. However, large amounts of any of the above can quickly accumulate and form a thick paste in your drain. So if cleaning a gooey mess out of your pipes doesn't sound fun, you're better off throwing it out.
Hard, Tough Foods
It's not a good idea to throw away foods like shellfish, coffee grounds, and egg shells into your garbage disposal. While the spinning blades will break down these foods, none of them will break down any further in water. This means that the small particles that make it into your plumbing will stay there and accumulate over years until they form a clog.
So What Can I Put in My Disposal?
As long as you avoid the foods listed above, almost everything else is safe to put in your garbage disposal. That includes meats, fruits, veggies, starches, and sugars, as long as they are consumed in moderation.
In fact, there are a number of foods that can go into a garbage disposal that many people don't realize. Small bones and corn cobs are two examples. Many people believe that such foods will dull the blades of their disposal, but this isn't actually the case.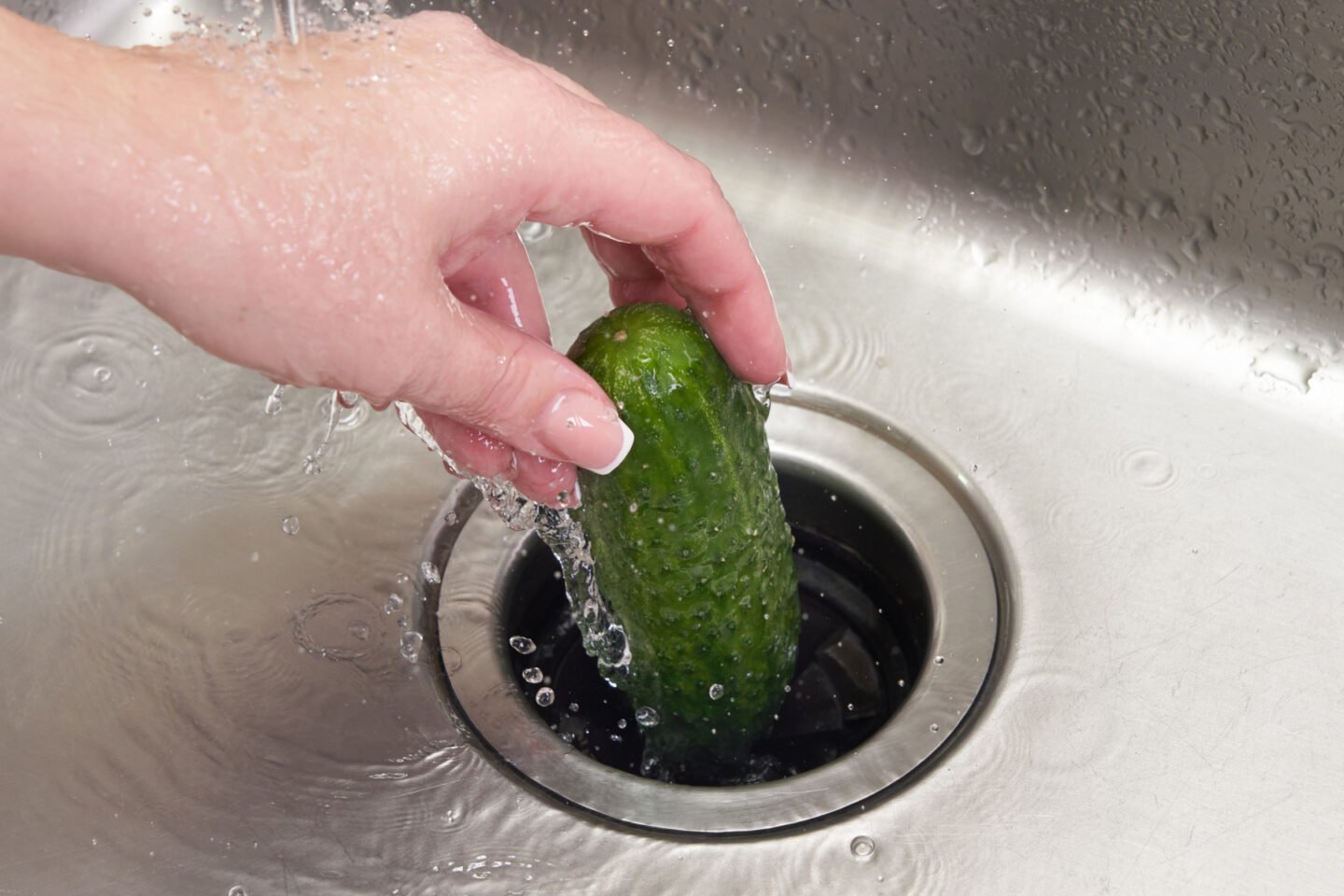 In fact, disposals don't even use blades to break down food. Instead, they use raw power to spin blunt grinders through food, crushing it on impact. This allows disposals to do their job longer without their owners having to worry about replacing blades.
Frequently Asked Questions
Can I put boiling water down the garbage disposal?
Boiling water is perfectly safe to put down at your disposal, and actually, it can help maintain your plumbing. Hot water will melt fat and help break down fibers, giving your disposal a deep cleaning.
Can ice cubes go in the garbage disposal?
Just like boiling water, putting ice cubes in your garbage disposal can be a good way to clean it. Since garbage disposals don't use blades to grind down food, there isn't much ice can do to harm them. Plus, the excess water will help wash away food particles that have accumulated.
Do I need to run water when the garbage disposal is on?
Running water while the garbage disposal is on helps keep food particles circulating while the disposal grinds them up. It also helps clean the blades as they spin, so you don't end up with any lingering smell when you're done. While it isn't technically necessary, it's always a good idea to run water while the disposal is on.