Coffee pod machines produce espresso coffee in a single serve format. Once you pop a capsule into this appliance, the water is heated and then forced through the pod, which releases the coffee flavor. The disposable pod is suitable for one use and must then be discarded.
In this article, we look at the two leading single-serve coffee machine brands, Keurig and Verismo, to help you decide which one is best.

Table of Contents
Introduction
Americans love their coffee, consuming 26.5 million 60-kilogram bags in 2018/19¹. Although drip brew coffee from the local diner has been a popular way to get a caffeine hit, trends in consumption have changed. Making coffee at home with a pod coffee machine is more convenient and saves money. 41% of coffee drinkers owned a single-cup coffee brewing machine in 2019, according to the National Coffee Association².
If you drink at least one cup of coffee a week, then buying a coffee machine makes sense. Single cup coffee machines offer the perfect mid-point. They make better-tasting coffee than instant and are cheaper than a full coffee system that can cost thousands of dollars.
The leading brand of pod machines currently on the market is Keurig K-Classic Coffee Maker (owned by Keurig Dr. Pepper). According to Associated Press, over one in five households in the United States choose the K-Cup brand to get their caffeine fix. There have been various other brands that have tried to topple this "caffeine creating giant," but the current brand in second place is the Starbucks Verismo System. Let's dive in and compare the two!
A comparison of Verismo and Keurig
Which is the best brand to spend your hard-earned money on? It's easy to assume that Keurig is the best based on its market dominance. But just because they sell a lot of coffee appliances, that doesn't have to mean their product is superior.
Review of Keurig Coffee makers
The Keurig K-Classic is a big step up from its predecessor thanks to new and improved K-Cup pods. The latest version has labeling on the pod's rim, which is readable by the Keurig. Once you insert it into the slot, the machine knows what type of beverage to make. This feature is impressive technology.
The Keurig offers three different models that differ based on cup size, water reservoir capacity, and the quality of the touch screen display.
Features available in all models
• Suitable for a range of cup sizes from 4-10oz.
• Auto on/off selection.
• Control the strength of your coffee using a selector.
• Automatic pod settings or set your own manually.
• Quality touchscreen that makes beverage selection easy.
• Make coffee, tea, hot chocolate, apple cider, and much more.
What we like about the Keurig
Build quality
A solidly built machine that does what it is meant to do. Pump out coffee after coffee with minimal fuss.
Pod options
Keurig compatible pods are available from a wide selection of companies that produce coffee pods, so you'll never be short on new blends. Some alternatives include Folgers, Caribou, and Starbucks.
Pod refills
Save money, and the environment, by refilling your pods with ground coffee at home.
Speed of use
Keurig machines are quick to warm up and start producing coffee. If you are in a hurry in the morning, this appliance won't let you down.
Review of the Verismo Coffee System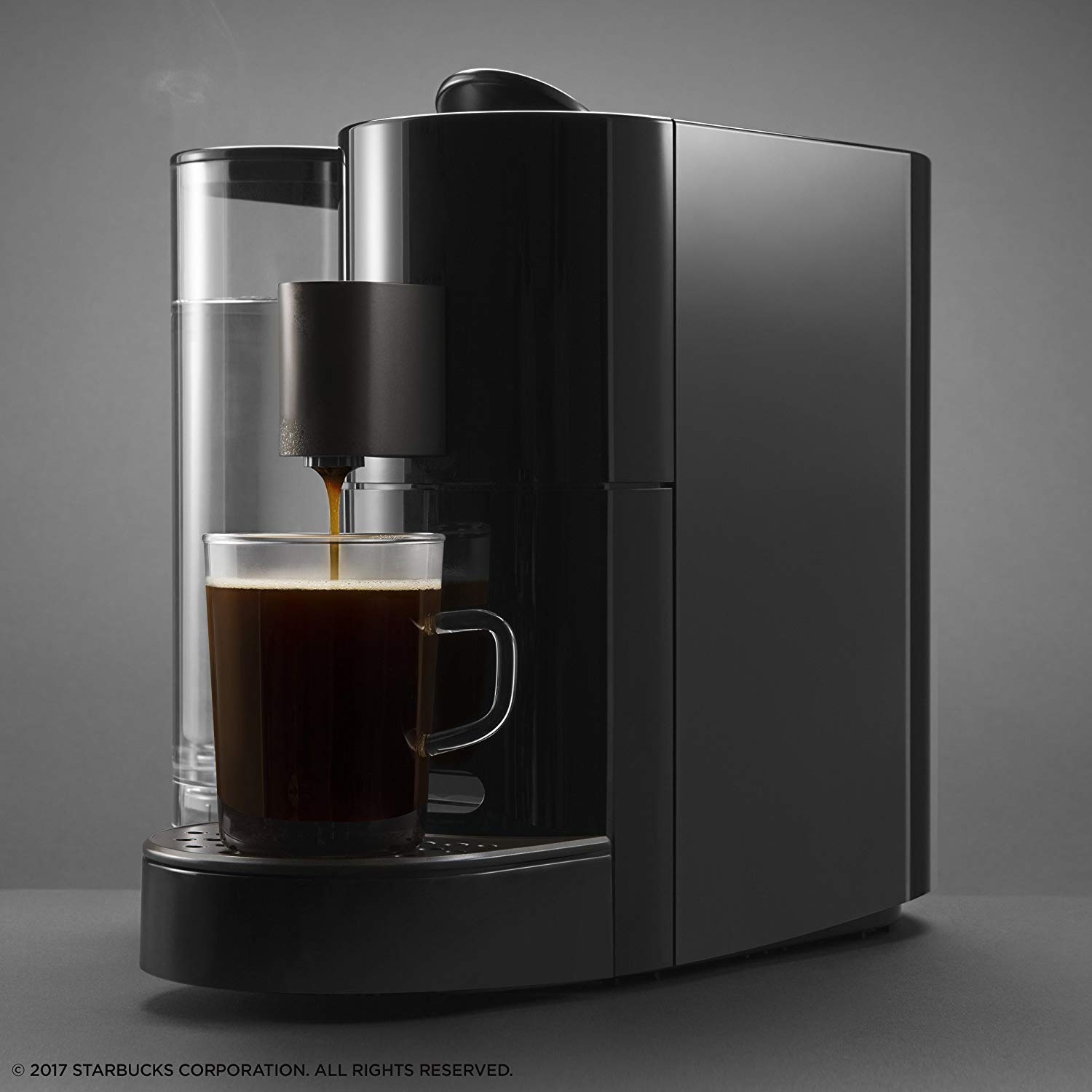 The Verismo machine is a well-built coffee maker that looks stylish on your kitchen bench and produces a tasty brew consistently.
The first difference you'll notice when using the Verismo coffee machine is the lack of cup size options. The user can make an espresso shot or a ten ounce cup of hot beverage. If you're the type that has that same standard cup every day, this won't be a big issue at all, though.
Verismo machines take a little longer to warm up. For at-home use, this probably isn't a big deal. If it's used in a fast-paced office, the increased wait time may be frustrating for some.
Features of the Verismo
• Quality built appliance.
• Make latte using the milk pod frother (sold separately).
• Dual pressure: produce espresso at high pressure.
• Water reservoir capacity: 77.7oz
What we like about the Verismo
The Verismo is a solidly built, reliable machine that does what it's meant to do. It pumps out coffee after coffee with minimal fuss.
What we don't like
The best part about coffee, other than the caffeine hit, is trying out new blends. Unfortunately, there is a limited range of Verismo pods that you can use; it's Starbucks pods or nothing. Admittedly, they do offer a great selection of flavors, but it's still good to have the flexibility to use different branded pods.
Refillable pods aren't an option with the Verismo coffee maker.
Which coffee maker produces the best brew?
When it comes to flavor, there will always be differences of opinion. In a group of 10 people, there would be no consensus on which coffee tastes better. My personal preference was Verismo. The coffee tasted excellent for a single-serve coffee made without any expensive equipment. The flavor was similar to a version made in-store at Starbucks, only much cheaper.
The Keurig produces a good cup of coffee also, but its primary advantage is that it is compatible with many other K-Cup coffee pod producers. You could make a different blend of coffee for every day of the year. Even if you don't need a lot of variety, it is nice to know that you have a good selection for when visitors come over.
A Comparison of price per cup
Based on cost, the Keurig coffee system is significantly cheaper than Verismo. You do need to take into account that there are often promotions in store as well as bulk-buy deals that can drastically reduce the cost per pod. However, looking at general non-promoted pricing, you're looking at around $1 for a Verismo pod. Compare that to K-Cups, which tend to range from $0.40 to $0.80 per pod.
Choosing an overall winner
I'd go with the Keurig K-Classic based on the selection of coffee pods, cup size, build quality, reputation, cost per cup, and variety of cup size. There's a reason that Keurig has remained number one in their category for so many years; they know what their customers want.
To all you die-hard Starbucks coffee lovers, I think the Verismo is still an excellent option which produces delicious coffee. If you are visiting Starbucks every day before work, why not save some money and make your own at home? You can also make cappuccinos and lattes, which is a bonus.
What a capsule machine offers
If you're unsure about the benefits of a capsule machine, then keep these in mind. It offers a simple, mess-free method for making coffee. Brewing a cup takes only a few seconds, and it's child's play to operate.
As with any small appliance, these machines have a wide range of features. Some of the important ones to look out for are:
Variety of pods
Brew strength
Capacity
Digital controls
Variety of beverages
Eco-friendly pods
Build materials
What is your favorite pod coffee machine? Let us know in the comments below.
Infographic showing a summary comparison
Finally, we produced this infographic to summarize the main differences between the two brands.

References:
[1] www.statista.com/statistics/804271/domestic-coffee-consumption-in-the-us/
[2] www.ncausa.org/