Now that I'm getting older, my doctor says that I need to improve my diet. I had hoped that making smoothies every day would do the trick, but it turns out I have to eat more fruits and vegetables. While it's super easy to toss some bananas, berries, and other sweets into my drinks, it's a bit harder to add some roughage.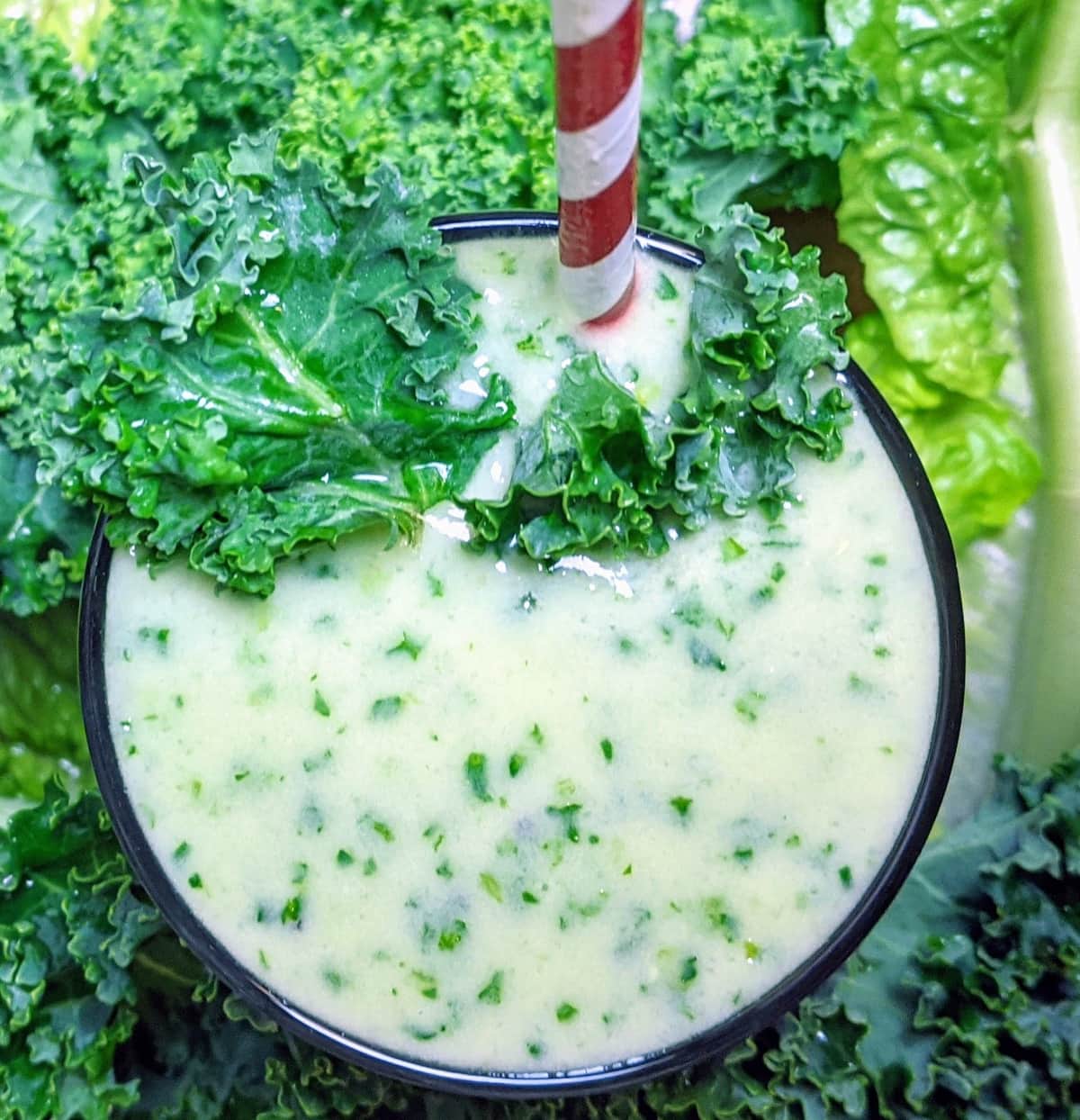 Fortunately, I was able to discover this recipe for the ultimate green smoothie. Why is it called that? Because practically every ingredient in it is green! Finally, I can add more nutrients to my diet without having to chow down on salads and kale bowls. If I can do it, so can you.
Table of Contents
The Lowdown on Going Green
You'll notice that this recipe contains two types of leafy greens - kale and romaine lettuce. Not only do these ingredients help add some texture to the final mixture, but they also come with a whole host of health benefits, including:
Cleaning Your Gut - You need fiber to help clear out your digestive system and feel full for longer.
Tons of Vitamins, K? - While kale and romaine have multiple vitamins, they are chock-full of vitamin K, which helps your body in a myriad of ways. This nutrient helps build strong bones and more efficient blood.
No More Oxidants - You've likely heard of antioxidants and how good they are for your body. Leafy greens (kale in particular) provide tons of antioxidants to your body.
While these greens are an excellent addition to this smoothie, they're not doing all the heavy lifting. Half of an avocado provides you with good fats to keep you satiated, and a whole kiwi adds sweetness, potassium, and vitamin C. It's like an Avengers-style mashup of superfoods!
Recipe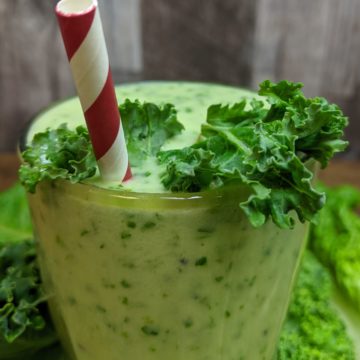 The Ultimate Green Smoothie Recipe
Drink your vegetables! The Ultimate Green Smoothie comes with a blend of superfoods, including avocado, kale, romaine lettuce, kiwis, almond milk, and a splash of honey for flavor. Supercharge your body with a hefty dose of nutrients.
Equipment
Blender

Nomal kitchen stuff like knives
Ingredients
½

cup

Kale

(fresh, chopped)

1

cup

Romaine lettuce

(chopped)

½

piece

Avocado

1

piece

Kiwi

1

tbsp

Honey

(or Agave syrup)

1

cup

Almond Milk

(sweetened or unsweetened)
Instructions
Chop the kale and romaine lettuce into smaller pieces. If you like, you can blend these first before moving onto the other ingredients.

Scoop out half of an avocado and toss into the blender.

Cut a kiwi in half and scoop the fruit into the mixture.

Add one tablespoon of honey (or 1 ½ for added sweetness).

Pour the almond milk on top. Blend for at least 30 seconds.
OK — How Do I Make This?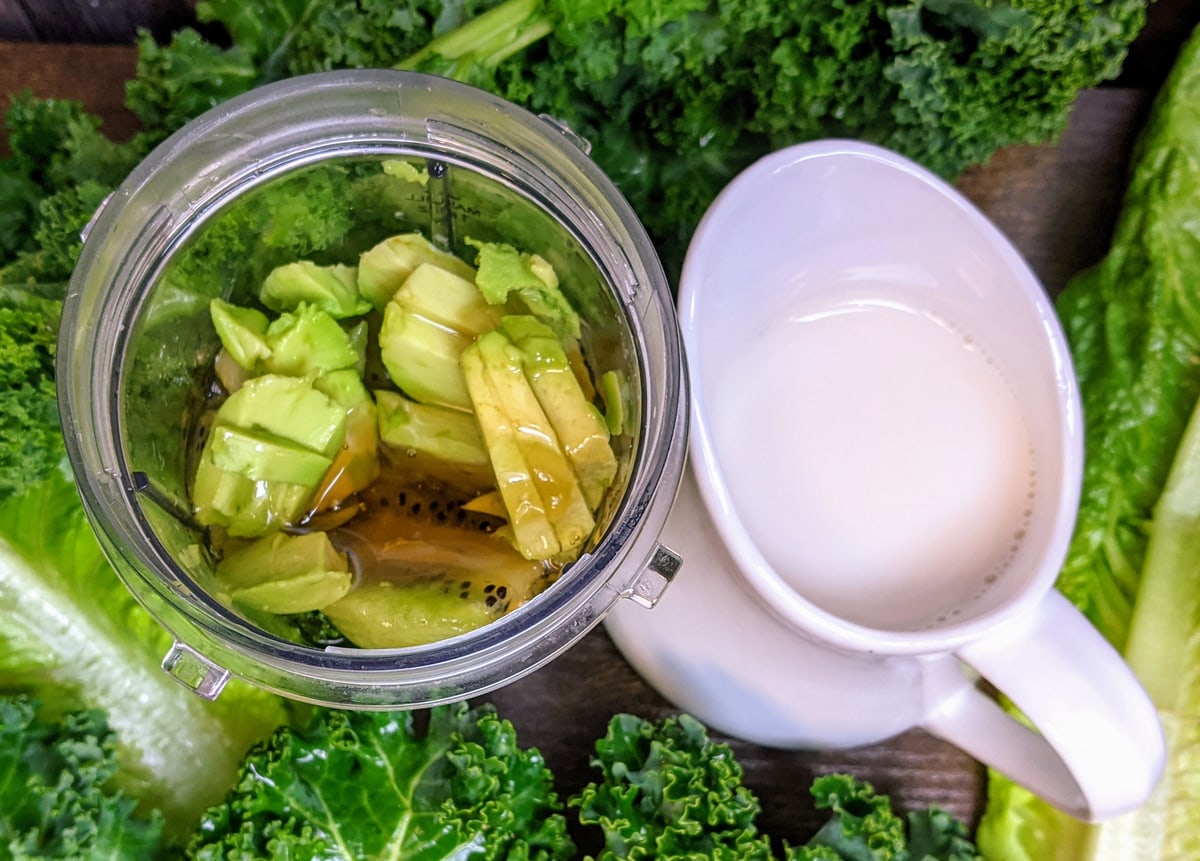 One of the biggest challenges of this smoothie is getting fresh ingredients. Since leafy greens can wilt over time, I recommend chopping up a bunch at once, assuming that you plan to incorporate this smoothie into your everyday routine.
Another potential setback is the avocado. As we all know, avocados have about a five-minute window of being ripe, so buying them in bulk can be problematic. Fortunately, I've found that if you refrigerate your avocados, you can extend their lifespan and avoid a brown, mushy mess.
With those items out of the way, follow these steps to green greatness:
Step One: Chop Your Greens
You can either use a knife to cut your kale and romaine into tiny pieces, or you can simply rip them into smaller chunks. I prefer the latter option unless I'm prepping for multiple days. Unfortunately, no blender will be able to purée your leaves entirely, so it doesn't really matter how fine you chop them.
Step Two: Open Your Avocado, Bro
Every year, thousands of people go to the emergency room for avocado-related injuries — seriously. Don't become a statistic with this method:
First, cut the avocado in half lengthwise along the seed. Once you're finished, you should be able to twist both halves apart.
Second, tap the edge of your knife into the seed. Then, twist it to pop it out. If you didn't get the blade in far enough, try tapping again.
Finally, use the tip of the blade to carve thin strips. This part isn't 100-percent necessary, but it helps break the avocado down for the blender.
Scoop the insides out with a spoon. You only need half an avocado for this recipe, so feel free to use the other half for some killer guacamole or avocado toast.
Step Four: I Got Your Kiwis, Mate
You'll need a whole kiwi for this smoothie. I find that the best way to get the fruit out is to scoop it with a measuring spoon or melon baller. Don't waste time trying to skin the thing - it's a futile exercise.
Step Five: Pour Some Sugar on Me
As Mary Poppins once said, a spoonful of sugar helps the medicine go down. In this case, you should use a full tablespoon of honey or agave syrup. I actually like brown rice syrup myself, but you can use pretty much any liquid sugar. If you have more of a sweet tooth, put another half-tablespoon in the mix.
Step Six: Milkin' It
Finally, pour the almond milk into your blender and voilà, the ultimate green smoothie. Be sure to blend thoroughly to avoid large chunks of kale and lettuce.
But, How Does it Taste?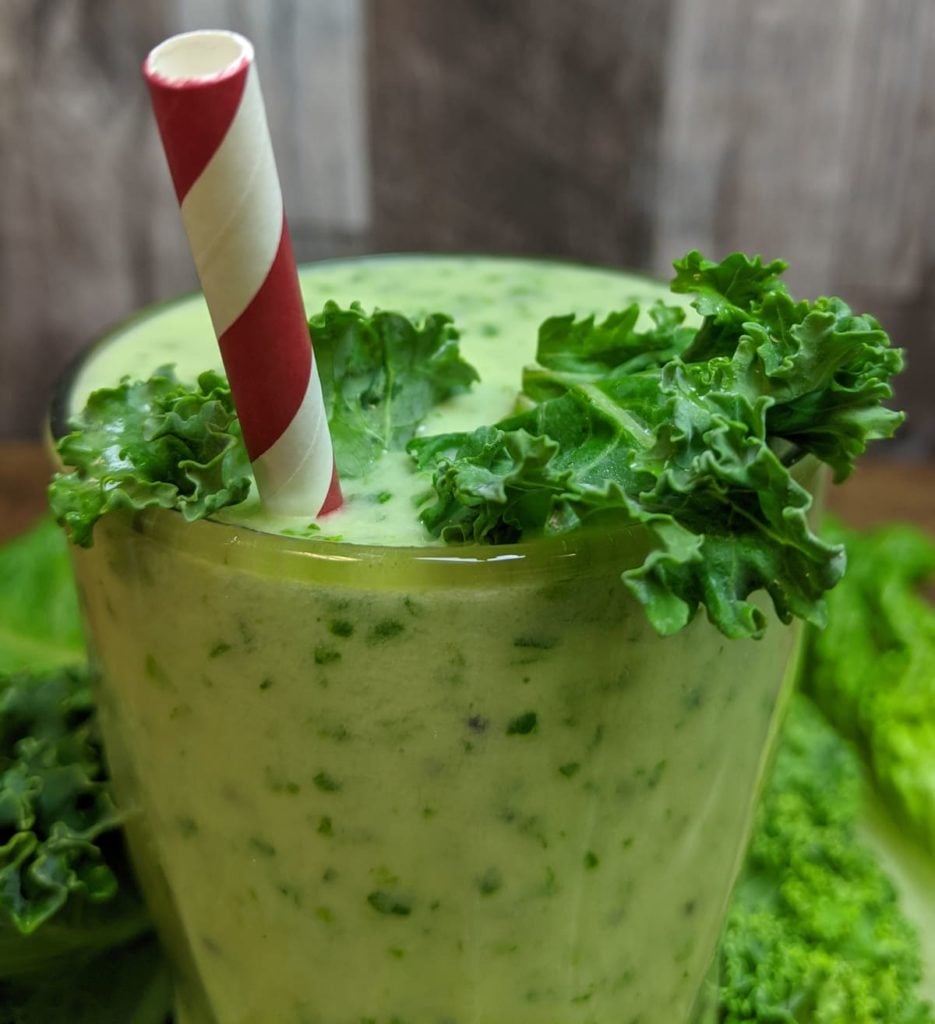 I'm not going to lie; the first time I tried this recipe (without the honey), it was like drinking a blended avocado. Even though there was a kiwi in there and some almond milk, my taste buds couldn't find them. So, I added the honey to help it go down the next time, and it was so much better.
That said, don't expect a sweet and fruity beverage. Adding syrup helps, but it is still a relatively mild flavor. You will also need to get used to some small leafy bits, but I think that they add some crunchy texture.
Can I Customize It?
Since the whole point of this smoothie is to use almost all green ingredients, there aren't many ways to customize it without undoing the name. However, here are some potential edits you can make:
Granny Get Your Gun - To add a little more sweetness to the mix, you can incorporate a few granny smith apple slices.
Sweet, But Not Too Sweet - As I mentioned, I like brown rice syrup instead of honey. Feel free to experiment with different sugars to find the best combination. Just don't go overboard, or you'll negate the rest of the smoothie.