Cast iron cookware is a staple in the kitchen of every avid cook. Used for frying chicken, sautéing, searing, baking, roasting, and poaching, cast iron skillets, Dutch ovens, and pots are versatile, durable, and easy to maintain. Mini-cast-iron cookware can be used for cooking and serving individual cobblers, a frittata, or perhaps a tiny cake of cornbread. Many recipes have been created for use with mini cast iron skillets. Serving your guests or family a warm, bubbly peach cobbler with ice cream in a tiny cast iron pan will make everyone feel special.
Mini cast iron cookware is available in a variety of styles and sizes. A cast iron mini skillet has the same cooking surface and heat distribution qualities as larger cast iron skillets and pans. Mini skillets are less than seven inches in diameter, and some cooks think they are too small. However, the only difference is that you can only do one instead of two or three when grilling sandwiches. Mini-iron pans are perfect for making a single sandwich, frying an egg, or sautéing garlic. You will find yourself reaching for a mini cast iron pan as often as a large one once you have one of your own.
As with all cookware, every manufacturer has different designs, but the proof is in the bread pudding, and mini cast iron pans can help you prove it. Read on for a list of the best mini cast iron skillets and pans you can buy today.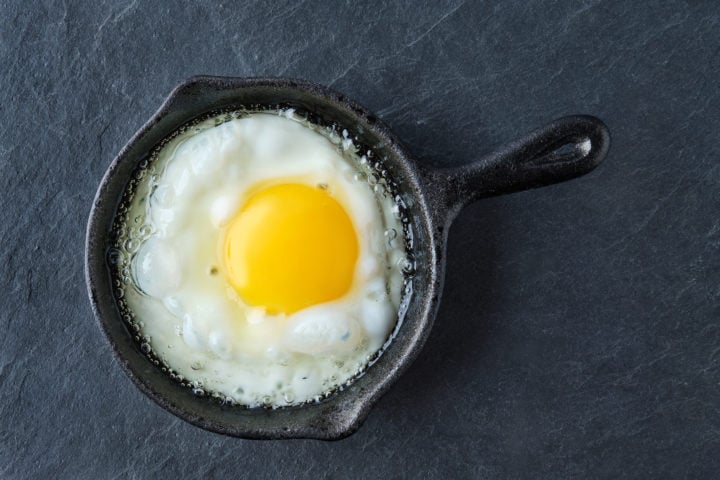 Table of Contents
The Best Mini Cast Iron Pans and Skillets to Buy Today
Mini cast iron skillets are not a new items, but it is not as common as large cast-iron skillets and Dutch ovens. Many novelty items have been made from cast iron, and tiny cast iron skillets make perfect spoon rests. However, culinary creativity prevails, and small cast iron pans are ideal for cooking small portions and individual servings.
Lodge Miniature 3.5 Inch Mini Cast Iron Skillet
Lodge 3.5-inch mini cast iron pan
Of the best mini cast iron skillets, this is one of the smallest. Measuring 3.5 inches in diameter and .93 inches in-depth, it is small enough for an individual pie but large enough for a fried egg.
Double pouring spouts and a convenient hole in the handle for hanging are thoughtful touches for such a tiny cast-iron skillet. Perfect for cornbread or use while grilling to hold your sauce and keep it warm. The ability to take a Lodge pan from the oven to the table makes it one of the most versatile cooking utensils you can own.
Lodge Miniature 6.5 Inch Cast Iron Skillet
The smallest of Lodge's line of cast iron skillets, this 6-inch cast iron mini skillet can be used for melting small batches of shortening or butter, for mini desserts, or as a spoon rest. The Lodge miniature skillet is seasoned with pure vegetable oil. No synthetic chemicals or coatings are used on Lodge skillets. The vegetable oil coating gives the cast iron a nonstick surface that will improve with use. Made in the USA, Lodge has made quality cast iron cookware since 1896. They are known for producing high-quality cast iron skillets and Dutch ovens. The smallest of their products is made with the same high quality as larger skillets.
HAWOK 6.5 Inch Cast Iron Mini Skillet
HAWOK Cast Iron Miniature Skillet
The next size is the HAWOK 6-inch mini cast iron skillet. The diameter of this little pan is 6.5 inches from lip to lip and is 1.3 inches deep. The mini skillet is pre-seasoned and ready to use. Perfect for a single sandwich, an individual casserole, or to heat a bagel, the size of this miniature cast iron skillet is ideal for a party of one. However, with a set of six, making individual cobblers, or mini cakes, is possible. Durable and easy to clean, this set of cast iron miniature skillets are perfect to use alone or as individual serving pieces.
Lodge Heat-Treated Miniature Skillet
Lodge Heat-Treated Miniature Skillet
The five-inch Lodge miniature skillet has been heat-treated, a unique process that prevents cast iron from rusting. The seasoned, easy-release finish is a signature feature of Lodge cast iron cookware. This little skillet has a diameter of 5.13 inches and a depth of 1.13 inches. This slightly larger small cast-iron skillet's increased depth offers more flexibility for the new recipes that you will create with this new tool. Or, you can try something someone has already tested, like this cornbread for one.
Cuisinel Cast Iron Skillet
You can add a little depth to your cooking with the Cuisinel cast iron skillet. This is a small cast-iron skillet with big features. Measuring 4.5 inches in diameter and 2 inches deep, this little cast iron pan is deep enough to fry a few potatoes. Like most of the other mini-cast iron skillets listed here, it also has double-pour spouts. It is pre-seasoned, too, so it is almost ready to cook with, out of the box. Cuisinel thinks so much of their products that they offer a lifetime guarantee on their cast iron pans. That shows they believe in their products, as you might.
Mirro Pre-Seasoned Mini Round Cast Iron Skillet
Mirro Pre-Seasoned Mini Cast Iron Skillet
The artisanship of the Mirro pre-seasoned mini iron skillet is distinctive, as are all of their cast iron products. This mini cast iron pan has superior heat distribution and measures 6.5 inches in diameter and 2 inches deep. The double pour spouts help with serving, and Mirro cast iron cookware is pre-seasoned with rapeseed oil. It can be taken from the stovetop to the oven, then to the table for service. Not all cookware has that level of versatility. Cast iron is easy to maintain, and if taken care of, will last several lifetimes.
Backcountry Cast Iron Skillet
Backcountry Small Cast Iron Skillet
As with all cast iron skillets, the superior heat distribution of cast iron sets them apart. Backcountry's small cast iron skillet measures 6.5 inches from lip to lip and is a generous 1.5 inches deep. Perfect for a fried egg or two or individual tarts or cookies. The pre-seasoned finish has the nonstick quality of Teflon when used with a thin coat of vegetable oil. Built to last for your generation and the next, cast iron is the most durable and versatile of any cookware. It can be used on an open fire, a gas flame, an electric eye, or an induction cooker. The size of the Backcountry small cast iron skillet is the perfect companion to your larger pieces of cookware. Or it can be the best and only little cast iron pan you use.
Le Creuset Enameled Cast Iron Signature Iron Handle Skillet
Le Creuset Mini Enameled Cast Iron Skillet
The only enameled cast iron skillet in this lineup is the Le Creuset mini iron skillet. One of these mini cast iron skillets will add a splash of color to your kitchen. Enameled cast iron doesn't require seasoning. The enameled surface is nonstick, and the heat distribution qualities are that of traditional cast iron. The small enameled cast iron measures 6.5 inches in diameter and 1.8 inches in depth. It is available in colors that fit every décor. Le Creuset has been making enameled cast iron since 1925, and the quality of their products is hard to beat.
Lodge 6.5 inch Small Cast Iron Skillet
Lodge 6.5 Inch Cast Iron Skillet
Made in America, the Lodge 6.5 inch mini cast-iron skillet comes pre-seasoned and ready to use. Double pouring spouts add convenience to this cast iron skillet. In addition, the hole in the handle makes hanging your skillet out of the way very easy. This little cast iron pan is perfect for use while camping, for the single homemaker, or as an addition to your collection of kitchen tools. The Lodge small cast iron skillet is terrific to use and easy to clean. It is made with the same attention to detail as their larger cast iron skillets and will last a lifetime with proper care.
Lodge Wildlife Series Mini Cast Iron Skillet
Wildlife Series 6 inch mini skillet
Measuring 6.68 inches in diameter and 1.37 inches deep, this mini skillet is not just for cooking. It is also decoration for your kitchen. It is deep enough to sear a small steak or to cook a burger. Made with Lodge's attention to quality, this mini cast iron pan is perfect at the grill or for a one-person meal. The nonstick surface is easy to keep clean, and this pan is large enough for mini pies, tarts, or individual frittatas.
Which of the Best Mini Cast Iron Cookware is for you?
The small mini cast iron pan above are wonderful for sautéing garlic, onion, or veggies. The heat retention qualities and ability to take high heat make cast iron the perfect metal for kitchenware. So, whether you need a small cast iron skillet for cornbread, tarts, frittatas, or mini chicken pies, any of these mini skillets will fill your needs. The price ranges are broad, and they all have high ratings from those using them in their kitchens today.
Clean Before Use
Even though manufacturers claim their mini cast iron pans are ready to use out of the box, you should wash them before you use them. There is always the chance that residual metal shavings or chemicals from manufacturing are on the surface. A quick scrub with warm soapy water and a soft scrubby will remove any foreign objects or chemicals. After you have washed it, heat it on medium heat until it is dry, and coat with a thin layer of the oil of your choice. Now you're ready to cook!