Every cast iron hamburger press enthusiast will tell you how excellent cast iron is for making burger patties. Cast iron radiates heat, applying it evenly to the entire surface. The design of the cast iron grill press is intended to help the weight distribution across the surface and cook evenly. Some of the perks of cooking with cast iron are its ability to last almost forever if taken care of properly, and its ability to heat evenly. The weight of the press is needed, but it can't be so heavy as to force too much liquid from the meat.
Cast iron can be preheated on the grill or stove. Once preheated, placing it on hamburger patties will give the meat a perfect sear and add a new level of flavor. One should choose the right weight and size for your needs and enjoy the ease of use while making the perfect burgers, grilled sandwiches, or other grilled foods. Cast iron bacon is seared to get the perfect flavor and texture. There are even tortilla iron cast presses out there, though in this article we will focus on meat presses.
Cleaning a cast iron hamburger press requires special care to ensure it stays in perfect working order. Leaving a cast iron press or cast iron skillet wet will cause rust and a shortened life, so one should clean it with vegetable oil and should season the cast iron. Paper towels will also work well to clean your burger grill press.
Now let's look at seven of the best cast iron press cookware options on the market.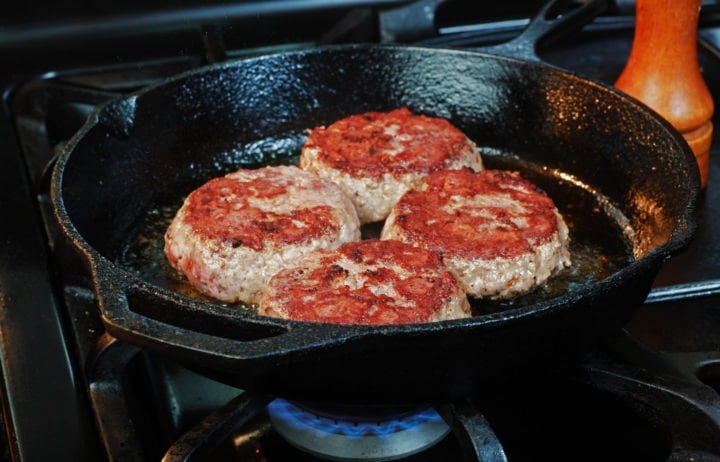 Table of Contents
Cuisinart CGPR-221, Cast Iron Grill Press (Wood Handle)
The Cuisinart Cast Iron Hamburger Grill Press is a well-rounded press that provides an even temperature distribution while adding enough weight and size to handle two average burger patties at once. At a hefty three pounds, this grill press will provide plenty of weight to the grilled item. Moisture and flavor need not be lost when cooking on the grill. Each time a burger gets smashed by a spatula, the juices are lost. A nice, even, constant pressure will keep those juices from being forced out and provide the best flavor from the grill.
Smashed burgers can be a thing of the past with the Cuisinart cast iron burger press. Instead, replace them with the famous smash burgers instead. Backyard chefs and new cooks alike have praised this hamburger press as being the right weight for the job.
There are a few cons mentioned, such as the inability to use this burger press in a skillet in the kitchen. Several reviewers said the press is slightly larger than most ten-inch pans. Other users were less than impressed with the ability to preheat the press. They stated that their cast iron skillet would be fully heated minutes before the grill press.
If a longer heating time and inability to fit a ten-inch skillet is not an issue, this cast iron grill press is a good choice for grilling your favorite delicious burger, steak, or sandwich.
Wener Bacon Press 6.88-Inch Round, Heavy Duty Cast Iron Grill Press/Meat Press/Steak Grill Weight/Burger Smasher/Burger Press with Wood Handle
Have you ever gone to make a burger patty and find that it's unevenly cooked? Parts are raw, and other parts are burnt to a cinder. Several things cause these issues, though a high-quality grill press can alleviate many of these issues.
Equipped with a wood handle and a 2.6-pound overall weight, the Wener meat press offers consistent, even cooking and a round grill press that is adaptable to multiple surfaces. Creating a smash burger or stuffed burger is straightforward and quick with this cast iron press. Grill marks can be beautifully infused into the patty, giving it a perfectly seared outer shell.
The biggest issue reviewers found was difficulty cleaning. Most reviews mentioned something about difficulty cleaning the handles, particularly the screws on the handles.
HOMENOTE Griddle Accessories Kit 7-inch Round Cast Iron Burger Bacon Press
The HOMENOTE griddle press comes with an added melting dome to get perfectly melted cheese on your burger. Most cast iron burger press options don't include the melting dome. That in itself makes this a good choice. High-quality cast iron and a round design provide an excellent option for both grills and griddles. Everything from burgers to bacon will respond well under the press and accompanying cover.
Several reviewers mentioned rust to be an issue with this grill press, though they were able to clean and season the press to stop future rust issues.
Jim Beam JB0158 Black Cast Iron Burger Press - 7" Heavy Duty Burger Press with Solid Wood Handle
A cast iron burger press should be made from a heavy duty cast iron. The Jim Beam cast iron burger press provides everything you'd need from a press for a pain-free entrance cost. This well-designed press fits nicely in smaller pans and comes in at a heavy 3.2lbs. That's enough to handle even the bigger steaks and burgers. After cooking a burger under the press, whisk it away to a bun and send it out to an eager crowd. Compliments from the crowd about how it was such a delicious burger will surely make your next party a definite RSVP.
Caring for this press is as simple as cleaning with vegetable oil and a paper towel. Don't use dish soap on the surface as it will strip away the seasoning from the cast iron, leading to rust and lack of flavor. Seasoning the press helps make it a non stick surface. Just be sure to preheat it first.
Cast Iron Hamburger Press - Heavy-Duty Patty Maker Burger Meat Press Mold with Wooden Handle,7-Inch Round
This heavy-duty cast-iron patty maker is able to make a perfectly balanced hamburger patty. Flavor and size can be easily watched as the grill and press do all the work. A single delicious burger that is well cooked and full of flavor is the best way to prove this press has what is needed. A grilled cheese sandwich can be as easy as a perfectly smashed burger. The weight and ease of use make this a good choice.
The biggest issues reviewers had with this press is the size. It tends to be slightly too small for multiple burgers and will overhang on a patty, leaving marks that could take away from the perfect grill lines.
Hisencn Cast Iron Grill Press Steak Weight with Wood Handle and Hamburger Patty Maker Mold 50 Wax Papers Set Non-Stick Burger Press
This press brings along a patty mold and wax papers to make multiple burgers at once. The press is good quality, and the addition of the patty mold and wax paper provides more reasons to choose this option. Season your ground meat, add it to the mold, then slap it on the grill. The grill press will ensure even cooking, while the die-cast aluminum mold ensures even thickness.
Some reviewers found the base to not be user-friendly. Other reviews were primarily positive.
Pro Grade, Pre-Seasoned Cast Iron Grill Weight 1Pk. Heavy Duty Steak and Burger Press
This press does a great job of delivering even weight across the entire grilled food. Based on reviews, this grill press is a fantastic option for those looking for a more professional, big grill option.
There are mixed reviews about the overall quality of this product, but the number of reviews and the overall star level lend themselves to showing this as a quality item.
The overall price of these presses ranges from $13.49 to $25.99. The most expensive on the list, the Hisencn, was also very highly rated, with minimal issues reported. The cheapest on the list at $13.94 is the Jim Beam press. It also ranked high in most areas and made a great entry-level burger press. There are other options available, like the injectable Weston burger press, that help create stuffed patties, so take a look at the options.
After you've cooked a burger or bacon with a cast iron press, you'll see the benefit immediately. Simple care for your cast iron cookware will ensure a long life. Preheat your press for the best possible results.