Umami gives food delicious savory flavor and helps enhance the other ingredients in the dish. An easy way to get this result is using umami paste, but it's not always easy to find at the store. If you're searching for an umami paste substitute then keep reading. You'll get ten alternatives to help you finish any recipe without needing paste.

Table of Contents
What can I use to replace umami paste?
If you need a substitute for umami paste then your best options are liquid umami or tapenade with a few shakes of parmesan cheese. A simple combination of anchovy paste and tomato paste also works well.
These alternatives will add savory flavor to any dish and all the ingredients are readily available at the grocery store. Check out our full list of substitutes below.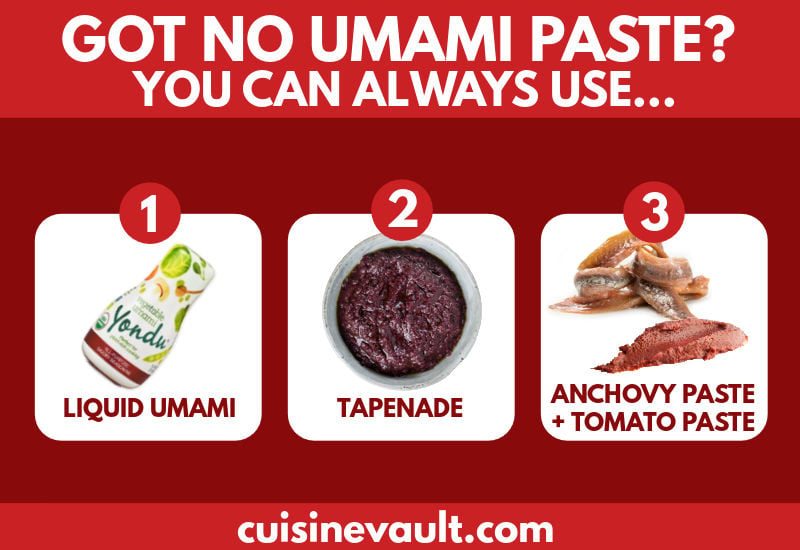 If you choose an option that uses more than one ingredient then you can make a paste by processing everything in a blender. Otherwise, a simple fork will work fine.
Some foods like truffle and miso have a different flavor profile to umami paste so we suggest using small amounts and then taste testing. If necessary, add more.
1. Liquid umami
We've tried a few different brands and really enjoy Yondu Vegetable Umami [Amazon link]. It is a plant-based product and boosts the flavor of vegetables, soups, grains, and pasta. In fact, any recipe that calls for umami paste will work equally well with a couple of teaspoons of this liquid.
Of course, there are other brands out there, but this one has built an excellent reputation for its versatility and taste.
2. Tapenade
A store-bought or homemade tapenade will make an excellent alternative to umami paste. They're often made with olives, anchovies, and olive oil – the predominant flavors that you'll taste in umami paste.
To dial up the savory intensity, you may like to sprinkle in a tablespoon or two of Parmesan cheese. For those who enjoy mild-tasting food, tapenade is excellent added on its own.
Keep in mind some tapenades sold in-store have parsley added which isn't found in umami paste. This shouldn't be a deal-breaker in most recipes though.
3. Anchovy paste + Tomato paste
Whether you're going to cook one of Jamie Oliver's 5 Ingredient recipes or something else that calls for extra savoriness, umami paste really isn't essential. The Italians have been creating amazing dishes for centuries using anchovies and tomato paste as the base. Those two ingredients provide mouth-watering salty, savory flavor to pasta sauces. A final sprinkle of parmesan at the table helps complete a perfectly balanced dish.
If you've got no anchovies in the kitchen, try any oily fish like mackerel, sardines, or even shrimp paste.
4. Nutritional yeast
Nutritional yeast is a useful plant-based replacement for umami paste. Vegans, vegetarians, or anyone avoiding seafood can use this powder to flavor and thicken soups and sauces.
To get its consistency closer to umami paste, mix a tablespoon of yeast with half a cup of olives, a crushed garlic clove, and a splash of olive oil.
5. Mushroom and truffle paste
If you're looking to give your food umami flavor and are happy with a different flavor then truffle paste is a great choice. These sought-after mounds of fungus offer pungent, musky, slightly funky flavor to recipes. You'll get a more well-rounded, savory taste by including mushrooms.
Use mushroom and truffle paste in risottos, pasta dishes, marinades, and sauces. A little goes a long way so use in moderation (about 1 tablespoon), then taste test and add more if needed.
6. White Miso Paste
Miso paste is a popular Japanese seasoning that is made by fermenting soybeans with koji, salt, and sometimes other ingredients like seaweed. Miso is salty and pungent, ideal for stirring into dressings, soups, sauces, braises, and glazes.
If you use soybean paste instead of umami paste, we suggest using the white variety rather than red. The latter can easily overpower food and may take your meal in a direction you don't want it to go.
If you have anchovies and black olives in the pantry then mash or blend some of them into the miso. This will result in a more authentic-tasting umami paste.
7. Shitake mushrooms + olives
Combine the earthiness of shitakes with black olives to make a decent umami paste. If you can, use some of the oil from the olive jar to help with the texture. A clove of minced garlic and a splash of white vinegar will round off your makeshift paste.
8. Korean bamboo salt
Korean bamboo salt, aka Jugyeom, is a type of salt that is baked in bamboo stems nine times. Pinewood is heated to high temperatures before cooking the salt, which results in an ingredient that is packed with salty, savory flavor.
Jugyeom is a convenient way to load up a dish's umami without the need for animal products. It is also considered to have many health benefits. However, it has a unique taste and smell that will take some getting used to.
This is a good substitute for anyone who loves experimenting with new flavors, not for those who don't like surprises.
Although Korean bamboo salt isn't cheap, you'll find a little goes a long way.
9. Kombu + Fish sauce
Kombu is a variety of seaweed, commonly used in Japanese cuisine for making dashi, a flavorful broth. Your easiest option is to buy the glutamate-rich, powdered product and mix it with a splash or two of fish sauce. Don't overdo the fish sauce as it is very salty and can spoil your meal if too much is added.
You could also mix soy sauce, Worcestershire sauce, or even Maggi Seasoning with kombu for a less salty taste.
Related reading: What does dulse taste like?
10. Make your own
For more authenticity, consider making your own umami paste at home. This is a quick and easy recipe that is highly concentrated. Perfect for gravy, dips, sauces, pasta, chili, and any other recipe that benefits from savory flavor.
Ingredients
2 Tbsp olive oil
2 Tbsp Parmesan, grated
1 ½Tbsp tomato paste
1 Tbsp anchovy paste
1 Tbsp soy sauce
1 clove garlic, minced
4 Shitake mushrooms, chopped
1 tsp Gochujang paste
½ tsp balsamic vinegar
Method
Add all ingredients to a blender and process until smooth.
Transfer to a jar or airtight container and store in the refrigerator until needed.
-If you enjoy extra spicy food then add half a teaspoon of chili pepper flakes.
Related reading: How do I replace tamarind paste in a recipe?
Commonly asked questions
What is umami paste?
Umami paste is a flavor-packed mix of ingredients that will vary in flavor depending on the brand. Commonly used ingredients include black olives, tomato puree, Parmesan cheese, mushroom powder, oil, garlic, and vinegar. The end result is a paste that's full of rich, earthy, salty, savory flavor; ideal for amplifying the taste of the dish.
Tip: If you'd like to learn more about umami flavor then check out our ultimate guide to flavor.
What can you make with umami paste?
Umami paste is a versatile flavor enhancer that is delicious added to stews, soups, sauces. It can also be smeared over meat, chicken or seafood, or used as a condiment.
How long does umami paste last?
Homemade umami paste will last 2-3 weeks refrigerated in an airtight container. It is also suitable for freezing in ice cube trays and can then be popped out and stored frozen in freezer-safe bags. Umami paste will last 3-6 months frozen before it starts to lose its quality.
Where can I buy umami paste?
Umami paste is available in Trader Joe's and Walmart. You can pick up a bottle of Taste 5 Umami Paste from Amazon.
Fast facts
Umami is considered the fifth flavor that our taste buds can detect, along with salty, sweet, bitter, and sour. It was discovered in 1908 by Kikunae Ikeda.
Umami paste hit the spotlight when it was used in one of Jamie Oliver's cookbooks.
The recipe book was all about simple cooking, using basic ingredients.
Loosely translated, the word "umami" means delicious in Japanese.
Summing up
Umami paste tends to be expensive and isn't always easy to find on the shelf. We think the substitutes on this page will add plenty of rich, savory flavor. Thankfully, many of the ingredients we suggest are likely to be in the pantry already.
Keep in mind that although these alternatives will taste different when compared on their own, once added to a marinade or slow-cooked in a casserole, you'll hardly detect the difference. The exceptions being truffle paste and bamboo salt which have pungent flavors which can overwhelm food with ease. Tread lightly if you opt for one of those two.