Papayas are a medium-sized fruit that have a range of uses in the kitchen. The unripe, green fruit can be picked early and used in savory recipes like vegetables. Once ripe, papayas taste deliciously sweet - perfect eaten fresh or as a tropical addition to many sweet desserts and beverages.
If you don't have any papaya, then you'll need a suitable replacement. The best option will depend on the recipe you're making. We've created the ultimate list of papaya substitutes so that you've got a backup for any application.

Table of Contents
What can I use to replace papaya?
If you've got no papaya then try to find a similar sweet tropical fruit like pawpaw, pepino, or mango. To replace green papaya in savory applications use chayote, bottle gourd, daikon, or jicama.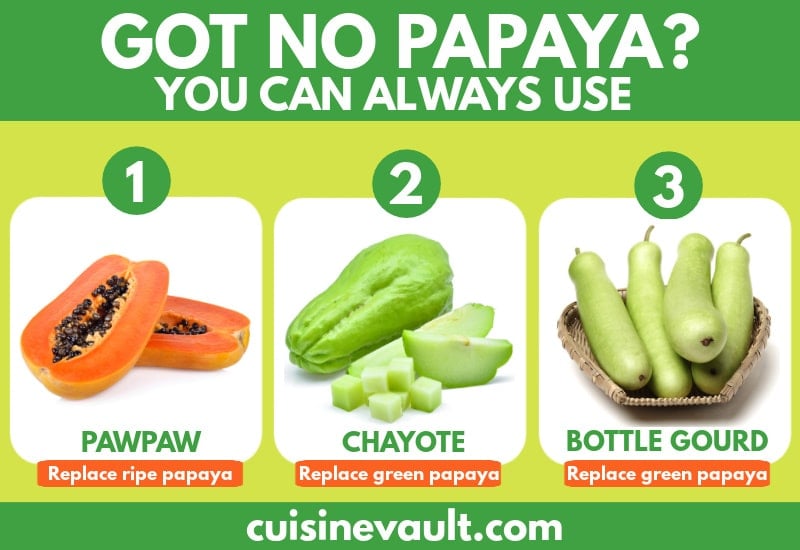 1. Pawpaw
Best use: consumed raw and in sweet recipes
Pawpaws are large, oval-shaped fruit with greenish-yellow skin and a mild, tropical flavor when ripened. People often mix the two fruits up as they are very similar. Be sure to check out our pawpaw vs. papaya guide to learn more.
You can use pawpaw as an excellent replacement for papaya in any sweet dish. It's also the perfect alternative for eating fresh, on its own. Fruit salads, smoothies, and juices are delicious with the addition of pawpaw.
2. Pepino
Best use: consumed raw and in sweet recipes
The golden yellow flesh of a pepino has a sweet, slightly bitter flavor with a pleasant aroma. It tastes like a cross between a pear and banana and is great halved and served fresh. It can also be used in desserts, sauces, and fruit salads.
While pepinos have a punchier taste, they're still fine used in sweet recipes that call for papaya. They aren't always the easiest fruit to find, but if they're sold locally then give them a go.
3. Mango
Best use: consumed raw and in sweet recipes
Most varieties of mango have a sweeter, tangier flavor than papaya, but that shouldn't stop you from using it as a backup if you're in a pinch. Their vibrant color and soft, juicy flesh are similar to fully ripened papayas.
Easy to find in stores, use mango to make refreshing sorbet, ice cream, juices, and smoothies. This tropical fruit is also good for creating puddings with an exotic feel.
4. Cantalope
Best use: if you don't enjoy papayas – use in sweet recipes
Cantalopes have a noticeably different flavor and texture, although their color is similar. We've included this option as a solution for anyone who doesn't enjoy papaya and wants something with a different taste and consistency. You could also use honeydew melons or other in-season melons.
5. Chayote
Best use: replacing green papaya in savory recipes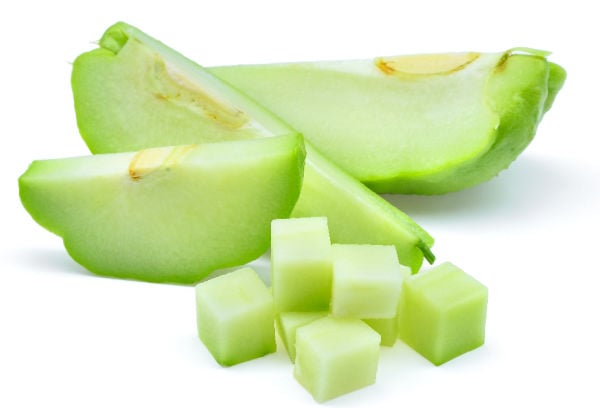 The chayote goes by many names such as choko, xuxu, mango squash, custard marrow, and vegetable pear. If you need to replace a green papaya, then the chayote is your best option.
Chayote flesh has a comparable neutral flavor and crispy texture to green papaya. It holds together well when cooked in chicken tinola, also known as Tinolang Manok. The vegetable can also be shredded into som tam, a popular Thai green papaya salad.
To make life easier, you may want to consider investing in a papaya shredder. A helpful tool that makes shredding papaya or any similar ingredient a quick and easy job.
Also worth trying: winter melons.
6. Bottle gourd
Best use: replacing green papaya in savory recipes
The bottle gourd, or calabash, is a mild-flavored long melon that also works well in tinola if you've got no papaya. You could also toss it into a laksa or shred it into Asian salads. Other culinary uses for the bottle gourd include skewering cubes onto a kabob or slow-cooked in curries, stews, and soups.
7. Daikon
Best use: Atchara and salads
The daikon radish has a mild, slightly sweet taste and crisp texture. It's a useful papaya substitute if you're making atchara, a popular type of Filipino pickle made from unripe papayas. Atchara made from daikon radishes is excellent served with fried or grilled foods like pork and sausages. Its crispy, sweet-sour, fermented combination adds refreshing balance to heavy dishes.
8. Jicama
Best use: Atchara and salads
Jicama is another helpful ingredient that can be used to make atchara if you've got no green papaya. Like daikon radish, you won't get the same green color that locals in the Philippines prefer, but it'll taste just as good.
Other possibilities for atchara include: lotus root, parsnips, kohlrabi, or white turnips.
9. Cucumber
Best use: Salads and tinola
Cucumbers have a softer texture and many soft seeds which you won't get from papaya flesh. If you are looking for a juicier vegetable for adding to salads, then cumbers will work in a pinch. You could also toss thinly sliced or chopped cucumber into a tinola at the end of cooking.
Related reading: check out our comparison of the zucchini and cucumber.
10. Babaco
Best use: any papaya recipe and as a tenderizer
The babaco (aka champagne fruit) is a refreshing fruit with flesh that's a mix of papaya, pineapple, and strawberry flavor. Their torpedo shape looks a lot like papaya and is no less aromatic.
You can use babaco in any sweet or savory papaya recipe. The flesh is perfect for puddings, tarts, pies, ice cream, and cold drinks. Other popular uses include sauces, jams, and stews. It's also delicious eaten raw in slices.
If you're cooking meat that benefits from a marinade, then keep babaco at the top of your list. It adds flavor and acts as an effective tenderizer.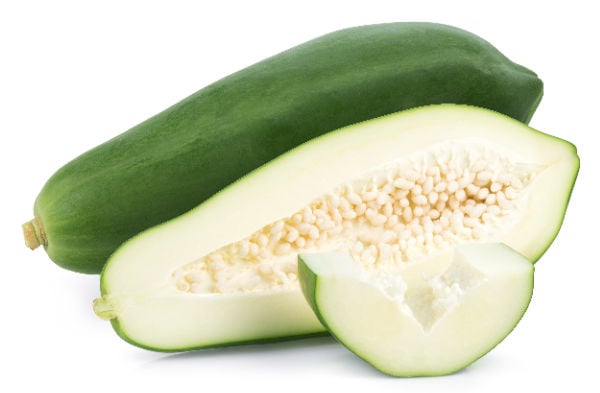 Commonly asked questions
Can I use canned papaya to replace the fresh fruit?
Canned or jarred papaya is ideal for use in dessert recipes, baked goods, and smoothies. You'll find the fruit's texture is soft so avoid using it in savory recipes that call for neutral-tasting, green papaya.
What can I use instead of papaya on the GM Diet?
If you're on the GM Diet, replace papaya with fruit like mango, kiwi, peach, or banana.
What are some good fruits from replacing papaya nectar?
To replace papaya nectar, some tasty alternatives include apricot or peach nectar. Any type of tropical juice will also make a great addition to your next smoothie.
Where can I buy papaya?
Papaya is a common fruit in the United States and many other countries, sold in grocery stores or produce stores. If you're having trouble finding good-quality green papayas, then they can be ordered online through specialty fruit stores.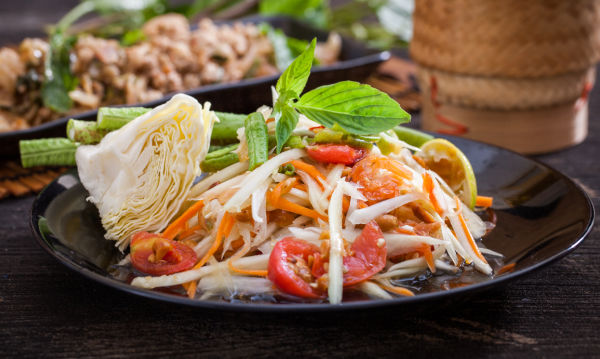 Summing up
Papaya is one of the most versatile fruits on offer. It's perfect for sweet and savory foods, depending on how well-ripened the fruit is.
The best papaya substitute will depend on what you're making. If you need a sweet, ripened papaya then use pawpaw, pepino, or mango.
In savory recipes use chayote, bottle gourd, daikon, or jicama. Finally, you can use babaco if it's available in your area. The fruit has a sweet, tropical taste and it doubles as a handy meat tenderizer.