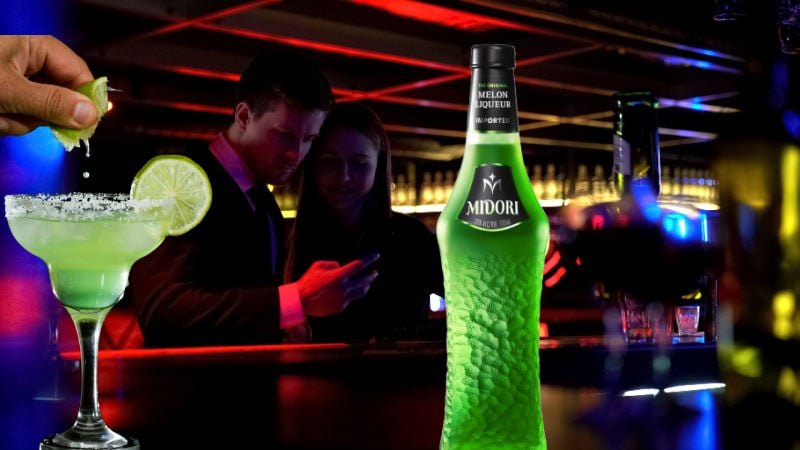 Midori is a vibrant green melon liqueur produced by Suntory, a Japanese brewing and distilling giant. It has a sweet, honeydew melon flavor thanks to the addition of musk and yubari melon.
If you can't get your hands on a bottle of Midori or you want something a little different, then keep reading. We've created a list of our favorite substitutes for Midori which will work just as well in your next cocktail or dessert.

Table of Contents
What can I use to replace Midori liqueur?
For a similar type of drink, your best options for replacing Midori are Bols, De Kuyper, or Potter's melon liqueur. Anyone interested in an alcohol-free option can visit a home brewing shop for Still Spirits Melon Liqueur Essence. If you want a green spirit without the melon flavor then try Crème de menthe.
1. Bols
A bottle of Bols Melon is a cheaper way to add a bright green, melon flavor to your drinks. It has a similar color and flavor to Midori, perfect for making the classics like a Melon Ball, Margarita, or Japanese Slipper. You can also drink it straight, although it can get a little sweet and cloying for some drinkers - a lot like the drink it's replacing.
Keep in mind that Bols is made from honeydew melon while Midori uses a lesser-known combination of Japanese melons from the cantaloupe family. The difference is subtle so most won't notice the substitution once it's mixed with other ingredients.
Check out the Bols website here.
2. De Kuyper
The De Kuyper melon liqueur is another bright, fruity variation of Midori. A neutral spirit is blended with fresh melons to produce a liquor that's at home in tropical cocktails. It'll also taste great in popular cocktail recipes like a Tokyo Iced Tea or a Midori Illusion. Jello shots are also an option if you're up for a big night.
Like Bols, you'll find that De Kuypers use different fruit to make their product, but only seasoned Midori fans and bartenders will notice you're using something different.
Find out more about De Kuyper here.
3. Potter's Melon Liqueur
Potter's produce a low-cost brand of melon liqueur which has a smooth, bold taste. It has 20% ABV which is the same as Midori so you can use the same ratios in drinks like Melon Cosmo or Melon Colada.
You'll find that Potter's is easy to find in liquor stores or from retailers like Target and Walmart. Otherwise, do a quick search online for plenty of sellers.
4. Still Spirits Melon Liqueur Essence
Do you want to create green, melon-flavored desserts, baked goods, or cocktails without the alcohol? Still Spirits produce a handy melon essence that has a delicate honeydew flavor, similar to Midori. Once combined with a sweetener and water, it is delicious added to a Melon Margarita or Honeydew Daiquiri.
You can also combine the Still Spirits essence and Schnapps Base with a 40% ABV liquor such as vodka. It is a low-cost way to make something similar to Midori.
5 Make your own
Take control of the ingredients and flavor profile of your drinks by making homemade melon liqueur. Use it in popular Midori drinks like The Vietnam and Midori Rocks or mix it into lemonade or pineapple juice.
Ingredients
3 cups cantaloupe, skinned and chopped
2 cups vodka
1 ½ cups sugar
1 ½ cups water
Method
Add melon and vodka to a large jar and seal the lid. Shake vigorously for 20 seconds.
Place the jar in a cool, dry position and allow it to steep for three days.
Strain the liquid and discard the melon. Pour the liquid through a cheesecloth or a coffee filter to remove any leftover solids.
Create a simple syrup by combining sugar and water in a small saucepan and heating on a medium heat. Constantly stir the mixture until the sugar has dissolved, then remove from the heat.
Once the syrup has cooled, pour it into the vodka and stir well. Let the melon liqueur rest for 24 hours before drinking.
Optional ingredient: If you want your liqueur to look more like Midori then add several drops of green food dye.
Storage: Homemade melon liqueur will last up to 2 months refrigerated.
6. Crème de menthe
If you're not a fan of Midori's taste but you want something in the ballpark, try Crème de menthe. It shares a similar green color so if you're after the visual appeal then it'll work fine. Crème de menthe is delicious as a backup ingredient in cocktails like a Midori Illusion, Midori Sour, or The Leaf.
The biggest difference between the two liqueurs is that Crème de menthe has a mint taste while Midori is melon flavored. For all the melon-haters, this will be an improvement.
7. Bottega Melone
Are you looking for a melon liqueur without the bright green color? Bottega Melone is a delicious substitute that uses natural melon juice and combines it with alcohol, sugar, and grappa. The result is a pale orange drink that's bursting with fruity flavor and intense melon aroma.
You can use Bottega Melone in cocktails or sip it as an aperitif. It is also delicious poured over fruit salad, ice cream, and sorbet.
8. Chartreuse
If you want to get away from a fruity type of liqueur then try Chartreuse. It has an intense sweetness like Midori, but its flavor profile is more complex. You'll detect apple, mint, vanilla, and even sage in this smooth beverage.
Chartreuse is sold as a yellow or green drink and is excellent drunken on the rocks or as a long drink. You'll find that the liqueur is a good substitute for Amaro.
Related reading:
What can I use to replace Mezcal?
How do I replace Vermouth?
The best substitutes for Creme de Cacao?
Fast facts about Midori
Midori is infused with spirits then blended with brandy, sugar, and green coloring to get its characteristic color.
Back in 1964, the drink was originally called "Hermes Melon Liqueur" before being renamed Midori in 1978.
Some people think the drink tastes like watermelon Jolly Ranchers.
It is produced in the United States, Mexico, France, and Japan.
"Midori" means green in Japanese.
Summing up
If you're searching for a liqueur that's similar to Midori then a bottle of Bols, De Kuyper, or Potter's will do the trick.
People cutting back on alcohol can use a melon liqueur essence. Stock up on food coloring as well if you want a vibrant green cocktail.
For something a little different, consider buying a bottle of Crème de menthe. This liqueur is also green but has a mint flavor rather than melon.