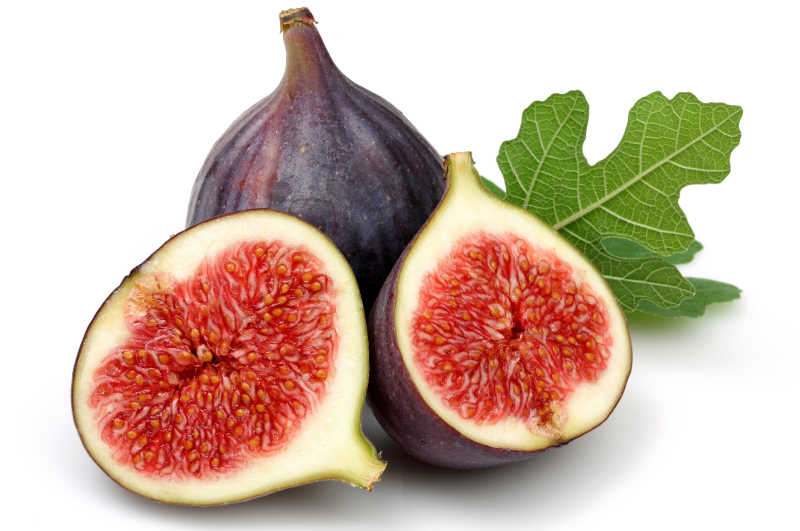 If fresh figs aren't in season locally, then they'll cost a small fortune to buy at the grocery store; that's if you can get them at all. Although their flavor is tricky to replace in a recipe, we've came up with a decent list of fig substitutes. They won't perfectly mimic the taste and texture, but most dishes will still taste delicious.

Table of Contents
What are the best fig substitutes?
To replace fresh figs in a dish we suggest using dried figs, fig jam, or dates. For a cheese platter, try pears which are excellent paired with gorgonzola, cheddar, or meats like prosciutto. If you need something fresh, then it's hard to beat a sweet, juicy pear.
1. Dried figs
You'll find dried figs taste a lot like the fresh ones and in most cases, they're the best replacement option. They don't provide the same syrupy consistency that you'd get from fresh ones, but once added to other food the difference is less noticeable.
To revive tough dried figs soak them in hot water for 15 minutes. You can also simmer them in liqueur, wine, water, or a simple sugar solution. Whatever liquid you choose, the result will be plump, soft-textured fruit.
Rehydrated figs are perfect for pie fillings, ice cream, and other fig-licious desserts. You may want to reduce the sugar in recipes if using dried figs as they are naturally sweeter than fresh figs.
2. Fig jam
Fig jams and preserves may not be suitable for your next salad, but they'll work well in some dishes, providing additional sweetness.
A smudge of jam on your next batch of crostini appetizers will taste just as good. Preserves can also be scooped into a dish and used in place of the fresh ones on an antipasto platter.
With most recipes, choose a rustic, chunky style jam that provides some texture. For some desserts, like fig ice cream, a smooth jam is also fine.
3. Medjool dates
Although any type of date can be used, Medjools have a wonderfully rich, caramel flavor. For a popular appetizer, wrap a dozen of them with prosciutto or pancetta, along with a piece of brie. Next, bake until the meat is crispy.
If you need soft dates for adding to tarts, cakes, and other sweet dishes, soak them in hot water for 10 minutes.
Dates are great added to a cheese platter. Their sweetness pairs well with salty food like blue cheese. Remember to remove their pits if they haven't been already.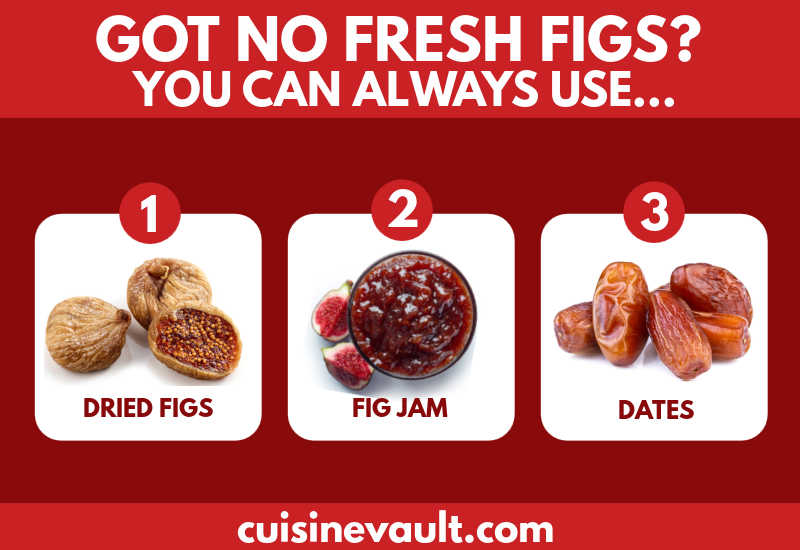 4. Pears
Although pears have a much different texture and taste than figs, they are still suitable for most applications.
If you were hoping to roast figs drizzled in honey but don't have any, try pears instead. They're one of the best fruits you'll find for this recipe.
Pears are versatile. Slice them into a walnut, feta, beet, and watermelon salad in place of figs. No one will complain. They'll also hold their own on a cheese platter; their sweet, subtle flavor is excellent with tangy, flavorsome cheeses like gorgonzola.
5. Prunes
Prunes are one of our favorite options for replacing figs in the kitchen. They already have a luxurious sweetness and soft consistency like figs, although you won't get the added seedy texture.
For recipes where the figs are squashed like fig bruschetta, prunes will do just as well. Combine them with goat cheese, honey, and seasoning for a delicious, healthy snack.
Prunes can be added to savory dishes like stews, soups, and casseroles. When cooked in moisture, they soften and their sweetness helps cut through fatty, heavy meat dishes.
6. Apricots
Fresh apricots are different from figs, but they can be sliced into salads or roasted until caramelized, in a similar way that pears can. They make a good substitute and are available for a longer duration through the summer months.
Dried apricots can be chopped up and added to breads, cakes, cookies, and practically any other baked good. But dried apricots also excel in savory dishes. They soften and turn plump, with a sweetness that goes well with lamb and poultry.
Other stone fruits like peaches are also good for sweet and savory recipes.
7. Pluots
Although not as commonly available, pluots are a useful fig replacement if you've got them. A hybrid of the plum and apricot, this fruit is full of sweetness without the bitterness that can come from plums.
Use pluots in your next crumble cake; or garnish French toast, combined with a dollop of mascarpone. To get a break from Pepperoni Pizza, they'll also replace figs as a tasty pizza topping.
8. Golden Raisins
Golden raisins are fine added to baked goods as is. But they plumpen nicely when soaked in water for 10 minutes before using. For a flavorsome twist, try soaking the raisins in a liqueur such as Madeira and then process into a smooth pulp. It can be streaked into homemade ice cream or added to yogurt for dessert.
9. Quince paste
Use quince paste as a replacement for figs on antipasto boards. You'll get a similar sweetness that balances out salty food. This paste is a little less versatile than some of the other substitutes on this list; we wouldn't suggest using it in salads or adding to baked goods.
Guava paste could also be used in the same way as quince paste.
10. Cranberries
Cranberries are a lot tarter than figs. You could use them if you want something different from figs or if you're in a pinch and don't have any other ingredients on this list at home.
To replace figs, the best uses for cranberries would be making sauces or adding to pork, duck, chicken, and lamb dishes. They're also tasty in cakes and biscuits.
Related reading: What can I use to replace lingonberries?
Tips for substituting figs
To get authentic fresh fig flavor, use dried figs or fig jam. Any other replacement will have a different taste.
Add a little honey to any replacement ingredient you use; figs have a subtle honey-like flavor profile.
If you choose a dried fruit like dates, they'll be tougher than figs, so soaking them is the best practice in many dishes.
When making baked goods, if you add liquid to dried fruit, they'll be quite soggy. You may want to reduce the other liquids in the recipe a little to allow for this.
What do figs taste like?
While there are many varieties, figs usually have a sweet, mild flavor with a soft, sticky, seedy texture. People often describe them as a mix of prunes and honey.
Fast facts about figs
The botanical name for the fig is Ficus carica; it is from the Moraceae family.
Popular varieties include the Adriatic, Black Mission, Brown Turkey, and Green Kadota figs.
Figs are best eaten when sweet and mushy in texture. They are excellent eaten out of hand, used in desserts, and paired with meats, cheeses, nuts, and wine.
Figs have been used in cooking for centuries and they were popular for use as a sugar substitute.
Summing up
Figs can be elusive due to their short season and shelf life. They're also a tough fruit to replace in cooking. That is if you want your dish to taste exactly the same. For anyone open to working with different flavors and textures, then it's easy to replace the fruit in all those classic fig recipes.
Dried figs or any type of fig conserve will give you that authentic fig taste, however, they'll be sweeter. Other dried fruits like dates, apricots, or raisins are all suitable for sweet or savory dishes.
If you need something fresh, then it's hard to beat the common pear. Their biggest limitation is that you can't smoosh them onto bruschetta as their texture is firmer.