If you buy Chinese takeout from restaurants on the Eastern seaboard or the Midwest, you'll be familiar with duck sauce. These small packets of orange sauce come with your food, providing a sweet, tangy dipping sauce.
If you live in other parts of the United States or abroad, you may not be able to source any (excuse the pun). That's why we created this handy list of duck sauce substitutes. Each option has a unique flavor, but they're as close as you'll get to the real thing. Let's dive in!

Table of Contents
What can I use as a duck sauce replacement?
To replace duck sauce as a condiment or ingredient, try using plum sauce, sweet and sour sauce, or sweet chili sauce . For a more authentic alternative, you can make a homemade duck sauce using apricot jam, vinegar, and spices.
1. Plum sauce
Some people think plum and duck sauces are the same thing, but we explain how they differ here. You'll find that plum sauce is less tangy and has a more complex flavor profile thanks to the addition of spices like ginger. It'll still make an excellent dipping sauce for your next takeout egg rolls or crispy duck.
2. Sweet and sour sauce
If you love the punchy flavors that come with duck sauce, then why not take it up a notch. Sweet and sour sauce is an excellent substitute, but it's often tangier and sweeter than duck sauce. Its consistency is a little runnier and less jammy, but you can still use it for dipping, basting, and marinading. It is also good used as an ingredient in stir-fries.
3. Sweet chili sauce
People who like sweet sauces without the tanginess will probably enjoy sweet chili sauce more. It's much spicier than duck sauce as it has chili as one of its key ingredients. As with most sauces, there are milder products available if you don't like your food too hot.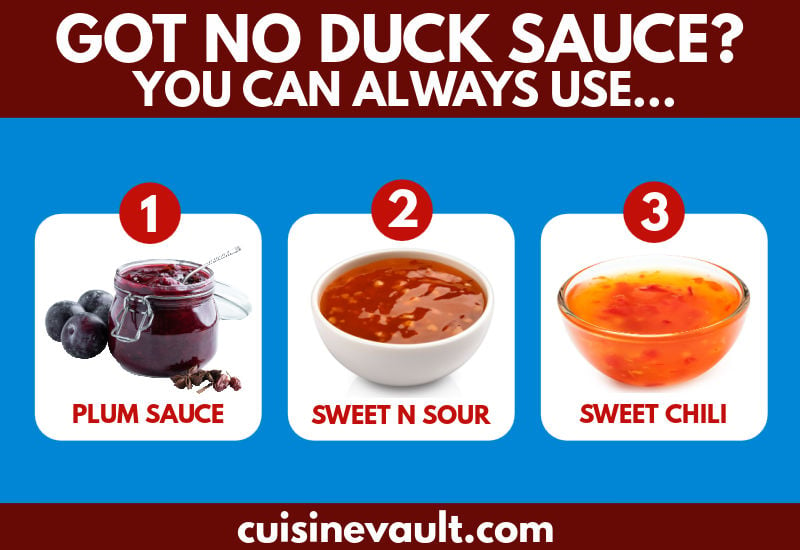 4. Hoisin sauce
If you've ever seen Peking Duck hanging in the front window of a Chinese grocer or restaurant, you've seen hoisin sauce in action. It's this ingredient that's often smeared over the duck as a glaze.
Hoisin can be used as a handy backup option for duck sauce if you don't have any. It is great for dipping into food like duck pancakes, spring rolls, and dumplings or used as a glaze or marinade.
Duck sauce is sweeter and tangier than hoisin and it isn't as salty. Although they taste different, the two sauces can be used interchangeably in recipes without fear of ruining the food.
Related reading:
How does hoisin compare to oyster sauce?
5. Char Siu
Char siu is salty, sweet, and spicy all in one mouthful. For barbecued meat like pork or chicken, this is an excellent alternative to duck sauce. Like hoisin, it isn't as sweet and tangy, but it's another versatile sauce in the kitchen. When you're not basting or marinating meat, it is delicious stirred into Singapore noodles and fried rice.
6. Oyster sauce
Oyster sauce has a salty-savory flavor with a little sweetness and spice. One of its ingredients is oyster extract so it's full of umami flavor and has a mild seafood undertone. While oyster sauce has a noticeably different flavor to duck sauce, you can still use it for dipping fried food into. Its shiny, brown color makes it perfect for mixing into dishes like broccoli and beef.
7. Teriyaki sauce
Teriyaki uses base ingredients like soy sauce, honey, brown sugar, and mirin to bring salty-sweet flavor to food. It's a darker, runnier sauce that doesn't have the same levels of sugar and fruity flavor that duck sauce has. You can use teriyaki for the same applications as you'd use duck sauce.
Be sure to read our handy comparison of teriyaki and tonkatsu.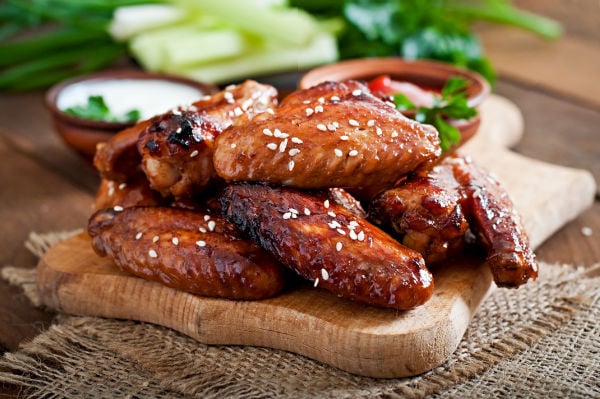 8. Ponzu sauce
Ponzu is a dark, acidic sauce that's a combination of sweet, salty, and tangy. Its texture is less jam-like than duck sauce and it's darker, a lot like soy sauce. This is another backup ingredient you could use in a pinch.
Check out our comparison of ponzu and soy for more information.
9. Soy sauce
Most kitchens have a bottle of soy sauce on hand, so if none of the above choices appeal then soy is an option. Its flavor profile and texture are much different. Soy sauce is much saltier while being less tangy and sweet. It still works well for dipping and can be splashed into practically any Asian-inspired recipe.
Related reading: Best dark soy sauce replacements in cooking.
10. Chutney
Chutneys come in many varieties, but if you've got a jar made from apricots then you're onto a winning replacement. Other suitable chutneys include apple, mango, or peach.
If you're looking for a dipping sauce then choose a brand that isn't too chunky. Alternatively, you can always pulse the chutney a few times in the food processor to get a similar texture to duck sauce.
Chutney often has a sharper flavor than duck sauce due to the addition of vinegar. It is useful for cutting through fried food and heavy beef and lamb meals.
11. Condiments
Spreads like apricot jam, marmalade, or even honey are useful for adding to marinades and sauces for sweetness. Naturally, the flavor won't be the same and you won't get that tanginess that comes from duck sauce. But fruity condiments won't be out of place in many Asian dishes if they're not playing the starring role in the recipe.
12. Homemade duck sauce
Making your own duck sauce only takes a few minutes and you can make a bulk batch if you eat it often. The result is a sweet, vibrant condiment that doesn't come with the additives you get in many store-bought products.
Prep time: 5 minutes. Cook time: 0 minutes. Rest time: 3 hours.
Ingredients
½ cup apricot jam
3 Tbsp rice vinegar
½ tsp minced ginger
2 cloves minced garlic
½ tsp soy sauce
½ tsp chili powder
Pinch cayenne powder
Method
Add all ingredients to a small bowl and whisk until combined.
Transfer to an airtight container and refrigerate for 3 hours to allow flavors to develop.
Remove from the fridge 30 minutes before serving.
-Homemade duck sauce can be stored in the refrigerator for up to one month in an airtight container.
Summing up
Duck sauce is a popular condiment, often included with Chinese takeout. Some parts of the United States have never heard of it which makes it hard to find in these areas. If you've got a hankering for some, but can't get your hands on any, use plum sauce, sweet and sour sauce, or sweet chili sauce. They're all Asian sauces that can be used in much the same way.
All these substitutes have subtle differences in flavor, color, and texture. If you're wanting the real thing then you're best to make a batch at home. Otherwise, search online for duck sauce you can keep on hand for the next time you get egg rolls cravings.