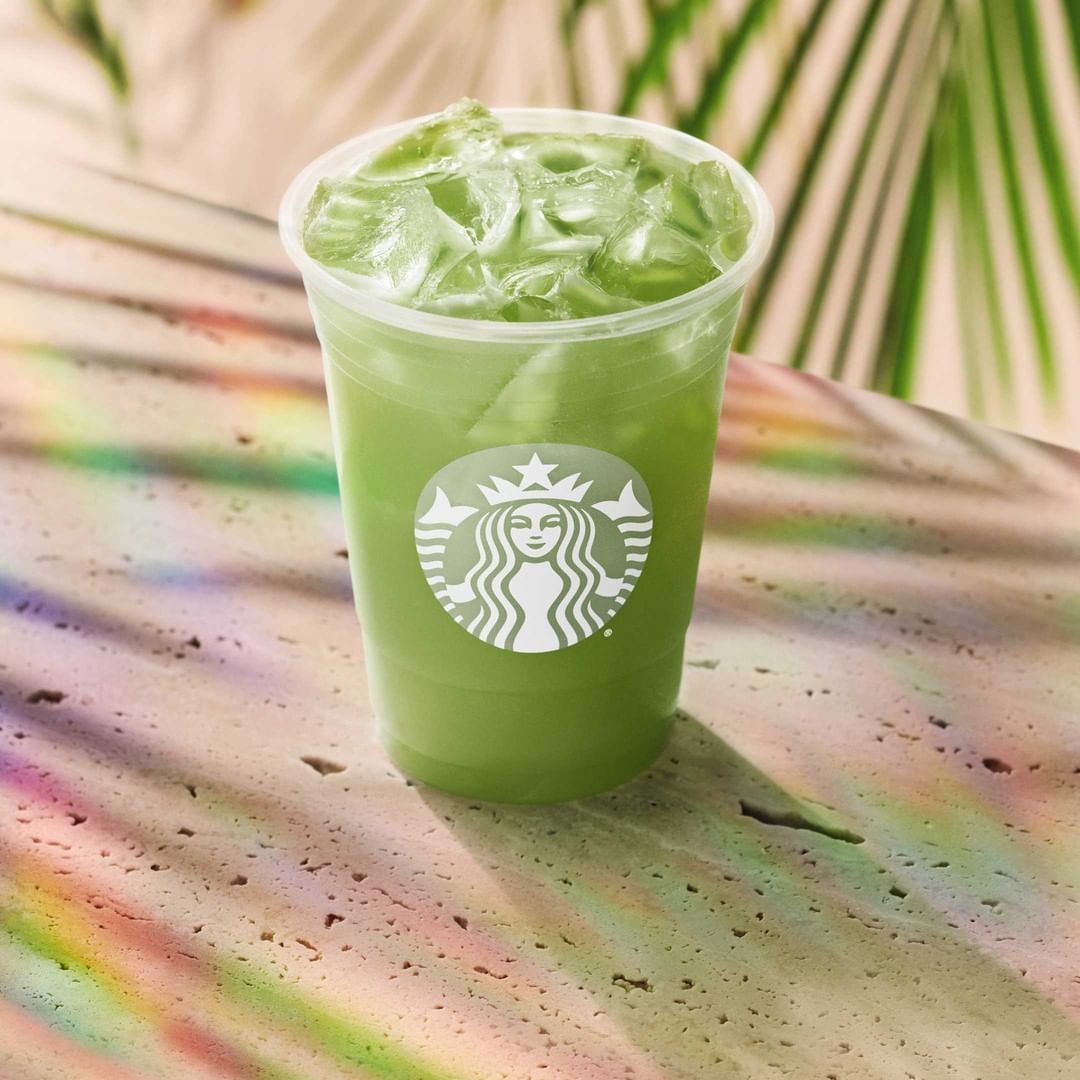 Use our Starbucks nutrition calculator to see the amount of calories, caffeine, and sugar in your drink. Start with a drink on the menu and then customize it to see the real contents of your custom order!
Table of Contents
Calculator
Starbucks Drink Nutrition
Our calculator is based on nutritional information provided by Starbucks. Due to the nature of handcrafted beverages, the nutritional content can vary for every drink.
7 Tips To Reduce Sugar and Calories
1. Choose Almond Milk
Almond milk is hands down the healthiest milk alternative you can choose at Starbucks. It only has 4 grams of sugar and 80 calories in a tall-sized cup. Even 2% milk contains 14 grams of sugar in a tall—that's more than a Reese's Peanut Butter Cup!
Here is how many calories and grams of sugar you can expect in a tall latte at Starbucks with no flavor and no whipped cream:
| Type of Milk | Calories | Sugar (g) |
| --- | --- | --- |
| Almond | 80 | 4 |
| Coconut | 110 | 9 |
| Oat | 150 | 14 |
| Soy | 150 | 14 |
| Whole | 180 | 14 |
| 2% | 150 | 14 |
| Non-fat | 100 | 14 |
2. Opt For Sugar-Free
Sadly, Starbucks doesn't have many sugar-free flavored syrups. The sugar-free syrup flavors will vary depending on your location, but the most common syrups you will find are vanilla, caramel, and hazelnut. Although these syrups taste different from regular sugar syrups, they contain no sugar or calories.
Regular syrups at Starbucks contain about 20 calories and 5 grams of sugar per pump. So a grande beverage with four pumps will have 80 calories and 20 grams of sugar from just your flavored syrup!
The debate is still out whether sugar-free options are healthy long-term, but sugar-free is a great option for those looking to cut down on sugar and calories.
3. Skip The Toppings
While the toppings at Starbucks are delicious, they dramatically increase the sugar and calories you consume. For instance, caramel drizzle contains about 75 calories and 10 grams of sugar in just one tablespoon of the decadent sauce.
Whipped cream adds approximately 100 calories and 2 grams of sugar to your beverage, depending on how heavy-handed your barista is. Instead, you could add cold foam to your beverage which would cut your calories in half while providing a similarly rich experience.
4. Order a Smaller Size
This one may seem obvious, but if you aren't going to enjoy a modified version of your favorite beverage, it may be worth it to downsize and enjoy the drink as it is!
If you're used to ordering a venti beverage, you get 24 ounces of your drink, while a grande is just 16 ounces. This means you're significantly reducing the calories and sugar you are consuming.
Additionally, if ordering a smaller size means you will get less caffeine, you could always add a shot. Your drink will taste stronger, but you won't be sacrificing caffeine.
5. Don't Order Lattes
This may sound crazy, but lattes are full of calories, milk, and sugar. Instead, you can order a flavored cold brew or iced coffee with a splash of your milk of choice. Instead of milk, your beverage is full of regular iced coffee with only about 5 calories per serving.
A grande Iced Vanilla Latte has 190 calories and 28 grams of sugar. A grande Cold Brew with Vanilla and Cream has about 110 calories and 20 grams of sugar. And truthfully, they taste remarkably similar!
6. Order it Skinny (or Light)
When you order something light or skinny, Starbucks uses non-fat milk and sugar-free syrup and skips whipped cream toppings. You could easily save hundreds of calories this way.
7. Reduce the Pumps
Starbucks crafts drinks that will taste incredible and give you the dopamine you want. This often means there are tons of calories and plenty of sugar.
Simply reducing the pumps of sauce or syrup is a great way to reduce the richness of calories and sugar.
How To Reduce Caffeine in Your Lattes
1. Ask for decaf.
Decaf doesn't mean it has no caffeine. Decaf coffee still has about one-third the caffeine of regular coffee beans. So if you've ever wondered why your decaf coffee kept you tossing and turning at night, this may be why!
2. Opt for half-caf.
Half-caf means you are ordering one regular shot of espresso with one decaf shot of espresso.
3. Order a Steamer.
If you truly want a non-caffeinated beverage at Starbucks, you can order any latte as a steamer. Steamers are basically lattes without the espresso shots. Not only does this mean you are getting a truly caffeine-free drink, but they also cost quite a bit less than lattes!
Reduce Caffeine in Other Popular Beverages
1. Order Iced Coffee instead of Cold Brews.
Iced Coffee has less caffeine than Cold Brew, while Nitro Cold Brew has the most caffeine. Here is the caffeine content of a grande of each:
Iced Coffee: 165 mg caffeine
Cold Brew: 205 mg caffeine
Nitro Cold Brew: 285 mg caffeine
These drinks may seem incredibly similar, but they are all quite different. If you're looking for a drink that packs a big punch, opt for Nitro Cold Brew. If you just want a little pick-me-up, opt for iced coffee!
2. Add Lemonade to your Starbucks Refresher.
A Starbucks Refresher uses green coffee extract as the base. This base is diluted with water to mellow out the caffeine. A popular way to order the drink is to dilute it with lemonade instead of water.
If you wanted to reduce the caffeine without sacrificing flavor, you could order it with a light refresher base and extra lemonade to preserve the flavor.
3. Cut the Frappuccino Roast Pumps.
If you love Frappuccinos but don't want as much caffeine as your go-to order provides, you could always request fewer pumps of the Frappuccino Espresso concentrate.
You could opt for a happy medium if you want to reduce your caffeine intake and not cut it out completely.
Additionally, every frappuccino with an espresso base has a "creme" version that omits all caffeine. If you want to skip caffeine, order the creme version instead.
Starbucks Drinks You Think Are Healthy, But Aren't
1. Starbucks Matcha
Regular matcha is jam-packed with nutrients and focus-inducing green tea leaves. While Starbucks matcha still has the same benefits as traditional matcha, Starbucks Matcha is full of added sugar.
Unfortunately, there is no way to order a Matcha Latte without added sugar, as it is already mixed into the powder before it gets to the store.
2. Starbucks Chai Tea Latte
For similar reasons as the Matcha, Starbucks Chai concentrate doesn't quite provide the same nutritional benefits you'd expect from a traditional chai. Fortunately, there is a solution. Starbucks does have chai tea bags and can always make you a Chai Tea Latte that uses those instead.
Just be sure that you specify that this is exactly what you want. Your barista should brew you a bag of chai tea and top it with either cold or steamed milk. You can then add a sweetener of your choice.
3. Toffee Nut Latte
While you may not have thought this drink was particularly healthy, I have heard some people in my life say that they love the Toffee Nut Latte at Starbucks because you can "actually taste the coffee" in it.
I hate to be the bearer of bad news, but the Toffee Nut Latte at Starbucks is one of the least healthy lattes you can order. Instead of containing 4 pumps of syrup in a grande, this latte uses 8!
Luckily, this can be easily remedied too. This beverage contains 4 pumps of mocha and 4 pumps of toffee nut. Just cut those pumps in half, and you'll dramatically reduce the calories and grams of sugar you consume.