The traditional dish of paella, or paella valenciana, is a hotly debated topic for various reasons. Listen to chefs try to reach agreement on how to make this dish, you'll rarely hear the same recipe. There is even controversy over where the dish originated!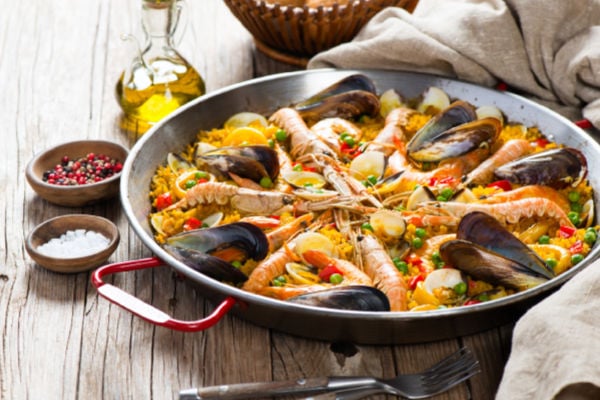 The term paella doesn't just refer to a rice dish. It also means "pan," referring to the large paella pan, which has two handles. Although not essential, this piece of cookware will help produce a better tasting, more authentic Spanish dish. With its thin bottom and shallow size, it results in evenly cooked rice that is ready relatively quickly.
Related reading:
What is the difference between fish sauce and fish stock?
Can you freeze gazpacho? Get the answers.
Recipe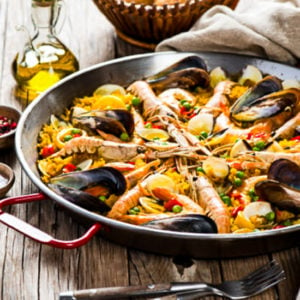 Authentic Spicy Paella
When cooking paella, the goal is to produce flavorsome rice that is al dente, with a texture similar to fried rice. Be careful not to use too much liquid; it will result in a texture closer to a creamy risotto.
Ingredients
1

tbsp

olive oil

4

oz

chorizo

thinly sliced

2

garlic cloves

minced

2

red chilis

chopped

1

medium

red onion

sliced

2

tsp

sweet paprika

1

medium

bell pepper

sliced

1

cup

arborio rice

2

cups

seafood stock

10

saffron threads

1

can

chopped tomatoes

or 14 oz

10

large

shrimps

peeled

8

green mussels

1

can

oysters

or 8 oz

½

cup

frozen peas

lemon wedges

to serve
Instructions
Add oil to a large pan and heat on medium-high. Toss in chorizo and fry for 2-3 minutes until browned. Remove from the pan and place in a bowl covered with foil.

Add garlic, chilis, onion, paprika, and bell pepper to the pan and cook for 2-3 minutes until onion appears translucent and soft.

Add rice and continue cooking for 2 minutes, then pour in stock, saffron, and tomatoes, bring to boil then reduce heat to a simmer and cover. Cook until rice is tender, 15-20 minutes.

Add chorizo, shrimp, mussels, oysters, and peas; cover and cook for 5 minutes.

Serve in bowls with lemon wedges.
Related articles
For more delicious oyster recipes, check out our favorite oyster recipes.
Table of Contents
Tips for making a better paella
Let it cook untouched
Once the stock has been added, it's tempting to keep mixing the rice to ensure everything cooks evenly. It is essential to leave the rice to cook untouched. This technique allows the formation of a soccarat, which is a crispy golden base. The soccarat is considered the choicest part of the paella.
Use the right pan
The ideal option is to use a paella pan. If you can't get your hands on one, use a wide, shallow non-stick pan. Avoid thick-bottomed cookware as they retain heat, causing the paella to over-cook.
Rotate the pan
It's not uncommon to find that one side of the pan is cooking faster than the other. If you notice this, don't stir the rice. Instead, turn the pan to allow even cooking.
Create a rich sofrito
A sofrito is a mix of tomato, garlic, and onion. To provide your paella with a luxurious, rich flavor, cook it sufficiently to bring out the flavors.
Don't skimp on the oil
For those trying to reduce their fat intake, it may be tempting to reduce the oil used in this recipe. However, this oil helps separate the grains of rice and also helps transfer the flavors throughout the pan.
Using saffron is a must
Most of the other ingredients can be swapped out for alternatives. The saffron spice is a unique flavor that can't be replaced. Sure, turmeric or annatto are both capable of giving the rice a vibrant shade of color - but nothing provides the delicious flavor that can be offered by saffron. Saffron is expensive, but remember that a small amount goes a very long way. That tiny container of threads will enable you to create many fantastic paella dishes.
If you really want to use something else, use one of these substitutes for saffron.
Testing the dish is ready to eat
The rice in a paella cooks from the inside out. So, check the rice on the edge of the pan - it should be a little firm and tender. Is your rice still not quite cooked? Add a small amount of boiling stock and continue heating, then retest.